What's in a Name? Crucial Steps to Take Before Naming Your Brand or Company
We live in the age of technology. Because of the times we live in, public opinions of any given product are subject to the whims of first impressions and search engines. While brand loyalty extends beyond the brand name itself, the attractiveness of a company or product is often complemented by effective brand names that attract different kinds of customers. The trouble is, the naming and branding process can be difficult and time-consuming. It's also so crucial to the vitality of your brand, the wrong choice can sink your ship before you even set sail.
The Road to the Right Brand Name
Brand names, like any other attribute of a business, requires brainstorming and workshopping before the right idea turns into the right brand. It's incredibly easy to pick something off the top of your head, but it could turn out to violate trademark laws or have suggestive connotations. Taking the time to come up with the right brand name will inevitably save you money in the long run. Rebranding is an expensive process and potentially dangerous to business.
An article from Entrepreneur Magazine outlines a good step-by-step process for naming your business:
Decide whether you will consult the experts. There are plenty of branding firms out there that are willing to help you with coming up with the right name. However, it depends on what you're willing to invest in the process. Using a firm is expensive, and you have to decide whether your team can come up with a brand on their own or you need to enlist help.
Come up with a goal for your brand name. Decide exactly what you want to communicate to potential customers. It should relate to what you do and how you do it. What makes you unique from other businesses?
Brainstorm different names. The best brand names evoke an emotional connection and impart logical information at the same time. Try brainstorming from different angles.
Check for trademark violations. There are simply so many trademarks in existence that you will have to check each of your top names to make sure it isn't already taken. You can work around trademarks by coining a new word or name.
Create a brand image for each idea. Once you have settled on a few different options, create boards with designs for each brand name. Seeing the visual concept will help you decide.
Make the final decision. Whether the decision is an executive one or a democratic one, you will have to choose the name that fits your business best.
After determining your new brand name, you should pair your brand naming strategy with a marketing and ecommerce strategy to attract the right crowds. Your brand name should attract the masses, but you also have to perform according to your brand name.
Avoid Brand Name Missteps
With so many bad brands out there, it can be difficult to point out what exactly makes a brand bad. However, there are some attributes, which when combined, make an exceptionally bad brand name:
1. Creating the wrong image: An Inc.com article lists the biggest nine brand uh-oh moments over history. One of the biggest branding mistakes was committed by Burger King, who used an actor wearing a king mask in their commercials. They thought it would be funny, but it just came off as creepy instead.
2. Imitators: Consumers need to be able to trust your brand. If you imitate another brand, they will assume your services are also only imitations.
3. Puns that are funny only to you: Obscure names are obnoxious, and they're even more obnoxious when they are turned into puns.
4. Misspellings or strange spellings: A brand name should still be recognizable as a word. Companies like Apple, Google, and Twitter have achieved visibility through accurate spellings and simplicity.
How Did You Pick a Name?
So, business founders. What did you and your company do to find the right name? Was it an organic process that sort of just came to you? Or did it require time, research and strategy? Feel free to share your ideas!
---
Owen Andrew is a journalist and tech enthusiast from Southern California. When he's not writing or obsessing over the latest Apple product, he enjoys hanging with his three kids.
---
Header image created using Branding Irons.
Getting started with hand lettering?
Free lettering worksheets
Download these worksheets and start practicing with simple instructions and tracing exercises.
Download now!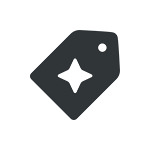 Creative Market