WordPress vs. Drupal vs. Joomla: The CMS Showdown
If you want to build a powerful website but aren't a tech genius, you need a content management system (CMS) to do the heavy lifting. Some Content Management Systems like Volusion or Magento cost a pretty penny and require technical expertise. Luckily, open source CMS gems like WordPress, Drupal, and Joomla make creating a website quick and easy. Each of them has its strengths and weaknesses though. Let's find out what they can bring to the table!
WordPress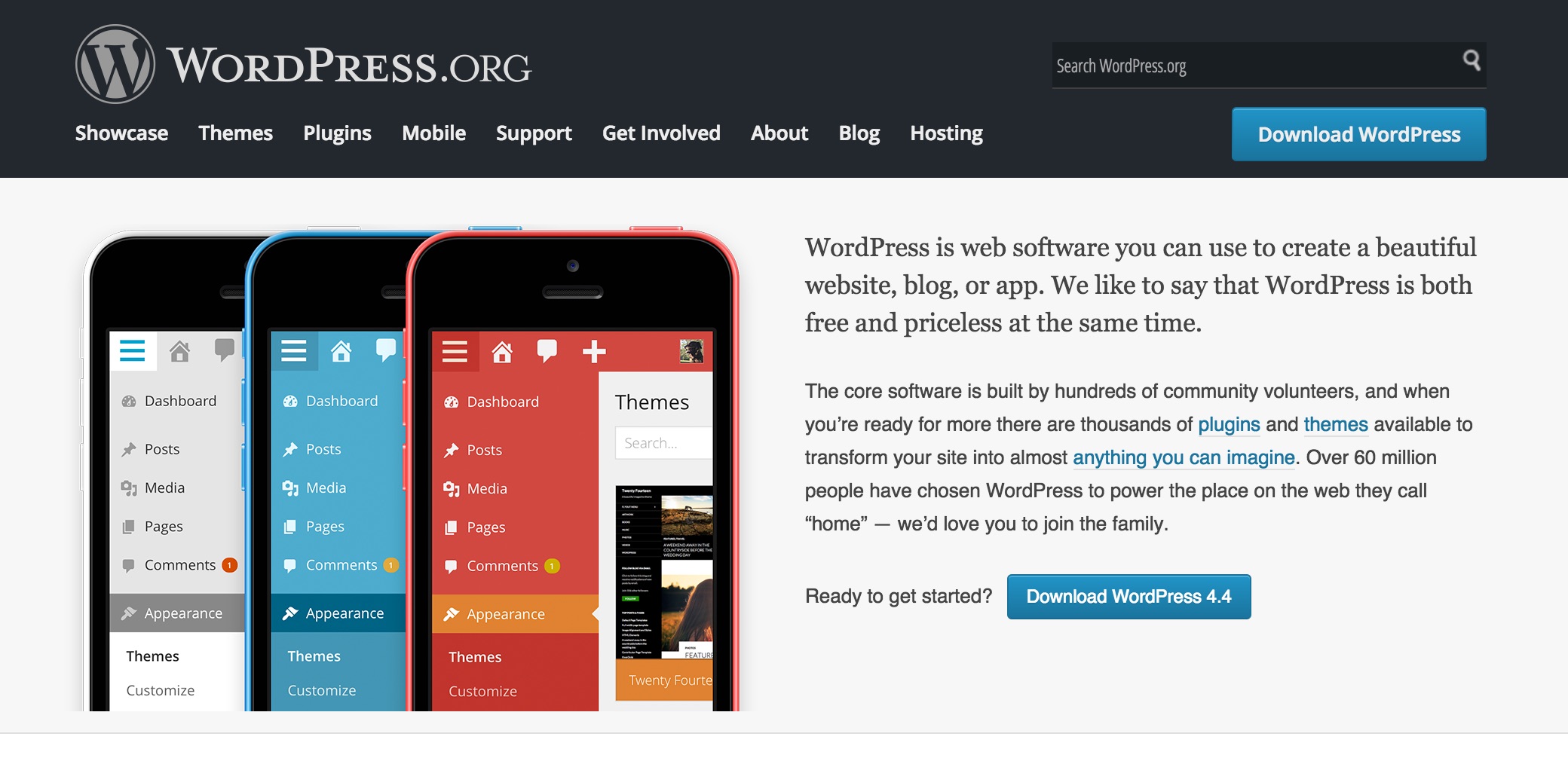 WordPress began as a blogging platform and has grown significantly since then. WordPress is now the world's most popular CMS. Currently, over 30% of all sites running on a CMS use WordPress.
WordPress Advantages.
WordPress offers the following advantages:
Easy and intuitive. There is a very small learning curve for those with no technical knowledge.
Huge plug-in library. WordPress has the most plug-ins, themes, and customizations.
Community support. Millions of people use WordPress, so there is a huge support community. The extensive support forum is filled with contributors.
Flexibility. WordPress can do virtually anything. You can run an e-commerce store, host a video site, serve as a portfolio, or publish a blog.
WordPress Disadvantages.
WordPress isn't perfect. Some disadvantages are:
Resource Hog. Large sites require significant server resources.
API Challenges. The WordPress framework is difficult to change.
Drupal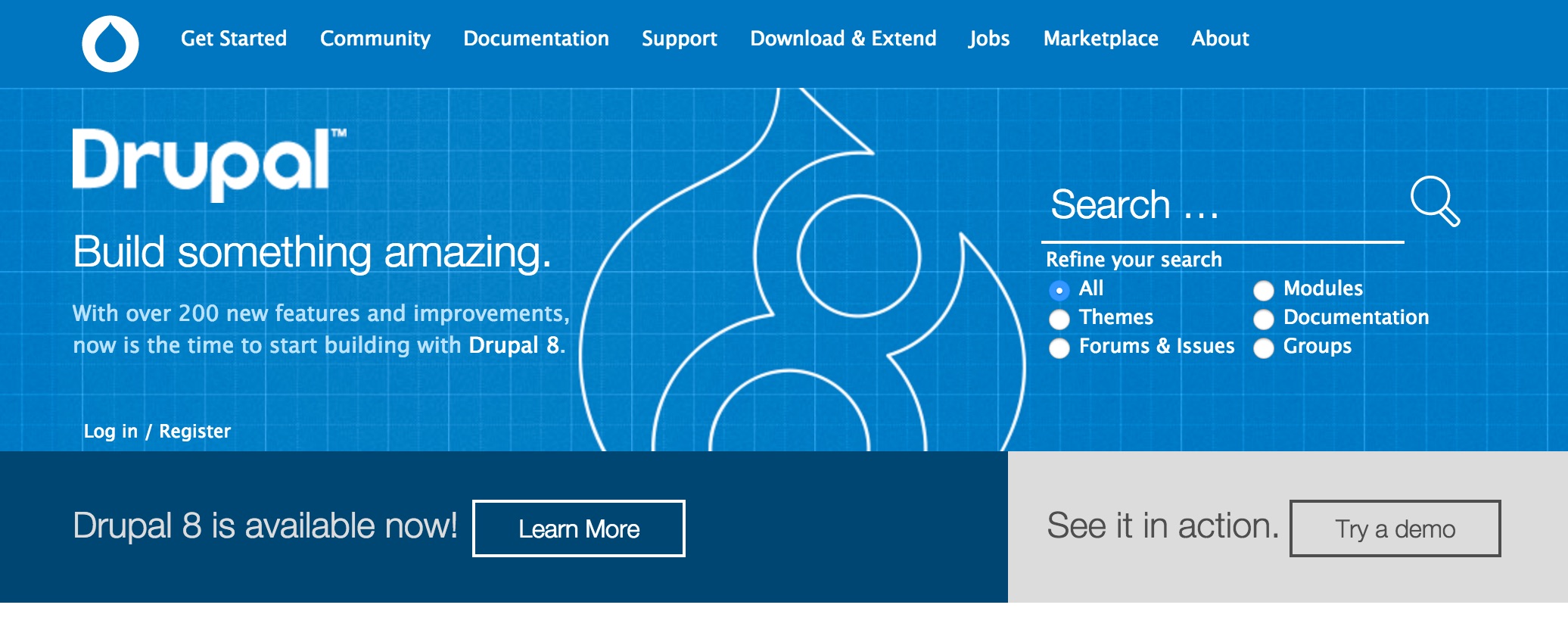 Drupal is the second most popular open source CMS. It is extremely powerful. Drupal can be used for anything from a simple blog to a complex content portal for large corporations.
Drupal Advantages.
Some of the Drupal advantages are the following:
Flexible and customizable. Drupal is easy to customize with many different plug-ins, themes and other configurable options. Even the root files can be edited, making it the most flexible CMS.
Multi-site configuration. Drupal allows for rapid prototyping and multi-site configuration. You can build your site and your sandbox simultaneously.
Community support. The Drupal community is large. Support is available at drupal.org, StackExchange, and other websites.
Stability. Drupal scales effortlessly and is stable even when serving thousands of users simultaneously.
Drupal Disadvantages.
Drupal may be powerful, but that power creates hurdles. Here are some disadvantages:
Steep learning curve. Drupal requires the most technical expertise. If you need more than a basic blog or small business page, you'll require technical support. If you don't have technical skills you need someone to create your site, add modules, and provide support.
Lack of Themes. The number of themes is limited compared to WordPress. If you want an original or fresh design, you will need to hire a good designer to do the job in Drupal.
Joomla!

Joomla! is the compromise between WordPress and Drupal. It is a powerful CMS that runs smoothly on most web servers. It doesn't require the technical experience of Drupal, but it offers many of the features. Joomla has many plug-ins and themes to customize your site.
Joomla! Advantages.
Joomla has much to offer. Reasons to choose Joomla include:
User-friendly. Joomla is not as technical as Drupal. Most people can run a great Joomla site without any significant technical support; but if you aren't a techie, you may need help.
Customizable. Joomla refers to plug-ins as extensions, and there are plenty of them.
Strong Community. Joomla has a strong developer community.
Joomla! Disadvantages.
There are negatives to using Joomla are as follows:
Learning Curve. You can't jump right into Joomla and start publishing. The learning curve isn't steep, but it is present.
No SEO Capabilities. SEO is easy with WordPress; just install a free plug-in. Joomla requires extensive work to achieve the same level of search engine friendliness. Unless you can afford an SEO expert, you should consider another CMS.
Limited functionality. Customizing individual pages and categories isn't easy.
Quick Comparison Chart
If you're feeling more confused than ever, here is a quick comparison chart to summarize:
WordPress
Drupal
Joomla!
Learning curve
Easy
No experience required
Hard
Requires technical expertise. Major updates are an effort
Medium
Easier than Drupal, harder than WordPress.
E-commerce
Yes.
The most popular plug-in is WooCommerce
Yes and No.
Drupal 8, the latest version, does not support a stable e-commerce module yet.
Yes.
Extensions for managing products and content
SEO friendliness
Excellent.
Good.
Basic.
Speed
Can handle traffic, but has limitations
Consumes resources if not tweaked properly
Faster and less resource intensive
Plug-in Availability
Extensive.
41,579 plug-ins
Many.
32,568 modules
Few.
7000 extensions
Theme Availability
Extensive.
Tens of thousands of themes
Many.
Thousands of themes
Few.
Thousands of themes
Mobile-friendliness
Good.
Simple responsive starter themes
Good.
Going mobile is simple.
Good.
Many mobile extensions to choose from
Top Examples
TechCrunch
Katy Perry
Time Inc
University of Oxford
The Beatles
The Weather Channel
Harvard University
Linux
Danone
It isn't the easiest choice. But, if you look at your needs and honestly assess your own technical capabilities and your willingness to pay for technical support you will choose wisely.
Have you used a CMS? Which one is your favorite? Share your thoughts with us!
Getting started with hand lettering?
Free lettering worksheets
Download these worksheets and start practicing with simple instructions and tracing exercises.
Download now!