10 Professional Resume Templates to Help You Land That New Job
Your resume is often your first point of contact with a business that you'd like to work for, so make sure that it's awesome with these ten professional resume templates.
The Importance of a Great Resume
Several years ago, I was called into a job interview for a designer position at an online magazine. One of the first things the interviewers told me was that they chose only me and two other individuals to interview out of over three hundred applicants! What caused me to rise to the top of the stack? The told me plainly: they loved my resume. I'd worked hard to make sure that it was bold, creative, and interesting. After all, as a designer, everything you create is a testament to your skill set. If you turn in a plain, boring resume, what are you saying about yourself? Fortunately, with the templates below, anyone can create a beautiful resume that puts forth a strong front to potential employers.
If you're looking to create a strong personal brand, this is the resume for you. The top of the page is designed to hold a great big photo of you, so make sure that you have a great shot of yourself to use. The features here are pretty impressive. This product comes with five different color options, 36 social icons, two sizes (letter and A4), and InDesign, Photoshop, and PDF versions.
Let's face it, one of the most difficult challenges that you'll face when designing a resume is fitting all the information you need to include on a single page. That's where this template comes in. It's super clean and stylish while having nicely designed sections to hold everything you want to include.
I would bet that the vast majority of resumes that get handed in for any position have a portrait orientation. So if you're looking to stand out in the crowd, why not go landscape? This resume is super attractive and is sure to get you noticed. Remember the story at the beginning about my resume getting chosen out of hundreds? It was a landscape design!
This resume template has a nice, modern feel to it that is sure to catch the eye of a recruiter. It has plenty of sales with very positive feedback, and the seller is quick to answer any questions, so you can be sure you'll get the support you need if you purchase it.
This resume template is super simple, but also very strong visually. I love the big icons and clear categorization of information. Plus, if you're not a designer with top-notch InDesign skills, you'll have no trouble editing the included Microsoft Word version.
A retro resume template might not be right for every occasion, but in some cases, it might be just what you need to jump to the top of the stack. This one is really stylish and has a nice restaurant menu feel.
I really like the timeline graphics on this resume template. It uses minimal icons instead of words to divide up the information and present it to the reader. It includes multiple color options and is compatible with Illustrator all the way back to CS3.
If you're looking to stand out, but not come off as too flashy, this flat resume template is your best bet. It's subtle and professional, but still very attractive.
Nothing will catch someone's eye as they're flicking through a stack of resumes quite like a big pop of color. This bright resume comes in two different colors for both letter and A4 sizes for a total of four awesome templates.
I really love the clean and bold look of this Swiss-inspired resume template. If you're looking for a multi-page powerhouse resume, this is the one for you. It comes with four custom pages: cover letter, resume, portfolio, and references.
Show Us Your Resume!
Now that you've seen our collection of creative resume templates, it's time to show yours off. I'd love to see the unique way you present yourself to potential employers, so leave a link below to your resume so we can all take a look! Didn't find what you were looking for? Check out these 20 resume templates we love!
Getting started with hand lettering?
Free lettering worksheets
Download these worksheets and start practicing with simple instructions and tracing exercises.
Download now!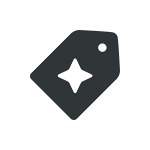 Creative Market