20 Fantastic Fonts for $20 or Less
Great typography makes for great design, but quality fonts can be expensive. For those looking to boost their typographical toolkit without breaking the bank, we've put together a collection of twenty top notch, professional fonts, each of which will run you $20 or less. The numbers shown below reflect the prices of the items at the time of writing, which are subject to change. Many of the fonts shown are on sale temporarily, so you should consider grabbing them before they return to their normal prices.
Lickety Split: $19
This font has a personal, casual air to it. It looks as if someone hand-lettered it quickly, and it's especially effective as a chalkboard font.
Native + Instapress: $12
This typeface, reminiscent of whiskey labels, comes with a Photoshop action known as "instapress." This extra functionality allows you to resize the lettering in various ways to fit your project.
Herschel: $15
This hand-drawn font with serif shows a human touch with its slight wobble. Herschel is excellent for children's books and labels.
Charlie's Font: $20
This strong all-capital boldface font conveys clarity and power on any sign where you use it. Charlie's Font is an italic font and its forward slant adds to its ability to convey important information.
Ale Regular: $10
A soft, clean all-capitals font with some hand-drawn irregularities, Ale Regular is an italic font that is perfect for T-shirts or other textured surfaces.
HandSlab: $12
HandSlab has an exaggerated serif and comes with its own drop-shadow. You can choose to use the letters with or without the drop-shadow added, so the font remains flexible for print or web purposes.
Gentleman's Poison: $15
Reminiscent of Victorian haunted houses, this spooky all-capital font comes in solid and outlined formats.
Stringfellows Typeface: $20
One of many absolutely beautiful creations from Nicky Laatz, Stringfellows is a handwritten script that manages to look elegant while maintaining a personal feel. It looks great on invitations, posters, website headlines, and everything in between.
Sobek (Webfont): $5
Based on an art-deco sensibility, this webfont has a cutting edge artistic sensibility that will make for eye-catching digital typography.
Eighty One Typeface: $12
Just look at this vintage beauty of a typeface. Eighty One Typeface is the perfect homage to talented hand-lettering artists of the 20th century. At $12, it's firmly in must-download territory.
Haus Sans: $15
For a weightless, Bauhaus-inspired sans-serif font, check out Haus Sans. Elegant as a dancer, these letters will convey an impression of grace wherever they are used.
Hipsteria: $15
Can you resist a typeface called Hipsteria? This swooping script is equal parts fun and formality. It is perfect for casual wedding invitations or greeting cards.
Thirsty Soft Fonts: $9
This bold, retro style script is the perfect alternative to overused fonts like Lobster and Wisdom Script. It comes in a whopping six different weights and is dramatically reduced in price until the end of August 2014.
Farmer Font: $3
This irregular mix of caps and small letters is great for headings on a casual restaurant menu or blackboard.
Lulo 3D Font Family: $9
Lulo is a gorgeous, stackable 3D font that comes with five different layers to mix and match. It's currently on sale for $9, but it's going to shoot up to its normal price of $49, so be sure to grab it soon!
Splandor Typeface: $15
Splandor is a gorgeous, old style display typeface that's perfect for creating vintage type treatments. As a bonus, it comes with an ornament pack that allows you to add in all those nice, extra lines that you see in the preview below.
Science Noire: $10
Inspired by the lettering of a lab notebook, with maybe a pinch of Da Vinci mixed in, Science Noire is an eye-catching font choice for signage or website header.
Sleeping Forest: $19
Have any fairy tales you need titles for? This fanciful, delicate all-capitals font would be ideal.
Metros Pro: $12
Metros is a well designed geometric sans-serif font that comes in six different weights. You can even download two of these for free to try them out before you purchase the full set!
Nabila: $20
Nabila is a gorgeous fat script that goes way beyond what you would expect to see in a $20 font. Contextual alternates, ligatures, stylistic alternates, all these and more give you an amazing range of possibilities that will keep this font feeling fresh for ages.
What Did We Miss?
This collection merely scratches the surface. Creative Market has tons of typefaces for every budget. If you know of any other fantastic fonts for less than $20, leave a comment below so others can check them out.
Getting started with hand lettering?
Free lettering worksheets
Download these worksheets and start practicing with simple instructions and tracing exercises.
Download now!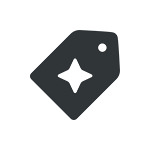 Creative Market