5 Creative Wedding Design Trends and Matching Invitation Ideas
I'm nearing in on a decade in the wedding industry. As a wedding photographer with experience shooting all over the United States, I have witnessed my fair share of wedding trends. I can even pinpoint the year based on some of the most popular trends! Often, "trend" sounds like a bad word. However, there is a reason that certain styles become popular and that's usually because they are good things. The key is to always make them your own with personal details. Here are some great examples:
Marquee Lighting
This is one of my very favorite trends to pop up over the last couple of years. I have seen everything from "Love" to "Cocktails" and "Mr + Mrs". The possibilities are endless to personalize either with a romantic sentiment, favorite past time, or initials. They make for a perfect backdrop for professional photo opportunities with the bride and groom and, of course, selfies for the guests. Plus, the marquee lighting adds another layer of ambiance to the evening.
Lauren and Ali used marquee lighting as decor and as a backdrop for their photo booth rental. It was a great way to utilize the sign all day long, and their guests had a blast taking photos in front of it. Marquee lighting seen here from 428 Main Vintage Rentals.
Looking to bring that lighting to your invitations? Check out these bright marquee letters, perfect for your wedding announcement!
Dessert Tables
Dessert tables are literal eye candy for the guests. Not only are they beautiful, but children and adults alike flock to them throughout the night. They are a great way to showcase a larger cake or an array of different desserts. Some of my favorites have utilized colors or design aspects from the wedding to become a centerpiece for the reception. Plus, they're easy to put together. Pick a few of your favorite sweets - it's hard to go wrong here!
Meaghan and Jordan went for it big time with a custom cupcake tower. I loved that they placed it right in the center of their venue. It was the focal point for the entire wedding reception!
This watercolor pack will bring that sweet spirit to life:
Vintage
This one covers a ton of ground. From furniture, vintage table settings and repurposed antiques, it's a look I love and have seen put to work time and time again. My favorite part of this trend is that it's accessible either through vintage rental companies or by using meaningful family items to really personalize the look and feel of the day.
Sarah and Chris' wedding was as vintage as they come. There were so many details done right: mismatched vintage place settings, a sewing table used for the cake display, personal vintage photographs. Every piece added a touch of their personalities or family history.
Vintage fonts can really pull the event theme together. Used in invitations or place settings, this added touch will have your guests feelin' the vibe.
Metallics
Whether bold or subtle, adding metallic touches into the wedding decor is a great way to accomplish a luxe look. It can be done a variety of ways: from personal touches like shoes, cocktails napkins or throw pillows to bold embellished chandeliers, furniture, and bridal attire.
Stephanie and Robby used pops of gold throughout their wedding reception and ceremony. Throw pillows and table accents with peach and green tones and touches of gold added a layer of sophisticated glamour to their laid back wedding day. I love that Stephanie wore a wide gold cuff bracelet to match the pop of gold theme.
Tying metallics into your invitations is a great way to add a layer of depth. Pops of gold lettering or overlays will add texture, dimension, and a pop of shimmer to your invites.
Personalized
Many of the successful trends mentioned here add personal touches to the big day. That's why I love that so many couples are using their favorite things to make the wedding an extension of their relationship and personalities. It doesn't have to be a themed wedding (although I LOVED shooting a Harry Potter wedding a few years back!). Just bring in a few personal touches. Whether it's a favorite book passage during your ceremony, a silhouette of your dog in the decor, or tables named for your favorite destinations, guests love seeing *you* in your wedding day.
Abby and Robbie were both so present in the look and feel of their wedding. Abby DIY'ed much of the decor that mirrored the design on her wedding gown. Robbie (a craft beer expert) brewed a signature beer for Abby. The couple also brought in a Talking Heads cover band — their favorite — and I have never seen so much singing on the dancefloor!
Looking to DIY your invites? Using fonts, watercolor overlays, and graphics will help you achieve this.
These best-sellers will set you up for success:
---
It's engagement season, and brand new trends are going to be popping up before we know it. We'd love to hear some of your favorite wedding ideas. Let us know what we missed, some things you'd like to see or that you might be planning for your own big day!
---
Paige Winn is the owner of Paige Winn Photo and specializes in wedding and portrait photography. She'll talk to your uncle about her camera and request Prince songs at your wedding. Check out her Creative Market shop!
---
Products Seen In This Post:
---

Free lettering worksheets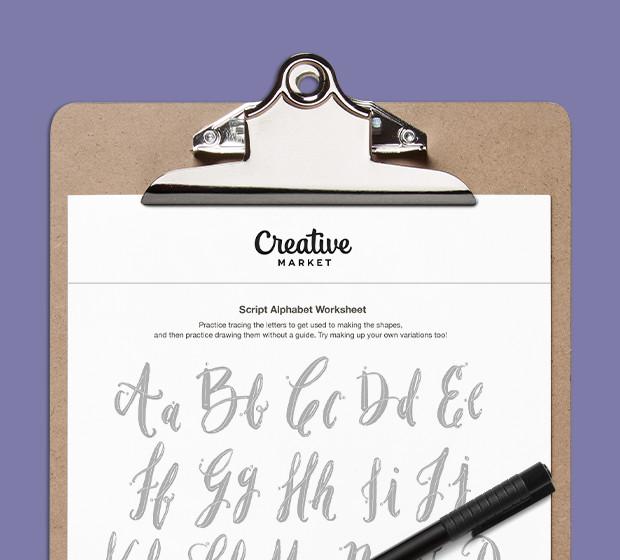 Download now!

Getting started with hand lettering?

Download these worksheets and start practicing with simple instructions and tracing exercises.