5 Examples of Great Social Media Marketing
Most people think of social media as a tool for stimulating conversations between people, whether they're individuals or groups. Social media marketing expands on this idea by stimulating website traffic and sales by using social media to attract users to the brand. Facebook, Twitter, Google+ and Pinterest are all examples of social media sites, but Twitter seems to be the one that allows for the greatest creativity in the shortest format with regards to self promotion. Brands must be careful to create a response with just 140 characters and a picture or video. Here are five of the best examples of companies who excel in this medium.
Oreo
The little snack cookie that could, Oreo has a very playful Twitter account that highlights new products—including collaborations—responds to users comments, and deftly incorporates puns, pickup lines and one-liners into their feed. They also use pictures and short, 6-second Vine videos to get people talking. By interacting with fans and never taking themselves too seriously, Oreo has developed a rabid following from celebrities, customers and other companies.
Oreo also creates images specifically for use on Twitter that include random facts, interesting things, and just funny one-liners. In addition, they stay relevant by commenting on the news, and talking about things everyone knows about.
Let's be honest, we look great in this light. #Halloween pic.twitter.com/YpzeJ5gEHG
— Oreo Cookie (@Oreo) October 31, 2013
If a friend eats your cookie, take 'em off your feed. pic.twitter.com/C6YnDIpR7z
— Oreo Cookie (@Oreo) September 24, 2013
Expect that to be the most popular baby name this year. #OreoMoment pic.twitter.com/0FVotbnA3J
— Oreo Cookie (@Oreo) August 23, 2013
Eat24
A beloved food delivery service used across the nation, Eat24 knows it doesn't have to do much to get people to use it, after all, people love to eat. But they further endear themselves to the hungry public by using catchy turns of phrase and referencing pop culture hot topics like Kanye West's latest album and smart phone apps like Bejeweled. Another bonus: They often feature coupons for the site.
You have friends. They like bacon. Eat24 delivers breakfast. Even when it's for dinner. Tell your friends.

— Eat24 (@eat24) November 20, 2013

They even write funny tweets about pop culture AND give you coupon codes.
Prefer your #bangerz with a little bit of mash? Hit up coupon code 'miley24' and make twerking part of a balanced meal.

— Eat24 (@eat24) November 18, 2013
Eat24: Helping you eat on the sofa AND find lost hours under the cushions.

— Eat24 (@eat24) November 13, 2013
Delta Airlines
There are few experiences more taxing or stressful than having flight delays, lost luggage or other travel related issues. But Delta's twitter account employs a dozen people who are dedicated to solving issues stat; just send them a tweet about what's happening. Though many airlines are experiencing plummeting customer service reviews, Delta manages to soothe hard feelings and impress people at the worst moments with quick responses and a dedication to satisfaction.
It's #AmericaRecyclesDay! To date, we've collected $500k in rebates to fund 5 @Habitat_org homes! #AmericaRecycles pic.twitter.com/M0ZGbUFaBa

— Delta (@Delta) November 15, 2013
Take some pics of views like this then submit them to our #Below10kFeet contest! #AVGeek http://t.co/IodNMnJKBX pic.twitter.com/ACNRehonAY

— Delta (@Delta) November 13, 2013
Dos Equis
Famous for its hilarious commercials starring "The Most Interesting Man in the World," Dos Equis continues its domination of the adult beverage world by offering more examples of the fictional fascinating man's superior personality. Many of the tweets are topical, including holiday appropriate options, but mostly they are humorous plays on phrases and ideas, such as, "If he were to pay you a compliment, you could use it to qualify for a mortgage."
August 25, 2001: Old Faithful waited four minutes to erupt while he finished a phone call. pic.twitter.com/G5vzXRHpaI

— Dos Equis (@DosEquis) November 4, 2013
He's never handed out bite-sized candy bars. pic.twitter.com/Ua6NAJiuEE

— Dos Equis (@DosEquis) October 31, 2013
H&M
The juggernaut fashion brand knows its customers don't just want tweets discussing sales, though they cover that too. The brand boasts backstage photos of upcoming collections, including interviews with designers, models and more. The pictures are essential to selling the goods, and they include one with nearly every tweet. Plus, they offer giveaways, sneak peeks and discounts to loyal followers.
Enter to win a #HMHolidayGiftCard for a loved one! Head over to our Instagram account @HM for info on how to enter.

— H&M USA (@hmusa) November 21, 2013
+++++++
Social media marketing is becoming an essential tool for reaching out to customers and users across the world. Even if your blog isn't meant to make money, you can garner millions of followers by utilizing social media, like Twitter, to further develop the personality of your website. It also has an accessible and personable way of connecting to others. Take note of these five successful companies and watch your unique visitor count skyrocket.
Getting started with hand lettering?
Free lettering worksheets
Download these worksheets and start practicing with simple instructions and tracing exercises.
Download now!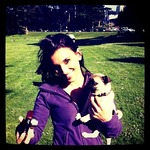 Maryam Taheri
I'm a recent graduate of the University of San Francisco with a degree in Biology and a passion for the creative arts. I love building websites, trying new things, and I have a passion for social media.
View More Posts