5 Expert WordPress Tips for the WordPress Novice
Since its creation, WordPress has unquestionably become one of the most popular blogging platforms on the web. WordPress is a blogging platform, but its uses extend far beyond just the realm of blogging; in reality, you can use it to create webpages, e-commerce sites and more. One of the best parts about WordPress is that it can be used with a ton of design features and add-ons, which makes it a great choice for designing a technically complex and visually-pleasing site. If you are thinking about designing a site with WordPress, but don't know where to start, then check out the list below. It contains some of the most essential tips used by WordPress experts to creative effective sites via the platform, but they are simple enough for even the WordPress novice to understand.
1. Keep it simple.
Yes, one of the best parts about WordPress is the huge selection of widgets to you can choose from when you create a page. However, don't get too overexcited by the widgets when designing your site and add them all to your page. Not only do widgets make the page slow and hard to load, they also clutter the look of your site and make it less aesthetically pleasing – and the actual important content less clear.
2. Use Plug-Ins!
If you're new to WordPress, you might choose to skip over adding Plug-Ins, because they seem to complicated or intimidating. But – don't let yourself be daunted! Plug-Ins can be a huge help to a page, and they often make a user's experience much more fun and smooth on a website. WordPress offers a huge selection of Plug-Ins, but at least in the beginning, choose ones that are going to make your website easier to use. Or, choose ones that can keep track of who uses your site so that you can optimize it for the right audience.
3. Use effective permalinks.
Once you've created an awesome WordPress site, you want people to be able to find it! One of the best ways for people to do that is via search engines – and in order to find you on search engines, you need to include effective permalinks. WordPress has an easy-to-use built-in permalink field at the top of the editing page. This field allows you to revise any links before you publish them. So, before you do – make sure you clean them up. Take out any unnecessary words that just clutter the link, and also be strategic using the right keywords (but not too many!)
4. Label images
Images on a site are a great way to make it look aesthetically-pleasing, but they don't actually do anything for your SEO – unless you give them a title and alternate text tag. Title your image something appropriate; the title will appear over the image when a user's mouse hovers over it. The alternate text tag appears in case the image doesn't load. Choose appropriate descriptor words that make sense – it will both boost your SEO and help people understand your site better in case your images do not load properly!
5. Use a footer.
Almost everyone uses a header on their site to introduce viewers immediately to what the site is about. But lots of people often forget to utilize the footer! The footer space on a page can be a great way to include some important information about your site and its creator (you) – including contact and copyright information. People who are looking for more in-depth information often scroll down to the bottom of your page, so it's important not to forget to engage people there as well.
++++
Sources:
Getting started with hand lettering?
Free lettering worksheets
Download these worksheets and start practicing with simple instructions and tracing exercises.
Download now!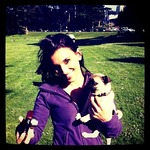 Maryam Taheri
I'm a recent graduate of the University of San Francisco with a degree in Biology and a passion for the creative arts. I love building websites, trying new things, and I have a passion for social media.
View More Posts