6 Tips for a Great Blog Layout
Having a blog on your site—whether it's a page on a business site or your site is a blog—is a great way to interact with readers and drive traffic to your site. But because so many sites do have blogs, it's important that yours stand out. Excellent content is, obviously, important. Readers won't keep coming back to a blog that's poorly written or seldom updated. But even the best blog posts will get more attention if the layout surrounding them is visually appealing, memorable and easy to navigate. Here are six tips to make that happen.
Keep the site's brand consistent.
Whether you're using a template or creating your own, make sure the blog has a strong visual identity. Your header is a great place to do that. The header image should communicate exactly what the blog is about and the tone you're after. Make sure the image is easy to read visually (not too cluttered with details or out of focus). Also, make sure that any typeface used on the header coordinates with those used on the site.
Don't make the layout too complicated.
A great blog layout should never get in the way of the actual blog posts. Avoid layering too many elements into the page. If you are looking for ways to add visual interest, experiment with templates that place blog entries in two or more columns, rather than just one.
Color is crucial.
The palette of your blog is one of the most important design decisions you can make. It helps establish the overall vibe of the page. The first thing you have to consider is legibility. You need to have enough contrast to make the blog text easy to read on any device. Then, you need to make sure the colors you select work together. Generally, working with three or fewer colors makes for a more streamlined layout.
Clean up the sides.
Sidebars on blogs, done well, can be a useful navigational aid for readers. If not, they can be visual clutter. Think about what absolutely has to be in a sidebar. For some blogs, a small sidebar with a link to archives by month is a great asset, especially if you have a lot readers catching up on posts. But, you might not need that. About pages and other necessary info can go into the navigation bar at the top of the page or in the footer.
Make posts inviting.
If you have a blog with a lot of posts, it's OK to put some of the copy under a cut. But make sure that what readers can see is enough to make them want to click through. Adding a subhead to the title can help clarify exactly what the post is about.
Don't fear emptiness.
White space is a great way to draw attention to your content. A blog layout should be more spare than most web pages so the text stands out more. You can have a minimal layout with a header, single-column posts and a few sidebars, or it can be more complex. Just make sure it isn't messy.
These tips can help you create a blog that's both fun to look at and easy to read. Also, remember that many users are browsing on mobile. Check font sizes and colors to make sure everything works across platforms.
—
Header graphic by Lil Squid and Paperwash.
Getting started with hand lettering?
Free lettering worksheets
Download these worksheets and start practicing with simple instructions and tracing exercises.
Download now!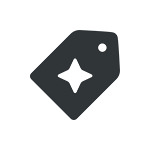 Creative Market