7 Font Management Practices You Should Know
Font management tools will find, preview, organize, install, and print fonts at your command. Typically, they are used to install or uninstall fonts on computers.
If you are around here for long, you'll notice that we sell many beautiful fonts, and you will take a liking to them. Any clever designer could tell you that assets like these are wasted if you don't keep track of them. Organizing them like your music collection is mission critical. Here are a few tips for managing your font library.
1. Organize Your Fonts by Style
I typically use names for my collections that make sense to me, like 'Elegant', 'Weathered', and 'Tall & Skinny'. Based on the designs I frequently create, I manage fonts into collections. Handpicking fonts for new projects is a fluid process. Just to save sanity, I keep 20 or less fonts in each collection, as to hone their relevance.
2. Pick Some Favorites
Always keep a collection of your favorites, ready to pull from at any moment. Fonts like these get their own collection in the font manager, no matter what their style. If I have favorites, I don't want to lose track of them someday when I have a memory lapse and I'm in a hurry to pick a font for tight deadline.
3. Delete Duplicates and Junk Fonts
Sometimes we designers let some dumb fonts into our collection at a moment of weakness. But after we've had a good night's sleep, we should know a dud when we see it. Permanently delete the crufty fonts and duplicates, as they are dead weight and lengthen lists of fonts for you to needlessly sift through.
4. Never Delete the Fonts That Are Preinstalled
As much as you despise Comic Sans, it's better to not break your computer in an all-ought font purge. Many of the fonts are required by operating systems to do their thing without going into cardiac arrests, so its better to leave the preinstalled fonts in the manager and deactivate them to suit your tastes.
5. Give Royal Treatment to Highly Readable Fonts
Readability should be priority #1. The sensational Giddyup Std typeface might tantalize you, but you won't find nearly as many use cases for it as you will for something like Glober. Since this is the case, maybe you should deactivate Giddyup, and create a unique font collection called 'Readable', as to quickly showcase the cream of the crop.
6. Don't Install Fonts in Multiple Formats
They are basically duplicates and meaningless, but they also cause glitches. If you have Dumbledor 1 in TrueType, you really don't need it in OpenType. It's apt to cause technical difficulties, as it has for me in the case with many fonts over the years.
7. Learn What Fonts Your Peers Love
Many times, I want to grab a new font for a very specific style, and the guy on the other side of Skype already knows of three that would work perfectly. Humbly ask, share with them what are some of your top fonts, and spread the font love.
Learn By Doing
Font management is one of those tasks that is best learned by doing it. The most important thing you can do is get started. Just remember to have fun and enjoy the fonts you keep around.
Questions: What questions do you have about font management? What would you recommend to font power users in-the-making?
---
Header image created using Ranger and RetroSauce
---
Getting started with hand lettering?
Free lettering worksheets
Download these worksheets and start practicing with simple instructions and tracing exercises.
Download now!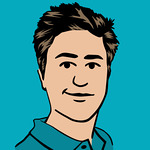 Joe Darnell
Joe is a UI and graphic designer with prior experience as the creative director for three media-based businesses. He has a passion for both web design and graphic design with about 15 years of experience in the media industry. Joe likes delighting people and making ideas and things simpler for them.
View More Posts