12 Best Fonts for Resume Examples
Drafting your resume starts with a good choice of font. Recruiters typically scan resumes within 20-30 seconds, which means you have a limited window to catch their attention and impress them.
Putting effort and consideration into your font choice can help you demonstrate your professionalism and attention to detail and express your personality and uniqueness at the same time.
So, to help you pick the right font that will make your resume stand out from the pile, here are some of the best resume fonts from Creative Market as well as tips and best practices on font usage and formatting:
How to Choose a Resume Font
Using great fonts for your resume contributes significantly to its overall readability, presentability, and effectiveness. When choosing a resume font…
Go for a Simple Font
Simple fonts have a clean, classic, and more professional look. They are also easier to read, and enabling recruiters to read and focus on the content of your resume should be your number one priority. Complex fonts that are hard to read can already put off recruiters just by looking at your resume. Sans serif fonts are generally recommended for resumes as they have great readability.
Select the Right Font Size
The optimal resume font size ranges from 10 to 12 points. Since it is ideal to keep your resume to only one or two pages, try starting with a size 10 font and see how your font size will impact your resume layout. Size up if you have more space but never go down below 10 points just to keep your resume within 2 pages.
Add Style to Your Resume Font
You can add special details to your resume while still keeping it uniform. Try using a different font and a bigger font size for your name and section headings or emphasizing certain text by bolding, underlining, or italicizing. Just remember to be consistent with stylization and keep it up to only two fonts as multiple fonts can distract the reader.
Consider Where Your Resume Will be Viewed
Sans serif fonts are actually easier to read on-screen while serif fonts are more readable on print, so before you choose a font, first take into account how recruiters will be viewing your resume. Since applications are now usually submitted online, a sans serif font for your resume will be much easier on the eyes.
Make Sure Your Creativity is Not Out of Place.
If you're in a creative field like advertising or graphic design, then you will benefit more from choosing a stylized font as your resume is representative of your work and skills as a creative. But keep in mind that your resume is still a formal document that needs to be clear and easy enough to read.
Best Professional Fonts for Resume Writing
Here are our top 12 picks for the best fonts that you can use to make a professional, attractive, and highly readable resume:
1. Givonic: New Geometric Sans Serif
Rounded shapes tend to look softer and more approachable, so if you want a simple sans serif font that looks neat and professional without looking too formal, then Givonic's rounded strokes can help you achieve that. It easily blends with other typefaces and comes in different weights ranging from thin to extra bold so you can use it on both your headings and body text.
2. Hydrella: A Sharp New Sans Serif Typeface
Now this sans serif font with a sharp, sleek typeface is perfect if you want to portray yourself as more on the logical and analytical side of things instead of the creative and artistic side. Sharp lines and edges depict strength, dominance, and precision; and Hydrella's crisp lines and pointed strokes can help you channel those qualities into your resume.
3. Swifted: Chic & Stylish Sans
If you are working in the cosmetic or beauty industry and looking for a font to use in your creative resume, then this font with soft features and a stylish, modern feel is just what you need. Swifted has varying stroke widths and comes with unique ligatures that can give your resume an elegant and sophisticated look.
4. Jeko: Contemporary Geometric Sans
Here's another geometric sans serif font with a simple and modern typeface. Popular brands nowadays such as Google and Airbnb are all about geometric sans serif fonts as they have a clean, minimalist, and dynamic look. Technology brands specifically opt for this kind of font to promote a more human look and feel in their brand design, so if you want a friendly vibe in your resume, then this font is exactly what you're looking for.
5. Rollo: A Classic Sans Serif Font
This handmade font features a modern take on typography during the Victorian era to produce a classic, stylized typeface. With its curved tails and varying stroke widths that almost make it look like it's handwritten, Rollo is a unique and eye-catching font that can add a touch of elegance and creativity to your resume.
6. Neuething Sans
A clean and simple sans serif, Neuthing Sans can be your new go-to font as it is an extremely versatile font that can be paired seamlessly with other font styles. An iconic geometric sans that has enough style and personality without being too loud, Neuthing Sans has the makings of the best resume font:
7. Madley: A Slab Serif Typeface
Moving on to serif fonts, this slab serif typeface with monolinear stems, elongated block serifs, and teardrop terminals has great readability and a clean and modern look. It comes in 12 different variations and each has a distinct design that when you write in bold, italic, or all caps, it will look like it's an entirely new font.
8. Imagist: A Grand Serif
Now this font looks like it's straight out of a fashion magazine. A beautiful serif font is what fashion magazine brands like Vogue and Harper's Bazaar typically have in common, so if you're working in fashion, this font with prominent features and powerful ball terminals can give your resume a similar timeless look.
9. Hexi Serif Font
With Hexi Serif Font, you can finally stop overusing Times New Roman, Georgia, or any other traditional font for your formal letters or documents. This smooth and neat professional font offers a modern and minimalist alternative to other serif fonts to keep your resume from looking too boring or conventional.
10. Agentic Serif Font Family
Add flair to your resume with this striking serif font that combines sharp corners and soft turns in its glyphs. From body text to big headlines to classic and bold looks, the Agentic Font Family comes in 18 styles to help you create different moods or make the best impression.
11. Flatline Serif: An Elegant, Modern Font Family
Flatline Serif has meticulously drawn glyphs with high contrast between thick and thin strokes as well as minimal kerning and subtle ball terminals that all add up to create an elegant and warm typeface that will look great on any resume. The thin serifs also contribute to its increased readability.
12. Bovino
Lastly, achieve a strong and powerful look in your resume with this attractive serif font with sharp glyphs, moderate x-height, and high-contrast strokes. If you're in the business field, this type of font can convey the authority and confidence that you need to help you land the job.
Ultimately, the best resume fonts can help you present yourself more effectively and evoke the right emotions from readers. We hope this collection of resume fonts gives you enough inspiration to create the perfect resume.
Check out other collections and tips here on Creative Market by signing up here.
Getting started with hand lettering?
Free lettering worksheets
Download these worksheets and start practicing with simple instructions and tracing exercises.
Download now!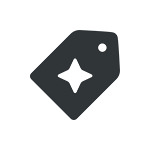 Creative Market