10 Best Law Firm Logo Designs To Do Your Brand Justice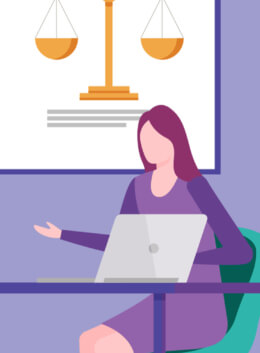 A good logo design that can perfectly capture what your law firm brand stands for can give it a solid identity that will help you get more clients. Whether you're just starting out or have been in the business for a while and are looking to create or redesign a logo, we have some design tips and ideas that can help you.
How To Make a Logo Design for Your Law Firm
In the legal industry, being conventional in your logo design is not an option if you want your law firm to be recognized. Traditional logos like a judge's gavel or the scales of justice may seem like a safe and preferable choice, but they won't be able to let clients see what makes your company different from other law firms.
Creating your own logo design will require defining your brand's identity, understanding what makes a great logo, and making the right design choices based on both. Here are some steps you can take to navigate the design process for your law firm's logo.
1. Have a clear idea of what your brand is all about.
What is your law firm's brand personality? What makes your law firm unique? How do you want your clients to describe your brand? What are the beliefs and values that are important to your company? What is the message that you want to communicate with your logo? Asking these questions will help you nail down your brand identity so it can be at the core of your unique logo. These will also allow you to figure out the look and feel you want to achieve in your design.
2. Consider what would work for your target audience.
When you're brainstorming logo ideas, remember to take into consideration who you're designing your logo for. Look into the demographic and psychographic profile of your potential clients and find out what matters to them: their desires, principles and priorities. Try to put yourself in their shoes and see if any of the designs you come up with speaks to you. Keep in mind that the first impression potential clients will have of your brand will be based on your logo. How it made them feel will help them decide whether your company is right for them.
3. Choose the right type of logo.
There are currently seven main types of logos that you can choose from, and learning about the best application for each one will help you identify which will benefit your brand the most. Picking a lettermark or monogram design might be a good idea if you want a minimalist logo, but it won't be able to say much about your law firm as it would only consist of letters.
Meanwhile, an emblem logo in the form of a badge, seal, or crest may be the ideal option as it has a classic look and lets you maximize your logo design by utilizing both text and shape or symbol. Below is a collection of law firm logo templates with an emblem design.
4. Get down to the specifics.
To formulate the right design aesthetic for your brand, you now need to get down to the nitty-gritty and think of colors, lines, shapes, typography, graphics and other design elements that would best fit your brand. If you want to convey authority and strength in your logo, then use professional and traditional fonts like serif fonts. Or, if you want your brand to be associated with humility and simplicity, then go for a handcrafted logo design. If you're in tech law, use geometrical shapes to symbolize innovation. Or, if you're a personal injury law firm, then make sure to include graphics and illustrations related to health care in your logo.
When selecting colors: Take note that each color has a meaning. Colors represent certain emotions and ideas, like how black gives off a sleek and elegant vibe while green is the color of nature, which makes it a great choice for an environmental law firm. When combining colors, a monochromatic or analogous color scheme creates a harmonious, visually cohesive look.
When selecting fonts: There are four basic types of fonts you can work with. A serif font is a very formal-looking font with clean, simple lines while a sans serif font has crisp lines and is best for complementing a modern and stylish design. On the other hand, you have script fonts which resemble handwritten fonts, and display fonts that are made for grabbing attention.
Best Law Firm Logos To Inspire Your Design
In order to make your logo stand out, you have to create your own design style. Let this collection of best law firm logos give you inspiration and help you find your own spark.
Modern Law Firm Logo Designs
The strong geometric lines and shapes in this law firm logo create a sleek, modern look. If you want a more abstract-looking logo with a contemporary design, then this kind of logo might be the right fit.
This stylish logo, on the other hand, creates a fresh take on the traditional bank icon which makes it perfect if your firm offers legal services to the banking and finance sector. Regardless, it makes a great design for any kind of legal practice.
Meanwhile, this elegant law firm logo that features a pillar and quill symbol makes for an effective representation of strength and resilience. If you want a lawyer logo design that makes a powerful statement, then this would be a great choice.
Minimalist Law Firm Logo Designs
Now this one from VecRas recreates the scales of justice in a completely different (and almost unrecognizable) way. With an abstract, minimalist design, it produces the imagery of a person holding the scales and restoring justice, which might be a perfect fit for a family lawyer, human rights lawyer or any law firm whose services focus on helping ordinary people.
For intellectual property law firms, this kind of logo can make your brand easily recognizable:
Meanwhile, if you're a property lawyer, you might be inspired by this simple yet powerful design.
More Law Firm Logo Ideas for Inspiration
Here are other stunning law firm logos for additional design inspiration.
Creative Law Firm Logos
Although this law firm logo design incorporates the overused justice scale symbol, it adds more details, like merging the scale seamlessly with the figure of a sword to provide a creative twist to the overall design and create a whole new image. The use of clean lines and classic typography results in a simple logo, but elevates its entire look.
Here's another professional logo that exhibits a creative use of lines that you can use for your firm.
Cool Law Firm Logos
Another cool design by Bureau, this legal logo makes use of the justice scale but, this time, combines it with a shield to create a sort of medieval-style logo.
This example from ZHR Creative merges two symbols, a torch and a pillar, and forms a design that exudes superiority.
With these logo designs, we hope you now have an idea of how to go about creating your own law firm logo. If you're looking for more design inspiration and tips, simply sign up here.
Getting started with hand lettering?
Free lettering worksheets
Download these worksheets and start practicing with simple instructions and tracing exercises.
Download now!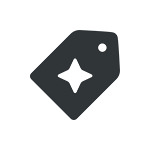 Creative Market