How to Create Streaming Overlays That Stand Out on Twitch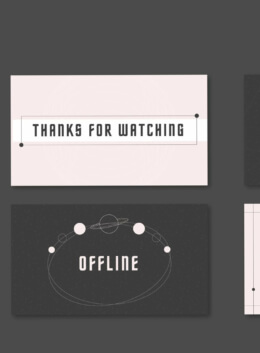 If you are familiar with streaming on Twitch, you know how important it is to stand out from the crowd. There are over 2 million broadcasters on the Twitch platform, so how does one person cut through the crowd and become noticeable? Of course, having interesting content and a shining personality is a necessity, but another important aspect to standing out in a sea of streamers is to have a unique and visually appealing Twitch overlay.
Overlays are thematic designs that sit on top of your streaming content. An overlay can include a variety of things such as video frames, a logo and stream name, new follower/subscriber/donation alerts and labels, animated graphics, and a lot more!
Check out this collection of Twitch Overlays for some examples.
Your twitch overlay is your brand image. It is important to create a first impression that represents you and your content in a way that will form a connection with your ideal audience. Having a well-designed and distinctive overlay setup differentiates you from the crowd, shows your dedication and professionalism as a streamer, and accentuates your brand, which in turn helps others to connect with and remember you. Having a variety of interactive elements and features within your overlay design also boosts viewer engagement. It can be fun for the audience to see notifications change and move in real-time in reaction to new and top donators, followers, subscribers, and more. Those engaging extras act as incentives for viewers to interact on your twitch channel.
You can start from scratch and create your own overlays or purchase one that is pre-designed and tweak it to fit your needs. Let's look more into how to personalize an overlay that will leave a lasting impression on your audience.
Research Layouts and Unique Design Ideas
Consider the following when choosing and customizing pre-made overlays or creating your own.
1. How do you want the overlay(s) to be laid out?
Think about the purpose of your streams. What is going to be the main focal point? Are you going to be streaming content with or without a webcam? Will you be featuring guests' webcams as well? Do you want to include your stream name, social icons, stream labels, or any other elements?
2. What look and feel are you going for and what design trends can you incorporate?
Reflect on what your channel is all about. What ambiance would match your personality and content? Something Fun? Intense? Cool? Modern? Witchy? Laid back? Make sure your design is also something that appeals to you personally.
3. Do you want to buy an overlay and edit it to fit your needs or create from scratch?
There are some pros and cons to both options. Creating an overlay from scratch can give you exactly the design that you want but takes more time. Buying an overlay saves you a lot of time and effort but might not be fully customizable for more specific needs.
Now for the fun – it's time to research some overlay examples and design trends to kick your inspiration and creativity into high gear!
Research Overlay Layout Examples
To get your creative ideas flowing for these two points mentioned above, research, research, research! Look at some popular twitch channels to see what other people are doing with overlays to get your creativity running. Doing a simple search for "twitch overlays" on Creative Market or Pinterest will also return some great inspiration. Make sure to take note of the customizability of the overlays. Notice if you can change the colors, move the elements, etc., so you can tweak it to fit your channel.
After doing some research on overlay examples, you might have an idea of what kind of features you want to include in your own stream.
Things to consider including are:
– An area for a webcam (or more if you want to feature guests) and a video area for the game if you are streaming games. This will be the main focal point of your overlay.
– Video frames/border
– A header with space for the stream name or logo
– Social icons and usernames
– Stream labels showcasing the latest followers, subscribers, top donators, etc.
– Sponsorships
– Alerts triggered by new followers, subscribers, donations, etc.
– Chat boxes
– Animated clipart
– GIFs from GIPHY
Some tips when thinking about how to layout the overlay:
– Less is more. Make sure that everything flows concisely and is easily digestible by not overcrowding elements.
– Every element serves a purpose. Every element on the screen should be utilitarian in its purpose to prevent overcrowding.
– Make sure the design is unique. Your design is about your channel and only your channel, so make sure it stands out from the rest to create a solid foundation for your brand.
Research Design Trends
Now that you have an idea of how you want your overlay laid out and what features you want included, it's time to think about the design. The design aspect includes adding colors, fonts, and clipart/illustrations to your streams. Having a trendy design overlay will take your stream to the next level.
Researching current design trends, in general, is an important part of the process and another way to get ideas and gain inspiration. Creative Market and Pinterest are great places to search for these trends. Take a peek at Creative Market's most popular graphics and the "trends" section of the Creative Market blog for inspiration. The post Graphic Design Trends to Look Out For in 2021 features a few different current trends. Whether you create your own overlay from scratch or purchase a pre-made one, consider color schemes, objects, fonts, clipart, frames, and illustrations you can add to make the overlay your own.
Adding some abstract shapes like these can add a fun element to your designs. Play around in your design program or your OBS (Open Broadcast Software) by placing the shapes in different places and see what sticks.
For a floral fan, adding some garden-themed graphics would certainly be a unique and fun way to enhance any overlay design! Check out this post featuring a variety of garden-themed graphics.
Textures and gradients are other great elements to add to your overlays. Try using different textures and gradients you like as your background and place your videos and other elements on top. These Aesthetic Gradients would make for a cool addition to an overlay.
Video frames and borders can add a lot to the design of your overlay. These Grunge Borders can add an extra edge to your stream.
Combine layouts and design trends
Think about how you can mix and match these trending designs, colors, and aesthetics and incorporate them into your overlay designs to create something new. Whether you are creating your own overlay or editing a pre-made one, think outside the box about incorporating unique designs and engaging content into the overlay that you don't normally see in streaming graphics.
Examples
I love the witchy/mystical trend happening right now. Following this theme, I took inspiration from several different overlays, Creative Market products, and designs I found on Pinterest to create my Modern Magic Streaming Kit. I incorporated the designs into the stream labels, video frames, and chat boxes.
You can easily change the look and feel of this theme to match your style by editing the colors, changing fonts, and adding some of your own clipart in Canva or Photoshop.
I also noticed a trend in gradients and soft pastel colors. I decided to create an overlay set with those aspects and also added some cute alien/ufo clipart to create something more unique.
Make sure you know the size requirements for the overlays and elements. Overlays work best in a 1920 x 1080 size. Check out this Twitch Graphic Size Guide from Visual Impulse for more details on Twitch sizes.
By reflecting on your brand, researching overlays, and trends and playing around with pre-made overlays to add your own colors, elements, and clipart, you will surely find something you feel will reflect your personality and stand out in the crowd. The creation process is a chance to think practically about the purpose you want your stream to serve and think creatively on how to create a unique stream experience by mixing design trends and engaging overlay layouts. If you focus on those things, your stream will stand out and become a space your viewers will love to be a part of.
---
Products Seen In This Post:
Design a cohesive Instagram grid
Get your free grid template
Download this kit to quickly export Instagram shots that match your brand's visual style. PSD and AI files are included, as well as a moodboard to display your brand's assets.
Download it now
Lily Liseno
Hello! My name is Lily and I'm a graphic designer & musician. I design pre-made branding kits, graphics, logos, and streaming/social media templates for creative entrepreneurs. Sign up for my email list on my website for free stuff, updates, & special offers!
View More Posts