Sleek Times New Roman Alternatives for a Unique Look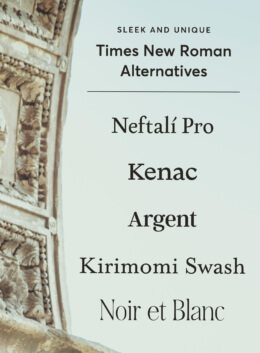 It's crisp, classic, and easy to read. It's Times New Roman—and while you probably know it as soon as you see it, there's a good chance it's also gotten pretty old over the decade you've seen it everywhere. So, if you are looking for a font that is similarly legible and light as Times New Roman is, but you want something unique and unexpected, look no further. Here are our favorite Times New Roman alternatives available on Creative Market. They are similar to Times New Roman in that they're easy to read, clear, and minimalistic—but different enough to infuse some new life into your projects.
The Seasons Serif Font Family is one of the best Times New Roman substitutes because it is a sleek and classic-looking serif font, but it also has an elegant, vintage look infused, so that lettering has a little more character than typical text set in Times New Roman. The designer who created it, MyCreativeLand, explains that the font has corresponding calligraphic cursive italics that are based on a variety of humanistic Italic scripts and written with a Pilota Parallel Pen. Think Times New Roman with a fancy flair.
MadeType made Mirage—a modern and elegant serif font family that is minimalist and clean but also filled with personality. MadeType recommends the font family for fashion, magazine, branding, logo, invitation, poster, and advertising projects, and more. Its thin, sleek lines but perfect symmetrical look make it a font that feels fancy—but also easy to read.
For one of the Times New Roman alternatives that has an undeniable exotic flair, pick Neftali Pro. This font, designed by TipoType, was created as an interpretation of Pablo Neruda's "Poema 20." With influences from Baroque and Roman Styles, and an infusion of calligraphic details, Neftali Pro has undeniable character and a unique style—but it's easy to read in all weights. If you buy the font, it comes with uppercase, lowercase, small caps, old-style, and tabular numbers. You might want to consider this one for writing poetry.
Calling all bibliophiles: one of the best bookish fonts that's also a Times New Roman alternative is Kirimomi Swash. Designed by Wordshape after a deep dive into the history of Onitsuka Tiger's advertising, Kirimomi Swash was designed to incorporate elements from throughout the history of modern printing (both in Japan and throughout the world). This typeface is rooted in classical form—but it has unique features like curved terminals and weighty serifs that make it stand out from the standard, straightforward serif typefaces. Word shape recommends using this as a display font, but it can also be used as a Times New Roman substitute; it just has a little more character and a little more playfulness infused into every letter and number.
For a font that is similar to Times New Roman, choose Portoluce. Created by Eurotypo, Poroluce is a somewhat straightforward serif font—but it has sharpened serifs to make the font seem even more contemporary and "now" than Times New Roman seems when printed. The font comes in three weights with italics. And, it can be used for body text or display—wherever you need something classic that just isn't boring.
Kenac is a font created by Latinotype. It is modern and contemporary, with elegant details—think Roman type with elements of calligraphy mixed in, as well. One thing that makes Kenac so stunning to look at is that it is designed with contrasting thin and thick strokes. Because it pulls in the eye, it's a good choice for titles—and it can also be used for body text, although it's not quite as easy to read as a traditional Times New Roman is.
For one of the typefaces on this list with the most character, check out Noir et Blanc—a "stylish" serif created by Nicky Laatz. Laatz designed the font to be full of contrast that works in harmony: the uppercase characters are bold and voluptuous, while the lowercase is sleek and sultry. This font evokes retro or vintage film, fashion, magazine, media, and more. Use it for display or body text, but know that you're infusing a certain throwback look into whatever project you use it in.
Olive and Figs, by Harmonais Visual, is a regular classical serif designed to be a display font. The creation of the font was inspired by Roman culture and calligraphy but the designer added in their own regal and elegant touch. This typeface is delicate, austere, chic, and formal, so use it for a project that needs a fancy touch, like in logos, packaging, branding, and more.
Macaw is one of the boldest of the substitutes for Times New Roman in this list. This serif font family was created by Unio | Creative Solutions, and it comes in four weights. The designer explains that particular the heaviest weight of this font is supposed to unleash "a powerful and distinctive emphasis on your project." Great for any editorial needs, social posts, or to help create an unforgettable brand identity.
Thinking Halloween, old mansions, Victorian elegance, or anything similarly spooky or embellished? This is the serif font for you. Created by Ana's Fonts, Night Still Comes is a serif font with a distinctively old-timey feel but is still clear and readable, so usable for either display or body text. The download comes with two styles (regular and italics) in two weights. It also comes with Swashes and old-style and lining numbers, so you can ensure your product keeps its throwback feel consistent. This is a good font for the season we're in right now.
Argent CF, created by Connary Fagen, is expressive and creative while still being one of the closest alternatives for Times New Roman. It has a pronounced x-height and "evocative, flowing letterforms," but as the designer explains—it's both a tribute to the past and a step into the future. Buy Argent CF, and you'll get six weights and italics, plus Latin and Cyrillic support, free features and bug fixes, and more.
Getting started with hand lettering?
Free lettering worksheets
Download these worksheets and start practicing with simple instructions and tracing exercises.
Download now!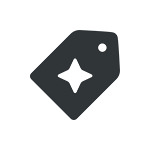 Creative Market