Building the World's Marketplace for Design.
We started over 10 years ago with ColorSchemer.com & COLOURlovers.com, building tools and communities for creators. In that time, we've focused our efforts on making the most intuitive and delightful user experiences for people looking for inspiration and professional help on their design projects.
Our mission has always been to make beautiful design simple and accessible to all. And to us, a big piece missing from creating that experience was a marketplace that had all the assets a creator would need, and fairly valued the designers who bring these goods to market.
Our first year was eye-opening and incredibly rewarding. Our assumptions about the kind of marketplace people really wanted were validated, we were inspired by the response we got from the creative community, and we helped designers around the world earn more than a million dollars.
Not only did we see an overall picture of the impact we were making, we saw it in very personal success stories too. We saw it with individuals like Dustin Lee, Retro Supply Co. who found the income stability from his Creative Market shop sales to take the leap to chase his dream of starting his own company. These success stories were the motivation for us to pour ourselves into our work and to see just how big we could make Creative Market.
Going Really Big.
From the first month we released it to the world, Creative Market's trajectory has been up-and-to-the-right. As a founder that has struggled through the dark days of bootstrapping a company, our graphs were the kind of thing you check right before going to bed just to make yourself sleep happy thoughts.
After more than 12 straight months of month-over-month revenue growth, we had a lot of interest in our next fundraising round, and we also had interest from folks who wanted to acquire us.
We had our options, but our priority was finding the opportunity that would best allow us to continue working on our vision and give us the resources to make Creative Market really really big.
When I first spoke to the folks at Autodesk, I was impressed with their vision and where they saw an opportunity to develop a more consumer-focused offering to take their decades of design experience and bring that spirit to the maker movement. As a creative, I've always been in awe of the incredible work that folks are able to create with AutoCAD, Maya and Autodesk's other professional design tools. The animated film I just watched with my wife & daughter… made with Autodesk software. Well-engineered sports cars, dream homes… made with Autodesk software.
Our Vision. On Another Level.
Can this champion of design software extend its legacy to empower designers and makers of all levels? We believe the answer is "yes" so much that we've decided to join them and to continue building this community and our tools and marketplace as part of the Autodesk Consumer Group. And we have big plans to help lead them into a future where beautiful design can be simple and accessible to everyone. Helping people "imagine, design and create a better world" is Autodesk's mission, but it's also been our driving force for us since we launched almost a decade.
The whole Creative Market team is joining Autodesk with the same mission, priorities and feature roadmap that we had before… just now we are part of a family that can help us take what we've been doing to a whole new level.
We've always envisioned a Creative Market that lived beyond the walls of a destination website, integrated within the creative tools people use every day… and as part of a company that ships some of the world's best design software, this will become a reality on a level we couldn't have done on our own.
My co-founders Aaron and Chris will be moving to join our SF team in Autodesk's Pier 9 office and makerspace. We're all incredibly excited about not only the future of Creative Market and its continued success at becoming the best marketplace for amazing design, but also the larger story we're now a part of that has for decades empowered makers of handmade goods, and will now empower makers of mousemade goods too.
What does this mean for the community? For customers, it means access to even more high quality content at affordable prices, as we're able to grow more quickly. For shop owners, it means we'll have a larger platform to get your products in front of an even larger audience of customers.
Our Story Continues…
We've still got a lot of pages to write in our story, and we'd love for you to join us as a shop owner, a member of our marketplace community, and a part of our growing team.
Thank you so much for all your continued support and here's to many more years working together in a more beautiful world.
Bubs, Founder & CEO.
Getting started with hand lettering?
Free lettering worksheets
Download these worksheets and start practicing with simple instructions and tracing exercises.
Download now!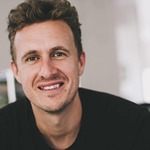 Darius Monsef
Friends call me Bub(s)(ba). CreativeMarket.com CEO #1 Cofounder of Hands.org & Nalukai.org Husband of Kaili & Father of Waialea, Spencer & Sachi.
View More Posts