The Design Process at New York City's Central Park Conservancy
Today, get a glimpse of the design process at the Central Park Conservancy, a non-profit organization responsible for caring for New York City's iconic Central Park. The Central Park Conservancy works on projects to get the community involved with the care of this shared space by keeping Central Park accessible and welcoming for everyone.
From souvenirs at the gift shop to an online presence and campaigns for park initiatives, design is a massive part of the Conservancy's design presence. They are committed to ensuring that the park's evolution and representation are thoughtful and considerate.
We were lucky to interview the two graphic designers at the Central Park Conservancy and learn how they successfully used Creative Market's illustrations for a recent project, the Playground Partners membership renewal package. As part of the Women's Committee, the Playground Partners group raises funds to maintain and improve Central Park's 21 playgrounds for families with children aged 11 and under.
Read on to learn how the Central Park Conservancy used Creative Market illustration assets to enhance its Playground Partners project.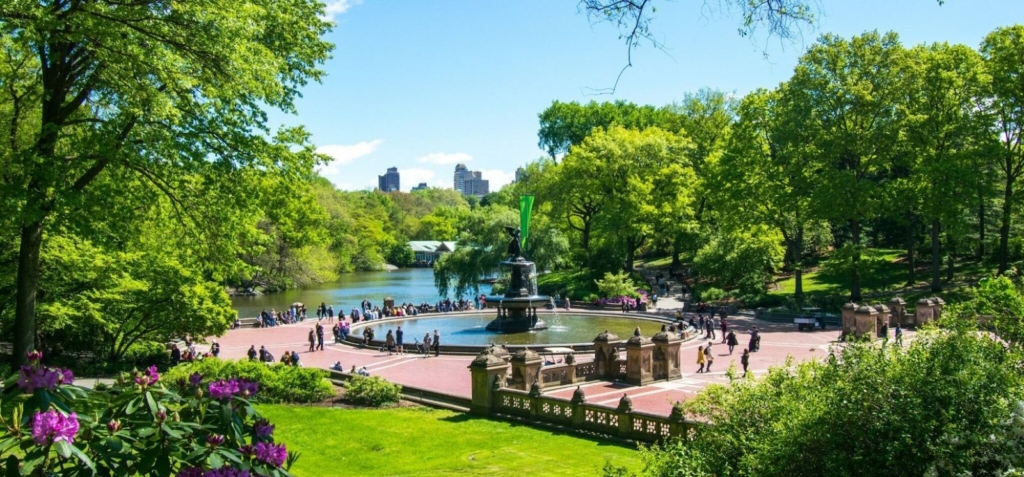 What is it like to design at Central Park Conservancy? What kinds of projects are you involved in?
Working at the Conservancy is a very motivating experience since we not only feel connected to the mission of the Conservancy, but also get to design all types of projects for the entire organization.
Our design work helps the Conservancy raise funds and increase awareness of our work to maintain the park, so we have the opportunity to design a large variety of pieces that support the efforts of the different departments in the organization. Some teams mainly fundraise, while others focus on programs for park visitors and tourists. We also have an institute and hundreds of volunteers. Additionally, we develop the creative for many types of events: public ones like the Central Park Conservancy Halloween Flotilla and Holiday Lighting, in addition to member events, fundraising lunches, and galas.
We also do membership pieces like the one we created using illustrations from Creative Market.
We do for the Conservancy anything design-related that you can think of: maps, brochures, booklets, marketing campaigns, retail products, signage, social media graphics, exhibitions, and internal branding.
How would you describe the brand's look and feel?
The Conservancy's brand has a very clean and warm look, and most of our branded pieces incorporate stunning imagery of Central Park. We primarily use the two greens from our branding, integrate the use of white space, and add our logo to create awareness of the Conservancy.
Everybody knows Central Park, but our main goal is to highlight the Conservancy and its role in overseeing every aspect of the daily care of Central Park.
Who is your primary audience, and how does that impact your design strategy?
We have a large audience and wouldn't be able to fulfill our core purpose in Central Park without the volunteers, donors, and social media followers contributing to our success. The Conservancy maintains the park as a respite from the pace and pressures of city life for all New Yorkers and visitors.
As a result, we target locals who live in Manhattan to encourage them to become members, and tourists visiting New York City. We have different approaches for tourists, so we change the message according to their needs. Tourists might want to know where things are in the Park, but our goal with a member is to build a long-term relationship with them.
We always need to remind the public that we rely on their support. So we adapt our design strategy to captivate the different audiences.
Walk us through your approach for your recent Playground Partners design project.
This piece was an invitation package for the Women's Committee Playground Partners membership. Its goal was to encourage and engage the community, so that people would become members. It was targeted toward families with young children, so we wanted the design to have a playful and whimsical approach. It's a nod to children's imagination while in the park, especially at the playgrounds.
"It's a nod to children's magical feelings while in the park, especially at the playgrounds."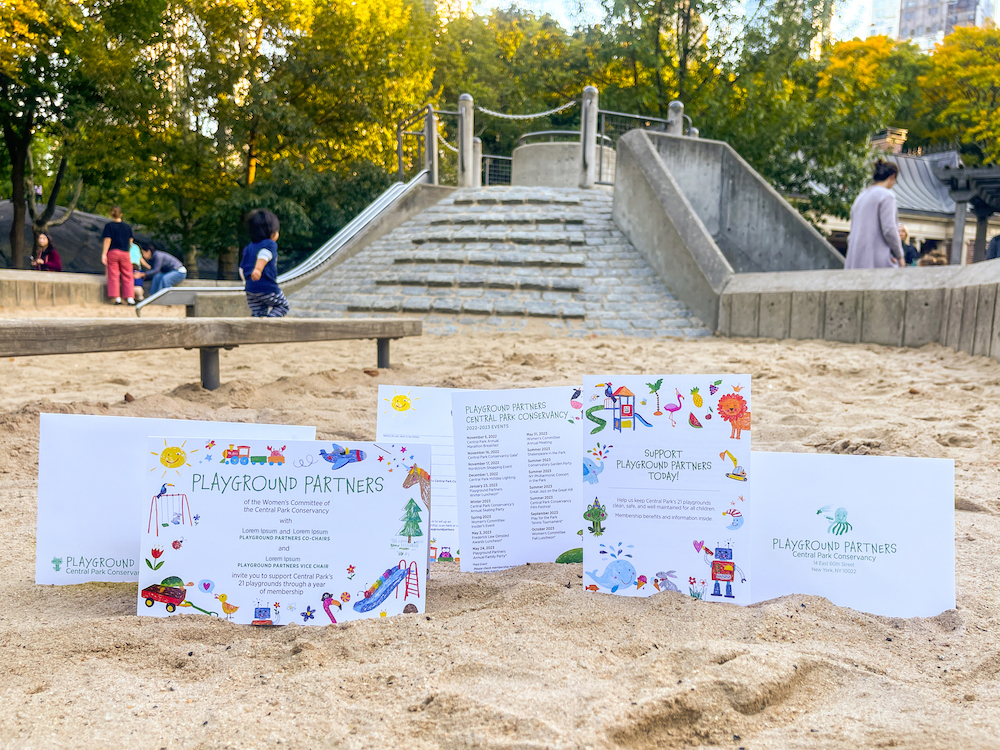 The project included an invitation with a list of committee members and membership benefits, a calendar listing of events, a handwritten note by the committee chairs, and a return envelope.
The illustrations we used from Creative Market had a pencil and childlike whimsical quality to them that included playtime imagery that tied perfectly with the visuals we were envisioning for this project. We wanted recipients of this membership package to feel compelled to join a lively and meaningful group. The Creative Market illustrations we used hone into that message.
How do you complement your creative process with a pre-designed asset to make it uniquely yours?
We primarily rely on vector files because it gives us a lot of flexibility to move things around and change colors. When we use pre-designed assets, like the one for the membership mailing, it's because we can't always hire an illustrator.
We are a non-profit, so it's often outside the budget to create custom designs on demand, and since we are occasionally pressed for time finding an illustration close to what we have in mind is the best solution.
The Creative Market design we used, with vignettes of animals and playground equipment, was perfect for the lively aesthetic that we were trying to achieve. The imagery selected allowed us to present children's imagination playing in Central Park, and it enables us to work faster by just needing to customize some settings and change colors to make the design work for our purposes.
What are your go-to sources for creative inspiration?
We are continuously looking at trends in Communications Arts, AIGA, and a great website called Brand New, whose e-newsletter sends recently updated logos from different organizations and companies. It's pleasant to see what others are doing and what's on trend.
We also love TikTok and Instagram Reels for quick video tutorials. It's very handy to learn new techniques and get inspiration for projects in Photoshop, InDesign, and Illustrator through these social media platforms.
​​What advice do you have for aspiring designers?
We've learned that you shouldn't get fixated on creating and boxing yourself into aesthetics within a particular design niche. Being as versatile as possible to learn different software programs and techniques is essential— not just following the trends.
And last, never stop learning. What matters most is to figure out what kind of designer you want to be and what organization you want to work for. Connecting with your client or company motivates and inspires you to improve your craft. Also, never stop learning. It is essential to keep an open mind since this profession is constantly changing.
Have a comment? Post it below!
Getting started with hand lettering?
Free lettering worksheets
Download these worksheets and start practicing with simple instructions and tracing exercises.
Download now!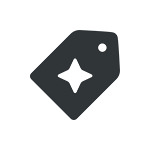 Creative Market