A Curated Collection of Church Bulletin Templates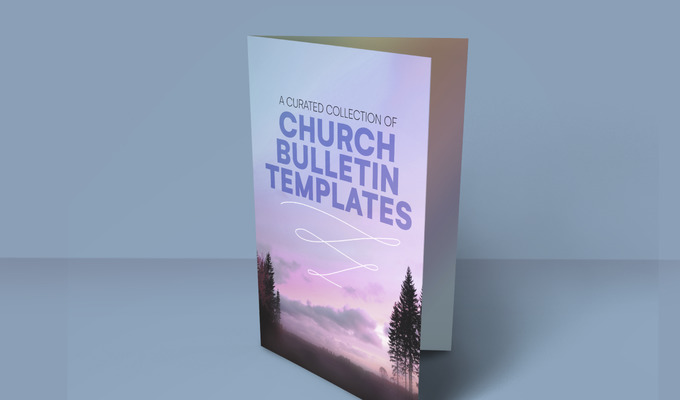 Churches are busy operations, and staff members with hearts of gold can feel overwhelmed by the need to create persuasive, contemporary publicity material. This set of templates contains options for flyers, announcements, booklets, and bulletins — all created by design studios that combine inspiration and information with an upbeat, modern aesthetic.
Is your church bulletin really more of a newsletter? Do you hope that people will sit down and take the time to read it carefully? The Kingdom Magazine InDesign Template by Jared Callais delivers magazine-style church newsletters, with editable page templates for new members, church stats, calendar, and more.
Choose from eight different church-related themes in BrandPacks' Modern Church Templates Pack. These customizable templates contain a range of graphic elements suitable for flyers, posters, business cards, ads, brochures, and more — made to share your calendar of events with the world.
Among the many trifold church bulletin templates from BrandPacks, the Christian Festival Trifold Brochure may be the perfect fit for your church. Designed for both Illustrator and Photoshop, this template features an open, lighthearted theme that will make everyone feel welcomed into your worship community.
The Christmas season calls for its own special imagery, to put everyone into a prayerful holiday mood. The Noel Christmas Brochure Template features a starry sky over a Nativity scene, perfect for everything from Christmas church programs to concerts and cantatas. Three free fonts and four one-click color options have been handpicked by Godserv Designs to create a lovely serious mood.
If your church bulletin is typically in a 3-fold brochure format, you'll save money with this giant 75 Trifold Brochure Templates Bundle by Brand Packs. The bundle of 75 templates does include one template specifically designed for church bulletins, with a contemporary stained glass motif, but you may find other templates in the large pack useful as well. Since everything is customizable, you can pick and choose among the templates.
Today's church business often extends much farther than simple weekly bulletins. If you need to publicize a conference or church program event, you'll want a specialized template for your agenda. The Conference Agenda Canva Template includes pages designed for your schedule, workshop descriptions, speaker profiles, and more. The package was created by 3.14 & Co. for the easy-to-use online Canva platform.
Seeking to make a change in the world? Hue of Hodges studio expressly designed this 3-fold church brochure with inspirational mountain peak imagery. The six panels on the Make a Change Brochure + Form include a two-sided tear-off registration form. All text and shapes on this template come in different layers, for easy designing.
Your church has a story, and that story deserves telling in the most compelling visual format. The Missions for Growth Church Brochure has page templates for church newsletters that are 8 inches square, with a clean unified aesthetic throughout. Designer loswl has thought of everything, including infographics and striking cover layouts.
Church Resources Depot understands your graphic needs. Their Modern Church Trifold Brochure includes photos and headlines specifically designed to invite new members into your community. The modern, appealing photo layouts and warm language are all there for you; all you need to do is customize a few parts and you're ready to go out and grow your church.
How many members of your church need encouragement at Easter time to return to the daily life of your religious community? The Easter Fresh Start Church Flyer comes with the moving imagery of that holy season and features inspiring quotes together with space to add your own details. These customizable church flyers by loswl can be adapted to any church event where an eye-catching announcement is needed.
The Proverbs 31 Women Church Flyer is created in an appealing peach and green color palette, and its well-organized blocks of text and image will make people reach for it. The package includes a tutorial for customizing the Photoshop files and designer SeraphimChris has color-coded all the layers for easy editing.
Sometimes an interesting size and shape is exactly what's needed to capture people's attention. The Church Bulletin (Tri-Fold) template is made up of square panels that are 5 inches on a side. When fully opened out, the brochure is 5 X 16 inches. Designer Tyler Sanguinette had simplicity in mind when he envisioned this small tri-fold, and each square panel can present a bite-size graphic impression.
Church Resources Depot knows the power of pictures to communicate messages that words can't quite encompass. Their Nue Tri-Fold Brochure Template features a clean, image-centered design that's perfect for the growing, energetic congregation. This church brochure package includes photos that you are free to use, as well as easy instructions for substituting your own images.
Looking for a modest-sized church flyer that you can post everywhere? The Church Event Flyer template by IFB Design is 5.5 inches by 8.5 inches: small enough to fit on any bulletin board, and large enough to be easily noticed at a distance. The package includes four color options with scalable gradient backgrounds to match the tenor of your announcement.
In their Simple Church Bulletin Shell BiFold, IFB Design has come up with a basic year-round template. The uncrowded layout avoids information overload, while organizing crucial announcements under clear header tabs. They suggest using the back of the bi-fold bulletin for frequently asked questions, but you can customize your own message with the Apple Pages text template.
Your church is constantly shaping and refining its message, in order to reach the largest number of people and open their hearts. The right images and text make a difference; this selection of templates is bound to include at least one that's perfect for spreading your ministry to the world.
---
Products Seen In This Post:
Download 6 Products for Free
I'm a writer who loves the intersection of verbal and graphic arts. Sometimes a few words can give fresh context and depth to design elements, and I'm happy to be part of that process. I ghost-write websites, blogs and product pages for a number of amazing creatives; feel free to message me!