The Best Graphic Design and Creative Jobs Groups to Join in 2020
Looking for design communities where you can get inspired, find creative jobs, and talk design and other topics with your fellow creatives? Here's our list of the best design groups on the web.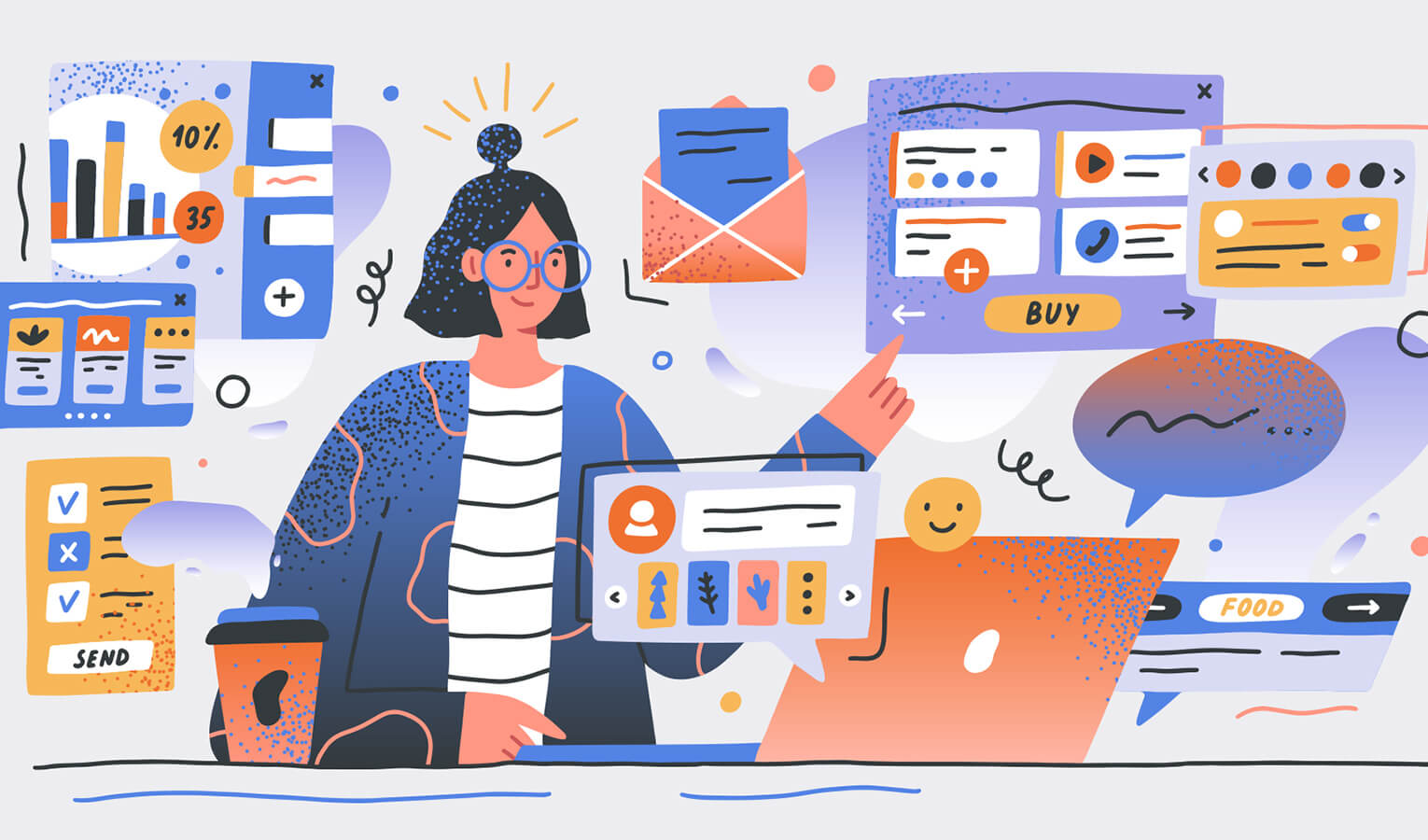 Graphic designers are working in unprecedented times. Creative jobs are more challenging to find, bid on, and close. Your network may also not be what it once was, so you're trying to discover more networking opportunities to ensure a steady stream of creative jobs, as well as a support group to keep you on track.
To ensure that you have more than enough creative projects to see you through our new reality, you need to change your mindset on how you approach your career. Now, more than ever, you have to look online for pathways to jobs.
Luckily for you, the Internet abounds with a whole collection of graphic design support groups. Think of them as your rock during these challenging times. Whether you're looking for career support, advice, job opportunities, networking, or just a place to vent to fellow creatives who understand what you're going through, these graphic design groups are a godsend.
We searched the web for helpful forums, groups, and communities to join, and here are the best ones we found.
Using Online Forums to Find Creative Jobs and Support
Online forums are one of the oldest types of communities on the Internet—preceding social media, chat hubs like Slack, and almost any other gathering place on the web for people with like-minded interests. We've scoured the web to find the best forums that specialize in graphic design.
Here, you'll find everything from resources for creative jobs to networking opportunities and just a place to talk shop with your fellow graphic designers.
Dribbble
Dribbble offers a community of over 6 million designers and creative professionals that share feedback on the "shots" you upload. Dribbble Meetups, in-person events held all around the globe, are specifically designed to help you connect with like-minded creatives. The site also features freelancer and job-seeker boards where you can find interesting projects or full-time opportunities.


Graphic Design Forum
Aptly named, Graphic Design Forum has been around for a number of years already. It boasts hundreds and hundreds of regular posts per month, along with a few hundred active members per month.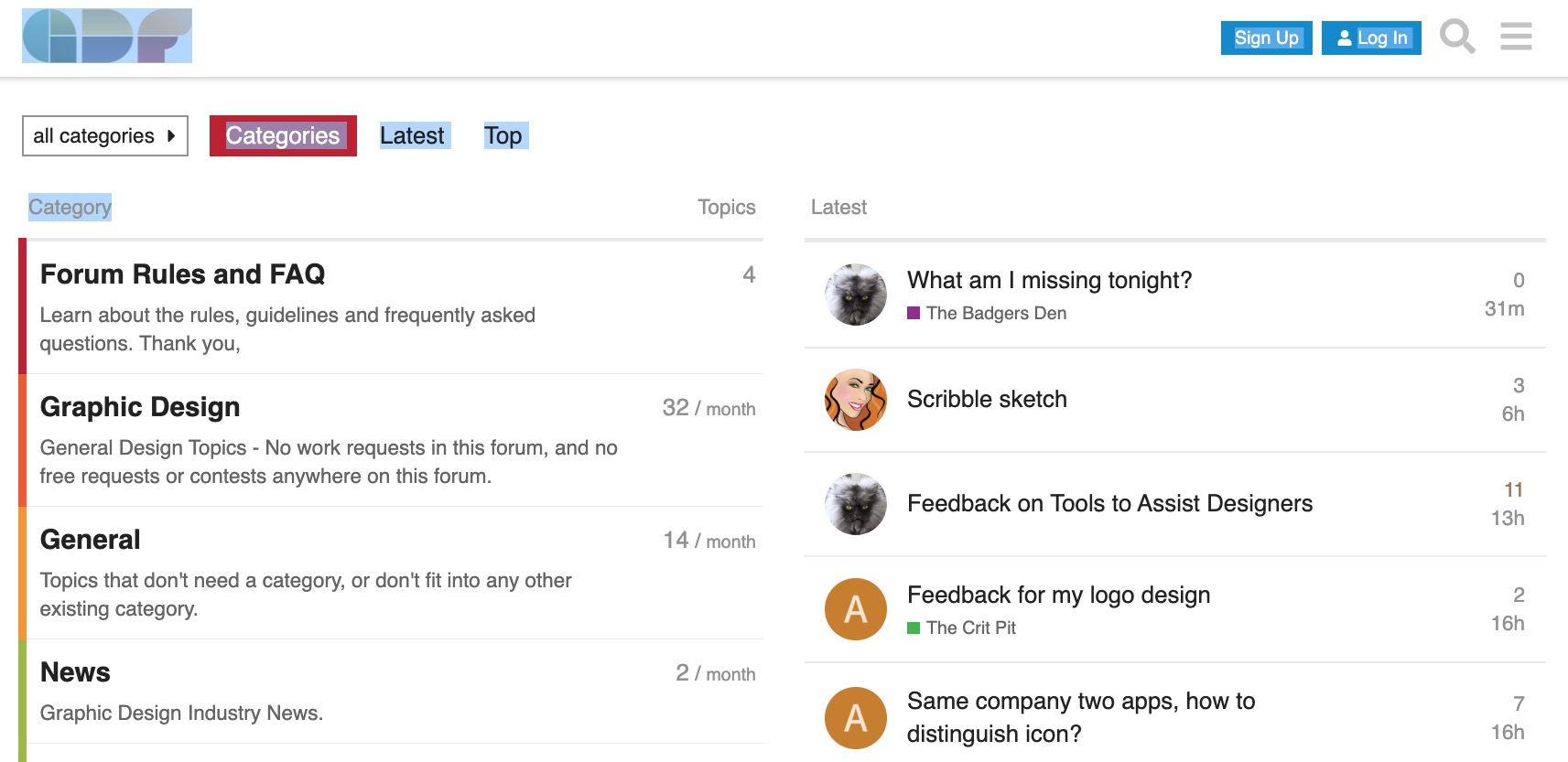 Via: Graphic Design Forum
Graphic Design Forum features a variety of categories of discussion and support, including:
Graphic Design
Classifieds (for creative jobs and projects)
Web Design
Typography
Illustration
Motion graphics
News
General
Off Topic
Among the most popular discussions today are, unsurprisingly, those that deal with COVID-19 and the accompanying lockdown. You'll be sure to find a lot of opinions, support, and just general discussion about how various graphic designers are coping or trying to cope with their careers as the lockdowns rage around them.
DeviantArt Forum
Claiming to be Earth's biggest online social network for artists and enthusiasts, the DeviantArt Forum is a huge design resource that's only gotten more and more popular with age. While its forum interface features a bare-bones design without much white or negative space, don't let that dissuade you from finding creative jobs. The forum seems to have active members at almost all times of the day (depending on your time zone) and covers a multitude of different topics.
Naturally, there's the big Community section, which addresses different aspects of social and career support for designers (such as the straight-and-to-the-point Help with Life forum), along with more off-topic discussions on politics and religion. As you scroll down, you'll notice that there's also more design-related forums like those covering digital art and photography.


Via: DeviantArt Forum
If you're searching for some inspiration, there's the Showcase section of the forum. Beneath that, you'll find a great resource for creative jobs: the Employment Opportunities section. Browse these to find various job offers and job services.
Essentially, if there's something on your mind as a creative professional or hobbyist, you'll find it on this forum, along with a vast network of fellow creatives.
The UK's Graphic Design Forums
If you're based in the UK, then you may want to check out the Graphic Design Forums, which is really a central hub for numerous graphic design topics. Another large community, it boasts nearly 23,000 members, more than 170,000 total messages, and almost 22,000 threads.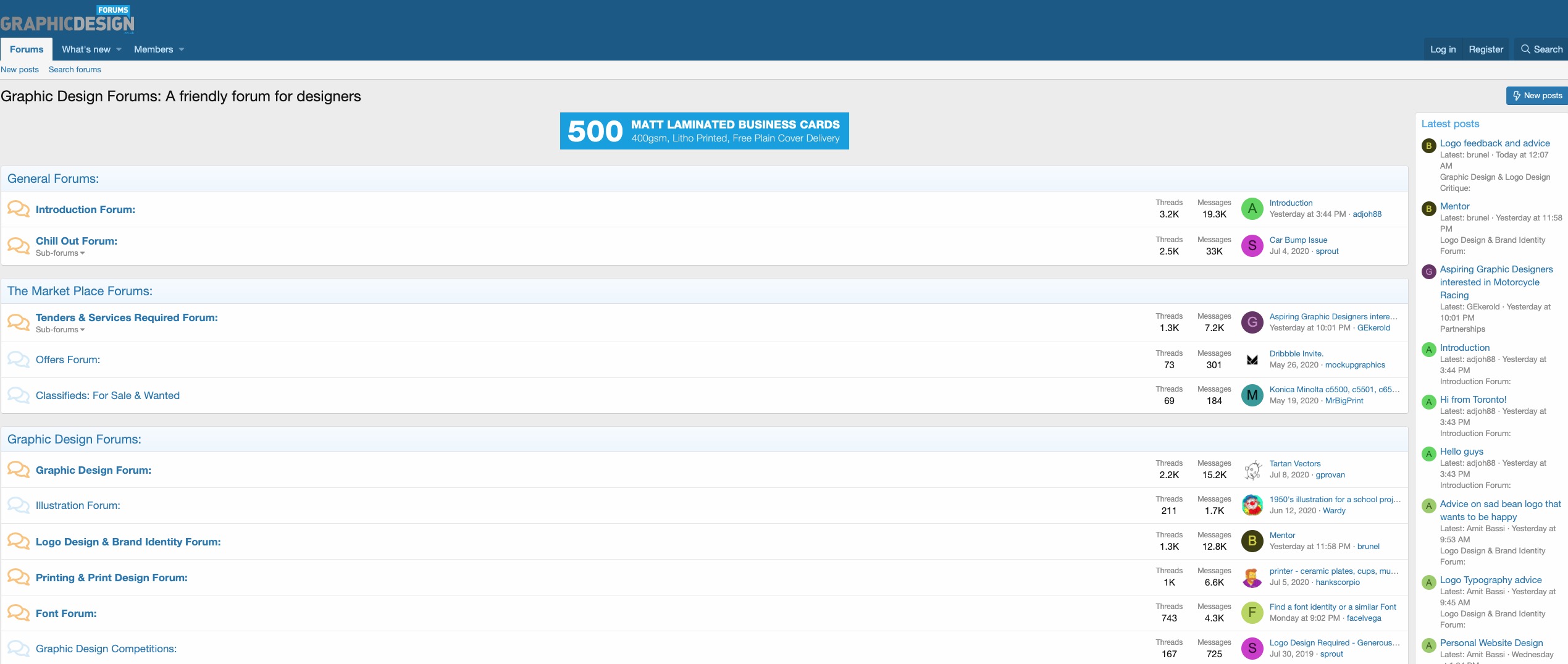 Via: Graphic Design Forums
This community is split up into several, main parts, each equally interesting for the graphic designer looking for creative jobs, professional support, or merely a chance to blow off some steam. Its design forums cover the following:
Graphic design
Illustration
Logo Design and Brand Identity
Printing and Print Design
Fonts
Graphic Design Competitions
Graphic Design and Logo Design Critique
Other sections include forums for business, software and hardware, website design, general items, photography, and motion design. You'll find creative jobs Design Jobs and Employment forum.
Overall, it's a very well-organized forum without clutter and very legible rows that make it a great resource for any designer on the planet, not just for those living in the UK.
Using Facebook Groups to Find Creative Jobs and Support
For all the criticism that it receives, Facebook nonetheless delivers as a social network that has the capacity to connect graphic designers in this great time of need. That makes sense since it's the biggest social media platform on the planet, so chances are good that you'll find a design support group that's helpful to you.
Whether you're looking to land creative jobs or expand your online network for future projects, here are the best Facebook groups for graphic designers.
Facebook Graphic Designers Group
This private group has been alive for several years. In that time, Graphic Designers has amassed a staggering total of more than 226,000 members from all over the world, and membership is subject to being approved after sending your request to join.
What's ideal about this destination is that it's a big-tent concept: It was created for both amateur and professional designers who are interested in collaborating and offering support to each other. Members are encouraged to:
Share their work
Offer helpful tips they may have
Exchange ideas
The group enjoys decent activity; it's not unusual to see a few dozen posts each month. If you're looking for a welcoming group that doesn't mind what your design experience is—and if you're committed to being an active participant in a give-and-take scenario of information—then give this group a try.
Facebook Learn Design and Go Freelance Group
A very topical Facebook group that has the zeitgeist of increasing remote work and freelancing, due to COVID-19, on its side, Learn Design and Go Freelance is the brainchild of entrepreneur Lindsay Marsh. This group has almost 20,000 members, and you'll need to be accepted into the group before you can start networking, as it's a private group.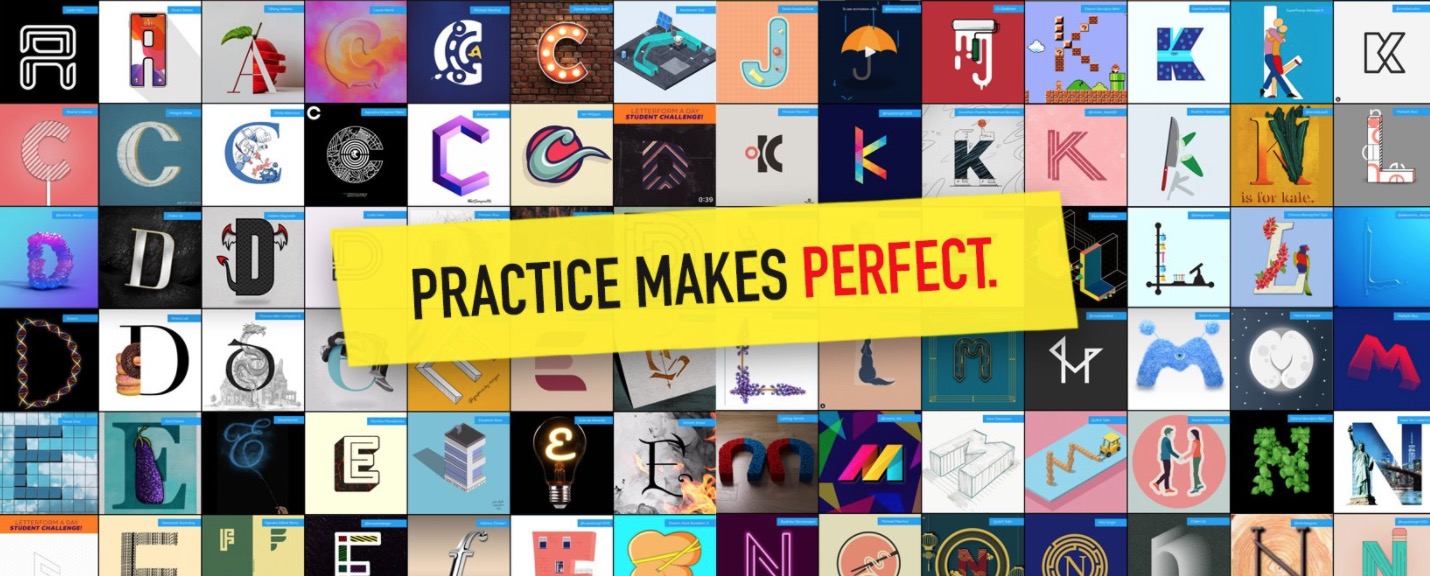 Via: Learn Design and Go Freelance Group
A group established for peer-on-peer support, Learn Design and Go Freelance seeks to promote open dialogue among graphic designers, so everyone can get a better sense of how difficult or easy it's been for them to enter the graphic-design industry or branch out into freelance projects. The goal is for members to come away from these interactions with more growth and learning.
There are approximately 110 posts per day, so this is a group that enjoys rapid activity, perfect if you're looking to up your skillset for more creative jobs or just to pick the brains of your fellow graphic designers.
Facebook Graphic Design Group
Graphic Design is a super-active Facebook group that's public and has been around since 2014. With almost 300,000 members from all over the planet, it is another huge community that provides the support, collaboration, and opportunity for creative jobs that you're looking for.
Members of this group share their digital artwork and are happy to critique, praise, or otherwise offer their two cents to their fellow designers. If you're strictly searching for opportunities like creative jobs, this group may be one of your best bets. Members regularly post projects and announce they're looking for new projects. The group's purpose is indeed to post design jobs, ranging from logo projects, business cards, and book covers all the way to print media, magazines, and flyers.
If you can keep up with its furious pace of about 580 posts per day, then be sure to check out Graphic Design on Facebook.
Facebook Logo Design Group
A true community, Logo Design has more than 110,000 members and 300 posts a day. All this makes for a very active resource if you're a designer searching for an opportunity to gather some feedback for your projects and artworks. The content of the posts ranges from frequently asked questions and actionable freelance tips to learning from others' experiences in their design careers.
Members can expect to soak up knowledge like this:
Tricks of the trade
Tools to help your workflows
Websites that you can use as design resources
Since the group is dedicated to learning, primarily thanks to other designers posting their projects and the ensuing feedback that generates, you'll also challenge yourself by becoming a member. This is a public group with worldwide membership.
Those more interested in finding creative jobs are also allowed to respond to members who post job notices for various design projects.
Using Skillshare Groups to Find Creative Jobs and Support
Skillshare is known as the online-learning website, but it's also a favorable place to look for design and design-related groups and communities. The platform's reputation for being a place of learning carries over seamlessly to its different communities, which function as extensions of its mission for self-education.
These are the best groups on Skillshare for upping your design skills, networking, talking shop with other designers, or finding new creative jobs.
Skillshare Graphic Designers Group
One of the most popular Skillshare groups around with more than 10,000 members, the website's Graphic Designers Group is perfect for designers of all skill levels. The interaction that's expected here is really its big selling point: You're free to share projects that you're currently working on, both to get critiqued and to showcase your great work. This is also a community where you're encouraged to ask questions of your fellow designers, as well as to offer and receive constructive criticism and feedback—the only way you'll really grow as a designer.


Via: Graphic Designers Group
Designers who are curious about this community can preview its content via its long-scrolling column. If you're ready to become an active participant in this community, you'll need to go ahead and sign up for a Skillshare account to join in on discussions and provide feedback.
Skillshare Creative Business Owners Group
The appealing part of Creative Business Owners is its focus on the business side of things in the design industry. Too often, creatives forget that they're running a business, too, and therefore should have both their right and left sides of their brains fully active at all times.
The goal of this community is for people who work in creative industries—whether it's graphic design, illustration, you name it—to provide each other with support and feedback to inspire creative projects and ideas.


Via: Creative Business Owners Group
Scroll down the main column of content in this group, and you'll see a diverse selection of Skillshare classes about everything from business sales, managing your finances, and digital marketing. Of course, there are also more creative-leaning posts, like those that focus on storytelling, creating communication plans, and design tutorials.
Overall, if you're looking to find other creatives with whom to potentially collaborate or work with at different creative jobs, then Creative Business Owners is definitely worth a look.
Skillshare Entrepreneurs & Small Business Owners Group
At your core as a designer, you're an entrepreneur since you run your own small business with you as the primary engine behind your service offerings. Entrepreneurs & Small Business Owners makes sure that creatives don't forget this very vital reality.



A community meant to inspire and help creatives of all backgrounds, this group focuses on networking and business growth, providing a forum for those looking to take their design businesses to the next level. With several thousand members, this community is quite active, and the posts range from classes on weathering global pandemics like COVID-19, as you run your business, to how to develop your marketing strategy. Of course, there's plenty of room for discussion in the comments sections, too.
All told, it's a solid community that empowers designers to bolster their business acumen, which will prove useful for designers wanting to attract more creative jobs.
Using Slack Communities to Find Creative Jobs and Support
With much of the focus on social media for connecting people these days, it's easy to overlook other online communities, such as those by Slack. These communities allow you to do more than Facebook groups. For example, you're able to chat instantly in real-time, as well as to attach files straight from your computer or cloud services like Google Drive. These features definitely come in handy when exchanging ideas, offering moral support during COVID-19, or seeking out those promising creative jobs.
We've searched high and low to find these best Slack communities for designers.
The Creative Tribes Slack Community
Calling all creatives. Creative Tribes is all about the growth of your career, ability, and creative pursuits. Appealing to a broad range of creatives—from designers to remote workers to marketers—Creative Tribes aims to pull creative professionals together by sharing and talking about tactics, experiences, and resources that you'll need to make inroads in your design career.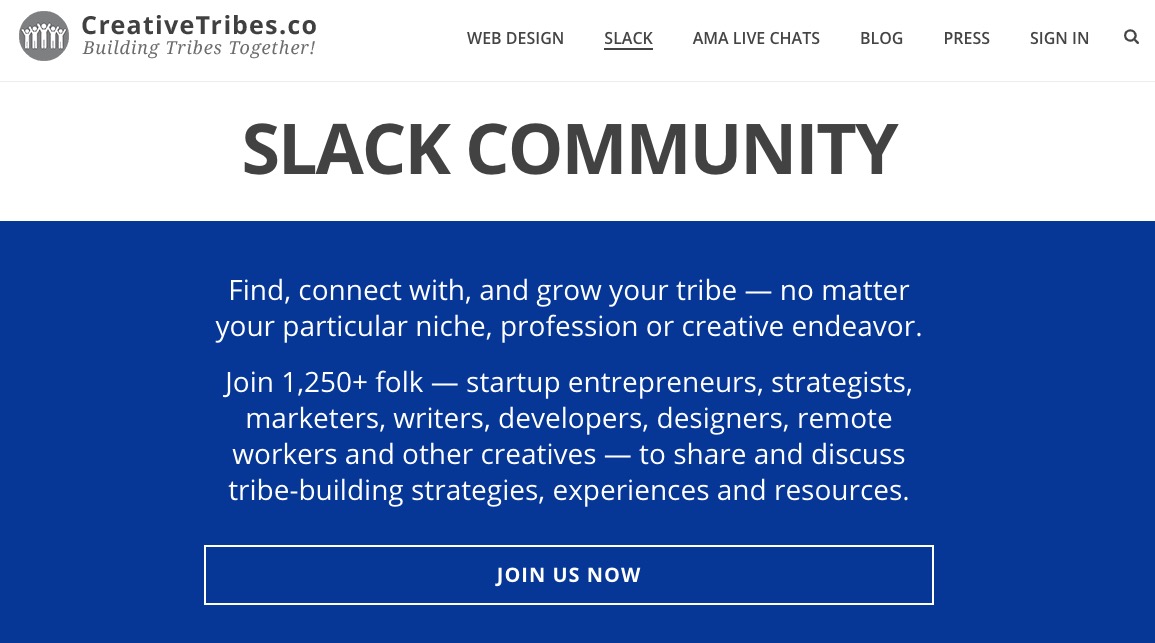 Via: Creative Tribes
Learning is at the heart of this Slack community. If you enjoy putting yourself out there by talking about your experiences (good or bad), as you get pointers from the other members here (your fellow tribe members, that is), you'll love the interactivity of this community.
With currently more than 1250 members spread out over more than 22 channels, Creative Tribes is a good place to reach out for support and ideas while being validated by other creatives with their unique set of experiences.
The Midwest Design Chat Slack Community
Here's a unique approach to this concept: This Slack community is micro-targeted at designers in the Midwest, making this a very tightknit group. With just over 200 members, Midwest Design Chat seeks to put designers in this region of the country in touch with one another. Acting as a resource to elevate design, this chat is meant to help designers:
Give and take feedback
Ask questions
Engage in conversations
The entire community is run by AIGA (The American Institute of Graphic Arts) Nebraska, the Nebraska arm of this professional association for design.
Via: Midwest Design Chat
If you're interested in joining—and, of course, live in the Midwest—just enter your email address along with your first and last name. You'll be notified with further information.
The Designer Talk Slack Community
Think of this Slack community as what happens when you discuss design as you would with co-workers, after hours, at the bar just down the street from your workplace. Designer Talk is meant to get you to drop your defenses, so you can share ideas, talk about new projects, or just have a virtual place to hang out—as you would with real-world designers.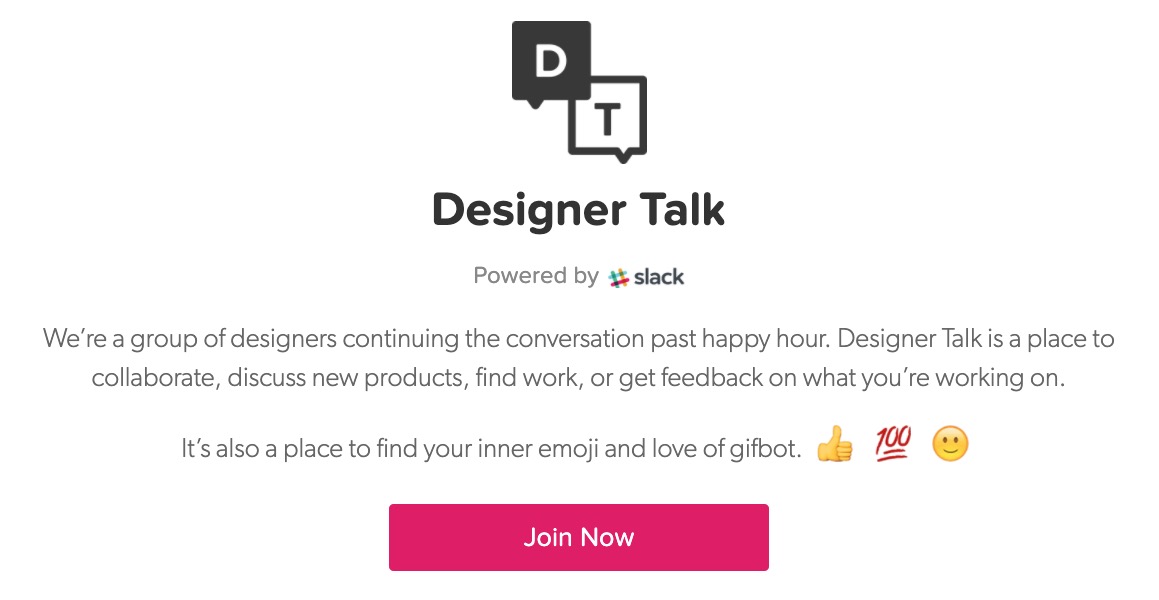 Via: Designer Talk
This public community is run by Bobby Kane and Amir Hamdi, both of whom with a long list of experience working with various tech companies.
If you've wanted a community where design is approached from a more casual, though still cut-to-the-chase way, then Designer Talk could be a good fit for you.
Build Your Own Virtual Network
Unless you're working in-house at an agency as part of a dedicated team, chances are that your graphic-design career will be spent as a freelancer, a solopreneur, working remotely in teams, or a combination of these realities. Though you're "on your own," you don't really have to be. In fact, making solid connections among fellow graphic designers or other professionals in the creative field is a smart choice whose benefits will come back to you tenfold.
As our list of these best graphic design groups proves, designers—for all their solopreneurial ambitions—are social creatures. Whether it's finding better creative jobs, exchanging ideas, working collaboratively together on projects, or casually talking design shop, having a big support network is very desirable.
---
Products Seen In This Post: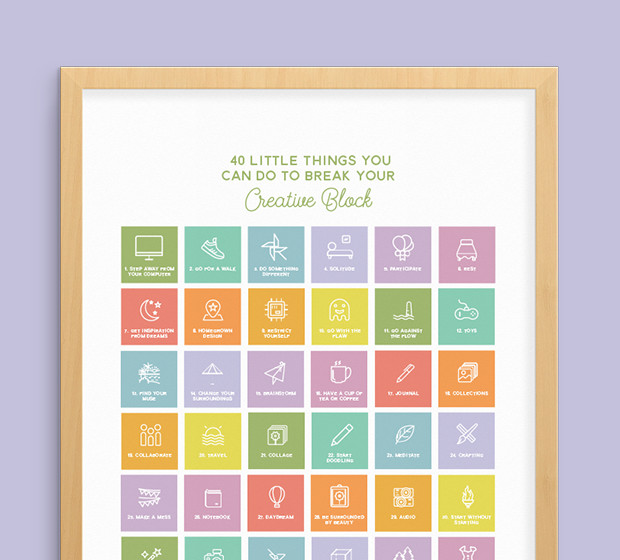 Break your creative block now.
Feeling blocked?
Say goodbye to that awful creative slump. Download this printable with 40 little things you can do to break it.
Download your free print
Marc Schenker
Marc is a copywriter and marketer who runs The Glorious Company, a marketing agency. An expert in business and marketing, he helps businesses and companies of all sizes get the most bang for their ad bucks.
View More Posts