15 Mesmerizing Coin and Bill Designs From Around the World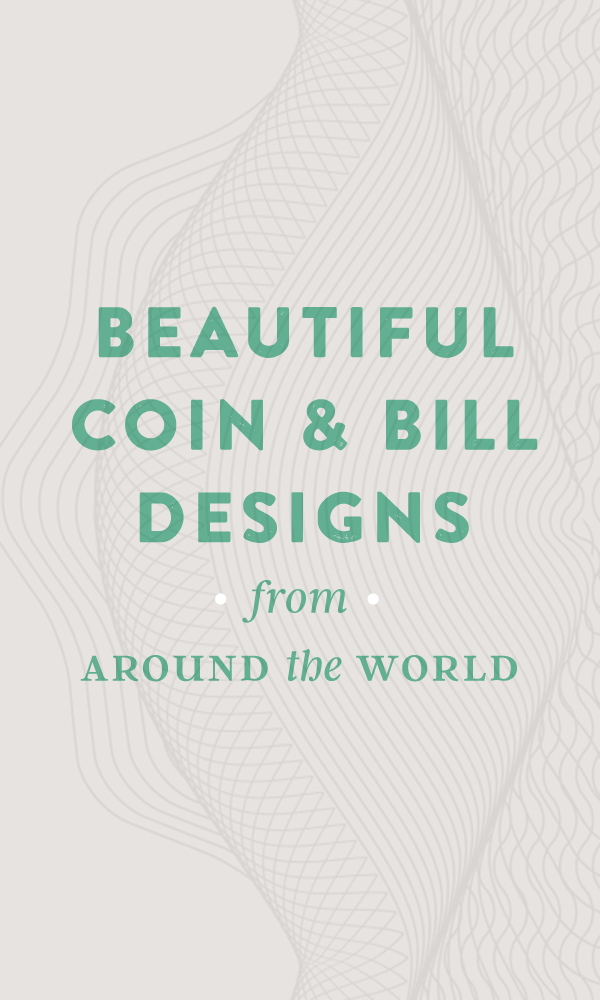 I am not what one would call a "well-traveled human." I've been to three countries total: Canada (where I was born), Mexico (where I saw things I never want to see again), and the U.S.A., where I live currently. Do I live a sheltered life? Maybe, I'll let you know when I leave my bunker. But in the meantime, there's one thing I do love about other countries: their currency.
Seriously, there are some downright awesome banknotes and coins out there across the world, and someday I want to have one of each of them. Will that then make me a millionaire? Maybe, I don't know what the conversion rates will be in the future — I'm not a psychic. But until that day comes, I'll have to be happy with just looking at these goodies.
---
The Most Secure Coin in the World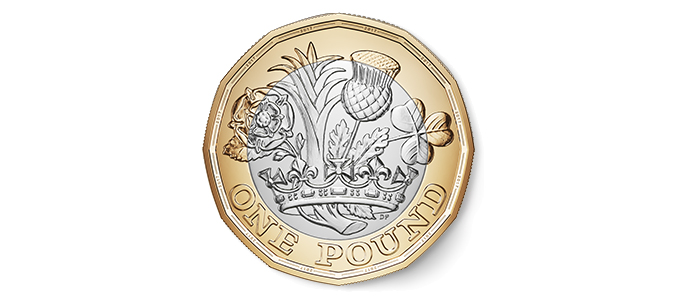 What has 12 sides, a ton of security features and will be found in the pockets of British people everywhere come March 28th? The new British Pound, that's what, and it's pretty spectacular. Check it out:

It has 12 sides, it's bimetallic, it has a latent image similar to a hologram, micro-lettering, milled edges, and other hidden security features. This is a coin unlike any other, basically, and — even better — one side of the design was created by David Pearce. Who's that? A kid that won a public design competition at 15 years old.
Now security on a coin doesn't seem that important at first, but that's not the case here. Approximately 1 in 30 £1 coins in circulation is a counterfeit, which is a pretty big deal. So much so that the existing £1 coin will be demonetized starting on October 16, 2017.
---
Norway's Krone

First announced as an upgrade back in 2014, this year we'll see these newly designed versions of the Kroner out in the wild — well, you will if you're in Norway, anyway. Two different design firms combined for these bills. The front was done by The Metric System, a graphic design studio in Oslo; while the back is done by Snøhetta, an international design firm.
Let's talk about these things for a second. The winning designs were chosen as part of a contest, and they were all given a theme — the sea — to work with. They also had to use the current color system, that way nobody got confused when the bills changed over. And, of course, there were a ton of security concerns. So basically, designers had a challenge ahead of them.
The backside has a pixel design, which, when you lay the bills out together end-to-end, forms a continuous pattern. And even though the colors may seem random, they all reflect different aspects of Norway.
via Fast Co. Design
---
The Swiss Franc


I love the story with this one.
Swiss banknotes are designated by series, and up until recently, they were on the Eighth Series, with images of people's faces on various notes. They come in different sizes as well, so it's easy to figure out at a glance what is what, plus they're all differentiated by color, so that's handy as well.
But last year they started the rollout of the ninth series of banknotes, with the first of the lot being the 50-franc note. It's green in color, with the theme being "Wind," and the "wealth of experiences Switzerland has to offer." They'll be releasing the remaining bills for the next few years until 2019, and for now, those designs are under wraps. I don't know about you, but I can't wait to see what they look like.
---
Standard Chartered Bank (Hong Kong) $20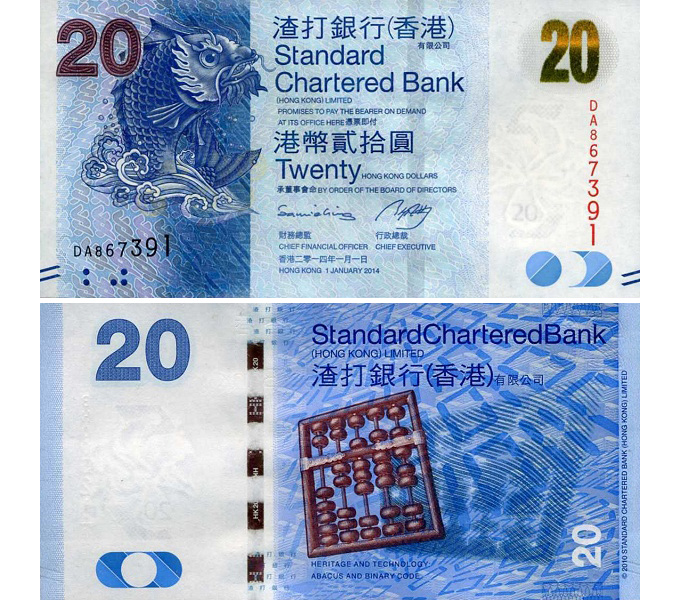 Now this is a pretty bill, yes. But what's almost more interesting is its origin. See, in the U.S., we have one place that produces our bills, and they're all uniform. In Hong Kong, there are three commercial banks that make their currency, and they all make their own unique banknotes. Oh, and the Hong Kong Monetary Authority makes their own as well.
So this particular $20 bill is for the Standard Chartered Bank, and it's part of the new series of bills that all banks released in 2010 to keep up with security features and the like. For example, a straight metal thread is in each note, and it can be seen from either side. It also feels embossed, just like U.S. notes, and that's because of the Intaglio Printing process. See? I told you it was a cool system.
---
2016 Lucky Loonie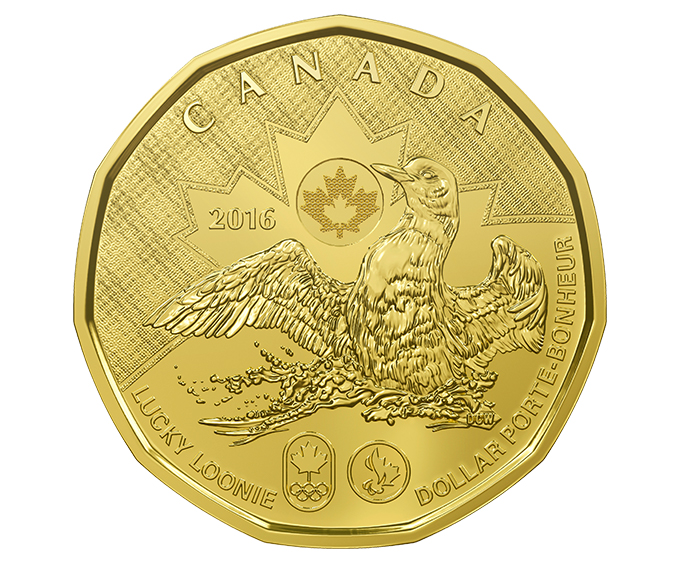 Canadians use their coins a lot more than their U.S. brethren, and one of their more popular ones is the Loonie. That's right, the Loonie. Soak that in, folks.
Named after the Loon featured on the face, it's a $1 coin that people there use all the time. And in 2016, the Royal Canadian Mint came up with this special edition that celebrates the Rio Olympic Games. See, that's because in 2002, a Loonie was embedded in the ice prior to the Salt Lake City games to give some extra luck to the Canadian men's and women's hockey teams. They both won gold, so ever since the mint has been putting out a Lucky Loonie to extend that system on to the following Olympic year. And since they're functional currency, you can find them out in the wild.
---
2012 Canadian New Reverse Toonie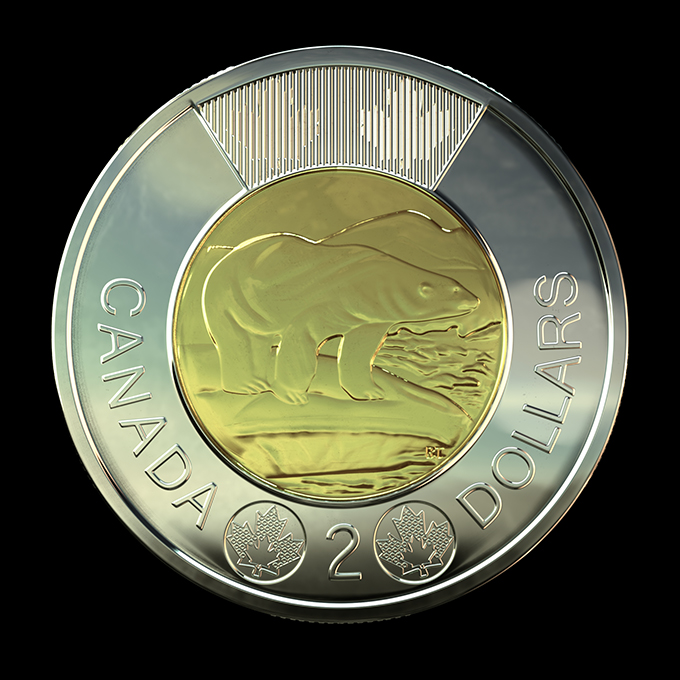 Here in the States, our coins are used for everything under a dollar, and if it's over a buck, expect to shell out some bills. Yes, there are a few exceptions here, but nobody I know carries coins, it's all about cash. Not so, apparently, in Canada.
The Toonie is a variation on the Loonie, and is a two-dollar coin. In 2012 they created a $2 reverse design that had the same look as the previous model, but there were a few security features added in. Up top are engraved patterns that — when viewed from different angles — form maple leaves, the image found on the Canadian flag. And down on the bottom are another pair of maple leaves, but these are done with "laser mark micro-engraving." The coolest part though for me? The bi-metallic coin locking mechanism. Turns out that the Royal Canadian Mint has a patented locking mechanism for these coins that keeps the two metals linked together. So cool.
---
Aruban Florin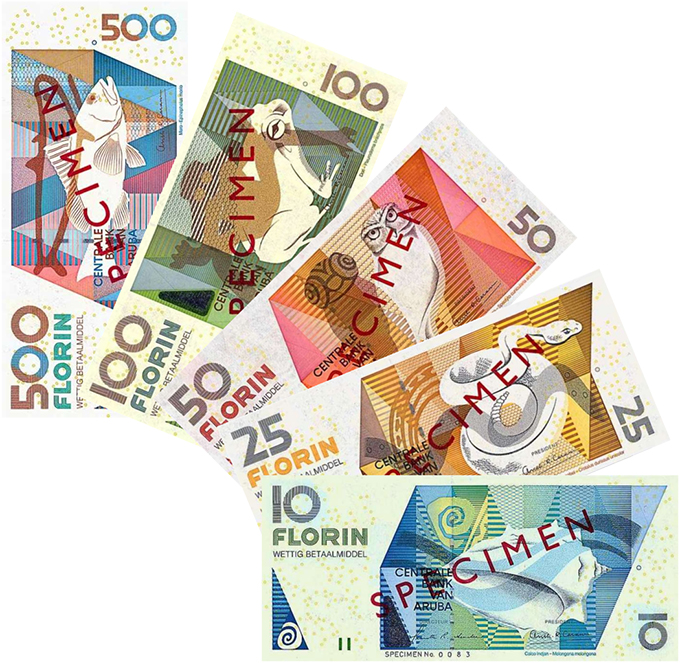 How about some recent history, hmm? The Aruban Florin first hit the scene in 1986, and has been redesigned twice since then, including in 1990 by artist Evelino Fingal. In 2003 they updated the currency to include safety features and anti-counterfeiting measures, but they still look the same as before.
What's cool about these notes are the animal and shell designs on the obverse sides. The rainbow shading (minus yellow) is also nice.
---
New Zealand's Polymer Banknotes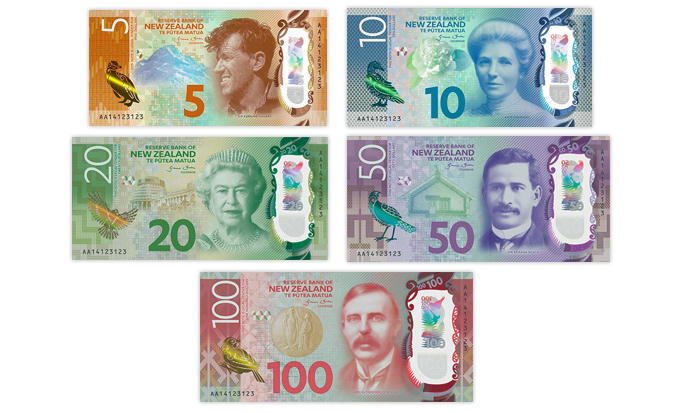 Take a moment and reach in your wallet or purse and fish out a $1. Ever wonder where it's been? Yeah, me too. And that means that our money is pretty dirty, what with all of the people handling it on a regular bases. Know what isn't as dirty? Polymer. It's flexible, strong, non-porus and has a unique texture, so it's hard to counterfeit and won't get as filthy. It's also what New Zealand uses for their banknotes.
Using a polypropylene plastic for money seems weird, but I think it's killer. Plus, these notes are super bright and have cool images, so I'm down with them. I need to get my hands on some of these.
---
Australia's Next Generation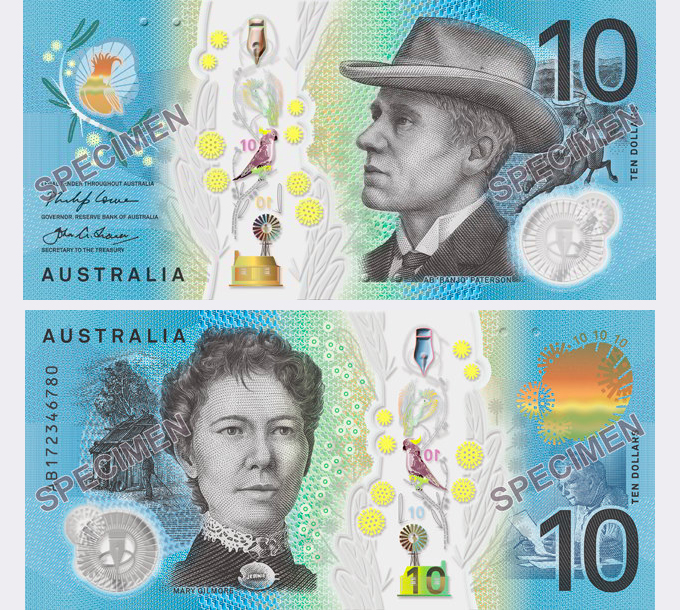 Like New Zealand, Australia's bills are made of polymer (they claim to be the first in the world to do so). Coming this September, they'll be releasing a new $10 banknote, and it's got some cool features. There's a clear patch in the middle of them that has images embedded in them, including representations of some animals that could only come from Australia, like the Bramble Wattle and Sulphur-crested Cockatoo.
But me? I like the pen nib in the middle, which represents the two Australian writers pictured, Dame Mary Gilmore and AB "Banjo" Paterson. I mean, any form of currency that has writers on it is A-OK with me.
---
The €50


Say what you will about the European Union, I have no opinion on that at all. But the Euro is pretty cool, and the new €50 is even cooler. Per usual, it has a ton of new security features, including a series of holograms in a strip and another strip on the opposite side. But for me, I dig how it represents all of the countries included in the EU on both surfaces. That, and the super metallic emerald 50, which reflects with a deep metallic. So cool.
---
Suriname

OK so did you know there was a country named Suriname? Yup, there is, and it's on the northeastern coast of South America, and borders Brazil. It has a total population of around 566,000 people, and, as an added bonus, some very cool banknotes.
What's cool about them? Seriously, I'm not sure why I have to explain this, but the pink and purple hues are cool, and the matching flora and animals? Super neat. I dig 'em.
---
The Cook Islands

You know all about the Cook Islands, right? Well in case you don't, they're a "self-governing island country in the South Pacific Ocean in free association with New Zealand" — or at least that's what Wikipedia tells me. Anywho, they produce their own currency as well, and it has a true island feel to it. They're all in bright colors, feature a strip of flowers down the side and various local highlights. Rad.
---
Artisanal Cash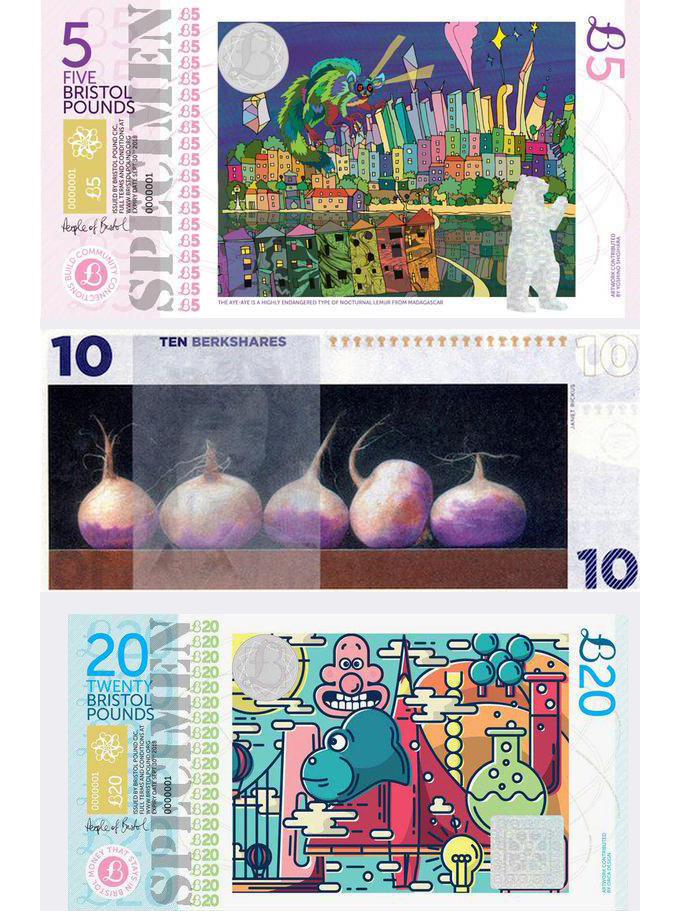 You've heard of Bitcoin before, right? Well this ain't that. Instead, these are currencies that are produced regionally and accepted by local businesses to encourage local trade. Neat concept, right? As it turns out, there are a ton of different variations on that theme across the world, making for some very cool local currencies. I mean, you can't deposit them at the bank, but the idea is good with me.
---
The Maldivian Rufiyaa

High on my list of places I need to visit are the Maldives. They're a beautiful series of islands in the Indian Ocean, just south of India. They're stunning, and a place that looks like a perfect romantic honeymoon spot. They also have some cool currency.
This one here is the 20 Ruffiya, new as of 2015. It shows a fisherman carrying a skipjack tuna and a yellow fin tuna on one side, and a traditional sailboat on the other. It's also a purplish color, which is nice on your cash.
---
The South African Rand

The 2012 issue of the South African Rand is a special one, because it features a hero of the South African anti-apartheid movement, Nelson Mandela. He's featured on one side of every denomination of bill, and on the other are various animals found in the country: elephants, lions, stuff like that. Surprisingly, no penguins, but whatever.
---
Start Spending Some Cash
So there you have it, some stellar bills from across the globe. Now I just have to hit the road and start collecting some for myself. First, the Maldives. Then … well who cares, I'll have gone to the Maldives, so that's all that matters in my book.
Getting started with hand lettering?
Free lettering worksheets
Download these worksheets and start practicing with simple instructions and tracing exercises.
Download now!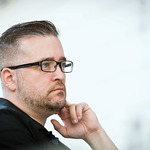 Kevin Whipps
Hi! My name is Kevin Whipps, and I'm a writer and editor based in Phoenix, Arizona. When I'm not working taking pictures of old cars and trucks, I'm either writing articles for Creative Market or hawking stickers at Whipps Sticker Co.
View More Posts