Creating Custom Fonts: An Interview With Zach Fannin from the Black Panther Movie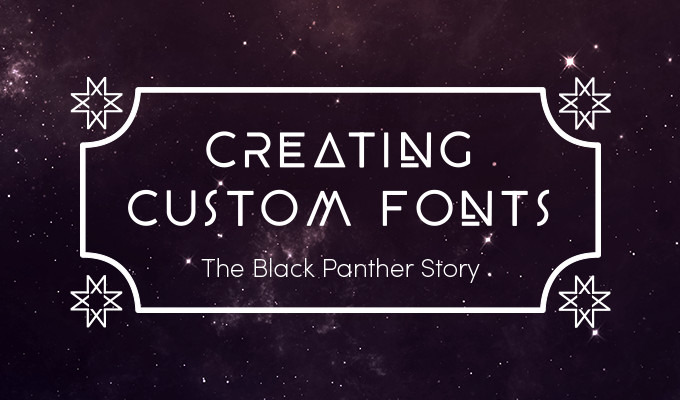 The recently released Black Panther movie impressed us all with its compelling storyline, vibrant scenery, and thoughtful design work. A few weeks ago we shared what went behind creating BEYNO, one of the fonts used for some of the film's titles. Fabian Korn, a shop owner here at Creative Market, went over his process and creative background.
Aside from BEYNO, there were many other pieces of custom type work that made Black Panther a unique visual proposal infused with cultural symbols, African history, and a dose of modernity. Today, we're sharing an interview with designer Zachary Fannin. Zach was part of the creative team that brought all this custom typography work to life, and has some great insights to share about the research, curation, and sketching process involved.
We hope these thoughts and tips inspire you in current and upcoming projects in need of special type treatments and design innovation.
---
Hi Zach. Can you share a bit about your background? When and how did you start getting interested in the world of typography and design?
I was into skateboarding growing up. The deck art, magazines, videos, abandoned pool graffiti; all of it informed my early interest in type, logos, and design. My first creative job was at a t-shirt shop, then I jumped on the Dotcom bandwagon in the late '90s, designing websites for pro athletes.
I had the good fortune of being mentored by our design director, F. Darrin Perry, who had launched ESPN Magazine and went on to redesign Wired Magazine. Unfortunately, we were a casualty of the bubble burst in 2001. I reached out to a friend in the film industry and got my toe in the door as an art department PA on The Ring*. I've been working in film and tv ever since.
*Custom type trivia: After several fonts were rejected, our art director, Patrick Sullivan, quickly scratched out "the ring" with his off hand on a piece of scrap paper as an option. I scanned it, sent it to the graphic designer, François Audouy, and he used it to create several versions of the show card that eventually became the poster.
---
Bringing Wakanda to life must have been an interesting process. Where did your research start? Is there any particular tool you used to capture insights during the research phase?
I joined the Black Panther art department 2 months into pre-production, so there was already a wealth of research and concept art to be inspired by and build on. We had a researcher and full-time digital asset manager maintaining a shared server full of illustrations, character designs, set drawings, location photos, all of the comic books, and a design bible to reference. AncientScripts.com was super useful, but it's been down for awhile.
Tools worth mentioning: I draw in Illustrator with a bunch of the Astute Graphics plugins I use PureRef if I have a ton of reference images and I don't want to bog down Illustrator. I love FontSelf Maker for making it easy to kick out a usable font fast.
---
What kind of custom type work can viewers appreciate in the Black Panther movie?
The most prominent custom type is our Modern Wakandan script. I inherited a bunch of great reference and concepts, and my first task was to compile all of that work into an alphabet. I tried to anticipate fonts I'd like to have on hand for use in signage, interfaces, information displays, logos, vehicle markings, costumes, and so on.
We ended up with a few bespoke treatments, 7 fonts, and several more in the reject pile. The letterforms were all taken from African writing systems. For the sake of expediency, I mapped letters to the Latin alphabet so anyone could write copy as needed. I made the uppercase and lowercase letters unique, there are 10 digits, but no punctuation, symbols, or diacritical marks.
Pin ItEntrepreneur Wayne Sutton created Type Wakanda, an online Wakanda text translator. This tool is based on Wakanda Forever, a font created by Adam Shady — in turn inspired by several of the movie's scenes.
---
What were your main sources of inspiration when creating the Wakandan alphabets and fonts on the film?
For Black Panther, the written languages reinforced the idea that the fictional nation of Wakanda has existed within Africa all along. Our production designer, Hannah Beachler, selected the languages and symbols we used. We settled on a combination of letters found in Tifinagh, Ancient South Arabian, Bamum, and a few others to flesh out our Modern Wakandan script. Hannah provided hand-drawn characters derived from Nsibidi for our Ancient Wakandan script, which I made a few fonts for, but its use was never uniform and it was meant to be applied by hand. It is engraved in the columns of the Tribal Council Chamber, chiseled into the ruins in the Hall of Kings, and painted on the blankets of the Border Tribe.
Adinkra symbols were used in the Necropolis, which we only get to see from a distance before entering into the Hall of Kings, and Shuri wears a shirt with the Wawa Aba symbol.
Here's a great article that goes into more detail.
---
What's the hardest step involved in creating custom fonts?
The hardest step is finding the right reference. If I can find the perfect font that fits, I'm happy to buy it and move on. There have been several cases where I've settled for something that isn't quite right, which is frustrating. Time permitting, if I have enough reference to work from, I'll build just the letters/numbers I need to complete the task.
I knew from day one that we needed custom fonts; thankfully we had more than enough reference. Something worth pointing out, this was the first time I can think of where I was creating signage that didn't have to be read or understood to tell the story. The addition of title cards with English translations came after the fact in post-production.
---
Any advice for designers hoping to build their careers in your field?
Everyone I work with has a different story about how they got into film work, and the hoops they jumped through to join the union. The most common route is to start as a production assistant, help out with the day to day busy work, and work your way up from there. However, it's not unheard of to start in the position you want if you're already established in another industry, or you have a specialized skill or style that's right for a particular project. I'm a member of the Art Directors Guild, here's a link to our how-to-join page.
Free lettering worksheets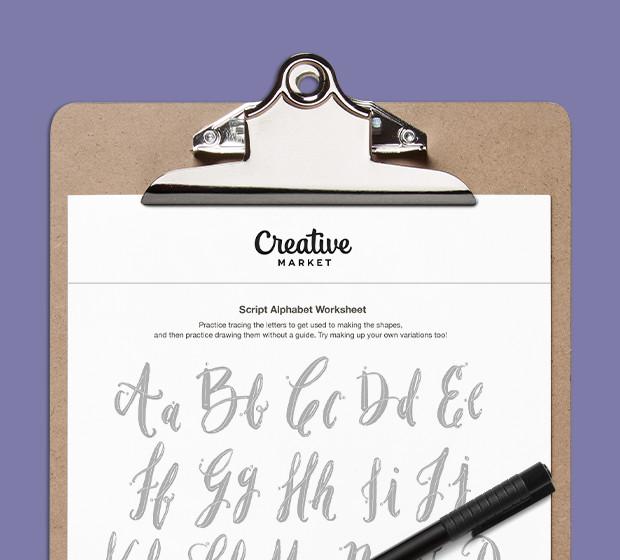 Download now!

Getting started with hand lettering?

Download these worksheets and start practicing with simple instructions and tracing exercises.
Building a platform for handcrafted, mousemade design content from independent creatives around the world. We're passionate about making beautiful design simple and accessible to everyone.