10 Ways Design Teams Can Work Faster
One of the biggest pet peeves that design teams have is that not everyone's always on the same page or knows what everyone else is doing when they need to know. It's just the reality of working in design teams in today's world: when your team's not all in the same location, the work can suffer from a lack of coordination.
It's a veritable domino effect of problems that all can be traced back to one source: the lack of a unifying toolkit at organizations that gets everyone on design teams on the same page to produce top-notch work fast.
If this sounds like what's happening in your organization, then drop what you're doing right now. This doesn't have to be the norm anymore. Luckily for you, the web is chock-full of easy-to-use, affordable, and very helpful tools that can empower your design teams to work faster than ever.
Here's a rundown of the 10 best in no particular order.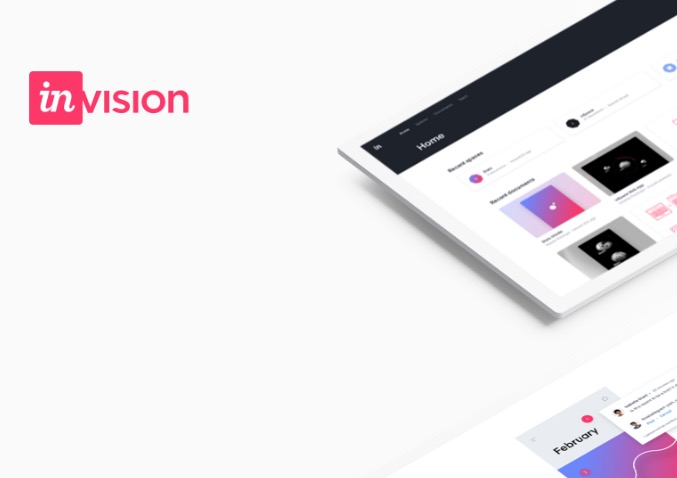 This popular UX design app keeps everyone on your team updated at the crucial points of any project. InVision's tool lets design teams create realistic mockups that mimic an accurate web experience, together with easy and quick prototyping and user testing straight from one's iPhone.
Collaboratively, this tool lets everyone on the design teams stay up to date with each other's work and progress by allowing efficient sharing of asset libraries across teams. Any design can be uploaded to the platform and quickly shared with important stakeholders in your organization and clients so that everyone is kept up to speed on the progress of the work.
Updates happen in real-time: any time a team member changes something, screens are updated, and all team members have instant access to the new visuals. InVision also features a thorough commenting system built right into its platform, which makes communicating with team members and cutting down on any misunderstandings a cinch.
Many design teams have reported good benefits from using this app, specifically a decrease in their iteration-to-approval duration times. The end result is happier clients due to design teams that are in constant communication with each other in real time.
We recently launched a new curated design-asset subscription. Designers receive access to a unique library of more than 270,000 fonts, templates, images, graphics, and themes. Plans that are extremely customizable so that you can precisely choose the number of assets to download per month, the license that makes the most sense for you, and the chance to add more seats for more team members to join.
There are numerous, team-focused features within Creative Market Pro that make working together on the next project more productive. These include:
Asset management
Project collaboration
Team accounts
Ability to organize your assets based on client, project or campaign to maximize individual team member's roles
Smart suggestions that are tailored to your clients, projects and activity to save your team time
That's not all: subscribers get legal indemnification up to $10,000 ($250,000 with an enhanced license). Essentially, if the proper use of a digital asset ends up in an infringement claim, we've got your back.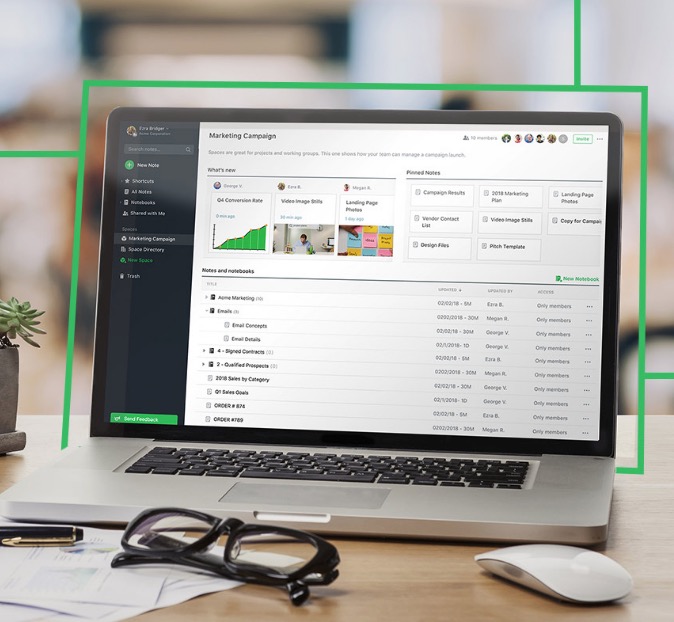 This productivity app that's available on desktop and mobile does more than just help you do things more efficiently—it also helps design teams work in a more organized way, leading to faster results.
Evernote uses a system of notebooks and notes to empower teams to stay on track and understand what everyone else is doing. Think of notebooks and notes as the visual equivalents of virtual folders and files, with Evernote being the giant, well-organized filing cabinet — in the cloud.
Thanks to features like Spaces, Evernote makes collaborations in projects frictionless. Spaces lets teams come together in a central space or hub, so that all team members can quickly find what they're looking for to move projects further more efficiently.
For example, if the lead designer wants to ensure that everyone sees an important document from a client, he can pin it as a note, letting it surface to the top of the UI, so that it's highlighted. Another scenario: if a stakeholder leaves a comment on a specific note about their thoughts on the latest design changes, this new bit of info is automatically surfaced in the "What's new" section, helping the entire design team stay on the same page.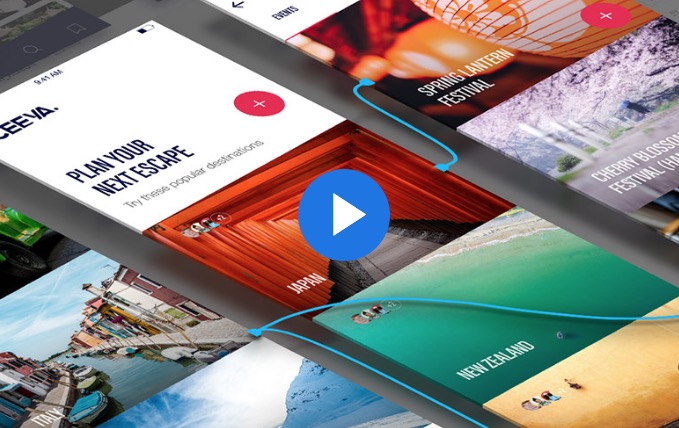 Adobe XD was created with teams specifically in mind since the design process often involves designers, developers, and stakeholders. This UX-design software app makes it easy to share design iterations with various users in project development, so their feedback can be part of the process and make the final product as great as it can be.
Prototypes are easily shared with everyone involved and the app's comment feature ensures that nothing gets lost in translation.
Some designers experience frustration when handing off their designs to developers for implementation, just because it's difficult to explain the design properly without having to go through the arduous and additional process of creating a separate PDF with annotations to offer extra context to their instructions.
Adobe XD simplifies this process by letting designers share their style guides and design specifications right from the XD platform itself. The result is the chance for developers to interact with a designer's designs straight from the browser. This ends any possibility of misunderstandings during the design-to-development handoff.
There's also the opportunity for real-time collaboration in the same document among multiple designers who use this platform. Instead of dividing work into different design documents—and later merging different versions of said documents together and sharing the assets across the documents—XD lets designers invite other designers working on the same project into their documents for collaborative file and asset management.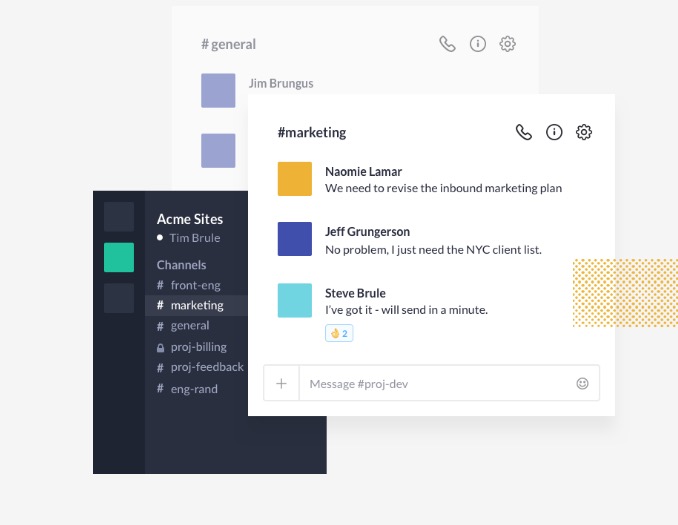 Slack, available on desktop and mobile, is a collaborative app that allows design teams to work together faster and better — no matter where on the planet the individual members find themselves. Using the format of a chat room (remember those?), Slack allows teams to organize these chat channels based on what the team's needs and goals are.
It lets team members chat and make phone calls, share important files, and personalize their discussions. You can organize these chats for specified organizations, departments, projects, or goals.
For instance: if your design team is working on a redesign of your organization's website, everything related to that project can be stored in one chat channel. Everyone on the team can share documents, images and files, talk to each other publicly in the general team chat, or privately among each other.
Slack also integrates well with other collaboration tools, so you get additional support. Twitter, MailChimp, Google Drive, and Dropbox are all supported within the Slack app, empowering design teams to streamline their workflows and keep open channels of communication with each other across various other tools and resources.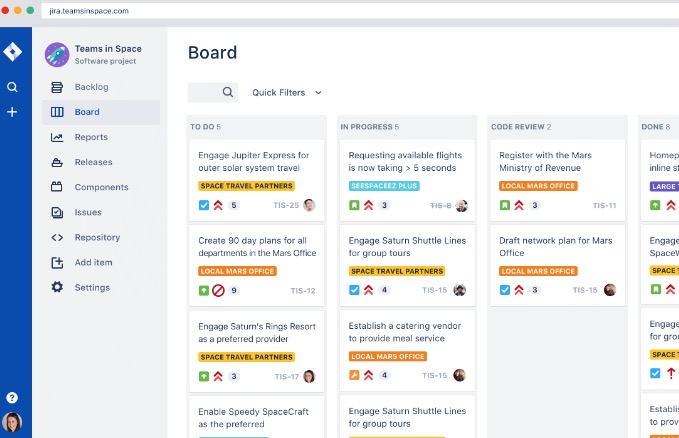 If you're part of a team working together on that latest project, it helps you plan and track issues so that deliverables are always on time and completed faster.
Atlassian Jira was created specifically with the design team dynamic in mind. Whether you're part of the design, marketing, software, development, or product team, you'll be on the same page with everybody. This cohesion ensures more efficient work that's done right.
The beauty of this tool is that it lets you distribute tasks across teams with ease, as well as empowering you to gather useful data about your team's performance, so you can always keep track of anything that needs to be improved in the process.
Using a card-based layout, Atlassian Jira lets design teams establish what tasks need doing, chart the progress logged for each specific task, control the opportunities for reviewing progress, and, finally, mark tasks as complete. From start to finish, your entire team can see what everyone else is doing or working on in complete transparency for the best results.
As a bonus, this tool offers integration with other popular tools like Zephyr, Stride, and Confluence.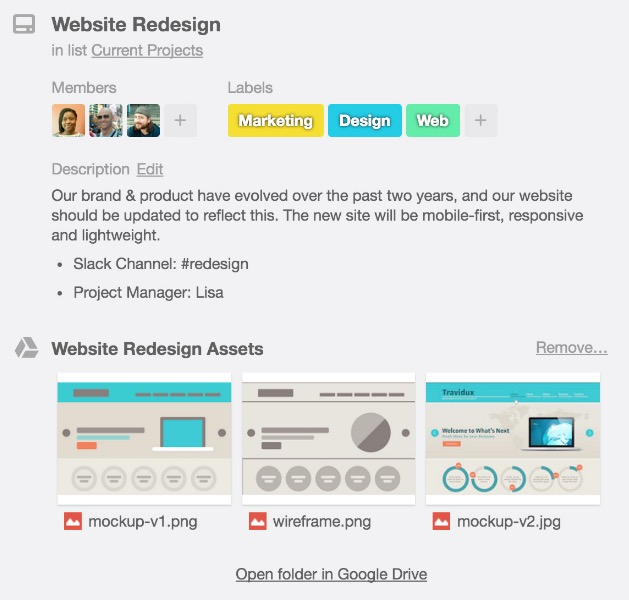 Trello is a web-based project management app that's ideal for design teams looking to get their products completed on time. Its use of boards, lists, and cards creates a very accessible UX for design teams charting their progress across ideation, feedback rounds, and stakeholder interest.
Thanks to the simplicity with which you can add team members to boards and cards, Trello enables everyone on the team to understand their unique roles and what has to be done by when. Its commenting feature enables all team members to alert the necessary people and stakeholders in the design process; feedback is shared in real-time, and any changes that need attending to can be made without friction.
Files, folders and images can be easily shared with efficiency within the app among team members. Need to include that folder of images from Google Drive in a specific card, so your designer understands exactly what the marketing team wants him to do? No sweat: Trello seamlessly integrates with other services like Google Drive to allow this functionality to happen.
Its "Power-Ups" feature lets design teams integrate dozens of different services and tools with Trello, so that your workflow is truly frictionless and cross-platform.
While it may take some experimentation to determine how best to use it for your team, Trello's card-based system makes it easy to learn.

After your design team has created wireframes and prototypes for that latest site or app design or redesign, Justinmind turns into a collaboration app to bridge the gap between design and development.
Your developers have the opportunity to copy CSS styles, export assets, and see the precise measurements of the user interface elements on this tool's canvas. Feedback rounds get a tremendous boost from the workflows here: developers can leave feedback and make notes about the prototype, while designers can send their thoughts back to them inside this app. This real-time communication and collaboration drastically reduces the time it takes to deal with multiple feedback rounds.
Because this workflow also means fewer misunderstandings and design revisions, expect design teams to finish work a lot faster with this tool.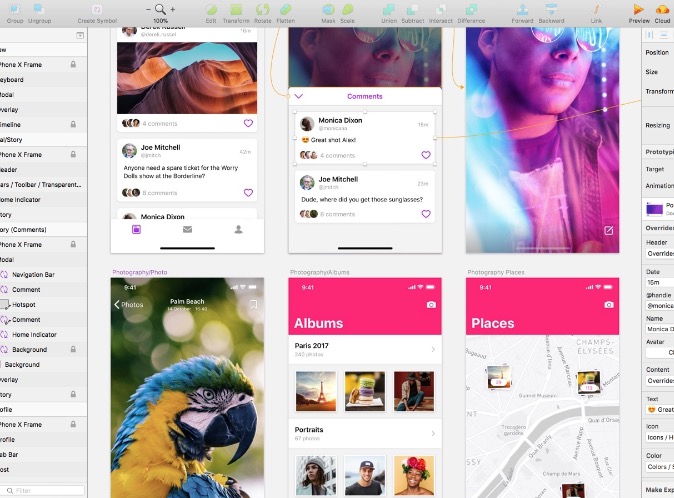 Sketch has successfully lured quite a few design teams from Photoshop with its rich features, emphasis on speed, and simplicity. This vector graphics editor is especially beneficial to the workflows of larger teams. When your project involves so many moving parts—designers, marketing people, product managers, developers, etc.—you want an app that can increase your productivity.
Sketch allows designers to quickly create templates and use them right in the project file, which means they're able to effectively extract the elements they need while ensuring the consistency of their product.
Another strength of this app is how it only produces lightweight files. As such, you don't need to hold on to a lot of files for various stages of the same screen. Everything is seamlessly kept on just one file.
For example, if you're working with a content editor on a bigger project, he can directly edit content inside the Sketch file, reducing extra steps and time.
Sketch also integrates well with other tools like the aforementioned Slack. Here's where its helpfulness to team collaboration really comes into the picture. Sketch lets you quickly pass on screens and cuts to the Slack app, ensuring quicker time to feedback on any given design and cutting down on the number of revisions.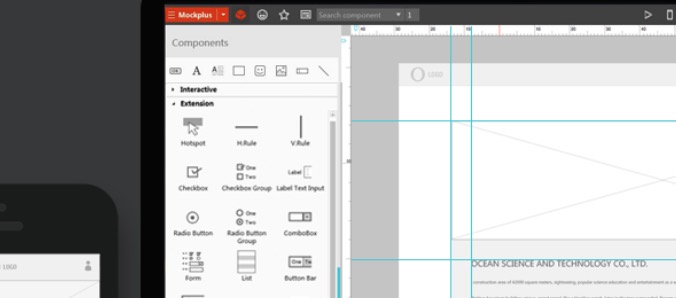 Simple, clean, and low fidelity are all descriptors for Mockplus, a design tool for desktop and mobile. In terms of speed, its creative preview method and packaged interactions elements empower designers to preview their creations in only minutes. If you're looking for a tool for your design team without a steep learning curve and that's results-oriented, try Mockplus.
Interaction design is more efficient than ever on this platform, as everything is visual. Forget about coding, training, parameters; with a drag-and-drop UI, this tool lets teams build wireframes and prototypes with control and ease.
As soon as you publish your design to the cloud, real-time sharing comes into play. You'll get a shareable web link that you can send off to your fellow designers, clients, and other stakeholders. Mockplus also supports offline HTML exporting for user testing that is extremely fast.
Collaboration design is another feature that makes Mockplus worth looking into. It's a breeze to support multiple designers and others on the same team, working on the same project. Simply sync your project to the cloud with one click or tap—and the designs of various creatives will be combined.  Send notification emails to all your team members for quick reviews and feedback. Commenting features ensure everyone communicates clearly while editing pages is as easy as opening and toggling their permission settings.
Design Teams Get Faster to Get More Projects Across the Finish Line
The design process is one of creativity, revisions, and teamwork. Unfortunately, friction and miscommunication can slow down that forward momentum. When that occurs, projects can take much, much longer than they have to.
That's where these 10 tools can be of such great help to design teams from every corner of the globe. When team members can talk to each other in real-time to share files and assets and streamline feedback, then everyone wins. That goes for designers, developers, marketers, clients, and all stakeholders.
Perhaps the biggest winner is the end user, who gets to enjoy the best possible products that come from a design process marked by productivity and efficiency.
Getting started with hand lettering?
Free lettering worksheets
Download these worksheets and start practicing with simple instructions and tracing exercises.
Download now!
Marc Schenker
Marc is a copywriter and marketer who runs The Glorious Company, a marketing agency. An expert in business and marketing, he helps businesses and companies of all sizes get the most bang for their ad bucks.
View More Posts