How to Create a One-Page Brand Style Guide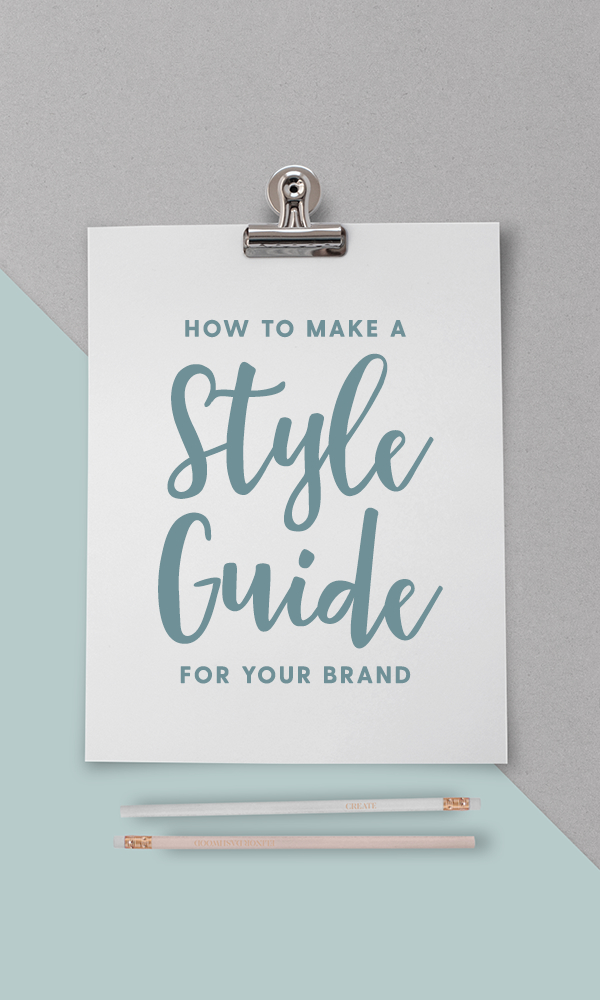 There's always been some dispute over how long exactly a company's style guide should be. The minimalists among us have always preferred it to be short and sweet, so as not to over-complicate instructions for any of the various departments that will handle your brand before any content or ads are published. On the other hand, there are those of us who believe a brand style guide should be comprehensive and really detailed, well in excess of just one page. So who's right? Both are right, but the real, deciding factor is what your specific business need is. If your business is huge and multi-faceted with many divisions, well then you likely need a longer brand style guide. Conversely, if you're a small and medium business or even a solopreneur, then there's a good chance that only a one-page style guide is more than plenty for your needs. You make the call! For this piece, we're going to be strictly looking at everything that you need to know about a one-page brand style guide and everything that goes into it. So if you're a solopreneur or small and medium-sized business, then this is right up your alley. We've also created this customizable Adobe Illustrator template to help you get started with the one-page style guide right away.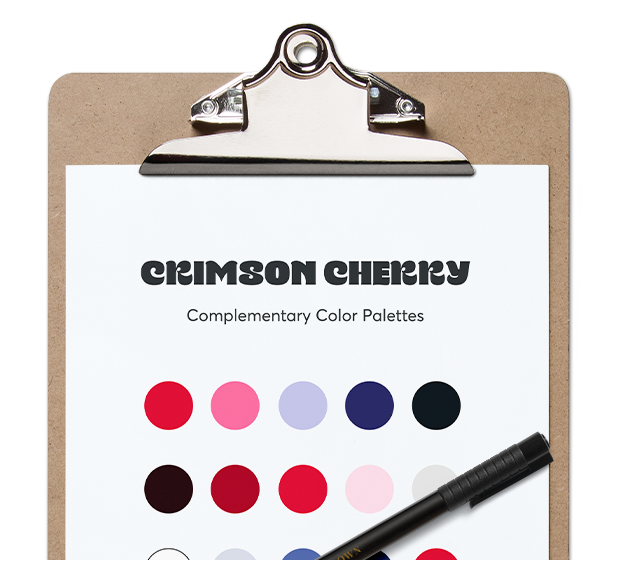 Try our Color of the Season
Download color palettes using Crimson Cherry
Download our set of color palettes in SVG and start using them in your favorite design app.
Download the palettes
What a Brand Style Guide Is
Before we get into the tutorial on how to create one, we need to define exactly what a brand style guide is, in the first place. In a nutshell, a style guide is a document that references how your brand should be handled and look in various media such as online, in print and broadcast, focusing on the:
Visual
Grammar
Tone
Word usage
Point of view
Put another way, your brand style guide will be the be all, end all of how anyone handling your brand should treat it when publishing content for your brand on the web or in print. Few other company- or business-related documents are as authoritative and definitive as the brand style guide.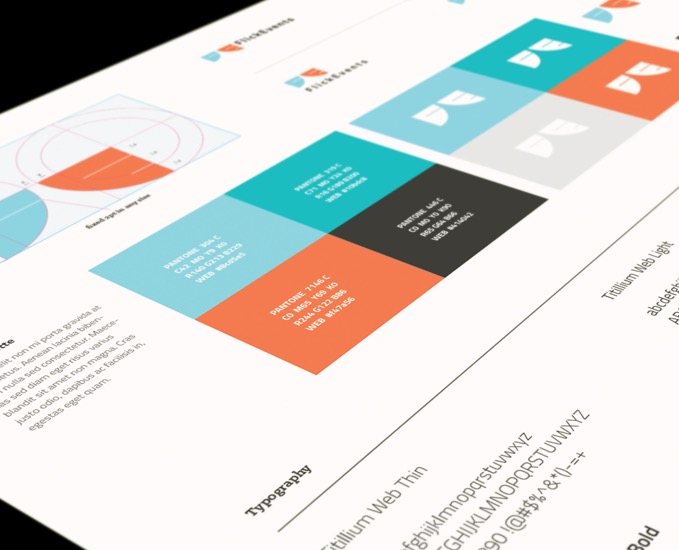 Now that you have a much better idea of what exactly a style guide should do for your brand, you're also beginning to see just how vital it can be to the consistency of your brand presence, both on the web and in print. This consistency is integral to avoiding problems with mixed messaging and consumer confusion from a public who might see multiple representations of your brand, if you don't have a brand style guide in place. When that happens, disaster can strike, as all the hard work you've put into carving out a specific niche for yourself in your industry and in the marketplace can be drastically set back when people aren't sure anymore of what your brand stands for or where it's headed. Avoid all this by designing an easy, simple, but, above all else, very effective one-page brand style guide. Here's how.
Where to Set up Your Brand Style Guide
Here's the good news about creating a brand style guide in the 21st century: Everything's online and digital, so this has created a lot of solutions for where to put your style guide. Whereas a style guide was in all likelihood in the past an actual, physical document, nowadays, you can take your style guide to the cloud. Any good and reliable cloud service is the perfect starting point for your style guide. This includes: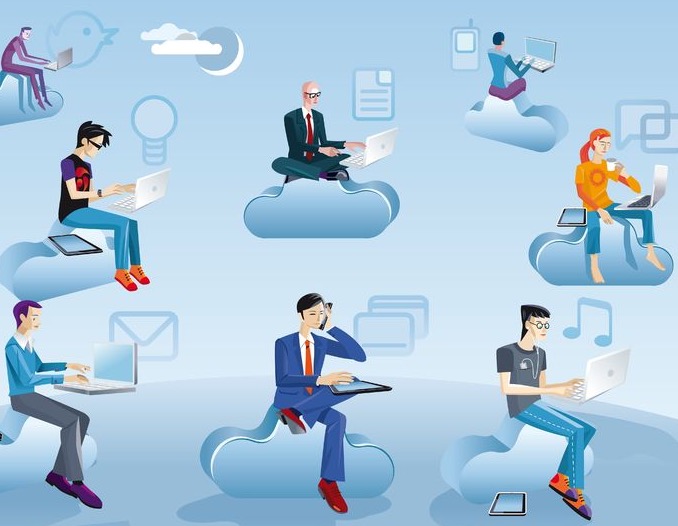 Using a cloud service is ideal for one-page brand style guides. Keep it simple!
What to Include in a Brand Style Guide
Here's what's really important: There are only a few, core elements of any effective style guide; you have to spell them out clearly and consistently for them to provide the necessary guidance to anyone who'll be touching your brand in any department of your organization (SEO, marketing, social media, website, etc.). Let's go through them one by one.
Your Logo
In most cases, when people think of a brand, they think of its logo first and foremost. That's because a logo acts as the symbol that communicates your entire brand's values and what it stands for in an instant. Think of world-famous brands that you're easily able to identify (including what they sell, what their brand means to you, and what they stand for) solely based on their logo. The candidates are almost numerous:
McDonald's
BMW
Coca Cola
Nike
Starbucks
Apple
Google
Nintendo
And all of this brand recognition exists straightaway thanks to the strength of their logos. This is exactly why your brand style guide has to clearly spell out how your own business' logo will be treated visually for publication in various mediums. Keeping this brand consistency will go a long way toward getting people at large to always identify your brand's values simply based on your logo.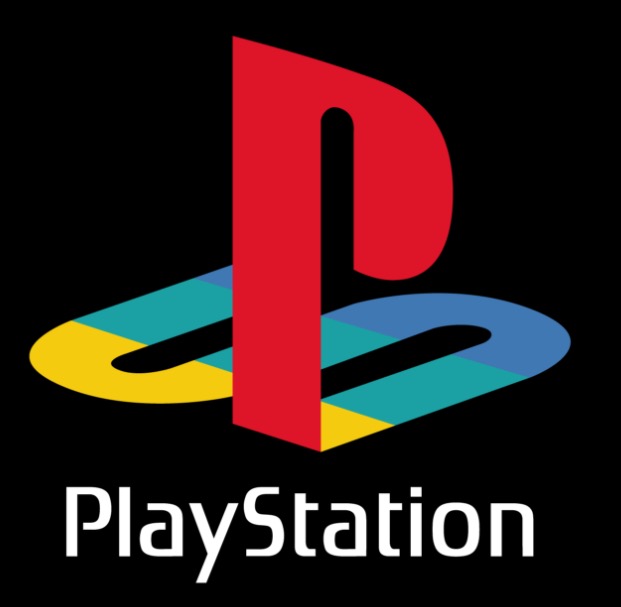 Your brand style guide therefore has to specifically and visually represent what forms of your logo are acceptable for branding purposes. For instance, some companies have logos that are represented by a symbol or icon, but they can also appear in the form of a combination mark (a wordmark together with a symbol or icon). A perfect example of this that jumps out is Mercedes: Its logo is depicted with the symbol or icon alone as well as with the symbol or icon and the wordmark beneath it. Additionally, some brands have slightly different layouts for their logos, all depending on where it's going to be used. Decide if this applies to your logo, too!
The Brand Story
Here's the thing: All brands have a story, a set of circumstances that led to the brand's inception. A brand story has to be a part of your style guide since it'll spell out the crucial reason for your brand existing in the first place. Think of this aspect of your style guide as a primer for anyone who wants to figure out the rhyme and reason for your brand. It's a way of introducing your brand to the world. In turn, this'll make it easier for anyone handling your brand—a new designer, website developer, etc.—to do justice to it.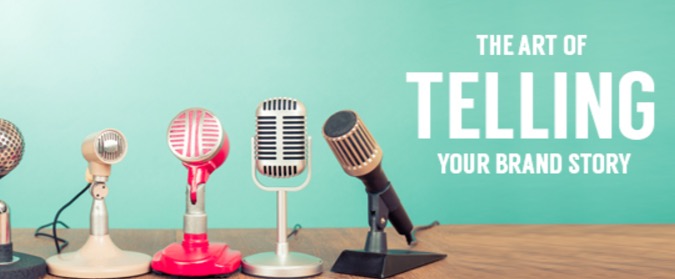 It's common for the brand story element of the guide to feature these particulars:
Your brand's mission – Talk about what drove you to establish your brand and where it came from
Its core values – What are some of your unshakable principles that your brand will always promote, no matter what?
The brand personality – List a few adjectives that describe your brand (serious, fun, intelligent, etc.)
Its vision (what you want to achieve) – Explain where you want and expect your brand to go in the near and far future
Your target audience – Talk about who your brand is for and who it's not for
Some style guides may substitute some of these names for others, but the important thing to remember is that this section of the guide needs to be a 411 for those who don't know your brand from another in the huge marketplace. Be sure to include information here that makes them understand your brand's philosophy and where you're coming from!
Your Brand's Colors
Colors are the backbone of any brand and design, so figuring out your brand's color palette is integral to fleshing out this aspect of your style guide. If you already have decided on your brand's colors, then kudos! If not, then here are some stellar resources to help you understand color combinations, palettes and color harmony: Once you've decided on the specific colors that'll come to represent your brand, you're one step closer to finishing your brand style guide. In reality, you'll likely only have to choose a few colors—the fewer the better, for simplicity's sake—and then stay close to the hues of the overall logo. As a rule of thumb, you'll help your brand's color palette stand out if you pick a lighter color for any backgrounds, a darker one for the copy or text, a neutral hue, and then a hue that's very vibrant and attention-grabbing.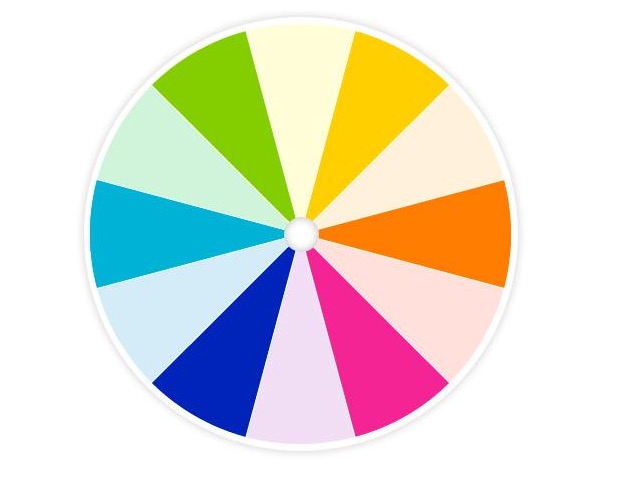 It's a good idea to display swatches (a palette of active colors) of your brand colors in this section. This is helpful info to display, as it allows designers to reproduce said colors correctly, no matter where your brand ends up being published. Finally, be sure to show the precise HEX code for Internet use of your brand colors, as well as both Pantone colors and CMYK values for any brand materials that will be printed. This is crucial for seamless brand publication both online and offline.
Your Typography
Typography is critical, especially on the web. I refer back to this classic observation about typography and the web, made more than 10 years ago, which is still as true today as it ever was: "Web design is 95% typography." Made by an international UX company, this quote illustrates specifically how vital it is to ensure that your brand's typography is spot on. After all, most of what people will visually consume on the web is composed of…type. Not only does choosing the right typeface(s) create a good impression of your brand, but a consistent presentation of type communicates professionalism, high standards, and a serious business.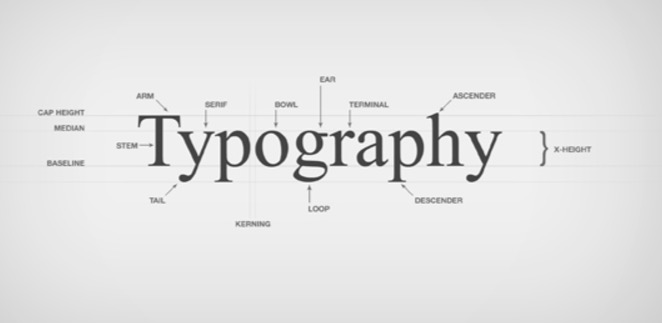 Your brand style guide needs to exactly spell out which font families to use for your brand and in what situations and for what specific purposes. This applies equally to whether you have a relatively simple font or a more ornate one. Identify the specific name of the font or fonts you're using, and provide some reasoning as to why your brand uses it. This ties into the earlier section on your brand story and why you make certain decisions about how you want your brand to come across. Clarify that you only want to use a certain font family for headlines, subheadings, or the body copy, across all media, whether online or in print. Note what the alignment of each font should be, too, along with specifics on tracking and kerning ratios to ensure consistent style when fonts sizes change.
Brand Imagery
Much about a brand revolves around the visual aspect of design. Think back to the style guide elements we already covered: logo, colors and typography. Much of what goes into your guide relates to how your brand looks, with one exception, but more on that later on. Here, you'll need images in many aspects of your brand, from your website and social media activities to (potentially) your logo and content-marketing initiatives. This part of the guide aims to educate anyone who touches your brand on what sorts of photography are appropriate for your brand and what flatters it.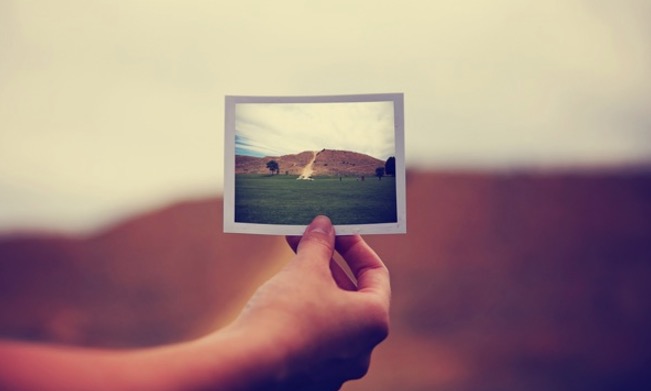 For this section, include the following:
Successfully performing images – These photos should be the photographs that have done well for your brand, whether that's on social media via social shares or the number of conversions on your website; here, there's no ambiguity, as these are the exact images that you want your brand to keep displaying
Aspirational images – These are the images you include from other, bigger brands with whom you're impressed and whose imagery style you either want to emulate or aspire to move closer to; here, this is only a guideline of the types of images that are generally apropos for your brand
Mood board images – Here's where you create a mood board to give those who handle your brand a strong idea of the sorts of evocative feelings you want people to receive when they're dealing with your brand
This part of your style guide is a bit more abstract than any of the other sections, so it'll be in your best interest to spend a bit of extra time deciding on what images do your brand justice! Essentially, if it's visual and supports your branding, then it deserves to be in this section of your brand style guide.
The Voice or Tone
One of the more unique elements of your brand style guide can be a section on your writing style. This is not a feature in all guides, mainly because a style guide relates more to the visual. Having said that, though, feel free to include a section on the voice of your brand to make your guide all the more thorough and crystal clear to designers, marketers and anyone else who handles your brand. The reality is that your writing style—for copy on your website, marketing materials, in print, etc.—greatly impacts how your leads, customers and the public at large feel about your brand and interpret it.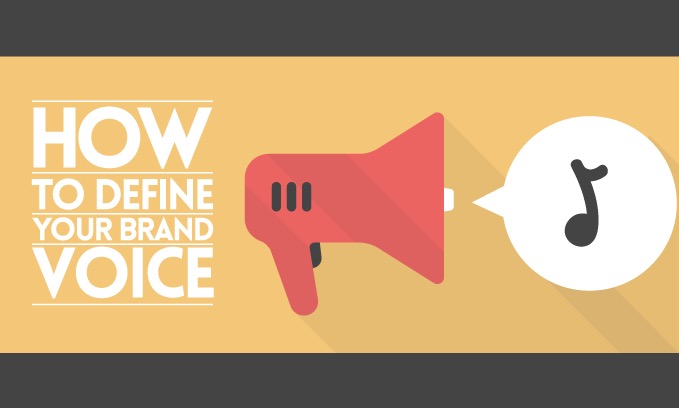 Highlight several, vital areas of your writing style, including:
Messaging examples – This is messaging that has worked well for you in the past; make sure that you include a few examples of copy and advertising campaigns that you've run
Adjective examples – As with the use of adjectives earlier on to describe your brand's personality for its brand story, list several adjectives that govern how you want your brand to sound in written copy
Approved and disapproved words – List specific examples of words you want your brand to use in its copy and words that are forbidden because they don't reflect your brand; this is extremely helpful in demonstrating what your brand's tone will sound like
When you spend some time reflecting on the type of voice you want your brand to communicate in copy, text and written communication, you take your brand protection to another level, which is smart.
Why a Brand Style Guide Is Crucial
Now you know everything you need to compose, at the very least, a basic, one-page brand style guide that'll empower you to keep your brand aligned, no matter where it's published, whether online or offline! This is a crucially important skill to have, as it'll ensure brand consistency, which prevents your target audience—whom you've worked so diligently to attract—from getting confused about what your brand stands for and what it's trying to communicate. These six, core elements of a one-page brand style guide are more than sufficient to address how your brand is represented in the visual and written mediums. Whenever you're handing off your brand to a department or a contracted freelancer—for design work, logo tweaks, blog posts, advertising copy, social media content, content marketing, etc.—this is the authoritative document they'll always have to consult. When you create a brand style guide, the splendid news for you is how much time it'll save you. Instead of having your departments or freelancers asking you for guidance, this simple, one-page solution is all they need to consult—which frees you up to run your business and make more money. And what entrepreneur or SMB doesn't love that?
Pin this for later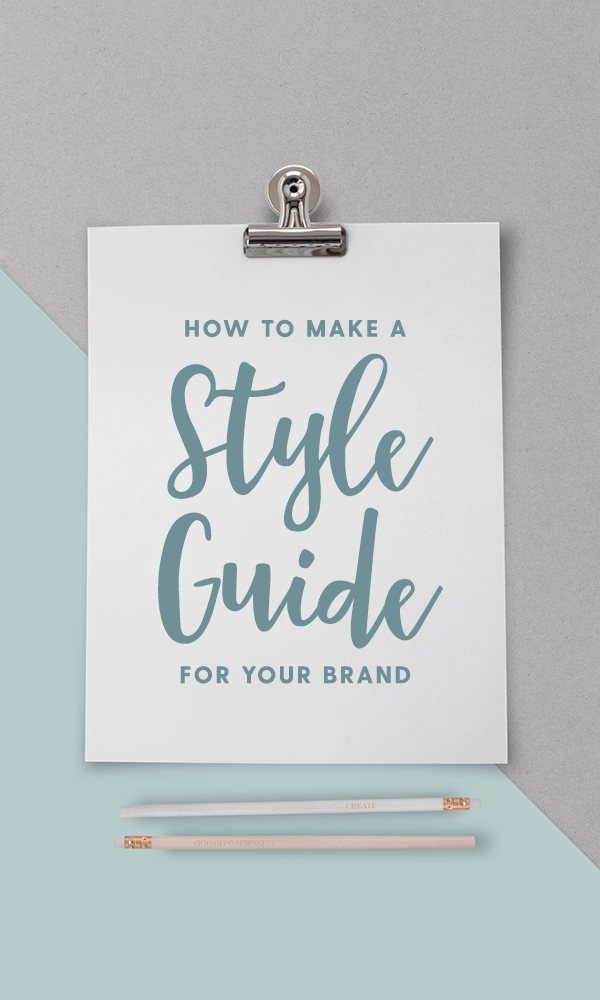 ---
Products Seen In This Post: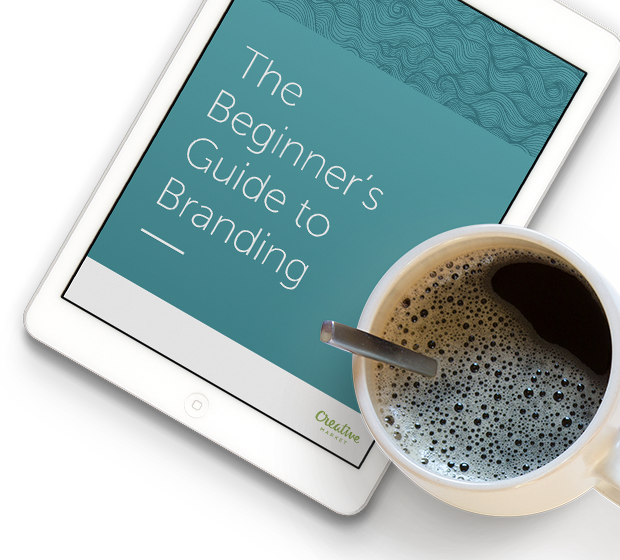 Free Beginner's Guide to Branding
Designing your own brand?
A fun, friendly, FREE guide to build a stellar brand identity.
Download now!
Marc Schenker
Marc is a copywriter and marketer who runs The Glorious Company, a marketing agency. An expert in business and marketing, he helps businesses and companies of all sizes get the most bang for their ad bucks.
View More Posts