How to Launch a New Logo in 10 Steps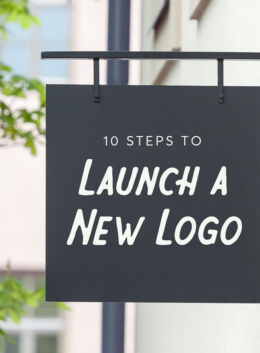 Regardless of your business size, launching a new logo is essential in helping your business successfully and instantly communicate its brand and values to the marketplace and beyond. Think for a moment about all of the famous logos you've already been familiar with, even as a small child.
There's McDonald's golden arches, Disney's mouse ears, and Apple's apple with a bite taken out of it. When you think of these logos, you already associate not just the brand's products, but, more importantly, the unique feelings you get when you either think about the brand or your past interactions with it. Needless to say, a logo is extremely powerful when it comes to brand building. So whether you're a one-man creative entrepreneur, a small business graphic-design shop, or any other type of SMB, designing the perfect logo for your brand is crucial.
A logo shouldn't be overly complicated, yet it should still succeed in quickly communicating the essence of your brand. Think that this is a tall order? That only the most famous brands deserve to have their own memorable logos? It's time to reconsider that belief.
Here are the 10 steps to launch a new logo.
Step 1: Think About the Main Purpose of Your Logo
This is ground zero for your new logo launch. This is where you lay the seeds of why you want a new logo in the first place (or maybe you're launching a new logo for your brand for the very first time), so take a lot of time to brainstorm what the new logo's purpose will be.

Ask yourself questions such as:
Do I want it to be a lettermark?
Should I go with a wordmark?
Does my business need a logo symbol?
Do I want an abstract mark?
Should I use a mascot as my logo?
How about a combination mark?
Should I choose an emblem?
These questions are based around the seven types of logos you can play around with:
Lettermark – A font-based logo that's great if you have a long name you want to condense into an acronym
Wordmark – Ideal for a new business with a shorter name, as this font-based logo spells out your whole name
Logo symbol – Exclusively a graphic-based icon, this is good if your business has a longer name that's best represented with an image instead or if you want to go global and don't want to run into translation problems
Abstract mark – An abstract geometric form, as opposed to a specific and identifiable image, great if you want to be extremely unique with your logo
Mascot – An illustrated character representation of your brand (think KFC's Colonel Sanders)
Combination mark – A logo made up of a lettermark or wordmark together with an image, symbol or mascot
Emblem – A type of logo with a font within an icon or symbol, like Starbuck's logo
Our CM marketplace features tens of thousands of ready-to-use logo templates that'll help you make the right decision.
Step 2: Understand Your Brand
Now that you've come to a decision on what type of logo will best serve your business, it's time to determine if it aligns with your brand. Remember that the logo is a visual extension of your brand, so your new logo launch has to stay true to your brand's purpose.
For instance, if McDonald's—long associated with Ronald McDonald (read: fun and playful) and cheap fast food—were to launch a new logo that's comprised of a bank and a wad of bills, it would be a branding disaster. The new logo wouldn't communicate anything that this fast-food empire chain stands for!

So, you, too, need to have a clear understanding of what you stand for before you launch a new logo. Ask yourself the following questions. Is your brand:
Fun?
Serious?
Light-hearted?
Reliable?
Superb?
A leader?
Basically, you want to identify specific qualifiers for your brand that help guide you on what type of logo to go with.
For instance, if your business is a creative endeavor in the graphic-design business, then using a mascot—traditionally associated with children and family-friendly brands (think Tony the Tiger and Lucky, the Lucky Charms cereal mascot)—wouldn't be the best decision.
Step 3: Understand Your Audience
This ties in so closely with Step 2 because your audience will expect certain things from a brand in your industry. If you've done the necessary market research to figure out your audience, then you already know how to identify and appeal to them.
That's why it's so important to get the logo design and launch just right: Your audience isn't going to respond well to cartoony mascot characters if your brand is a creative service that offers businesses solutions to their problems. They may misconstrue, instead, your brand as being related to toys, cartoons or something family.

Ask yourself what draws your audience in and also what would repel them.
Step 4: Design!
Now that you have all of the basics lined up, you're ready to design your logo or commission someone else to craft it for you.There are varying estimates for how much you should spend on the logo design process. Deluxe pegs the cost of a reasonably good design at no less than $200, with prices escalating for more complex designs. On the other hand, Entrepreneur's range is extremely wide—anything from $5 for a scrappy and cash-strapped startup to pushing close to a $1 million for a top-of-the-line, prestigious marketing agency.

The truth is subjective and case-dependent: if you are a startup that needs to save on costs, consider going in-house and lean, but if you're an established company that has already found product-market fit, then it might make sense to invest on specialized consulting and design services.Here are some magnificent logo templates from the plethora of creatives on the CM marketplace:
Step 5: Don't Rush the Launch!
Give yourself more than enough time to launch your new logo. Nothing is worse than a rushed rollout that sees brand missteps like failed logo alignment across all platforms.
To be clear, a new logo launch doesn't mean that you simply design or redesign your logo, and then debut it. You want to generate buzz for it; after that, you want to make sure there's a logo rollout across all of your brand entities or platforms.

Let me say it again with added emphasis: you need to plan for your new logo launch well in advance. Just creating a new logo or redesigning a logo won't cut it. Your audience won't follow what you're doing if you just launch a new logo with no accompanying announcements and media.
That's why the logo launch shouldn't be rushed. If you don't give yourself enough time to prepare for the launch, you'll end up with a new logo alright, but not enough media and buzz to get people talking and excited about it (not to mention a likely confused audience that's suddenly greeted with a new logo with no advance warning!).
For example, when we refreshed Creative Market's logo, there was a special announcement calling attention to it.
Step 6: Do an Internal Launch First
Think of an internal launch as something similar to the soft opening of a new restaurant: it's a way to prep and make sure everyone's on the same page before the actual, real opening or launch.
An internal launch is integral to bringing your entire team up to speed, so that the official new logo launch goes off without a hitch (read: no one on your team leaks news of it before the slated date).

Hold a company-wide gathering or event for all your employees, during which everyone should receive an official brand style guide that specifically details the new logo and any accompanying branding changes. Here's also where you can share promotional materials—like T-shirts, balloons, stickers, mugs, etc.—that showcase the new logo.
Step 7: Ensure All Your Brand Materials Are Aligned with the New Logo Launch
This is applicable to entrepreneurs, small businesses, and SMBs that have been around for a while and so have various online and offline properties on where their logo already appears. That can include the website, social media profiles, YouTube channel, online directories, business cards, physical signage, and sales materials and marketing collateral.
When you launch your new logo, you're not just launching one logo. You are launching it across several platforms, online and offline. To avoid rebranding confusion, your new logo has to appear consistently across all of these platforms at the same time. Only then will your new logo launch be successful.

Realistically, your new logo launch has to include a simultaneous logo launch across all of your brand's different properties, both online and offline. Make plans that, on the day of the logo unveiling, all of your properties display the new logo at the same time. To ensure you get all the platforms, make a list in advance of where you know your brand's logo appears. This can be anything such as:
Website
LinkedIn
Twitter
Facebook
YouTube
Forums or Message Boards (Quora)
Email signatures
Internet ads (PPC)
Brochures
Whitepapers
Flyers
Sales letters
Step 8: Write a Blog Post Announcing the New Logo
For a lot of companies and businesses today, their corporate blogs function as their de facto news wires. In other words, any new announcement of a new feature, rebrand or anything else of merit is published on their blogs.
So when you do your logo launch, be sure that you take to your blog to make the grand revelation. This also helps the share-worthiness of your announcement, as publishing it to your blog makes it a cinch for readers and the press to share it on their social media accounts.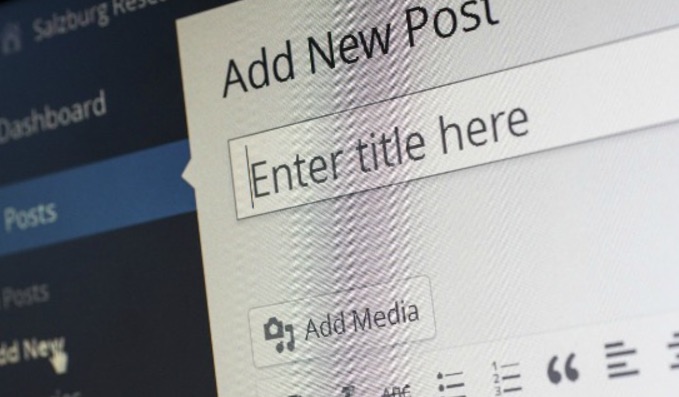 The beauty of publishing content on your blog is that you're readily able to repurpose and republish it elsewhere on the web since not everyone will be reading your blog. If you have a Medium account, you should definitely repost your blog post there. LinkedIn is another great outlet on which to repost your announcement.
Publishing a blog post lets you make your logo announcement in a pithy way, as often just a few paragraphs will suffice to let the world know of your rebranding.
Step 9: Generate Buzz Via Social Media
Social media is the great equalizer when it comes to brands succeeding in pushing their messages out on the web for a very cost-effective price. According to Adweek, a staggering almost 90% of all businesses in the U.S. currently use social media to market themselves.
That's because social media reaches a lot of people and, by extension, your target audience. Since so many people are using it and monitoring it for any social brand mentions, it's the ideal place to generate buzz for your new logo launch. It doesn't take much effort to put out a tweet, share a Facebook post, and potentially even create a short YouTube video talking about your new logo launch.

Taken across the biggest social media platforms, your logo-launch announcement can literally reach millions and millions of people and your target audience.
Step 10: Alert the Media
The media's always looking for a good story, especially when news websites need to publish a lot of content to stay on top of Google's ranking factors for SEO. The launch of your new logo will benefit tremendously from media coverage.
Many news sites have dedicated links and contact information to let people submit news tips or otherwise mention anything that's considered newsworthy. Don't think that you have to go to the biggest publications either to get a mention of your new logo launch. Thanks to the "shareability" of news on the Internet, even smaller publications' mentions can gain traction on social media.

Failing that, you can even get in touch with reputable link-building companies like Audience Bloom, whose business model is based on writing high-quality content referencing brands and then getting journalists to publish it on various websites. Essentially, anything you can do to raise awareness in the media of your new logo launch is going to be worth your time and effort.
It's Time to Launch
With these 10 steps, you're ready to launch your new logo and get it as much traction and exposure as possible. By following these steps, you'll also succeed in rolling out your new logo consistently on each platform where you have a brand presence. This is exceptionally important to retain brand cohesion and avoid the bad effects of any brand confusion.
Remember: A logo is the face of your brand that should communicate instantly what your brand's all about, so choose wisely during the logo-rollout process. Nailing the logo launch can mean the difference between a lukewarm or outright negative reception and renewed interest and revitalization of your brand thanks to a killer logo that rolled out seamlessly.
---
Products Seen In This Post: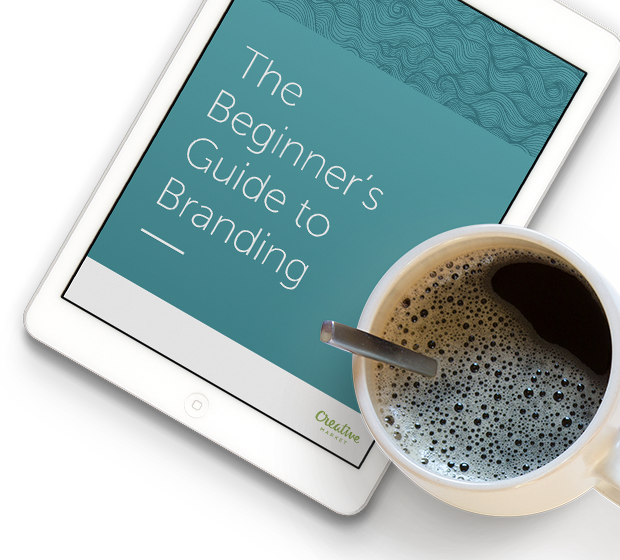 Free Beginner's Guide to Branding
Designing your own brand?
A fun, friendly, FREE guide to build a stellar brand identity.
Download now!
Marc Schenker
Marc is a copywriter and marketer who runs The Glorious Company, a marketing agency. An expert in business and marketing, he helps businesses and companies of all sizes get the most bang for their ad bucks.
View More Posts