How to Get Rid of Creative Ruts: a 30-Day Challenge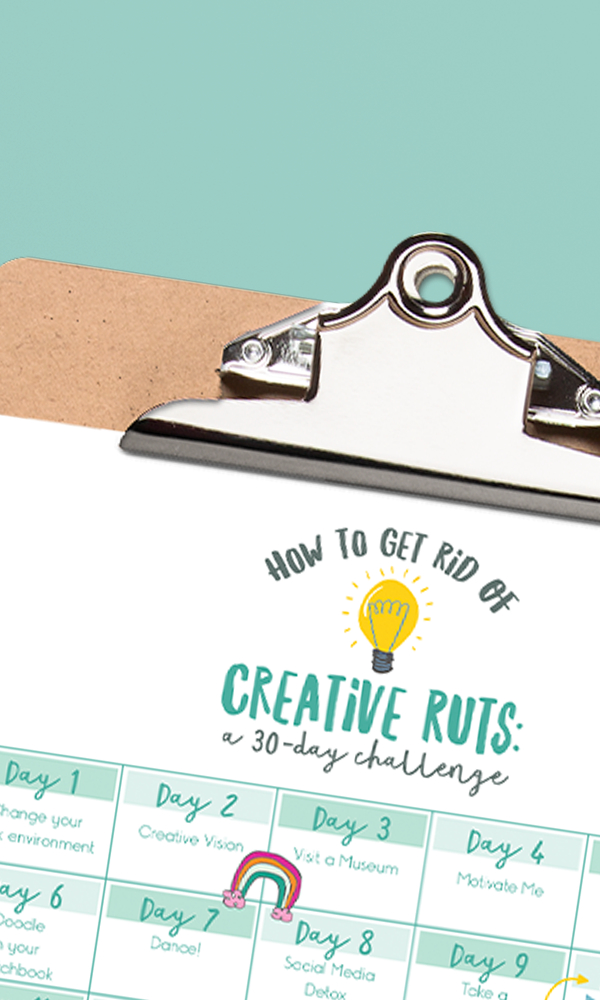 It happens to the best of us: the dreaded creative rut. That seemingly never-ending creative block which sucks the fun out of any project. No matter how hard you try, you can't seem to find the inspiration or motivation to make anything. Using the basic law of inertia (you know, a body in motion will remain in motion), I've put together 30 fun tips to keep you going, inspire you to try new things, and to keep those creative juices flowing.  Are you up for the challenge? Let's begin!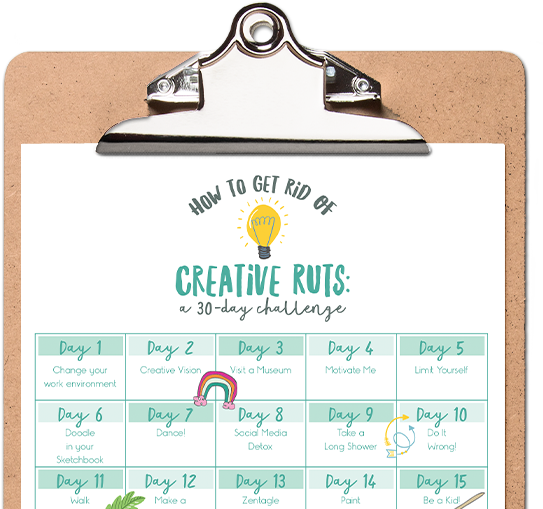 Free 30-Day Creative Challenge Calendar
Get Rid of Creative Ruts Once and for All
We have created a calendar with 30 creative activities to help you beat those dreaded blocks.
Download your calendar
1. Change your Environment
Try working from your local coffee shop or bring your laptop to the park. Even just changing your view, like working from a different room in your house, can give you a fresh perspective — literally and figuratively.
2. Creative Vision
Have you ever tried making a vision board? Similar to the inspiration boards you may already be creating for your work projects, a vision board is a collection of aspirational images and inspiring words. In this case, create a vision board for how you want your life to look, and cut and paste images of those things: a relaxing workspace, a dreamy vacation, that car you've always wanted — you get the point. Hang it in a place where you'll see it often, and be amazed at how it helps keep you focused on going for the things you want.
3. Visit a Museum
Need some inspiration? A museum is the perfect place to refresh your creative energy. Bring a sketchbook and sketch out some of the masterpieces. Analyze what you love about certain pieces. Here's a list of amazing design museums to explore.
4. Motivate Me
Check out sites like Pinterest for loads of motivational phrases, find the one that speaks to you, and create a poster to hang above your workspace. You can create it in any fun media or type it out in any of the amazing fonts found right here on Creative Market. My personal favorite phrase is "Done is Better than Perfect". What's yours?
5. Limit Yourself
Try restricting your next assignment with self-imposed rules. A limited color palette, for example, will force you to explore other ways of expressing your idea. A limited word count will help you stay on point and make every word… count. See what I did there?
6. Doodle in Your Sketchbook
Put down your iPad and dust off your sketchbook! Working in analog mode connects you to your creativity in a way that digital methods may not. Set aside some time, even just half an hour, and just let your mind wander. Have fun with it! If you're stuck, find some drawing prompts online — there are plenty to choose from.
7. Dance!
Turn on your favorite music and just let out some energy! Most of us sit at our desks for hours — no wonder our creativity starts to stagnate. This is a quick and fun way to get out of the creative blahs.
8. Social Media Detox
Yes, I know it sounds scary, impossible even. But try it just for a day. Trust me, nothing will happen if you don't post to Instagram for 24 hours. When I found it difficult to stop repeatedly checking my Facebook for no reason, I simply deleted the app from my phone. Checking it from my desktop made me much more intentional about it, and I realized that I was able to get much more done. This detox will look different for everyone, so whether you delete apps or turn off notifications for every email (gasp!), try this for a day. I think you'll be surprised at how much you enjoy it!
9. Take a Long Shower
Many of us come up with our best ideas in — you guessed it — the shower. So indulge in an extra-long shower today, and allow your right brain to do its thing.
10. Do It Wrong
Sometimes creative ruts are caused by a fear of perfection, a fear of messing up that perfect white page. My tip? Make a mistake on purpose. I have a friend who starts each new, pristine sketchbook with a giant, messy scribble to take the pressure off of "ruining" it. Whatever your field, you know the rules. Break them! You'll either get that creative ball rolling or even discover that doing it "wrong" actually kind of works. I call that win-win.
11. Walk in Nature
And make it count, please! No phone calls, please don't even listen to music. Take in the sounds, look at a flower up close, close your eyes, and smell the freshly-cut grass. Wakening all your senses will do wonders for your desire to make something.
12. Make a Tutorial
We learn by teaching, so why not whip up a fun tutorial to teach people to do what you do best? Upload your tutorial to sites like Instructables.com or to apps like Snapguide.
13. Zentangle
Ever heard of Zentangle? It's the art of creating intricate patterns, in an effort to help you focus and relax. Similarly, you can find coloring pages for adults, with beautiful elaborate shapes. These activities are fun and relaxing, but don't demand much thinking, while keeping your mind clear. This helps you stay open to new, fresh ideas.
14. Paint a Wall
Find a wall in your workspace and paint it in a shade of blue or green. These colors are said to promote creativity and calmness. If you can't commit to painting an entire wall, try adding these colors to your room accents and accessories.
15. Be a Kid
If you have kids or nephews, and even if you don't, try experimenting with kids' crafts: crayons, glue, play dough, stickers. I know that whenever I craft with my four-year-old son, I connect back to a simpler time, to my own childhood, when I created without overthinking. There's something so freeing about making for making's sake. Give it a go, I think you'll be pleasantly surprised.
16. Update Your Website
Add a new piece to your portfolio, rewrite your About page, or just switch up your avatar. If you're feeling up to it, consider updating your logo. Sometimes seeing your brand with fresh eyes is all that's needed to boost your creative motivation.
17. Stream of Consciousness
Grab a pen and paper, and set a time for five minutes. Write down everything and anything that comes to mind. Even if you write "I have nothing to write" over and over until the timer rings. This is an exercise that can help uncover things on your mind which may be troubling you and, in turn, blocking your creativity. This exercise works best if done daily, and preferably first thing in the morning.
18. Watch a Movie
For this challenge, opt for an artsy film, one with beautiful colors, inspiring music, and shot with awesome camera angles. My all-time favorite is the French movie "Amelie", it just makes me want to make something.
19. Take a Day Trip
Treat yourself to a fun day trip, like the local farmer's market or some cool downtown thrift shops. Exposing yourself to great colors and new sights can be a great way to fuel your mind with new ideas.
20. Join a Challege
Look to Instagram to find some amazing challenges to join. For example: #Inktober (where artists and non-artists alike post ink illustrations throughout the month of October), @HandLetteredabcs, an Instagram account which posts weekly themed lettering challenges, or just challenge yourself to take daily pictures and post with the hashtag #photoaday.
21. Collaborate
Find someone in your field whose work you admire, and drop them a line saying you'd love to join forces on a creative project. You'll learn new things and it will hold you accountable to creating something great.
22. Take a nap
Not simply an indulgence, naps boost your brainpower, creativity, and the energy required to get through your tasks. Now I'm off to Google if eating Nutella out of the jar is good for creative ruts as well…
23. Treat Yo' Self
If you've been pining after that new sketchbook or neat tablet cover, this is the time to spoil yourself. Sometimes these little treats are all that's needed to get you excited to get back to the drawing board.
24. Set a Timer
I know, you're stuck, but the reality is that your deadline is looming overhead, and you just gotta get it done. So set a timer for 30 minutes and get to work. Breaking up difficult tasks into more manageable increments can make the task feel less overwhelming, and can help get you back into the flow of productivity.
25. Change it Up
Are you right-handed? Write or draw with your left for a day! Try walking the dog before you drink your morning coffee, write a story's ending first. If you love working to music, try to work in complete silence. Change up your usual way of doing things and observe what it does for your creative process.
26. Learn Something New
Try an online classroom for learning a new craft. Bonus points if you venture out of your comfort zone and try something completely new.
27. Make it Lovely
Declutter your supplies drawer, put your pencils in a cute new jar, and dust off your desk. Make your workspace a place you want to be, and creative productivity is sure to follow.
A free set of printables to get more done.
Get organized.
Download these chalkboard labels, weekly planner, and inspirational poster to keep your goals in check.
Get the printables
28. Play Dress-Up
Channel your inner artist and dress yourself in an outfit that makes you feel the part. Search your closet for the pieces that make you feel your most vibrant.
29. No Sugar, Please
Try decreasing your simple sugar intake to avoid the imminent "crash" that follows — fatigue and sluggishness that sure aren't helping you complete your projects. Snacking by your computer? Pass on the chocolate and opt for some nuts or a piece of fruit to keep your energy levels stable, so you can keep being creative throughout the day.
30. Let It Go
The fear of perfection, that is. While it's sometimes necessary to step away from the projects that make us feel stuck, showing up is half the battle. It's a "fake it till you make it" kind of situation, so keep creating even when you're feeling uninspired, and you're sure to discover that eventually, you'll find your flow again.
---
Products Seen In This Post: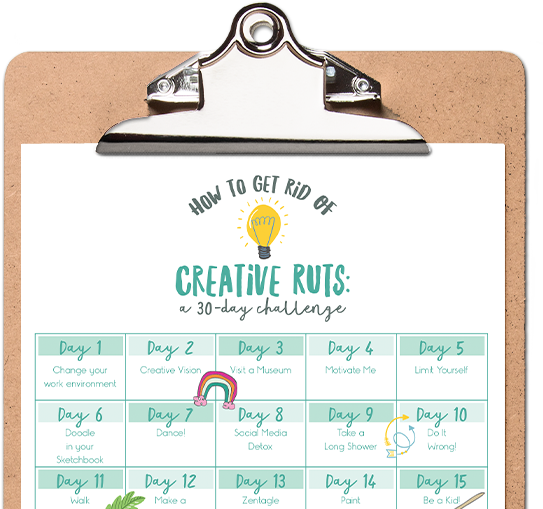 Free 30-Day Creative Challenge Calendar
Get Rid of Creative Ruts Once and for All
We have created a calendar with 30 creative activities to help you beat those dreaded blocks.
Download your calendar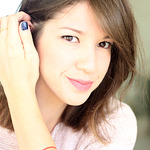 Shelly Laslo
Hi! I'm Shelly, a picture-book illustrator based in sunny Israel. I create thoughtful digital design goods to help your work shine brighter.
View More Posts