How to Create a Color Font in a Few Simple Steps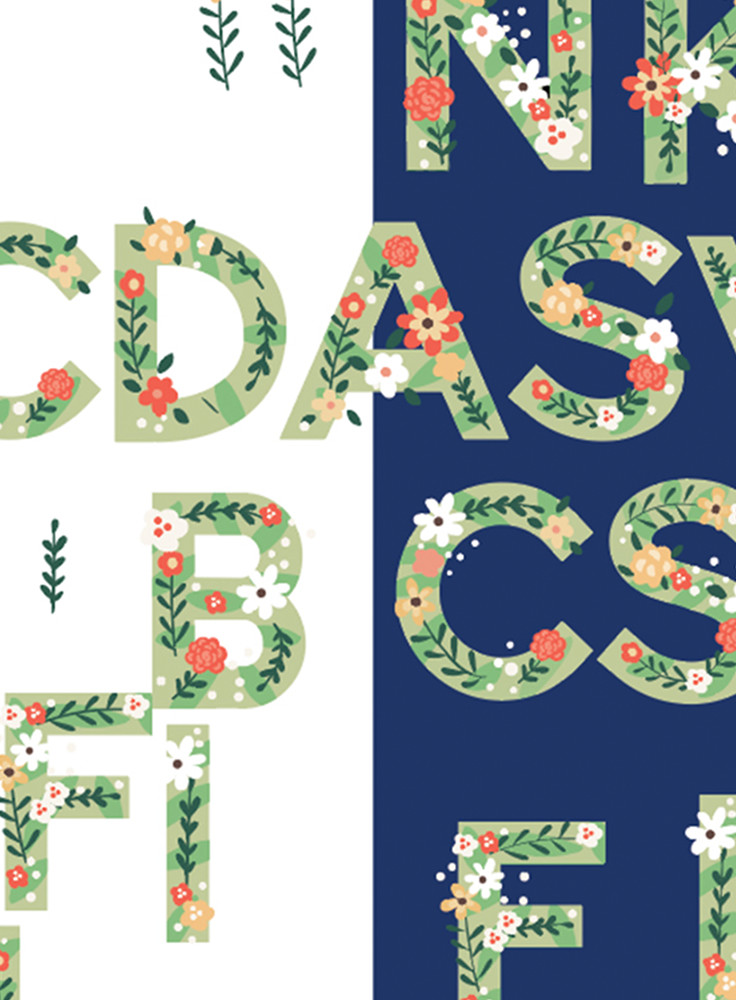 Hi everyone! Today I'm going to share with you my first (and most enjoyable!) experience using Fontself's new Illustrator extension for making your own… wait for it… COLOR FONTS!
I'm sure you are saying "Wait, what? What the heck is a color font?" 
Well, it's only the next level up in fonts, my friends: you can now type in color. 
You might remember this blog post about them a couple of months ago. 
Me: "OK, I've GOT to try this new level of awesomeness out."
As a designer, you can imagine how exciting the prospect is, so of course I dived in head first and found this extension to be quite astounding:
So excitedly I got stuck in, and within a couple of hours, I had made my very first color font — which by the way you can download for only $2 at the end of this post.
Today I'd like to share with you how easy and simple I found it to make color fonts using this new tool. I can't imagine anyone not finding it a breeze to use, not even Illustrator newbies ????.
Getting started
First off: the Fontself extension loads up into Illustrator in a jiffy and, when you open it up (via Window → Extensions), a neat little window pops up. I say little, but it seems in this case dynamite really does come in small packages. 
It has a drag and drop interface, so you literally make your letters, drag them into Fontself, adjust their position, and *pop*, you are making not only fonts but COLOR FONTS. How awesome is that? Not that you can't use this exact tool to make your standard vector fonts too. I've been using it in some of my standard font projects for a while now, and it really does speed up my work process.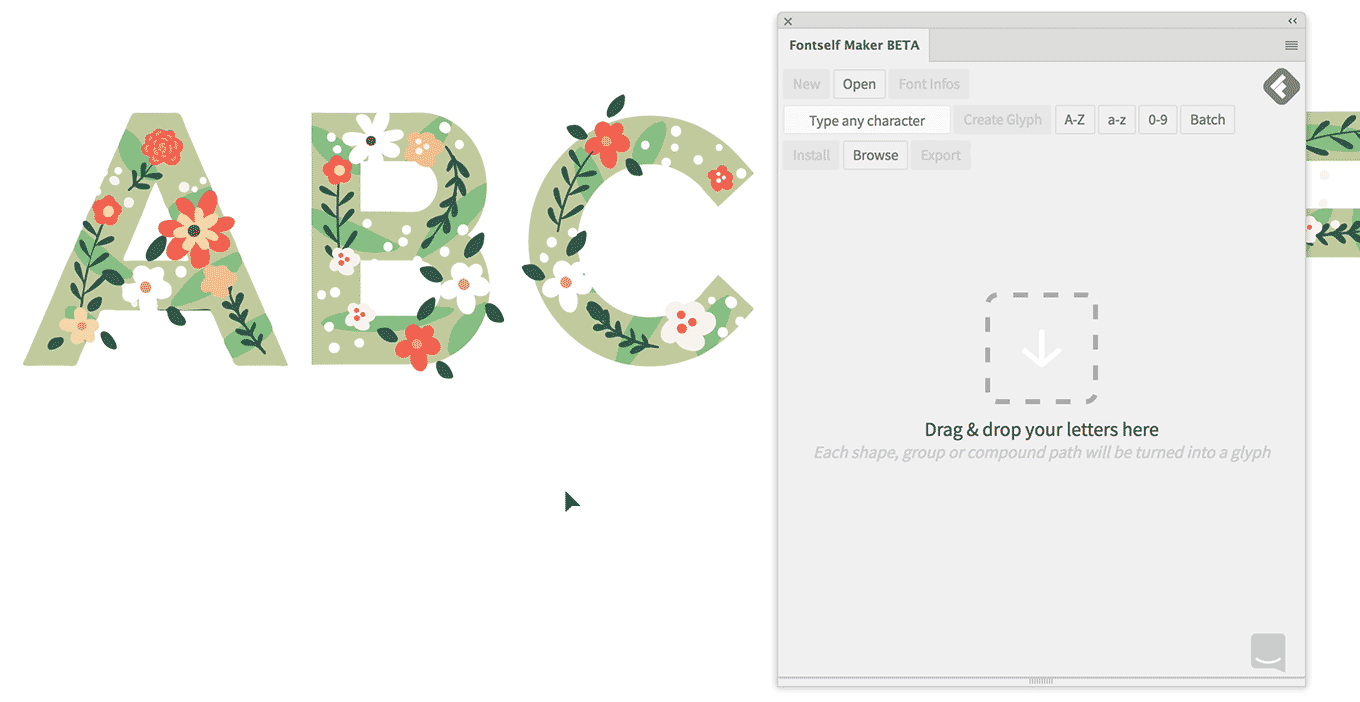 Getting stuck in
I decided to go for a flowery spring letters theme and started by making my letters individually. In Illustrator, I made A to Z, a to z, punctuation, and numerals.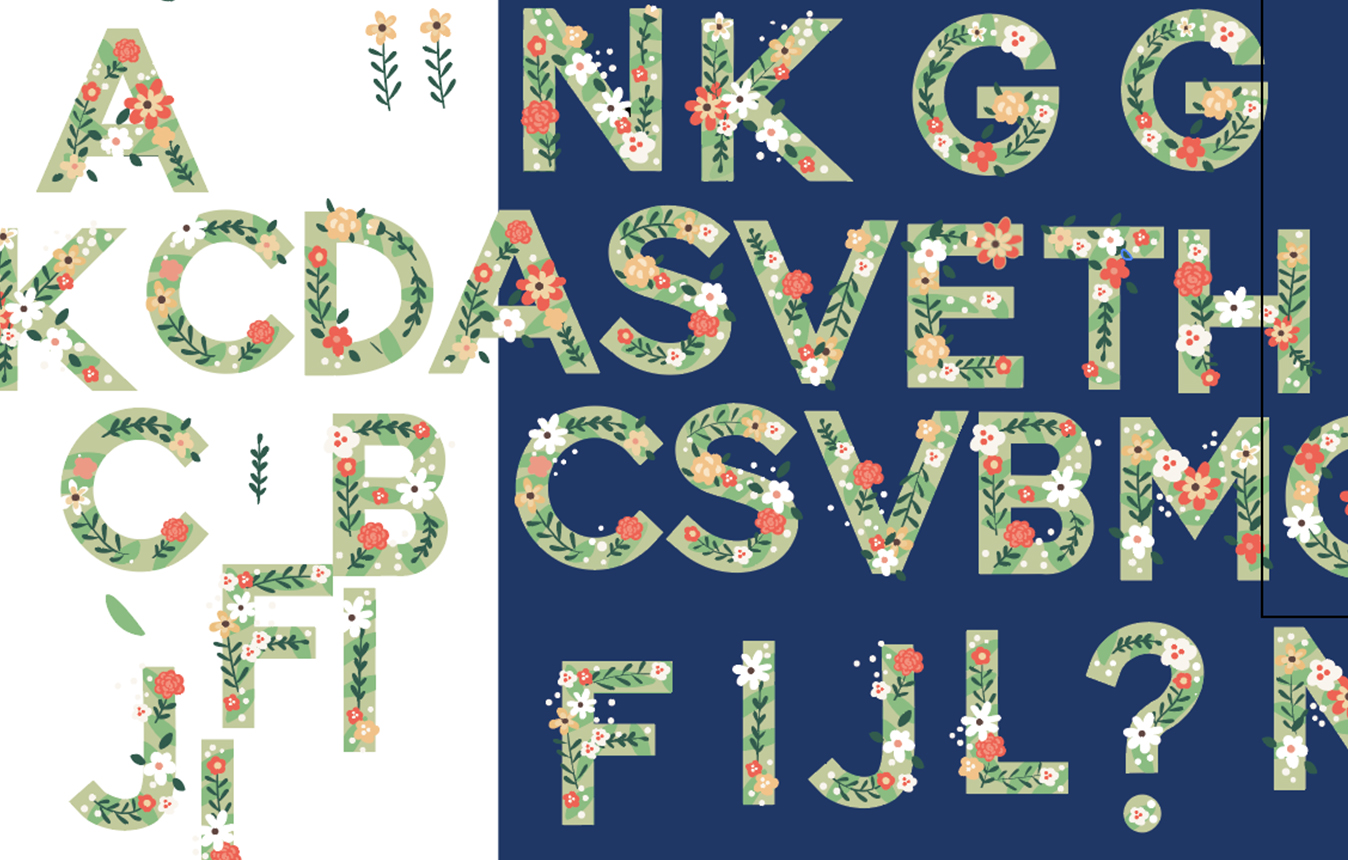 Once all of these elements were made, it was as easy as dragging the letters, one by one, into the Fontself panel. Within a few minutes a whole font was done! All that was left was the fine-tuning of the spacing/position of the letters if they weren't perfectly in place as I'd like them.
POWER TIP #1: If letters are all aligned in a single row, you can also do this faster by dropping the 26 letters on A-Z drop area or pressing the A-Z / a-z buttons.
POWER TIP #2: To ensure your letters are exactly aligned how you want them to, you can also select a horizontal ruler guide when creating new letters, as Fontself will use this guide as a reference for your baseline. Learn more on 
Fontself's help page
.
The whole process of turning my letters into a font literally took 2 cups of coffee and a toilet break ????. 
It was amazingly easy to make all the fine adjustment to the letters too: just dragging the lines on each side of the letters to adjust their left and right side bearings — with the live preview as you make adjustments. It all goes super fast. If the letter is sitting too high or too low, just click and drag it up or down until it's where it needs to be. 
PRO TIP: Double click on a cell or the top left arrow icon to zoom into a larger view, where you can also enter a numeric value to position glyphs more precisely.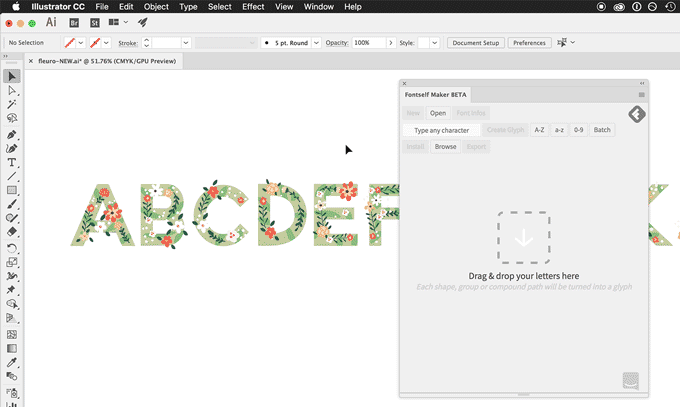 Adjusting kerning
Once I had all my letters perfectly in place, I did notice that being a sans serif all caps font, some letter combinations would always look a little too far apart compared to the rest. This just happens because of their natural shape and geometry. The VA or AW pairs, for example, both have naturally odd spacing. To give these pairs special TLC, I needed to make a kerning pair for each set of letters that look odd like this.
A kerning pair is a set of spacing instructions programmed into the OpenType font to tell the software that's reading the font that two particular letters need to be spaced differently together than the rest.
Fantastically enough, Fontself supports kerning pairs! And it's as easy as dragging the line between them: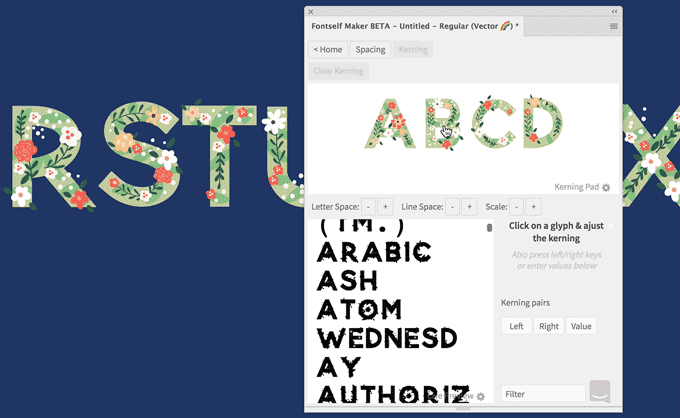 Kerning? DONE.
Creating ligatures
Now I fancy adding some ligatures, double letter glyphs. In case someone types out 'tt', for example, they probably would prefer not to see two identical t's, so I made some ligatures where each letter is florally different. Adding the pairs to the font is as simple as typing the two letters in the "Type any Character" box and hitting "Create Ligature". And it's done!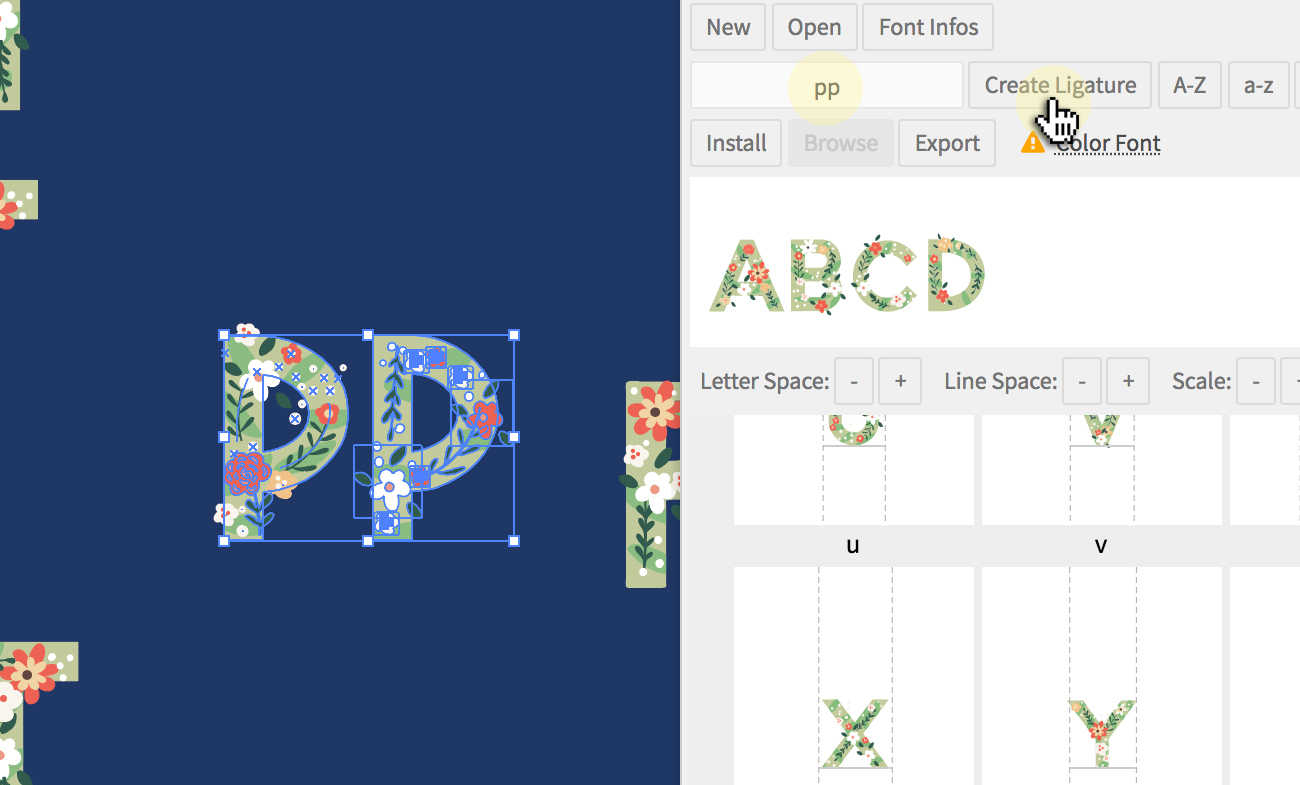 Exporting & installing
After adding some common ligatures this baby was good to go. All I had to do was hit the Export button to test it out.
PRO TIP: Pressing Install (on Mac only) saves the font in a special font folder that automatically installs the font in Illustrator for testing. Once you are good, you can export it and install it on your system for all other apps.
When you hit export, you get prompted to add your font name (always a fun bit too). I called it "FLEURO" and within seconds, a delightful message popped up saying Fontself successfully made the font. It's all very exciting at this point!
I installed the font, and without a hitch it was in my Photoshop CC font list, ready to go! You will need Photoshop CC 2017/2018 or Illustrator CC 2018 to view and use color fonts.
I spent the rest of the afternoon in absolute bliss making things with it. That's always one of my favorite parts. The whole process was so easy and, in the end, I had a fully functioning color font!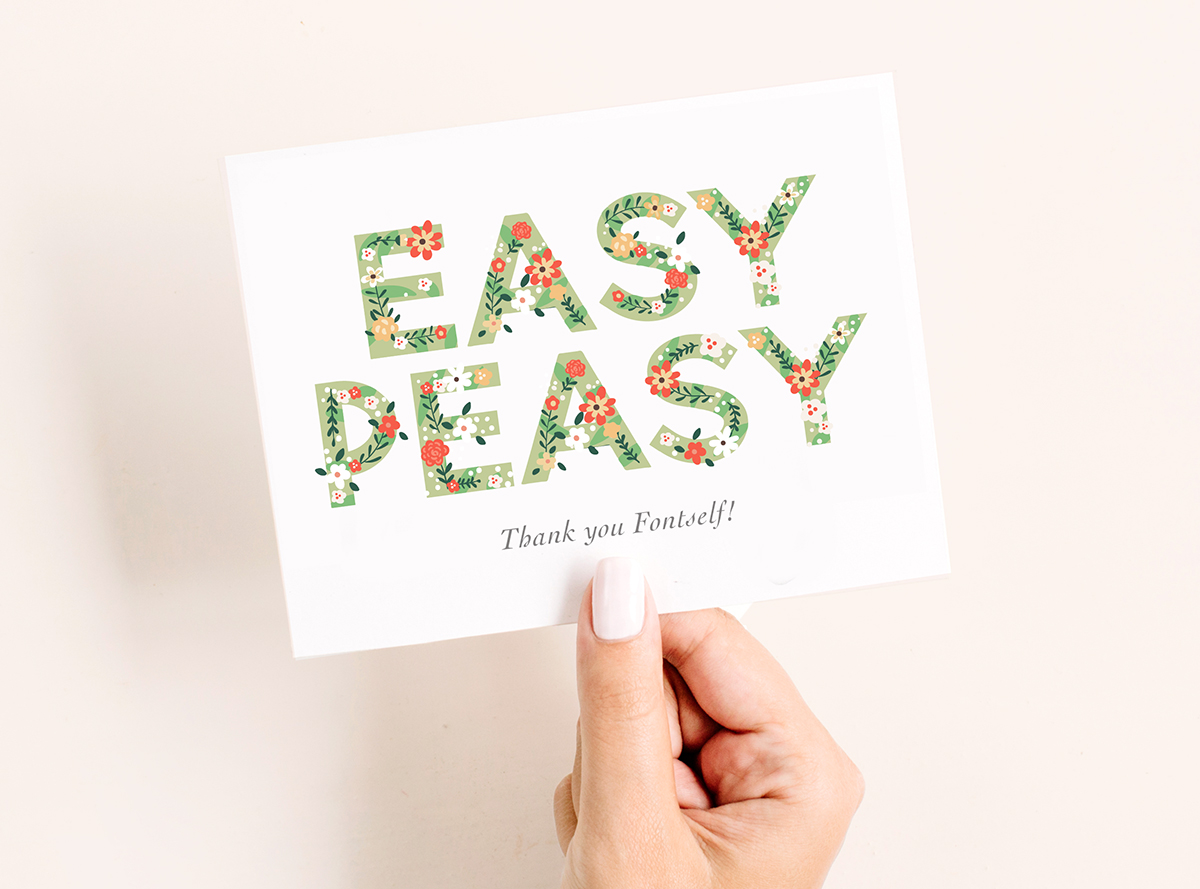 Now your turn!
So there you have it folks: making Colour Fonts has been made an absolute BREEZE by the folks at Fontself. If you would like to check out this awesome product, head on over to their store here on Creative Market. 
OH, and I almost forgot: you can download the color font FLEURO from my shop for just $2. As in all fonts, you are good to go for personal and commercial projects with it: unlimited projects, unlimited sales. Go nuts! You can find it here:
Happy designing and color font-making!

Getting started with hand lettering?
Free lettering worksheets
Download these worksheets and start practicing with simple instructions and tracing exercises.
Download now!
Nicky Laatz
Just love making pretty things :) Might as well earn some beans while I'm doing it :) Feel free to email me with any of your questions! nicky@nickylaatz.com Find a bunch of free goodies and limited-time specials on my website nickylaatz.com.
View More Posts