We started Creative Market a little more than 2 years ago with a vision to build the world's marketplace for design, where anyone with an idea could get access to a massive library of ready-to-use design assets to make their creative projects look incredible. But if you're working on a new game, film, architectural design, or construction project, you know that not all creative projects begin and end in the 2D world.
So today, we're expanding to launch a brand new 3D content category, making it easy to find, license, and download high-quality 3D assets directly from top independent 3D artists around the world. With a growing library of models, textures, and animations, and the backing of Autodesk (our parent company!), we're excited to take our first step into the world of 3D.
Going Beyond Screenshots
We knew that static 2D screenshots wouldn't do this new category justice, so we've partnered with 3D community Sketchfab to make it possible to interact with live 3D model previews directly on the product page. That means you can rotate, zoom, and explore models up close, from any angle. It's like being able to try before you buy!
Here are a few examples of these interactive previews that you can find in the new 3D category:
Ship by 2dawngames
Military Jet Engine by TooTidy Games
Survival Prop Pack by PolyPixel Online Store
Modular_Building_1 by 2dawngames
Low Poly Angel Female by Bitgem
Integrated Into Autodesk Apps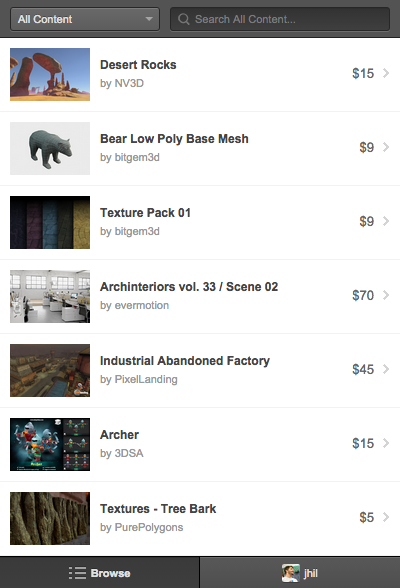 When Creative Market was acquired by Autodesk in 2014, we had a vision of not only launching a new 3D category backed by the biggest name in 3D, but also making time-saving assets available to 3D artists in the tools they use every day.
That's why we're also announcing a direct integration into 3ds Max 2016, giving users instant access to download ready-to-use content without ever leaving the app. Additionally, Autodesk Stingray launched last week with a dedicated hub on Creative Market, so game makers can purchase 3D models, animations, and materials to include in their games.
Calling All 3D Artists!


Our mission has always been to elevate the creative community and help independent designers make a living doing what they love — creating amazing content.
So if you're passionate about making top-quality 3D models and assets, come open a shop on Creative Market so we can promote your work to millions of people each month, and help you earn money:
Integrated with Autodesk apps
Your 3D products will be available for sale inside industry-standard software like 3ds Max.
Keep 60% of each sale
You put in the hard work, you deserve more from each sale.
Set your own prices
Keep complete control over your portfolio and pricing.
No exclusivity lock-in
Sell models with us, in your own site, or anywhere else, without any penalties, reduced commissions or extra fees.
No per-product review process
Once your shop is approved, you'll be able to add products to your shop instantly, without any approval waiting period.
Custom-branded shop profile
Establish your unique identity with your own branded shop.
Community of 1,000,000+ members
Our fast-growing platform is built around driving exposure for independent artists. Keep producing great work, and we'll do everything we can to get you the recognition you deserve.
Note for existing shop owners: in order to keep 3D content quality extremely high, you will have to apply using the button above to be able to sell products in the new 3D category.
Just The Beginning…
A lot of hard work has gone into launching this new category, but this is only the beginning. We're committed to building the best place to buy and sell 3D assets anywhere online (or in-app!), and doing everything we can to support the independent creators whose work inspires us all.
Getting started with hand lettering?
Free lettering worksheets
Download these worksheets and start practicing with simple instructions and tracing exercises.
Download now!
Aaron Epstein
Creative Market cofounder. Jack of all trades, master of none. Designer/developer hybrid in a previous life. Powered by Cheerios and avocados.
View More Posts