How to Design a Custom Snapchat Filter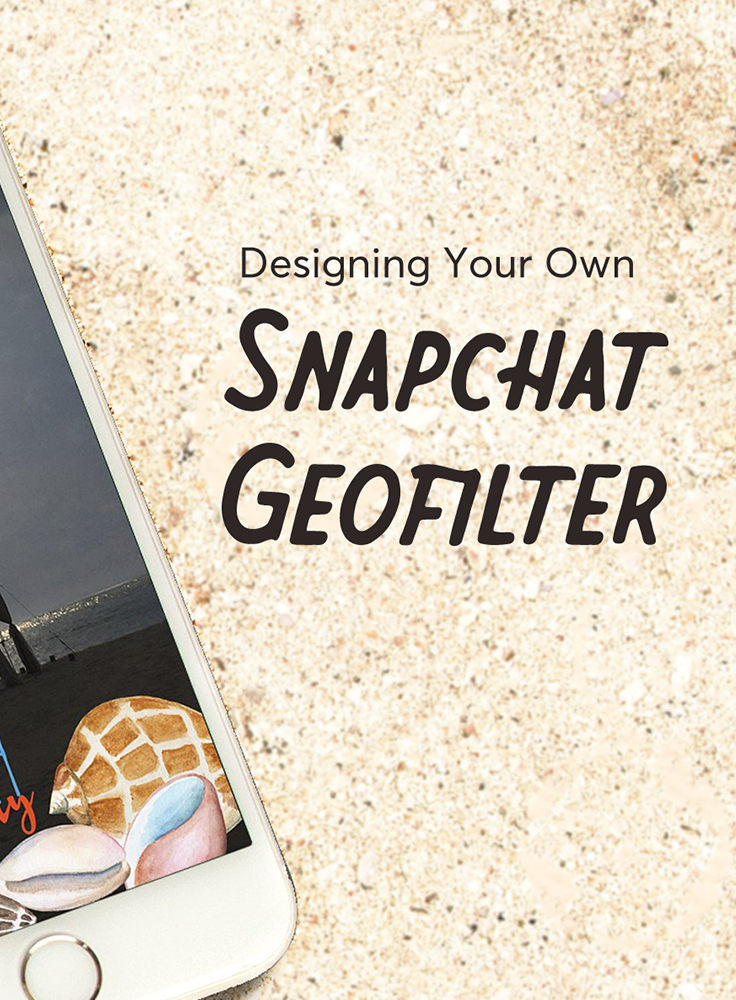 Particularly appealing to those people born in the early 1980s to the early 2000s (AKA, millennials), Snapchat has been taking the world by storm since its launch only a few years ago. This is thanks in part to its revolutionary way of messaging and communicating: users send each other Snaps (pictures, videos, and messages) that only last for a very short time before they're inaccessible. This fleeting nature of Snapchat is what's allowed it to stand out in an otherwise crowded social media field. Other social networks like Instagram have quickly followed suit. Because of its widespread use, the app currently has approximately 166 million users per day, Snapchat is also a popular focus of designers, both for hobbyist and financial reasons. If you're searching for information on how to design a Snapchat Geofilter, you've come to the right place. As a bonus, you'll also learn how to turn that passion or hobby into something profitable. A potentially lucrative venture for designers is mastering how to design a Snapchat Geofilter, so here we go!
What Are Snapchat Geofilters?
Before you can break ground designing Geofilters, you have to know what they are. If you're not yet a hardcore user of Snapchat, here are the basics. A Geofilter is an overlay, usually aesthetic and vibrant, that shows up in your Snapchat immediately after you take a Snap. According to Snapchat itself: "Geofilters are a fun way to share where you are, or what you're up to, by adding a fun overlay to your Snap. If you have location services and Filters enabled, Geofilters appear at thousands of places around the world." Adding a Snap to your picture is as easy as swiping on the preview screen of the Snap and then choosing which one you want to add to your image. Long story short, Geofilters are essentially an extra way for users to interact with this social-media platform on another level. Think of them as filters on steroids.
The big difference between normal filters and Geofilters is that Geofilters are always dependent and specific to the location you find yourself in or the event you're attending. Geofilters encourage users to share time and event-sensitive information with their fellow users with additional urgency. Now that you're an expert on these kinds of filters, it's time to do a deep dive into how you can design them.
The Basics of How to Design a Snapchat Geofilter
There's a flow to designing your Geofilter. Approach it from the standpoint of product design, with a clear beginning, middle, and end.
The Ideation Process
Like with all great products' inception, think about the reason why you're designing the Geofilter in the first place. Since Geofilters are goal-based, it helps to start out by finalizing how your filter will look and what details it will contain. Going back to the event example, one of the most obvious details to include in a Geofilter is the name of the event and where it's being held. After all, you want users to let their friends know about your event in the time it takes to quickly send a Snap.
Now's the time to also understand how to work Snapchat's branding into your own identity. Even if you're promoting an event that's serious or is for a brand that's not known for being quirky, realize that you're on a platform that's used by Millennials, which means that irreverence and playfulness are part of its design language. Therefore, designing Geofilters that incorporate a good amount of these characteristics is a win.
The Design Process
When thinking about how to design a Snapchat Geofilter, understand that many Snaps involve headshots and selfies of people—so a successful design will make considerations for somehow incorporating faces. That's simply the nature of the platform you're working on as a designer. Good design is always geared to working in harmony with where you're designing for. Unfortunately, the Geofilter design process comes down to some trial and error because only the actual selfies and pictures of people on the platform benefit from its facial-recognition methods, which Geofilters aren't equipped for. As a result, you'll likely have to iterate several Geofilter designs and then individually test out each one to ensure that it perfectly aligns with a selfie that you intend to use. You want your Geofilter design to feature adequate spacing in between the various elements of its design, for example.
Of course, the other option is simply to give your clients and audience something they may not be expecting and therefore go with a design that doesn't incorporate faces. If you do this, these two approaches work best: Using White or Negative Space – Frame your Geofilter in such a way to highlight the design elements inside of the frame. By including a border around the picture, for instance, you elevate the focus of your audience to the Snap and nothing else. If anything, this is a highly functional way to make sure important information in the Snap isn't missed. Emphasis on Typography – It makes sense that, if your event is centered around a phrase or slogan (examples: The March Against Cancer, The Bakeoff for New School Uniforms, etc.), using text-heavy designs can draw more attention to your event. Of course, don't just limit yourself to type designs. Feel free to also include smaller design touches like illustrations, effects, etc.
The Branding Process
Since you're promoting an event, you'll probably want to include your logo or another identifying mark. Fortunately, Snapchat's rules for branding are well-defined. These rules break down into two camps:
Geofilters for businesses – These are naturally promotional and are meant to include things like logos, your business name, etc.
Geofilters for personal use – These are intended for personal celebrations like birthday parties and weddings
Note that your logo and/or business name on your Geofilter will be fleeting and only appear next to "Sponsored," last just a couple of seconds, show up only when users are previewing your Geofilter, and won't even make it into the final Snap, according to Snapchat's Business Geofilters info.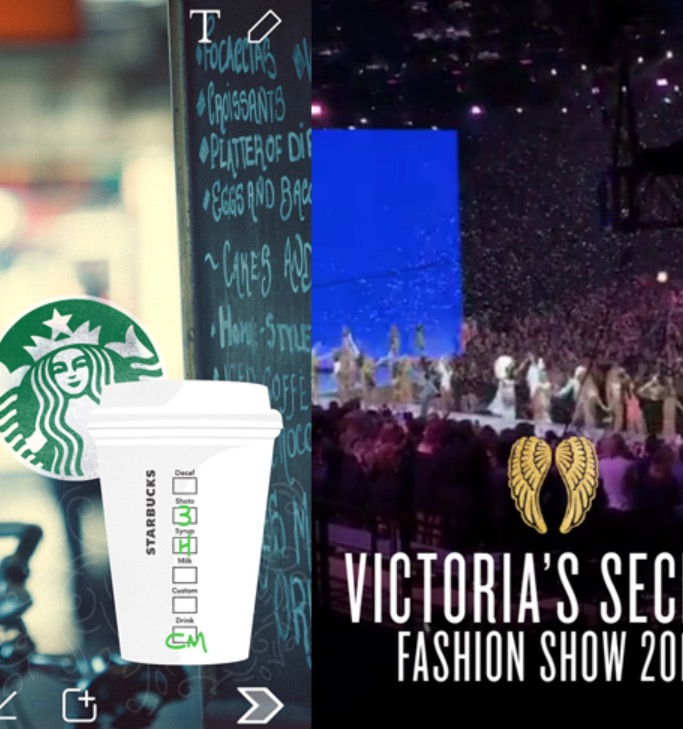 Choose appropriate places within a selfie or a picture to flash your logo and/or business name. It has to fit naturally and seamlessly, without disturbing the overall message.
The Submission Process
With this out of the way, here are the specifics on actually submitting your design to Snapchat. Now that you know how to design a Snapchat Geofilter, you have to make it count within the platform. Access Snapchat's On-Demand Geofilters page, and click on "Create Now." This is where there's a fork in the road. You have two choices going forward. Everything up to this point in this guide assumes that you're creating your own Geofilter, which you can do in numerous ways. You use one of our marketplace's Snapchat Geofilters as your template and then upload that to Snapchat. We have unique choices for various occasions:
You can also use an online Geofilter maker, such as: Adobe products like Capture (on your mobile device) and Illustrator (on your desktop). If you don't want to create your own Geofilter yourself, no sweat. Snapchat has a host of their own templates, from which you can choose—simply choose from one of their templates in Step 1 of their "Create Now" sequence, on their On-Demand Geofilter page.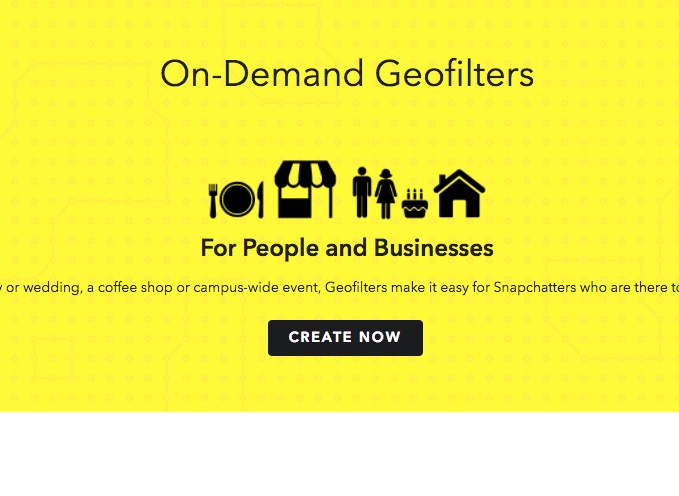 From there, the rest of the submission process is a cinch. Select a time, choose a geofence for your Geofilter, and then submit it to Snapchat. When selecting a location (read: geofence) for it, consider who you want to be able to see your Geofilter. If the event you're promoting is a special promo at a brick-and-mortar business, then your task is straightforward: Choose the blocks immediately in and around that location. Note that geofences can be anywhere from 20,000 to 50,000 square feet in area. Depending on the importance of your event, you can adjust your geofence accordingly. It usually takes only one business day to have your submitted Geofilter reviewed. Note that there's always the possibility that your Geofilter can be rejected by Snapchat. In such cases, it's typically because you violated one of their guidelines. See Snapchat's Geofilter Submission Guidelines for more info on what to do to increase your chances of having your Geofilter approved. This concludes the tutorial on how to design a Snapchat Geofilter, but the title of this piece also refers to making money from your Geofilter, which I'll get to next.
Marketing Your Geofilter
Congrats on designing your first Geofilter. Next up is marketing it to increase your chances of making some money from it. The most obvious solution for where to sell your Snapchat Geofilter is our marketplace. By signing up to become a shop owner on Creative Market, you get a chance to sell any Geofilters that you design to our member network, which numbers over 3 million. Second, try social media. You can always use this channel to raise awareness of the killer Geofilter designs you've created. As with any content strategy, social-media curation on Twitter, Facebook, Instagram, and Pinterest can lead to people getting to know your brand. In this case, it's your Geofilter-design side business.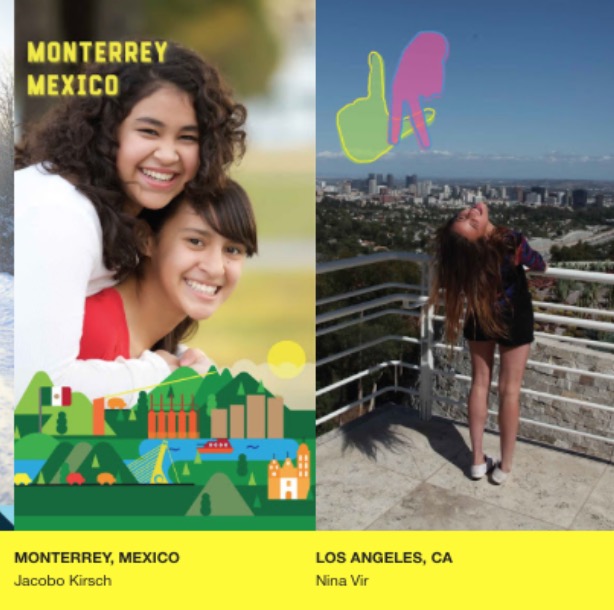 Use the 80/20 strategy to regularly share content for your industry to establish trust, build your brand, and give your followers high-quality content that's mostly non-promotional. When you do this, you establish your social-media channel as an authority in all things design. This can take a while, but once you have that reputation, it's more likely that your followers will click on your occasional promo posts that showcase your latest Geofilter designs, land on your website (you need to also set up a dedicated site or shop on a platform to selling your Geofilters), and make a purchase. Mashable had a recent report about small businesses popping up just to support the demand of custom-made Geofilters. If you're entrepreneurial and have a knack for design, then there's definitely a market for Geofilter design. Take Snap That Filter. This UK-based design business specializes in creating Geofilters for special occasions. It's the side business of John Scott, who rushes home from his day job to tend to his side gig of fulfilling Geofilter orders. Not to be outdone, there's also design entrepreneur Gregg Collins, who creates Geofilters for his side gig, too, when he's not working at his tech startup day job. His claim to fame is having designed London's main Geofilter and a number of others in and around Dublin.
Designing for Events and Locations
As you learn how to design a Snapchat Geofilter, you begin to realize that the designs you've worked so hard on are actually meant to announce individual events or occasions. This way of looking at it makes it very easy to see the great potential of designing Geofilters for your side business or even main business. With events and special occasions happening nonstop every day across the entire globe, designing Geofilters can become a scalable, lucrative pastime, to say the least.
---
Products Seen In This Post: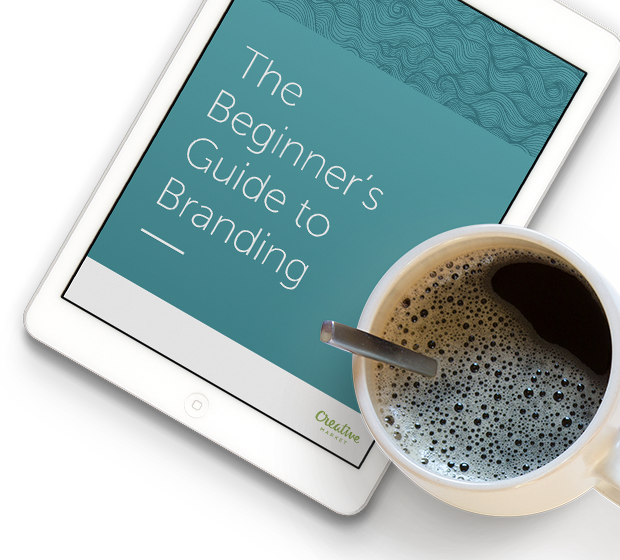 Free Beginner's Guide to Branding
Designing your own brand?
A fun, friendly, FREE guide to build a stellar brand identity.
Download now!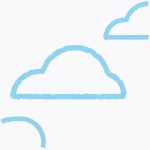 Marc Schenker
Marc is a copywriter and marketer who runs The Glorious Company, a marketing agency. An expert in business and marketing, he helps businesses and companies of all sizes get the most bang for their ad bucks.
View More Posts