Drop Cap Study: An Inspiring Procreate Lettering Project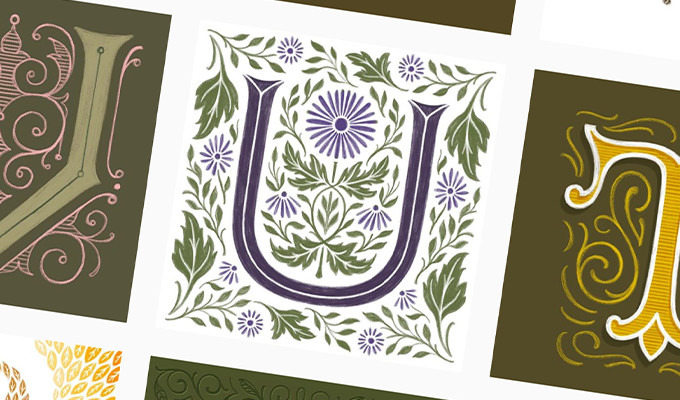 A few weeks ago, an interesting Procreate lettering project called our attention on Instagram. Led by our very own Beth Rufener, Drop Cap Study celebrates the uniqueness of different letters by adding flourishes, color, and texture. The alphabet will be illustrated entirely with Procreate, and Beth has developed a fascinating technique that might inspire you to expand your own lettering skillset. Read on to learn about her process, inspiration sources, and favorite tools.
How did you get started with Procreate lettering? Which tablet & stylus do you use?
I got an iPad and Apple Pencil as a Christmas gift in 2017, and Procreate was the first thing I installed. I didn't use any custom brushes at first, but just took a dive into the app with the brushes that come with Procreate. The iPad Pro quickly became one of my favorite creative tools and is my go-to whenever I want to sketch, draw, or letter something.
Where do you get inspiration for these unique letters and flourishes?
Hand-lettering inspiration comes from vintage type (from Medieval illuminated manuscripts to Victorian type), William Morris florals, and even some of my own past work from previous drop cap exercises or unused client work. I often use this Pinterest board for inspiration, or posts saved in my Instagram collections.
Drop Cap Study, in particular, is meant to be an exploration in color as well as flourishes and letterforms. Currently, the color scheme and flourishes reflect the progress of Summer into Autumn. Right now, where I live, the leaves are just starting to change and fall. Autumn has always been an incredible source of rich inspiration for me, so it's been really challenging and fun to look outside as the season changes and incorporate autumn's beauty into these Drop Caps. I'm really looking forward to keeping this up as Fall turns into Winter.
Download our Fall color palettes


Download the palettes

Add a splash of color to your next project.

Download our set of color palettes to get their exact hex codes!
Which steps do you normally follow when creating a composition?
It usually begins with a picture in my head, in which I answer some of these questions: what style of letter will I create? Will it be illuminated on the inside and/or outside? What style of flourishes will it have? What color scheme will I use? For most of the compositions, I'm using this brush pack:
The free sketch:
I create a new document in Procreate, choose a brush, choose a light color, maybe turn on symmetry options, and hide the background so I can sketch with the built-in grid. Then I start the free sketch of the letterform itself. In this stage, anything goes. It might start with the picture in my head, yet evolve into something completely different. Everything is okay: mess-ups, odd colors, or concepts that may or may not work.
Refining the design:
After I'm satisfied with the composition of the letter, I'll start refining the sketch. Sometimes I start a new layer and trace over the sketch, depending on the concept. Other times, I find the sketch has a lot of grace or integrity of its own, so I'll simply choose to clean it up.
Illumination:
After refining the letter, I begin on inner or outer flourishes. The flourishes might get sketched out and pieced together from many layers. When I'm satisfied with the way the flourishes enhance the letter, I refine them or start a new layer to trace over them.
Color:
It might seem odd that this step comes last, but I find it easier to focus on form and shapes first without worrying about the final color scheme. When the composition is all set, I apply the color scheme and make adjustments from there.
Any advice for those just getting started with lettering?
I recently lettered my top tips for beginners in this piece. I firmly believe that it all comes down to lots of practice and a willingness to try new concepts and ideas.
Study other art to learn, stay inspired, and internalize classical letterforms- then use that inspiration as you create your own unique art. And, at risk of sounding like a music teacher, keep practicing!
Free lettering worksheets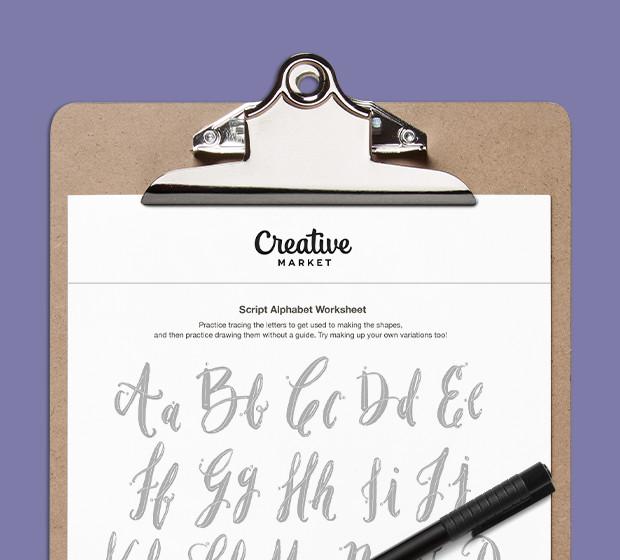 Download now!

Getting started with hand lettering?

Download these worksheets and start practicing with simple instructions and tracing exercises.
Building a platform for handcrafted, mousemade design content from independent creatives around the world. We're passionate about making beautiful design simple and accessible to everyone.
---