Featured Shop: Ruben Stom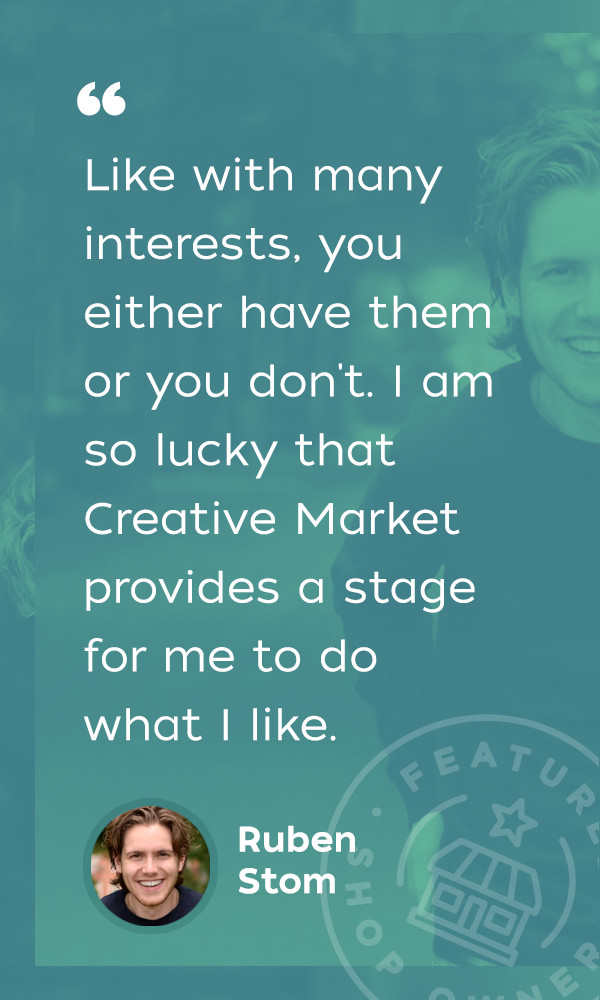 As someone who loves creativity and originality, Ruben Stom makes sure that both of these elements come across in his products. During his years in university, he was determined to pursue a career in communications but fell in love with design and hasn't looked back since. Ruben has been a shop owner on Creative Market since 2015 and focuses on templates and themes with a wide variety of uses like brochures, business cards, and websites. Today, we had the opportunity to speak with the Ruben to learn more about him and how his journey started.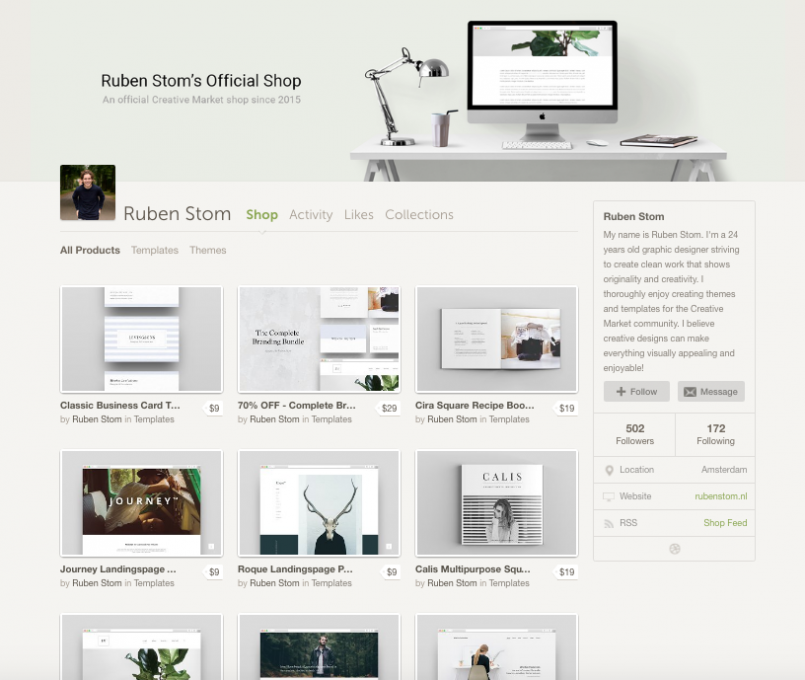 Can you start off by telling us a little bit about yourself and your story?
My name is Ruben Stom, I am 24 years old and was born in Amsterdam, the Netherlands. I am a graphic designer, specialised in webdesign and print (Creative Market themes and templates). Last year, I graduated from university with a major in Communications. At the moment, I work from home, which is great (to quote Leanna Rosengren from Knotted Design: "who doesn't want to work in their pajamas"— haha).
How did your creative journey start? Is this a path you always knew was meant for you?
About five years ago, I started my studies in communication. This choice was based on my wish to work in the advertising, but during my studies, I worked for agencies and discovered that I was especially interested in the design department. Although I applied for a different job, I found myself drawn towards the design department and quickly made the switch. At night, I learned the ins-and-outs of Photoshop with the help of YouTube, and during the daytime, I worked in the advertising office where someone from the design department took me under his wings and taught me a lot. I've always been keen to learn and learnt more and more as time went on. With my job, I was responsible for the printing work at the office but was drawn towards online design — that's I decided to follow courses, besides my studies and job, in designing websites and later building them. I became more and more enthusiastic and was constantly busy building new websites, so it wasn't long before friends and acquaintances recognized my qualities and I could concentrate on the opportunities that came my way.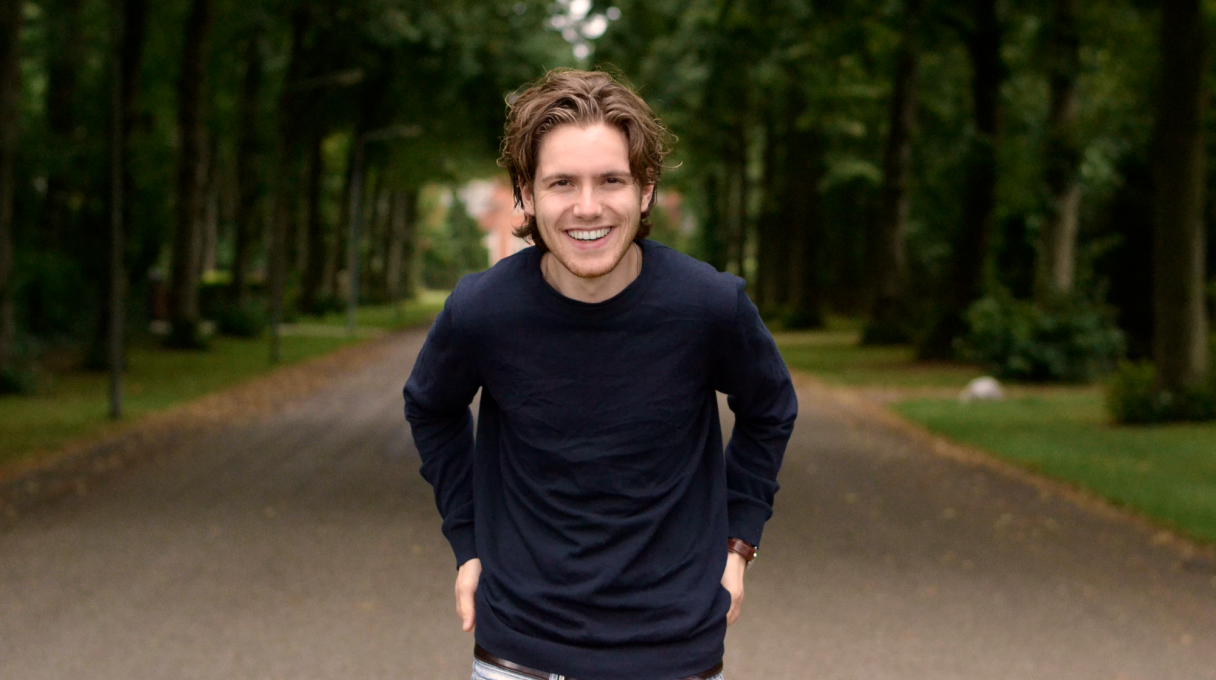 What sparked your interest in graphic design?
There wasn't one specific thing or person I was inspired by in becoming a graphic designer. At school, I made mixtapes for my fellow students and spent more time designing the cover than mixing the music — haha. Like with many interests, you either have them or you don't. I am so lucky that Creative Market provides a stage for me to do what I like. Had I known about its existence sooner, I would have concentrated on making products for my Creative Market shop from the beginning!
As an artist, were you self-taught or did you have a formal education?
A bit of both worlds. YouTube videos and my colleague at Ogilvy taught me the basics of designing, and in the end, I decided to follow specific courses — something I would strongly recommend. Although a lot of information can be found on the internet, a course offers more chances to learn because other online medias don't have any interaction. The internet doesn't give answers to specific questions like how to deliver files to the printing company or make responsive grids for websites.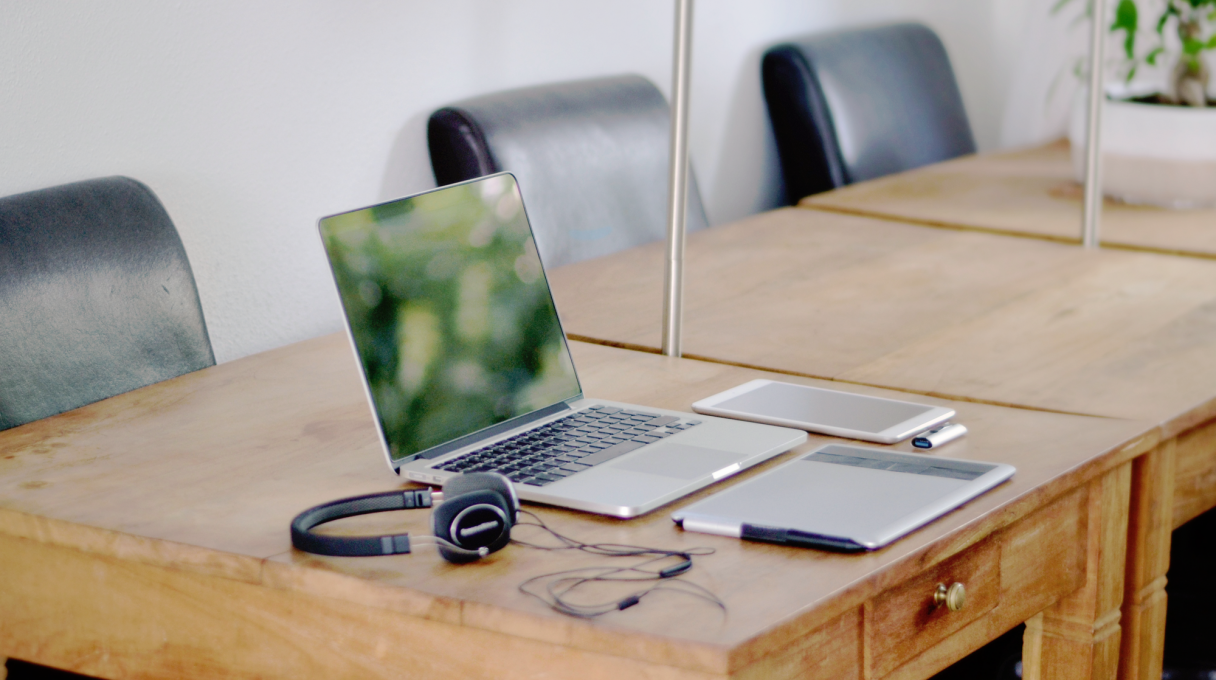 Between templates and themes, is there one that you prefer to focus on?
If I had to choose, I would go for themes. These projects are simply more comprehensive and therefore more challenging. I follow trends in that field and am intrigued by minimal design. Besides, templates are static and themes mostly interactive which enhances the attraction of the latter. Sometimes a fade-in really makes all the difference on a website.
What's the inspiration behind your creativity?
I would describe my style as clean and minimalistic. In some cases, less is actually better! I always try to combine visually attractive fonts and also use beautiful photos, which in themselves help to improve the total picture. My favorite colors are black, white, and all shades of grey in-between. My surroundings are my inspiration. Sometimes I take my camera and try to take pictures of everything which inspires me out in the streets. I prefer clean-cut pictures and often use them in my designs.
What has contributed most to your growth as a designer?
Dribbble, Creative Market, and my apprenticeship at Ogilvy contributed most to my development, especially the period I worked at Ogilvy, where I got better day after day with the help of my colleague because he taught me how to work more structured. At the same time, I was invited to join Dribbble, which gave a boost to my motivation and opened possibilities to build relationships with other designers. It was an excellent opportunity to get work. Nowadays, Dribbble is less important to me — I mainly use it as a platform to market my Creative Market shop.
Can you explain the process that you go through when designing something?
It depends on the project at hand. First of all, I set the goal and ask myself: do I build a website for a client in order to sell a product or a theme for Creative Market which should be accessible to the general public? It stands to reason that this makes a huge difference with regard to the design. The next step is content: which route will the visitor take and what is the first thing he sees? I spend many hours looking for inspiration, either outside or on Dribbble, depending on the project. Sometimes I make up to ten different moodboards. As soon as I have my planning sorted out, I start on the grid, the base of all my work, a different one for each project. For me, this is an important part because my designs are minimalistic, and in this way, the style of a particular design is partly determined by a grid.
What's your most favorite project so far and why?
The "Huge UI Kit" was a very special project for me. It derives its depth from the combination of many web designs from my earlier projects. In the end, many different styles merged into one product and the end result is magnificent. It is by far the most ambitious and complete project in my Creative Market shop.
Do you have any exciting projects that's currently in the works?
Right now, I am working on various projects simultaneously. A font of my own, a hand-written version of a serif font, which I hope to launch next week. I also designed new business cards, which are ready to be marketed, a huge social media banner pack, and a new brochure I am very proud of. In short — a whole lot of new things!
How did you and Creative Market find each other?
Through Dribbble, the possibility to offer your work for sale through a third party like Creative Market. I frequently use this option. In the beginning, Creative Market merely was a source of inspiration for me; I didn't even have an account at first.
What made you decide to take the leap and open a shop on Creative Market?
A year ago, I built my own webshop where I sold my products. It went well but lacked the scope of Creative Market. Therefore, I sent in my portfolio with the result that I was accepted and could start almost immediately. Nowadays, I focus on designing exclusively for Creative Market.
What's your favorite thing about being a part of the Creative Market community? Have you found it beneficial to you?
Creative Market made it possible for me to show my products while working from home. It is nice to see my designs being noticed and shared with other designers. Not only is it good to see that my products sell well, Creative Market also has a lot to offer socially. Together with clients all over the world, I work on the most amazing projects. I can't imagine there is a designer who wouldn't love this!
Looking back on your creative journey, is there anything you wish you could have done differently?
In hindsight, I should have joined Creative Market much earlier — haha! I had known about it for a long time but never thought of opening a shop myself.
What's one piece of advice you would give to your younger self?
For me as a designer, it is of the greatest importance to remain myself. Sounds like a cliché, but sometimes this is more difficult than it seems. New trends pop up everywhere, and even though it may be alright to follow them, one should adapt them to one's own personal style. I believe a unique style is always recognized, even in a market flooded with designers.
Keep the conversation going!
This chat doesn't have to end here! Can you relate to Ruben's creative journey or process? Did you learn something new? Chat with Ruben in the comment section below. Products Seen in This Post:
Getting started with hand lettering?
Free lettering worksheets
Download these worksheets and start practicing with simple instructions and tracing exercises.
Download now!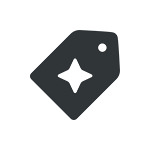 Creative Market