30 Incredibly Handy Font Families with Script, Serif, and Sans-Serif Styles
Sometimes you may have difficulty finding a font family that fits all your typography needs: you might want titles in Serif fonts, signatures in Script and body text in Sans-Serif. Do you crave flexibility with fonts? You're in luck. These 30 flexible font families contain versatile fonts, letting you use a typeface that is cohesive and consistent throughout your design.
Thriftshop Hand-Lettering Collection
The Thriftshop Hand-Lettering Collection from Callie Hegstrom is handmade, fun and whimsical. The family contains sans serif, monoline and brush versions.
Look
Look, created by insigne, was created to resemble the lettering popular across America in the post-war era — it is old-fashioned, distressed and rugged. This font collection has three typeface families: sans serif, serif and wood light.
Boho Family
Boho, as its name suggest, is a bohemian font inspired by a free-spirited, creative designer. The font, which resembles hand lettering, is girly and whimsical — and it comes in serif, sans serif, script, and script drop options.
The Hippia Typefaces
The Hippia Typefaces is a set of three hand-lettering fonts. Each font is ornamental and bold, influenced by the hand lettering on antique posters.
Reckless Font Trio
Spasibenko Art created the Reckless Font Trio, which is a hand-drawn group of fonts that have a comical, rounded aesthetic. Choose between the traditional version, a script version and a hand-drawn version.
Storyteller
Storyteller is a huge font family, with more than 33 fonts total. The fonts are handwritten, hand-traced and digitized, for an authentic handcrafted look. Each letter looks like it was written with a quill by an old-fashioned storyteller.
Thankful Complete
The designer who created Thankful Complete — Ornaments of Grace — was inspired by the feeling of autumn and the Thanksgiving holidays. The font itself is charmingly rustic and classic — and the font family comes with eight handmade sub-families.
Handtype Toolkit
Handtype Toolkit contains more than 22 funky fonts to be used for branding, posters, apparel and more. The toolkit also contains 15 patterns and 50 vector graphics to enhance designs. It's a great choice for a designer searching for a combination of fun, funny and fancy fonts.
Typnic "Typographic Picnic"
Picnics are fun because you can taste-test many foods all in one meal. Typnic is similar, since it offers a smattering of different fonts in one collection. All fonts are drawn by hand, and they complement each other — so you can use one font family to complete an entire project.
Catalina Font Family
The designer of Catalina Font Family, Kimmy Design, created Catalina Font Family after visiting a bakery she loved in Newport Beach, California. The bakery was organic and earthy, and it had great typography in its branding — so the font collection she created is similar. Within Catalina are five different font families, with fonts of different weights and serif styles.
Sortdecai Font Family
Sortdecai is a popular font family that has a range of fonts, from vintage hand-drawn letters to modern brush style. The font family includes handmade, vintage, script, brush script, handmade script, display, display handmade and cursive script versions — as well as a few bonus fonts, too.
Delight Font Pack & Extra
Check out the Delight Font Pack, which holds true to its name. The rough, whimsical hand-created letters are great for invitations, ads, posters and more. The font family includes the original version of the font, as well as book and script versions.
Latype Font Family
Latype Font Family has six different font styles and a bonus font. The minimalist, handcrafted font has a modern, sleek, trendy style with clean lines and a friendly vibe.
Pathways
Hustle Supply Co. created Pathways — a sleek, clean font that includes four font styles and some fun bonuses. Check out Pathways for a font created with logo and label designers in mind.
Old Harbour Vintage Font Collection
The Old Harbour vintage font collection has a classic, recognizable nautical feel. Choose from one of the font family's 12 fonts, or use them together to create a cohesive, maritime look.
Brooks Brothers Typeface
Searching for the classic preppy look of Brooks Brothers clothing — but for your fonts? The Brooks Brothers Typeface is the font for you. The three hand-drawn fonts are great for creating vintage, old-fashioned and refined designs.
Gibson Script
Gibson Script is a formal, vintage-looking typeface inspired by old-fashioned hand-lettering and logos. The fonts come in script, serif, rounded, and rough version.
Spirited
Spirited has six handmade fonts, and it is aptly named, since the serif, sans serif, swash and script versions are full of whimsy, movement and character.
Haste
This collection of three handmade fonts by Try&Error Studio work together perfectly in a cohesive design. Haste has two sleek, minimalist fonts and one that is bolder and rougher — a great combination for logos, branding and more.
La Parisienne
Imagine walking down the streets of Paris, gazing at the Seine and taking in the Eiffel Tower. That's the aesthetic you'll get with La Parisienne — a set of fonts inspired by the City of Lights.
Mightype Fontpack Handlettering
Check out Mightype Fontpack Handlettering bundle if you prefer huge typefaces. The collection has more than eight fonts, including fun cursive fonts and more minimalist sans serif options.
Sensa Family
The Sensa handmade font family has 21 fonts with six subcategories, including brush, pen, wild, sans, serif and goodies. It's an assertive collection that works well in different combinations — you can pick a bold one and use the others for accents.
Canvas Acrylic Megafamily
The Canvas Acrylic Megafamily is a beautiful collection of nine different hand-painted font families. They span the design spectrum: some are festive while others are folksy, and you can blend them to create distinctive designs. The package is ideal for seasonal elements, very small type settings, and unique icons and patterns.
Blooming Elegant
The Blooming Elegant font collection comes with three fonts that will up the sophistication of any design. The Regular font is elegant yet playful and great for branding, logos, invites, etc. The Sans is a neat set of characters that suit large and fine print, and the Hand is a cute hand-lettered font for a bit of playfulness.
Tropen
The Tropen Font Family has six different types of styles in one weight so they complement each other perfectly. They are each hand-made, straight-forward, sophisticated and perfect for eye-catching logos, t-shirt design, magazine prints and more.
Showcase Typeface
Showcase is a handmade font in four different styles — script, sans, slab and sans mini. It also includes a set of ornaments and dingbats that all work collectively. This family of versatile fonts is perfect for print and large signage, like restaurant windows.
Boucherie
The Boucherie Collection is a collection of fonts that captures the look of 19th-century French advertising typography. It's completely original and includes four distinct display types along with ornaments, catchwords and frames.
Adorn
The Adorn Collection is perfect for wedding invites, thank you notes, gift cards and other designs that come from the heart. It's modern yet quirky and offers seven display fonts, four script designs, monograms, ornaments, illustrations, banners, frames, and catchwords.
Legend
The Legend Font Trio is a hand-crafted group inspired by traditional American typography and a rustic lifestyle. It includes script, sans and serif, which work for a number of purposes, including lettering and logotype, t-shirts, packaging, invites and more.
Hanley
The Hanley Font Collection has seven font files and two extra files to produce an authentic vintage yet modern vibe. The letters have a warm and human feel, and the hand-drawn aesthetic looks professional.
The above font collections offer versatile font families that allow you to create cohesive designs. If you are interested in making hand-lettered fonts or cool fonts by yourself, check out these helpful beginners' tips from our blog.
Getting started with hand lettering?
Free lettering worksheets
Download these worksheets and start practicing with simple instructions and tracing exercises.
Download now!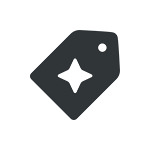 Creative Market