From Idea to Product: The Graphic Design Process
When you see a design on a website, do you think about how it got there? Imagine a desk in Palo Alto, California, or Tokyo, Japan, or Mumbai, India where a freelance graphic designer is scribbling furiously on a sketchpad or endlessly clicking in Adobe Illustrator trying to make the simple, yet detailed, seemingly effortless images that are used on websites all over the internet. A picture is worth a thousand words, but have we ever given it that many? Here's half of that exploring what it takes to employ great graphic design.
I talked to Alisa Foytik of Graphic Market and Nicole LaRue of LaRue and Company, two experienced freelance graphic artists about what it takes to make a great design:
The Creative Process
From inspiration to final product, the designer undergoes a series of steps all their own known as the creative process. This varies from designer to designer and can take a few days, weeks, months, or even years, but it usually follows the same general layout: inspiration, visualization, realization, and finalization.
What Inspires You?
Every design starts with an idea inspired by something. Designer Nicole LaRue gets inspired by each individual task she meets, "I really love putting things together, and that encompasses researching a specific project, doing a lot of looking around, and brainstorming fun and quirky concepts." Alisa Foytik tends to follow her impulse to create "Ideas are all around us," she says. "Sometimes I smell a great idea in the air, and all I need to do is catch it."
Seeing the Idea
Once an idea captivates you, it must be clearly visualized in your mind from all angles. "Usually I think about the set I want to draw for a week or two: thinking about the perfect color combination, each element, and their presentation," says Alisa. She spends much of her design time fitting these together in her mind.
Making the Idea Real
Now that the idea is visualized, it has to be put somewhere. Whether that be paper, a canvas, or a computer screen is up to you. After thinking for a few weeks, Alisa usually puts her designs out in an evening burst when all her emails for job offers and new contracts have been dealt with. As you'll see below, her designs happen all at once in a computer program. This is how one of her Sugar Skulls for a Dia de Los Muertos graphic set came together:
Here is Alisa's final clip art set: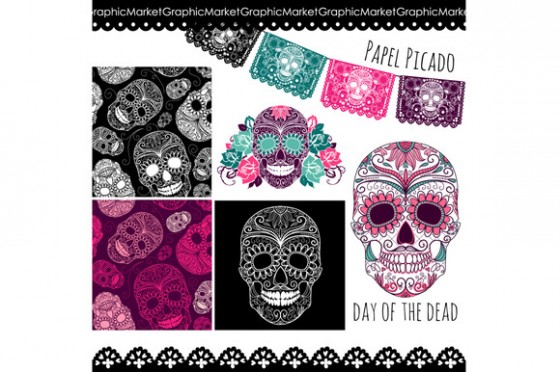 Putting it All Together
It's time to finish strong. Take care of all the details and make that design come together. For Nicole, once everything has been sketched, drawn, scanned and cleaned up, it's all about putting it back together on the computer. "I sort of build [the design] once it's digital," she says. Like a homemade puzzle, Nicole pieces her design back together from different parts.
The above parts were assembled with color to form her vector pack "Tricky".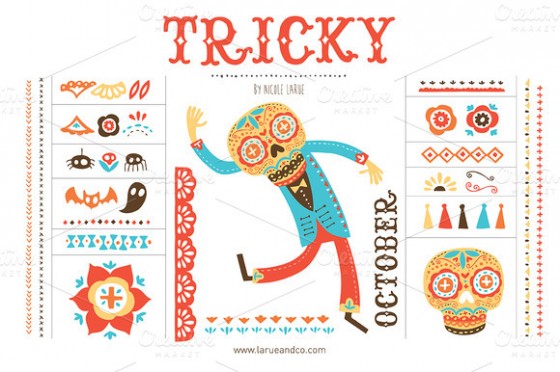 One Last Note
ENJOY YOUR PROCESS! You're creating it so make it your own and make it fun. "When I'm alone with my laptop, the magic of drawing begins," Alisa says. "It's hard to stop." "It's good fun indeed," says Nicole. "I love to work and draw."
Final Thoughts
Although I've explored two designers' individual creativity, there are as many paths to creativity as people in the world. Does exploring other artists' creative methods help you shape your own? What's your unique creative process?
Getting started with hand lettering?
Free lettering worksheets
Download these worksheets and start practicing with simple instructions and tracing exercises.
Download now!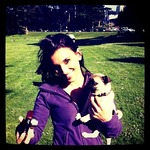 Maryam Taheri
I'm a recent graduate of the University of San Francisco with a degree in Biology and a passion for the creative arts. I love building websites, trying new things, and I have a passion for social media.
View More Posts