15 Handpicked Podcast Graphics to Promote Your Show in Style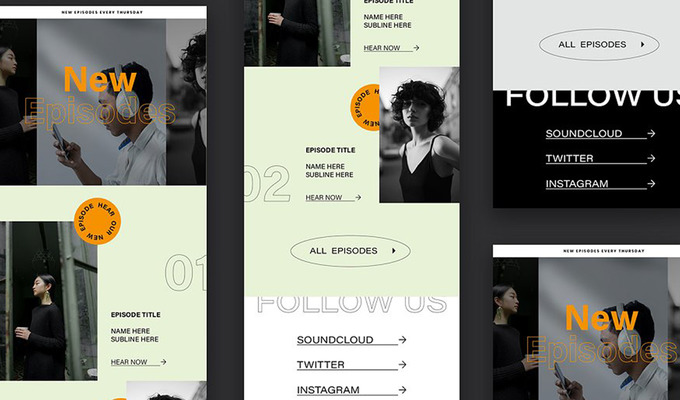 If you're creating a podcast to share your stories with the world, make sure you present them with equally compelling designs. Aside from designing a brand to convey your podcast's identity, consider creating social media graphics and other promotional pieces. Starting out with a pre-designed template will save you time, allowing you to adapt individual elements to fit your visual style.
Here are 15 of our favorite assets to help you promote and grow your podcast in style.
Ladypreneur Social Media Bundle PSD
Studio Loire created Ladypreneur Social Media Bundle PSD—a bundle of social media templates that you can use to promote your podcast on your social media pages. The bundle has graphics, post templates, tutorials, and more. What makes the Ladypreneur social media bundle stand out is that it is wide and varied: it. comes with 54 template files, and it covers specific topics like CTAs, podcast promotion, graphics to go with accompanying blog posts and more. This bundle is particularly great because it uses free fonts and fully customizable text, and it has smart objects that are easily editable to make it fully your own. To use this bundle you need Photoshop CS6.
Podcast Vector Set
Podcast Vector Set by Kattarina Po is the perfect set of images to use if you're just getting started with podcast branding. This cute, cartoon style set of vector images has a friendly, approachable style and the clipart in the set all relates to podcasting. Some of the images in the set include microtphones, cats, indoor plants, microphones, headphones, and more. The clip art elements come in EPS, AI, and PNG formats. This is a great set for anyone who wants to make the welcoming, homemade feel of their podcast shine through.
Instagram Pack for Infopreneurs
Looking to use Instagram to promote your podcast? Check out Instagram Pack for Infopreneurs by Ralony. This is a set of templates for instagram posts that you can use to highlight different aspects of your podcasts (or things you release related to your podcast). The templates include templates for: blog posts, promotions, announcements, mailing lists, potlights, and webinars. One thing that makes this pack special is that it's compatible with Canva and comes with a step by step template guide for using it with Canva.
Podcaster Styled Stock Photo 015
Rosemary Watson's Podcast Styled Stock Photo 015 is a great image to use if you are create a website, blog post, or emal about your podcast. This crisp, clean, minimalistic photo of a mac laptop nad microphone is a basic and straightforward design element that gets your message across and looks super professional. Because the photo is so minimalistic, it can be used in a wide range of industries or for podcasts on essentially any topic.
Dixie Podcast Wordpress Theme
If you wanna get serious about podcasting, you need a website or landing page where you can put that podcast. Use Dixie Podcast Wordpress Theme by SecondLineThemes to create that page. The theme is great because it supports multple podcasting plugins like PowerPress and SeriouslySimplePodcasting, and it can also host embedded files from places like SoundCloud, MixCloud, YouTube, and more.
Stock Photo Bundle
Ivory Mix has assembled this Stock Photo Bundle for podcasters that will make creating a website, blog, or emails about your podcast much easier. The creator of teh photo bundle recommends using the images for website banners, website images, business card mockups, etsy banners, facebook banners, piThe pack contains 11 pictures and they include things like microphones, an aux cord, a laptop, a notebook with a script, and more. The photos are clean and contemporary looking, and because they are minimalistic content-wise, they can really be used for any kind of podcast—from true crime to tech news, and more.
Gumbo - Podcast & Vlog Theme
SecondLineThemes created Gumbo - Podcast & Vlog theme so that podcasters could create robust pages for their podcasts. You can build your page with the Gumbo theme using the Elementor page builder (included) which is intuitive and easy. With Gumbo, you can choose to use included templates or completely customzie your set. Some features that make this theme stand out are that it includes a page builder, has tons of support videos to walk you through the process, and it is optimized for search and speed.
The Podcast (26 Styled Images)
For a set of images to use in your podcast marketing materials, check out The Podcast, a set of 26 styled stock photos created by Ivory Mix. The photos show a person creating a podcast with a laptop and microphone at a desk. The photos vary in subject and style, so choose to showcase the equipment you're using or the process of creating and publishing a podcast for the world. You can use the photos in this set for things like Instagram posts, Pinterest pins, blog post headers, and more. All images are approximately 5000x3300 pixels and 300 dpi.
Live Stream Event Flyer Set
Are you doing a livestream podcasting event? Use Live Stream Event Flyer Set to promote it. This set of flyer templates by Guuver features a flyer in CMYK 300 DPI and RGB 72 DPI for social media. The flyer is designed with cartoon computer elements and bright blue and pink, so it's eye catching and contemporary. All you have to do is plug in your information, and you can get your info about your event out to the world easily.
Podcast Instagram Stories and Post
Instagram is a powerful platform for promoting a podcast. You can use designer reivatxfz's Podcast Instagram Stories and Post templates to create attractive instagram posts that draw people in and get the word out about your creation. This bundle has 9 unique slides that you can customize to make distinctly about your podcast. Customizing is easy: just drag and drop images in, and take advantage of the free font and icons used throughout.
Lead Magnets for Podcasters
ProductiveandFree created Lead Magnets for Podcasters: a set of templates that can help you entice people to join your podcast email list. The set contains 12 distinct lead magnet page templates and 20 promotional graphic templates. The page templates include a cover page, welcome message, how-to-guide, inspiring quotes, and more.
Audio-Visual Line Art Icon Set
Are you looking for graphics related to music and recording? This is the set for you. These Audio-Visual line art icons created by C. Gordon Illustration contains 26 distinct images that relate to podcasting, including a speaker, headphones, technician with headset, and more. When you download the file you get AI vectors, PNGs, and SVGs.
Podcasting Mockups (10+ Styled images)
Ivory Mix created this set of Podcasting Mockups that are distinctly clean and feminine in style. The photos have a pink, gold, and white color scheme, and include images like headphones and an iphone, flowers next to coffee and a microphone, and a microphone on a desk. These sleek and chic photos are great to use for marketing a specific type of podcast: something contemporary, stylish, and cool. You get 10 photos when you buy this bundle.
Podcast Digest Logo
PushLogo created a clean, minimalist logo with a retro bent that says "Podcast Digest" and features an old fashioned microphone in red. When you buy the file, you get it in AI, EPS, and JPG. If you're looking for a premade logo that says "Podcast Digest," this is an eye-catching, attractive one.
Podcaster Styled Photo Bundle
Rosemary Watson compiled this Podcaster Styled Photo bundle to use in your podcasting marketing materials. The photos feature a high tech mic in silver and mid-century style planter and decor elements. The photos are 5700x3600 pixles in size and the bundle contains 30 photographs.
Podcast Media Kit
This Podcast Media Kit by Love Plus Color was created with the specific purpose of helping podcasters market their shows more easily. It includes a 20-page media kit that can help podcasters attract soponsors, parternships, advertisers, guests, and more. The kit is editable with Canva.
Podcast Promo Graphics for Instagram
Need graphics that will help you get the word out about your podcast? Check out this bundle of Podcast Promo Graphics for Instagram by Basil and Bark. These graphics are specifically for Instagram stories, so you can post the newest and most exciting information about episodes you're releasing.
Podcast Carousel Posts CANVA + PS
Another great set of easily customizable Instagram templates for podcasters is Podcast Carousel Posts CANVA+P5, created by Roger Coles. This is a collection of seamless Instagram Carousel Posts that you can easily edit using Canva or Photoshop. The bundle comes with 4 unique PSD templates that each have 4 images, as well as a bonus PSD with 4 images in the set.
Podcast Stories for CANVA + PS
If you're looking for Instagram story templates, Roger Coles also created this bundle of customizable templates for podcasters.
Find More Podcasting Graphics
If you are creating a new podcast and are looking for ready-to-use design templates, our shop owners have created a slew of assets that can help you build a slick and consistent brand.
---
Products Seen In This Post:
Download 6 Products for Free
Making beautiful design simple & accessible to all.