How to Grow a Loyal Following
There are two ways to build a reliable income from your Creative Market shop: 1. Pure brute force (aka the bad way): Trying to constantly be everywhere at once promoting your own products. 2. Growing a loyal following (aka the awesome way): Grow a loyal following of customers who share your work and buy your products.
Growing a loyal following will increase your shop sales. But it will also bring more significance to your work. Not just for yourself, but for your customers.
It can feel overwhelming to grow a loyal following. I've found one of the easiest ways to start is to pick one thing and start doing it consistently. I've created a list of 8 things you can start doing today to grow a loyal following. Pick one thing and start doing it regularly. You'll be amazed at the results!
If you want to learn even more about growing a loyal following check out Seth Godin's book Tribes. It's a quick and inspiring read that will change the way you look at your business.
1. Be Human
Imagine you're looking to buy some great coffee online. You find two different websites offering similar roasts of coffee. The first website tells you all the technical details of the coffee (roast, variety of beans, flavor profile and taste).
The second website includes technical details too. But they also have:
Pictures of employees preparing beans in a vintage charcoal bed roaster
Articles about their trips to purchase beans in South America from independent farmers
Instructions on how to make the best cup of coffee ever
Which of these businesses would you be more likely to purchase your beans from?
Find ways to bring yourself to your customers. Here are a few ways you can start:
Write your product descriptions like you're talking to a good friend.
Update your Creative Market autoresponder message regularly and be sure to use a friendly and open writing style.
Tell a story about how your product came to be.
Share your design process on Instagram, Tumblr or Dribbble.
Example: Mattox Schuller of Fort Foundry does an excellent job of sharing his successes as well as flaws. Visit his website and you'll find detailed articles documenting the stories behind his typefaces (as well as mistakes he made and lessons he learned).
2. Be Helpful
People buy your products because they help them achieve something. It might help them get a project done faster or achieve an effect they don't have the knowledge to execute.
Add more value by making every interaction an opportunity to deliver value. Here's a few simple ways to be helpful to your customers:
Include easy to follow instructions for your products.
Share videos on YouTube that help people use your products.
Include a PDF to help customers get the most from each product.
Create an inspirational gallery on Pinterest where designers can see how others use your products.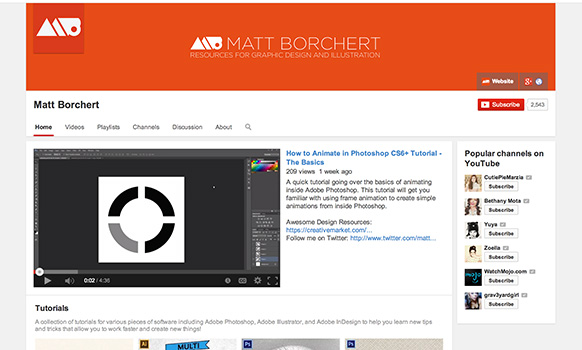 Example: Matt Borchert makes a regular habit of sharing free tutorials on YouTube as well as weekly updates featuring new goods on Creative Market. 
3. Be Responsive
We're used to not getting a response online. So when someone actually responds with a helpful note or comment we remember it. Make a consciousness effort to respond to every message you receive from your audience. Want to really impress them?
Here are a few easy ways to surpass their expectations in your response:
Look at their portfolio or blog. Learn about them and then acknowledge the stuff you like.
Include links to valuable resources in your responses.
Follow them on social networks.
Share something about yourself. Share little tid bits about your process, your work or your struggles.
4. Co-create
Want to know the easiest way to make products your customers will love? Ask them.
It's a great way to decide what to make next. Plus, when you ask for customer input they become emotionally invested in the product. Who doesn't want a product that was built with their needs in mind?
Here are some simple ways to co-create products with your customers: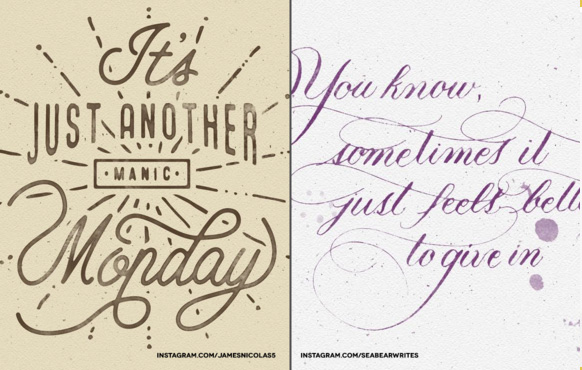 Example: Ian Bernard regularly shares his new products with followers on Instagram and Dribbble before release. This gives him valuable feedback on his product before launch and builds buzz about the upcoming release.
5. Surprise them.
99% of the time, when you purchase a product you get exactly what was described. What if you were the person who always delights your customers with something extra? What would that do for your business?
Here are some ways to surprise your customers:
Include something cool with your product that you never mentioned was included.
Surprise them with a free good from your shop (without mentioning it in the product description).
Share their work.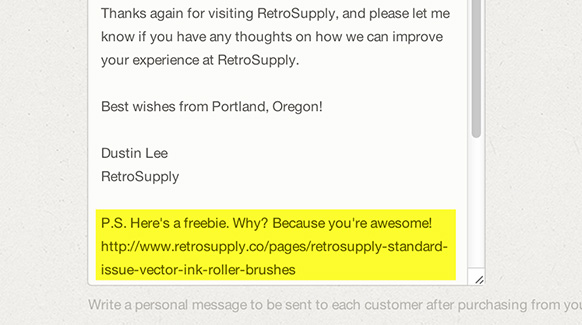 Example: I always try to make a positive first impression when people purchase RetroSupply goods. One of my favorite ways is to add a surprise freebie in my custom email receipt. It's an easy way to over deliver and make customers happy.
6. Reward Your Most Loyal Customers
Customers that buy early are so important. These are the customers that give you your first reviews, comments, and bring your products up the ranks so they're visible to everyone.
Thank these customers by giving them special deals and letting them know you value them. I truly believe that these customers can be the difference between a hugely successful shop and one that never gains traction.
Here are some ways to reward your customers:
Early bird discount. Give them a special discount for buying early.
Run a giveaway. Give people who buy in the first 48 hours a free item of their choice when they purchase.
Add exclusive extras. Include exclusive extras that are only in the download file for the first 48 hours. Remove them after the first 48 hours, giving your best customers a special perk for their loyalty.
7. Assume the Best
Have you ever received a message from an unhappy customer? If you haven't yet, trust me you will! Instead of getting defensive respond to these customers with understanding. Assume they're reasonable people that had a frustrating experience.
I've found that if I respond kindly to people, 99% of the time their response back is positive. In fact, some of my best customers are those who I was able to transform a negative experience into a positive one.
8. Treat Your Customers Like Good Friends
If I could only offer one tip for growing a loyal following it would be this: Treat your customers like good friends.
What do I mean by that? Here are a few examples:
When you write a product description pretend you're writing to one friend. If it helps picture a customer you've built a relationship with. This will make your writing feel warmer and more authentic.
Be present when you respond to their messages. Write thoughtful responses back.
Surprise them with something extra when they buy a product.
Give away freebies sometimes.
Follow them on Twitter, Facebook or wherever else you live online.
Technically, this is just a combination of the 7 other tips. But I felt it was important enough to have its own number.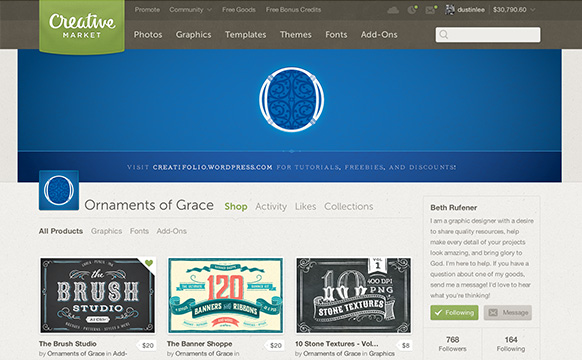 Example: If you spend any time on Creative Market you've probably seen Beth Rufener's work or a friendly comment. Beth gives generously of her time to the Creative Market community. Between her incredible work and friendly personality it's easy to see why Beth has been so successful.
How Do You Grow a Loyal Following?
These are just a few ways to grow a loyal following. I want to hear from you. What do you do to build loyalty and community with your audience? Tell me in the comments below!
Dustin Lee is the owner of the best selling shop RetroSupply. He's also the author of The Designers Guide to Selling Digital Goods. Sign up here to be the first to know when it's released (plus, get a special discount).
Getting started with hand lettering?
Free lettering worksheets
Download these worksheets and start practicing with simple instructions and tracing exercises.
Download now!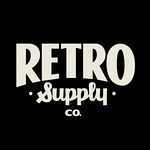 RetroSupply
RetroSupply makes brushes, textures, fonts, and templates for retro-loving illustrators and designers. Our products are made by a full-time team of creatives for use in Procreate, Photoshop, Illustrator, and Affinity.
View More Posts