How to Create a Hand Drawn Birthday Invitation With Your iPad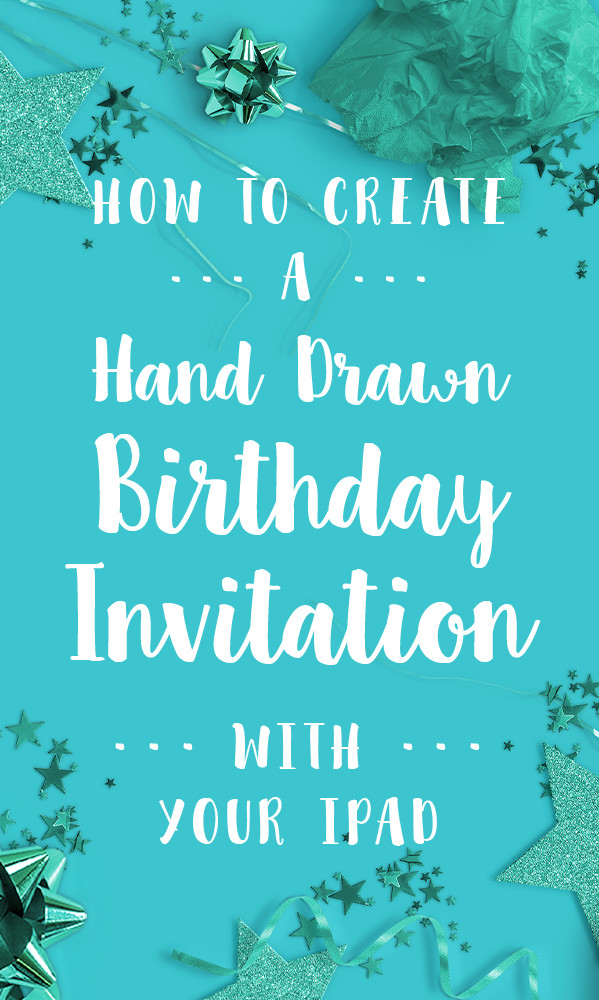 I love my iPad Pro. I mean, really, it's great. It has changed my workflow and illustration process like nothing else has. Add in the Apple Pencil and there is almost nothing you can't accomplish. This is the future of design and illustration and photo editing and so on and so on… One of the best examples of this right now is Astropad, an app that connects with your Mac and allows you to use your iPhone or iPad as a graphics tablet. You connect directly to the computer or over your local wifi network.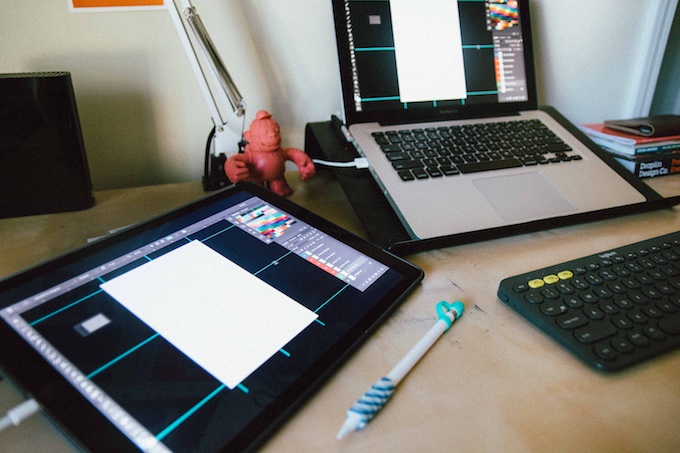 There are tons of projects and jobs you can do with this setup. Today, we're going to practice making some birthday invites that we can print ourselves.
Getting Started
Whenever I'm starting a new piece using Astropad, I head straight to Photoshop. Make sure that when you open a new document, you set the size to match the paper and envelopes. I'm using 5×7 envelopes, let's go with that. Also make sure that you set the resolution to 300 and color mode to CMYK, so when we print it will look even more amazingly awesome.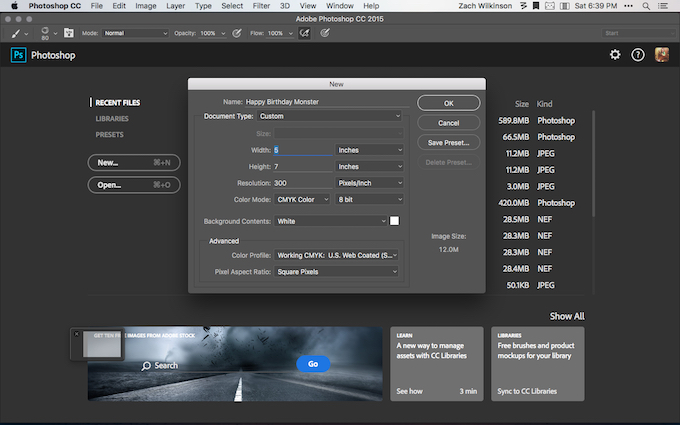 For this invitation, I'll be working with the brushes from Retrosupply Co.'s Woodland Wonderland brush pack. These brushes support all of the tilt and pressure controls from the iPad Pro and Pencil, so it just makes sense. To get started, read the included install instructions and tutorials. For the header and text, I'm going to use Sticky Lolli-pop, a wonderful typeface by Ian Barnard.
Set Up Your Canvas
You don't want your monster or text falling off the edge of the invitation when you go to print. Click on the rulers on the side and the top and drag down to the canvas to set up some quick guide lines. Personally, I like to give myself at least a 1/4 of an inch on all sides and to mark the vertical and horizontal centers.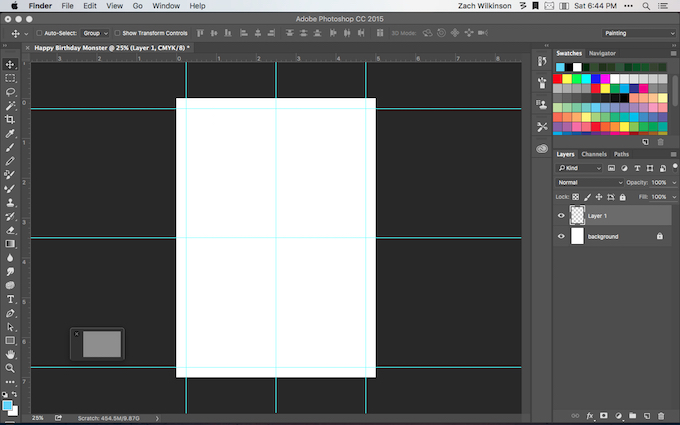 Prepare Your Layers
Let's make some new layers, so you can make any adjustments and changes faster (keep it loosey goosey, y'all). Make sure to name the layer something you can remember. You're going to make a bunch for every step of this thing; a layer for text, one for the outline of the body, one for the color/fur, one for the details and facial features, and one for the shadows. Go ahead and set those up now; you can always add more later.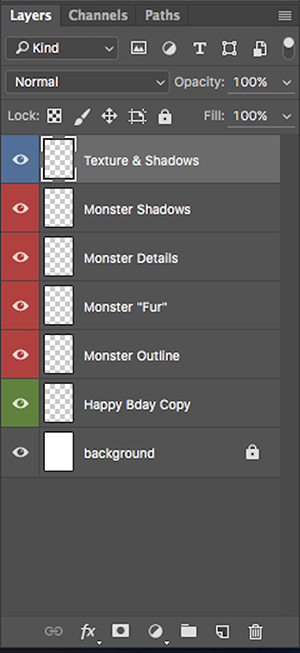 Adding Copy
Now you're going to start laying out the copy so everyone knows where the party is. Nice big "Let's party! It's June's birthday!" at the top. I've drawn some little stars and doodles around the words to make it even more fun. This party is going to be awe-some!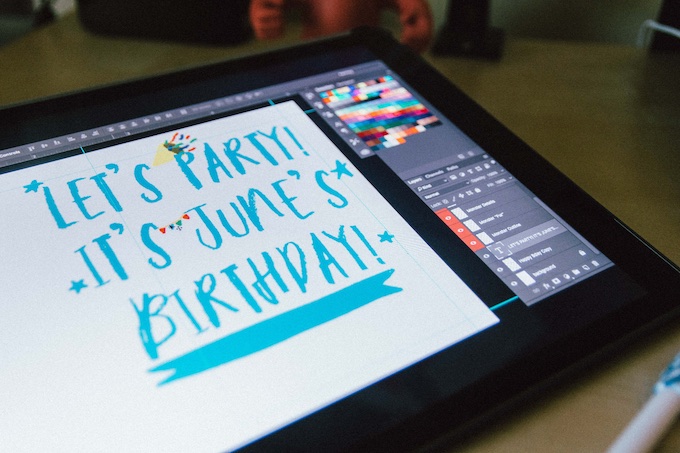 Time to Draw
Now you get to really let your creativity run wild. First, you'll draw the outline of the monster's body. This'll give the final piece a cool cell-drawn look. Remember to work on a different layer than the one you just put the text on. Play around with different core shapes, something like a bean or a funky rectangle.
Add arms, legs, tails, extra legs, whatever you want! Go crazy.
After you have the body shape and posture done, it's time to add some scales or fur. In a layer under the outline you'll add color and details. Add a few wiggles shapes every now and again to add texture. I drew a line of small u's and duplicated that line all over the place.
And nothing makes a monster cuter than some "u" shaped eyes and a little, shy smile.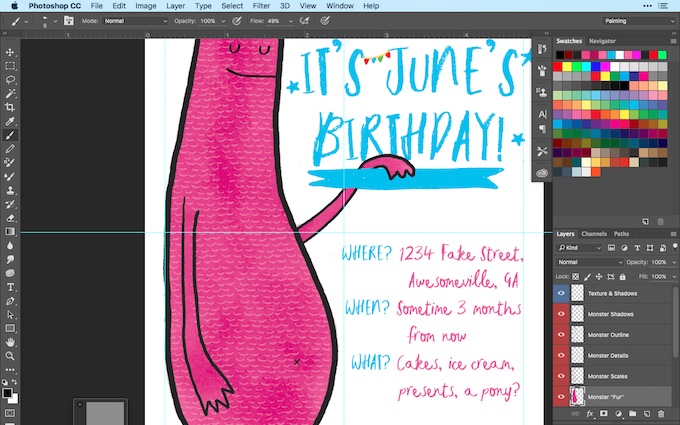 Add some claws and horns and you're just about done with your sweet monster birth-day cards. Don't forget shadows! They will make the rest of your monster really pop off the page. Make sure to save your work as you go along and one more time when you're fin-ished. I'll show you how to export your invitation as a PDF to make it easier to share over email or take to a printer. It's as simple as going to File>Save As> and choosing "Photoshop PDF" from the "Format" drop down menu. To make the PDF smaller and easier to email, make sure to uncheck "Layers."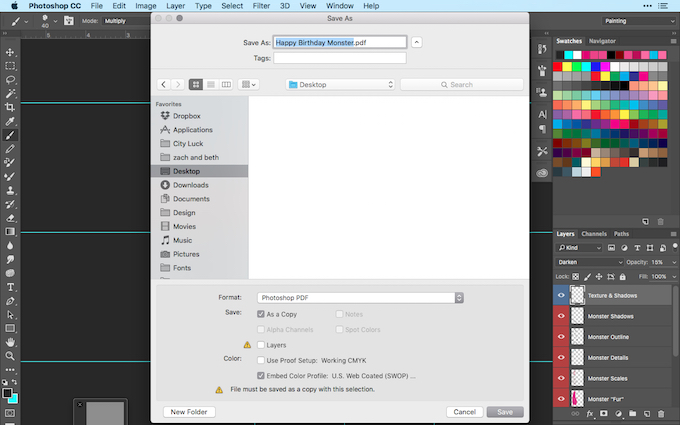 The Finished Hand Drawn Birthday Invitation
Now that the birthday invitation is done and everybody's RSVP'd, you can take your new amazing digital illustrations skills and make more party stuff. Play around with some placemats, nametags, posters and signs. Your imagination is the only limit! If you have any questions or thoughts, please let me know. I'd love to help!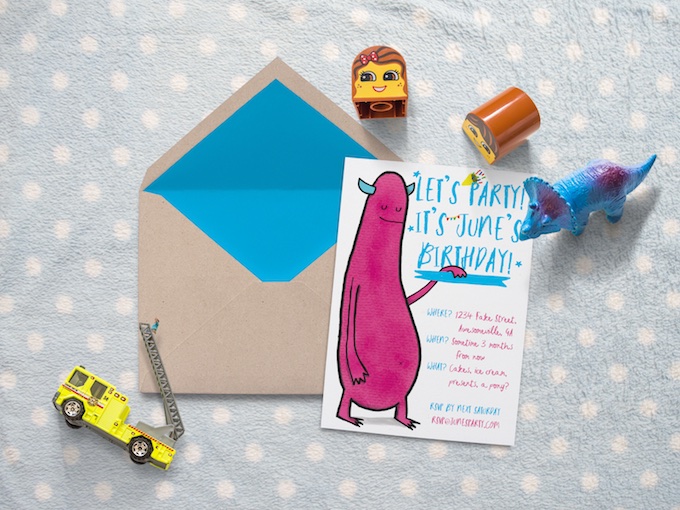 ---

About the Author: Zach is an illustrator and photographer, from North Georgia. He specializes in making the weird and spooky accessible and loves working with his wife Beth on commercial and stock photography
---
Products Seen In This Post:
Getting started with hand lettering?
Free lettering worksheets
Download these worksheets and start practicing with simple instructions and tracing exercises.
Download now!