How to Maintain an Inspiring Workspace
Working from home is an everyday war. On the other side of the battlefield, the internet leers back with a calm expression, because it knows that you're going to lay down your sword and succumb to the inevitable. It's 9:05am and you've already checked your e-mail and watched eight cat videos. "Just one more" you said, but by lunchtime you've ordered Chinese and watched an entire season of F.R.I.E.N.D.S. Once again, the internet has won.
Stress: Where It All Goes Downhill
We will always be subjected to emotional and mental stress as long as we are working; that's simply the way of things. We worry about money, time-keeping, irritable clients, tax returns and so on. 75% of us will experience varying levels of stress at any moment in time, and the biological response to that is to run away to our comfort zone. For me that's food and television.
Scientists claim that chocolate, chewing gum, Chinese stress balls, and of course laughter are very effective against stress, but what you're left with is a fat chocolate monster holding stress balls and choking on gum from laughing too much.
Okay, kidding aside; some of these little tricks might combat stress in small doses, but it takes radical changes to encourage somebody who is really struggling to be motivated. Lets talk about three ways that we can drastically improve our workspace in order to make it more encouraging, and less distracting.
#1. Don't Have a Workspace
Yep, you heard me correctly: the more time you spend convincing yourself that your iPad needs updating or your desk chair isn't as "cushy" as it used to be, the more time you're wasting. Apps and hardware can be distracting — consider eliminating some (air-quote) dependencies in your workspace, or better yet, see how you do without any equipment at all. If your work is very hands-on, then fair enough, but if your work is completely digital, then spend a few hours in a local café without nothing but a laptop.
A real-world example from my own ridiculous experience: you can't play video games in a café, it looks daft. Aside from the internet, you're cutting distractions out. 100% success rate.
2. A Little Anxiety Is Actually a Good Thing
Being overanxious can be crippling, where it often leads to insomnia and a horrendous amount of health issues, but mild anxiety will only leave us with a naturally heightened response system, leading to alertness. Research shows that we have a sweet-spot, an ideal balance between lethargic and energized.
Being outside (I'll use the concept of a café again) often arouses lots of noise, but not enough to distract you endlessly, and there's also the benefit of delicious food and beautiful open spaces. In any case that you find yourself at home, try to use a noise machine or an app like Noizio, which can simulate the idea of being outdoors. You'll be distracted enough that you won't want to switch on the television for company.
Another real world example: there's no point in earning money if you're not spending money. I feel more productive and (much) happier eating out every day. I earn more money to cover those costs – in fact, I earn more money working part-time in the great outdoors than I do working 40 hours in an office type situation.
3. Surround Yourself With Beautiful Things
Beautiful things and stunning spaces are comfort triggers but don't act as distractions. A change of scenery can make you feel anxious if you haven't been there in a while (or never at all). Keep that feeling topped up by experiencing new foods, new spaces, maybe even new friends. Complete strangers often ask me what I do, and when I tell them they become excited and they ask questions. It then makes me excited – happiness is contagious.
What we do is fantastic, and sometimes it takes somebody else to make you realize it. Earning a living isn't only about what you do, it's how you do it and where you do it as well. Even at home, I surround myself with small things that bring me joy: my desk-Buddha, my cactus, and of course my naturalistic sounds.
Get excited. Get creative. Get motivated again.
---
Products Seen In This Post: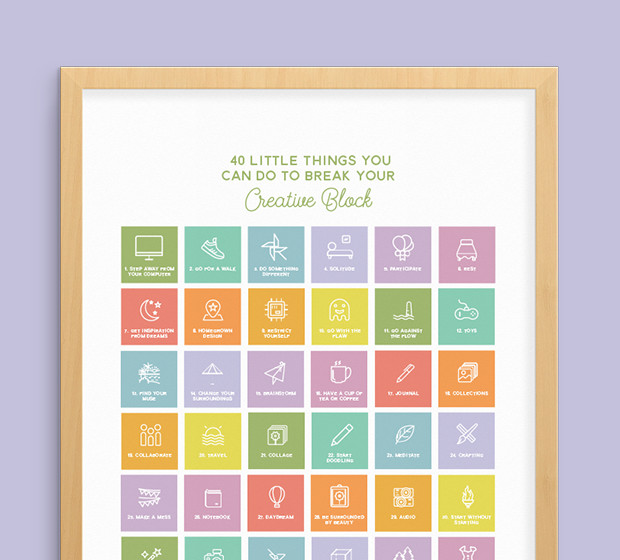 Break your creative block now.
Feeling blocked?
Say goodbye to that awful creative slump. Download this printable with 40 little things you can do to break it.
Download your free print