How to Pick the Perfect Wordpress Theme
Whether this is your first blog or your twentieth update, Wordpress themes are the foundation for your blog. Your visitor's first impression is crucial if they'll return or not.
Whether you hire a professional designer to enhance an existing theme or build your website yourself, you'll want to look for specific traits that will give your blog a solid foundation as well as room to grow.
So what qualities should you look for in a Wordpress blog?
Responsive. Mobile traffic is expected to surpass desktop traffic in 2014, according to Business Insider. Ensure that your theme looks great and is easy to navigate on computers, tablets and smartphones.
Plugins & Widget friendly. Chances are that you will download several plugins and widgets to enhance your website's features. Wordpress allows you to edit the sidebar and widgets by default, but make sure your theme is compatible. Also, some themes allow the option of multiple sidebars and/or widgets on the footer.
Cross-browser capability. Just like the importance of having a mobile-responsive theme, checking your theme across various browsers is crucial as well. If you don't get a great theme off the bat, you'll be trying to make adjustments for different browsers, sucking up precious time. Make sure to pick a good one upfront instead.
Beautiful design. Here's one time when a first impression is absolutely crucial.
Although you can modify the theme's design, you want to be impressed with a blank, sample theme off the bat. Make sure to choose a clean, nice theme that is easy to read. The headers and drop downs should be easy to find and read. Check out the spacing: Does it seem like the appropriate amount of white space and space between objects? The more the theme fits your initial expectations, the less potential for disaster is possible on your designer's backend.
Room for visuals. Two of the most popular social media websites currently are Pinterest and Instagam, where visuals are essential for success. Your website should also be packed with high resolution, high impact photos to capture the visitor. Ensuring the photos are displayed with carousels, large header photos and more will help drive traffic to your blog, both organically and through social media.
Post formats. What do you want to display on each blog post? Author information, links to Google Authorship profiles, categories and/or tags are a few examples of what you'll want to include in each post. Are the headers easy to read? Are they hyperlinks obvious? Compare and contrast what you'll want to draw the reader's attention to throughout the post.
Overall, Wordpress themes can make or break a reader's first impression and help determine your bounce rate. Make sure to check a variety of Wordpress themes from free to paid, before deciding on a final contender. Good luck!
Free lettering worksheets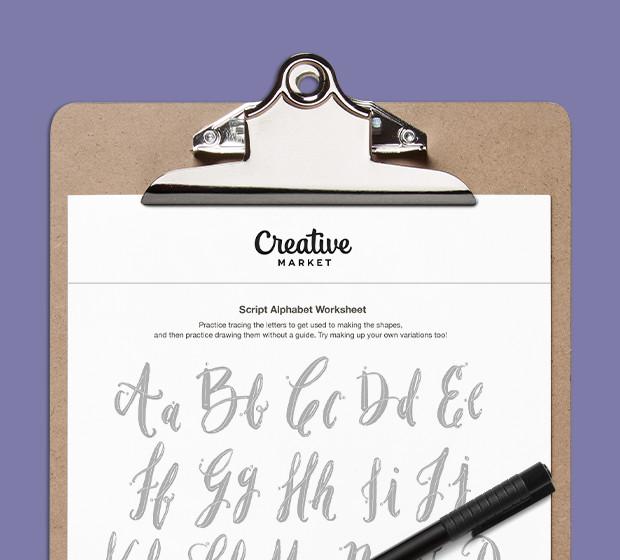 Download now!

Getting started with hand lettering?

Download these worksheets and start practicing with simple instructions and tracing exercises.
Download 6 Products for Free
Making beautiful design simple & accessible to all.
---