Are you considering diving into the field of graphic design and want a bit more information, or are you just at a loss as to what exactly graphic design is and how it's used? Maybe you're just not sure what's the point of it. Graphic design, in nutshell, is the "art or skill of combining text and pictures in advertisements, magazines and books." But, more than that, graphic design has a very real presence in everyone's life, and any savvy business owner or personal blog host should consider the usefulness and importance of graphic design in his or her marketing. After all, the more attractive the packaging, the more appealing it becomes to buyers. Here's a quick overview of what graphic design is and why it has become essential.
Getting started with hand lettering?
Free lettering worksheets
Download these worksheets and start practicing with simple instructions and tracing exercises.
Download now!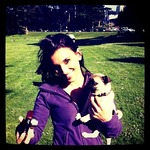 Maryam Taheri
I'm a recent graduate of the University of San Francisco with a degree in Biology and a passion for the creative arts. I love building websites, trying new things, and I have a passion for social media.
View More Posts