14 Quotes That Inspire The Women Behind Creative Market to Pursue Their Dreams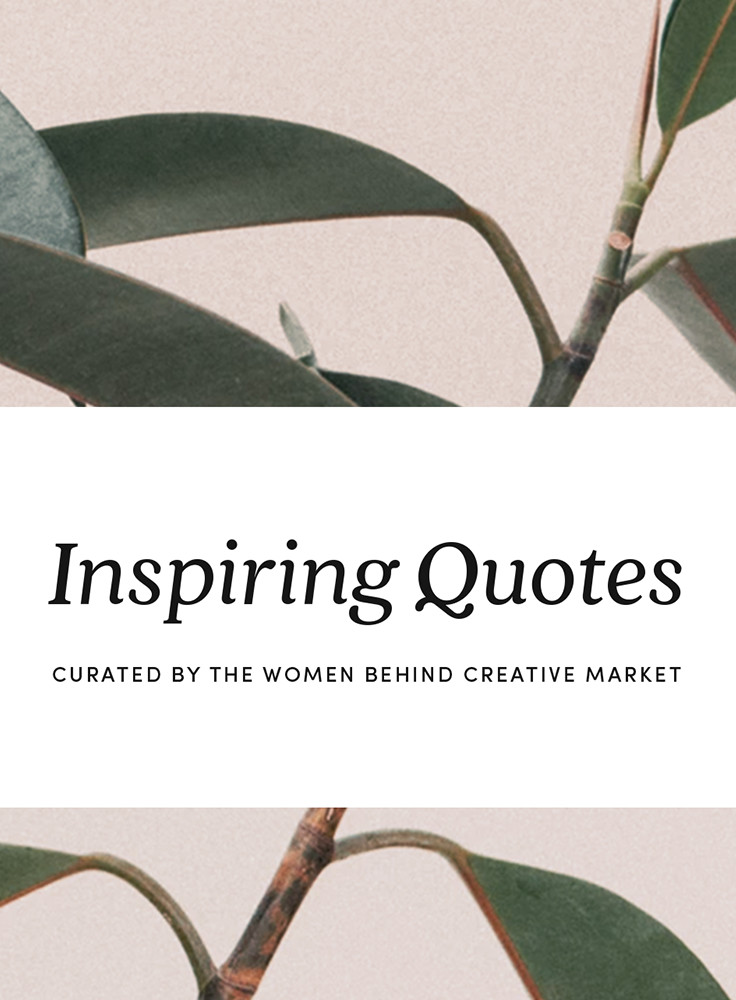 The first National Woman's Day was commemorated in the United States on February 28, 1909. It was inspired by the efforts of thousands of female garment workers that had held a massive demonstration in New York in 1908. Protesting against unfair working conditions, these women would go on to stir the courage required to build a better future for women everywhere. By 1910, women representing 17 countries voted to establish an International Women's Day, and the United Nations officially started celebrating International Women's Day on March 8, 1975. Today, as declared by the United Nations Organization, International Women's Day is a "time to reflect on progress made, to call for change and to celebrate acts of courage and determination by ordinary women who have played an extraordinary role in the history of their countries and communities." At Creative Market, we are honored to work with a talented group of women that raise the bar while contributing knowledge, determination, and impact every single day. Our community of female users and shop owners all around the world are also a vital part of this vision to build the next big creative company that we've always believed should exist in the world. Today, we want to share some of the ideas that inspire the women on the Creative Market team to pursue their dreams. We hope these thoughts and takeaways encourage you as we commemorate International Women's Day and beyond. For each quote, we've used a template or styled stock photo created by a female shop owner in the Creative Market community and her team.
Imperfection
Quote shared by: Kelley Johnson, Relationship Manager – Creators Template by: Rosemary Watson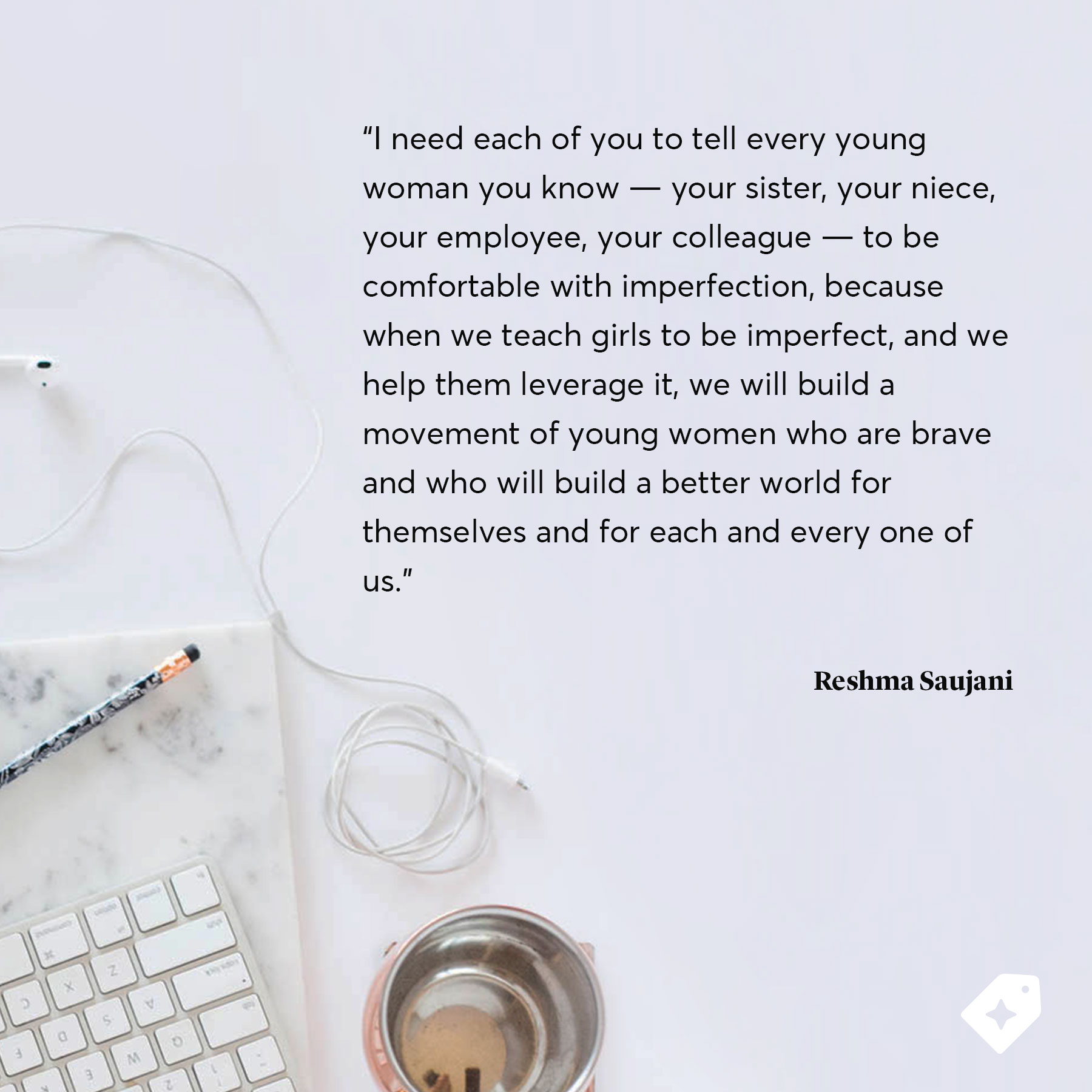 "I need each of you to tell every young woman you know — your sister, your niece, your employee, your colleague — to be comfortable with imperfection, because when we teach girls to be imperfect, and we help them leverage it, we will build a movement of young women who are brave and who will build a better world for themselves and for each and every one of us." – Reshma Saujani
This quote comes from this TED talk by Reshma Saujani (Founder of Girls Who Code). The summary of the talk is that we've been raising boys to be brave, try new things, even if it means making mistakes, but we've been raising girls to be organized, safe, and essentially perfect. As a result, girls and women tend not to try new things or jump into innovative careers where there may not currently be "perfect"/"right" solutions or answers. The takeaway, as women, let's remind ourselves and each other that we don't have to be perfect, instead, let's work hard to be brave.
Courage
Quote shared by: Daniella Valerio, Junior Brand Designer Template by: Bold Leap Creative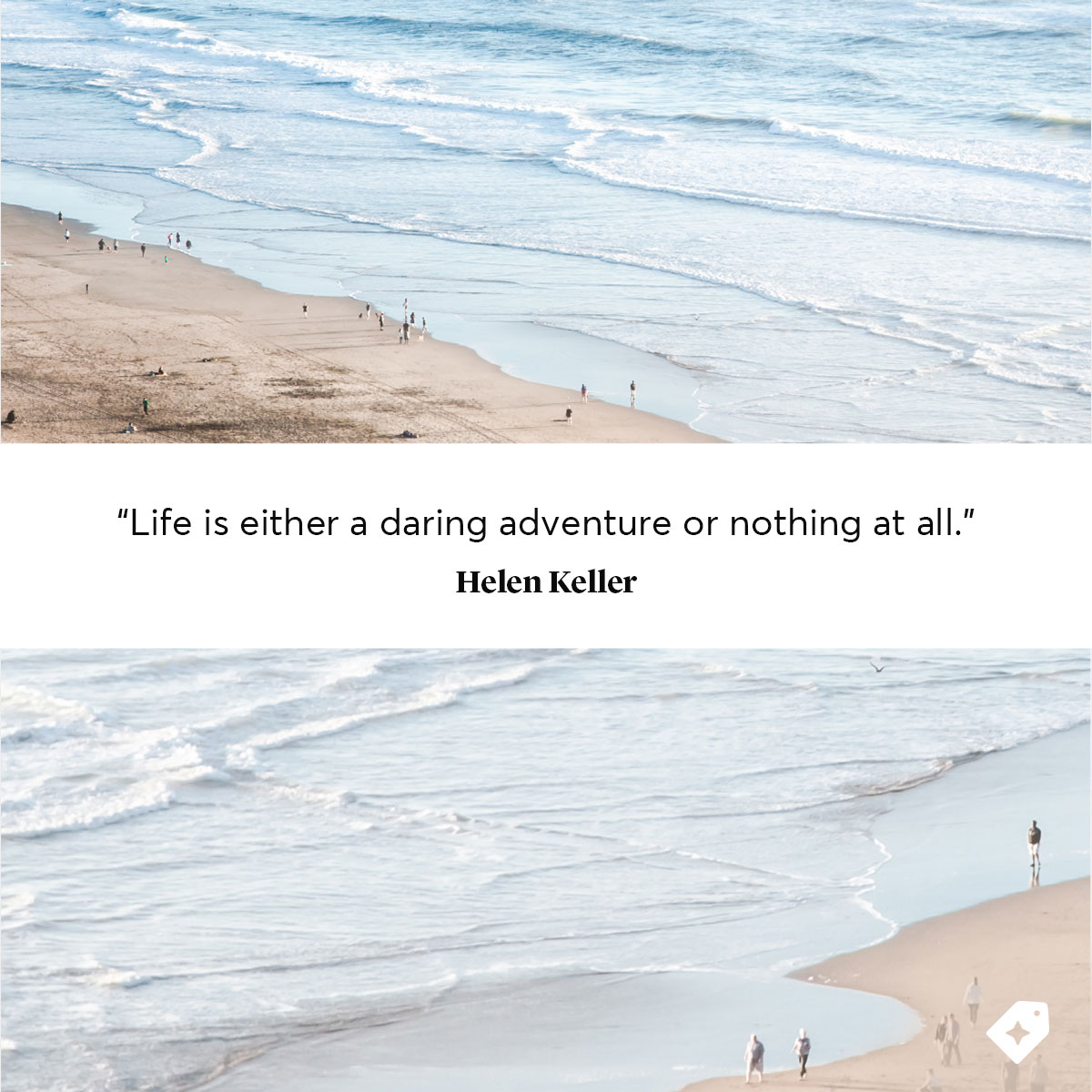 "Life is either a daring adventure or nothing at all." – Helen Keller
I'm very much a creature of habit and I tend to live under a rock which isn't the best thing to do when you want to grow. I love this quote because it reminds me to push myself out of my comfort zone in all aspects of my life.
Grit
Quote shared by: Angela Hiatt, VP Product Template by: 46&2 Collective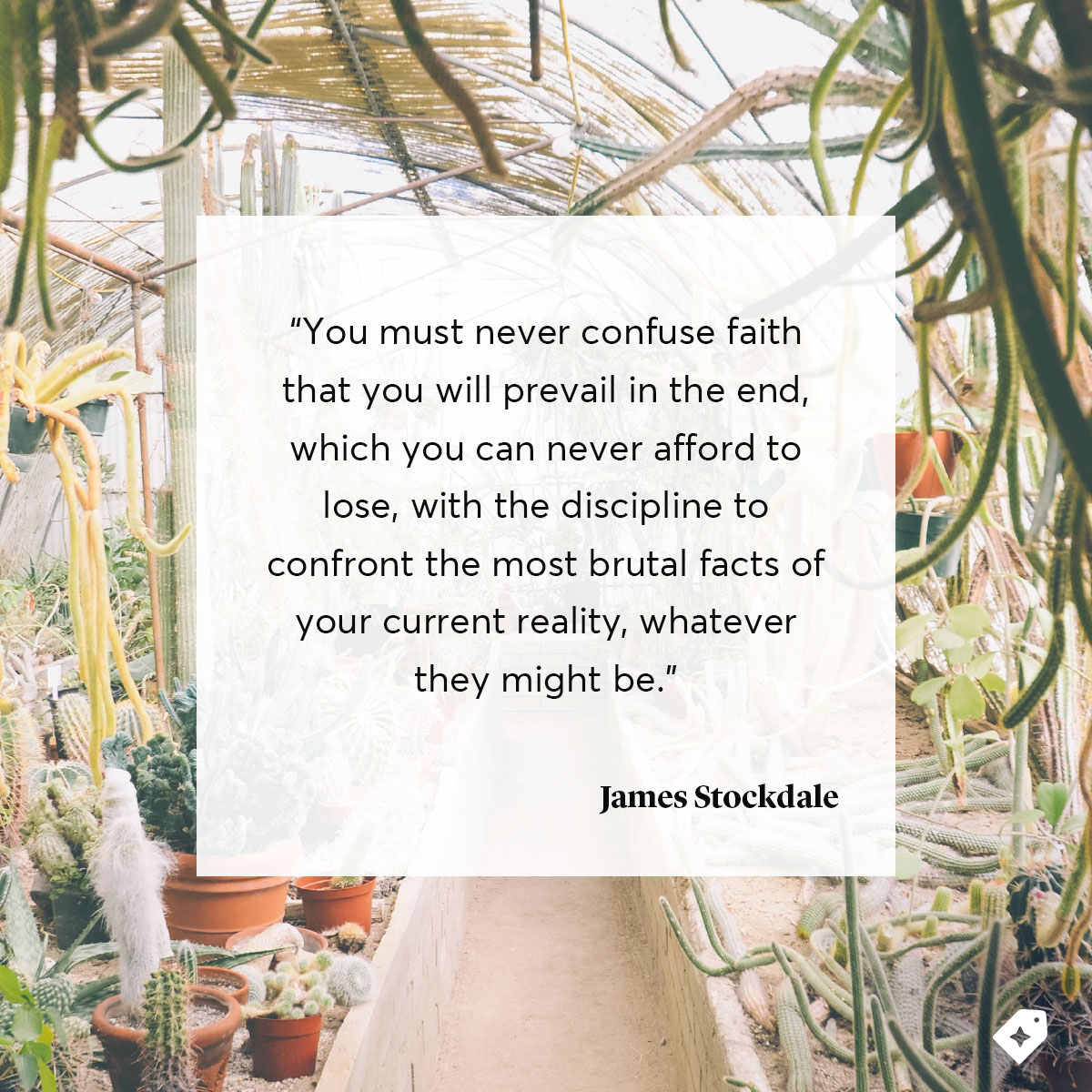 "You must never confuse faith that you will prevail in the end — which you can never afford to lose — with the discipline to confront the most brutal facts of your current reality, whatever they might be." – James Stockdale
This quote inspired me because I've been knocked down numerous times in my career. Each time, I've picked myself up, brushed myself off, and tried again. It took me a long time to learn the difference between having enough grit to try again versus needing to listen to others who told me that I'm not ready yet. It's valuable to listen to both sides and then be relentless on the direction you finally choose to go.
A few things I've learned along the way: 1) You have to be an advocate for yourself. You can't expect others to do this for you, 2) I've been lucky to have many people supporting me in my career growth. Without them, I probably wouldn't be where I am today, 3) For women to gain more executive-level roles, we need sponsors who will fight for us rather than a mentor. We should focus less on finding mentors and find someone who will sponsor us as well as be an active supporter in our career.
Problem-solving
Quote shared by: Gaby Izarra, Digital Marketing Manager Template by: Swiss_cube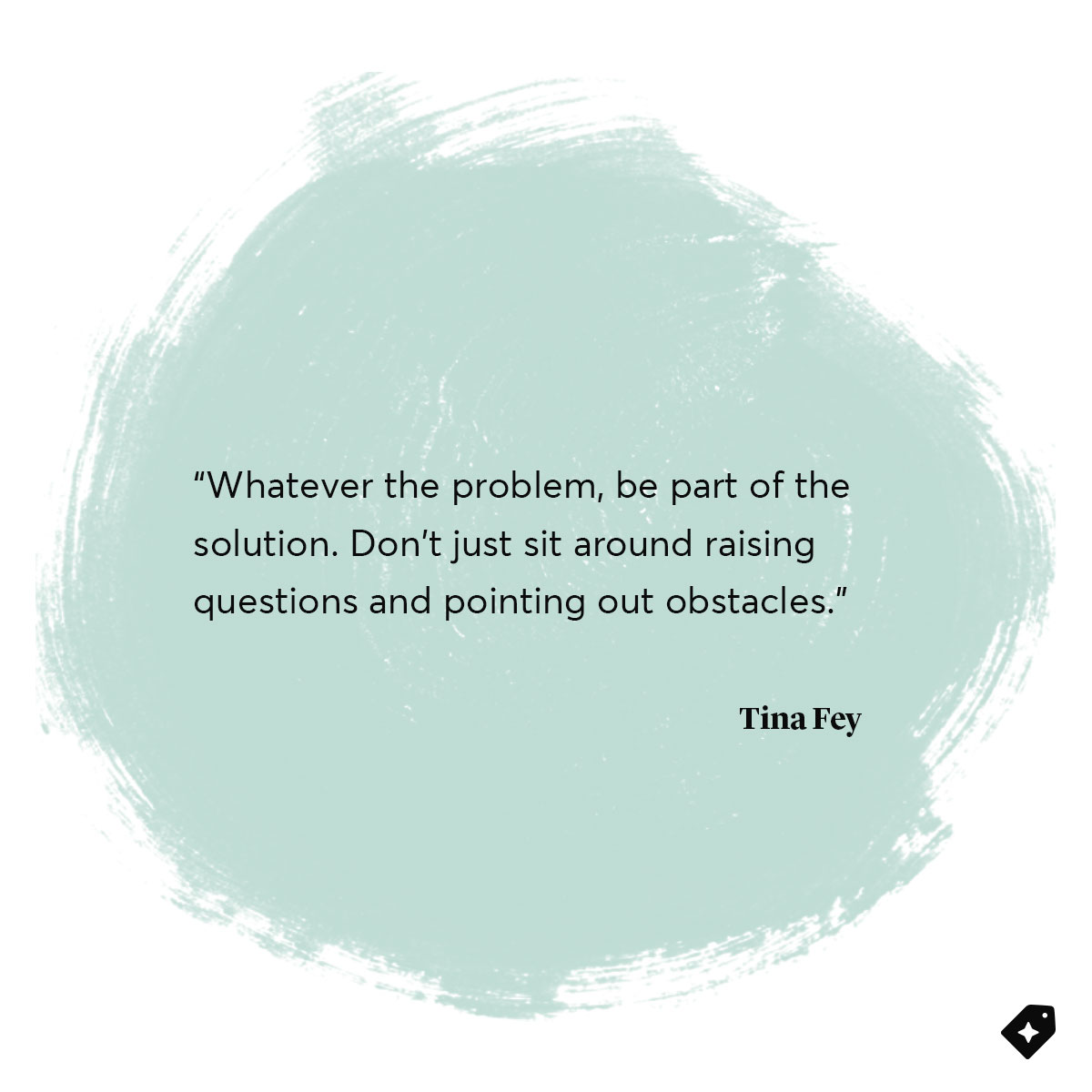 "Whatever the problem, be part of the solution. Don't just sit around raising questions and pointing out obstacles." ― Tina Fey, Bossypants
Problem-solving is such an important skill, and it doesn't always come naturally. Keeping that in mind, I proactively try to be someone who seeks solutions in everything I do.
Success
Quote shared by: Jill de los Angeles, Back-end Web Engineer Template by: Isn't She Lovely Designs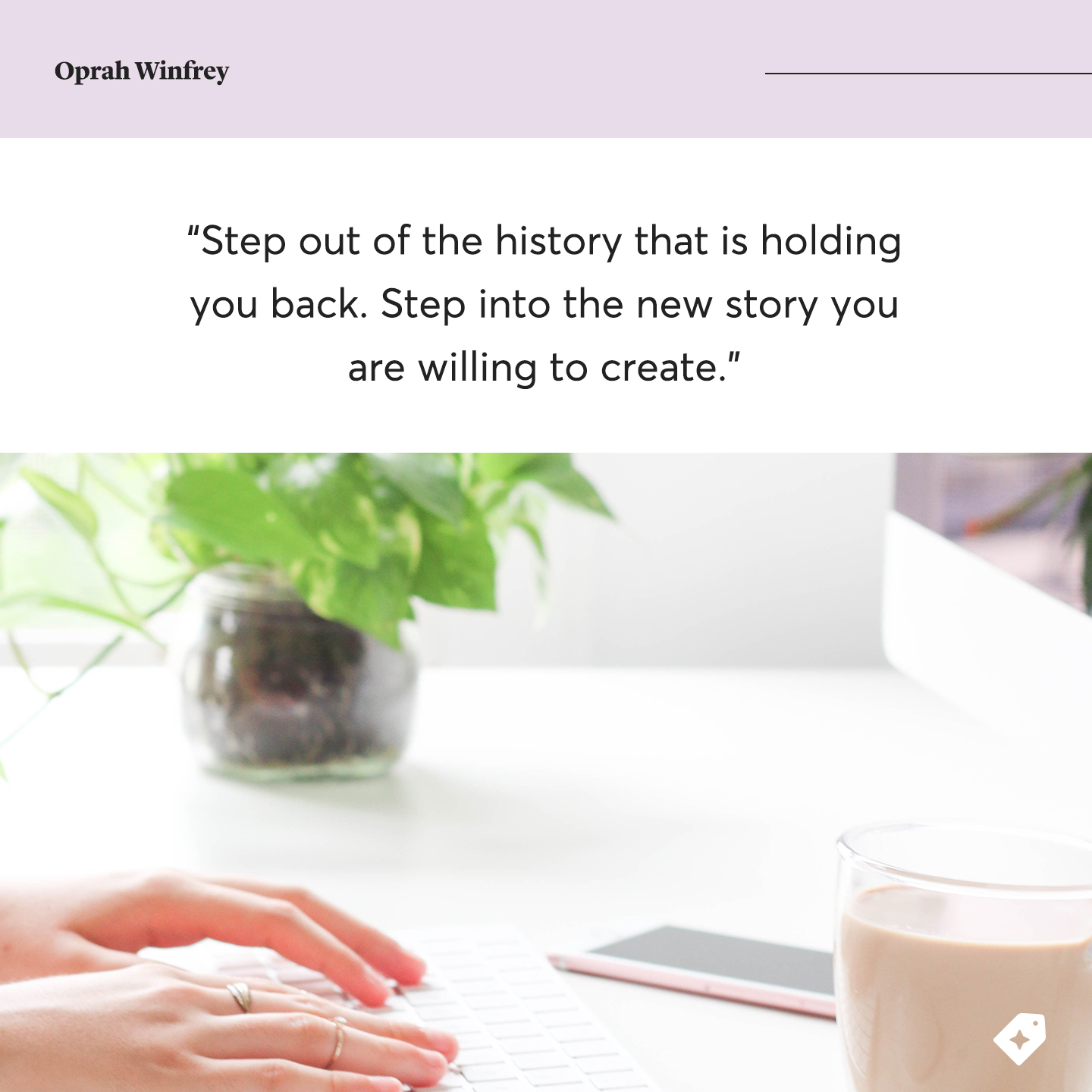 "Step out of the history that is holding you back. Step into the new story you are willing to create." – Oprah Winfrey
I grew up following my parents' dreams for me. I wanted to be successful, but I defined my success by what other people wanted. I realized that what others wanted for me wasn't what made me happy. The moment I figured out what I wanted and what success looked like on my own terms was the moment I started to create my own story.
Self-Confidence
Quote shared by: Jackie Ha, Support Specialist Template by: White Nova Studio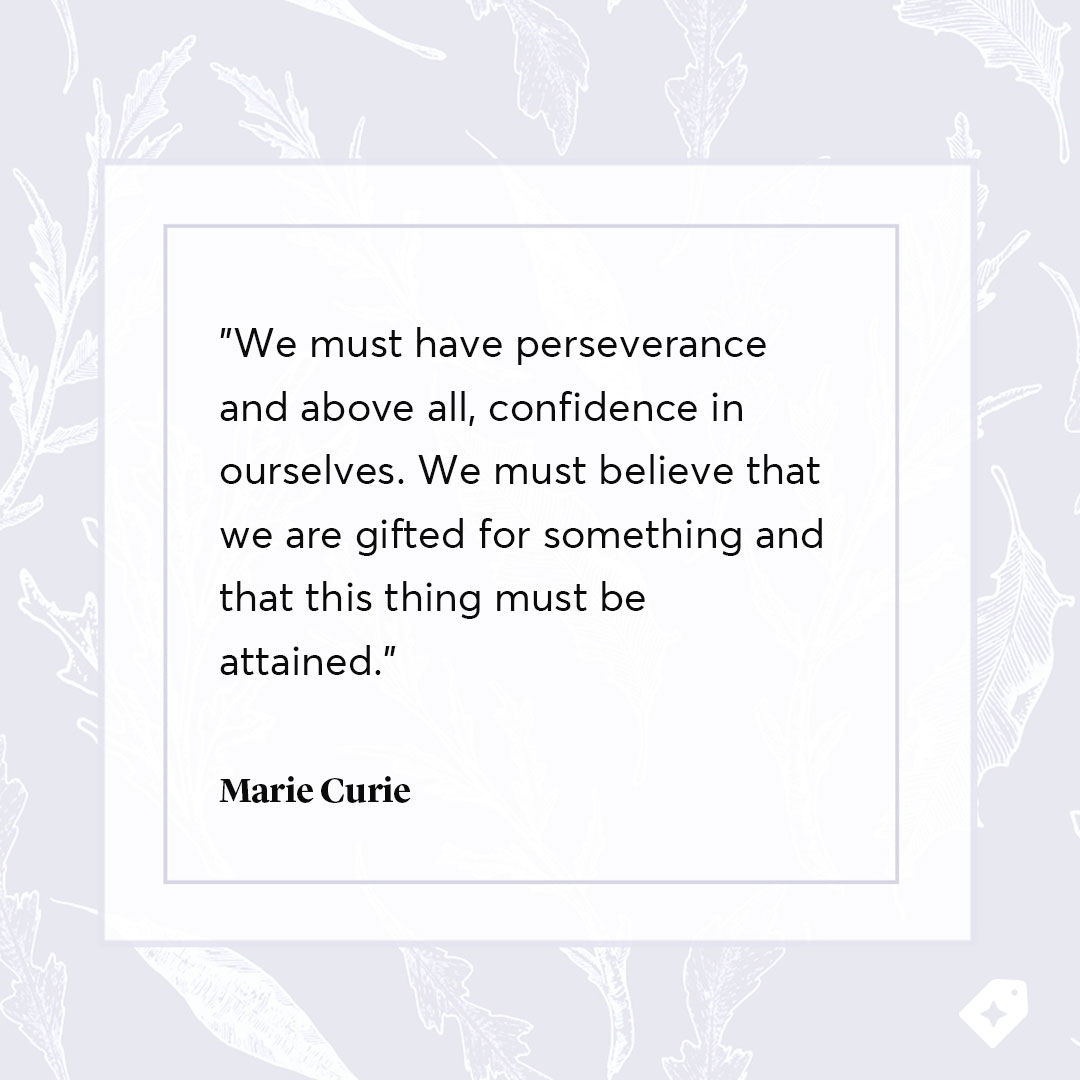 "We must have perseverance and above all, confidence in ourselves. We must believe that we are gifted for something and that this thing must be attained." – Marie Curie
I have had moments in my career where things have gotten really hard and made me doubt myself, and this quote reminds me to keep pushing forward. Skills are important, but one must also have self-confidence and tenacity to be successful.
Ambition
Quote shared by: Racheal Larimer, Office Manager Template by: Jessica Gingrich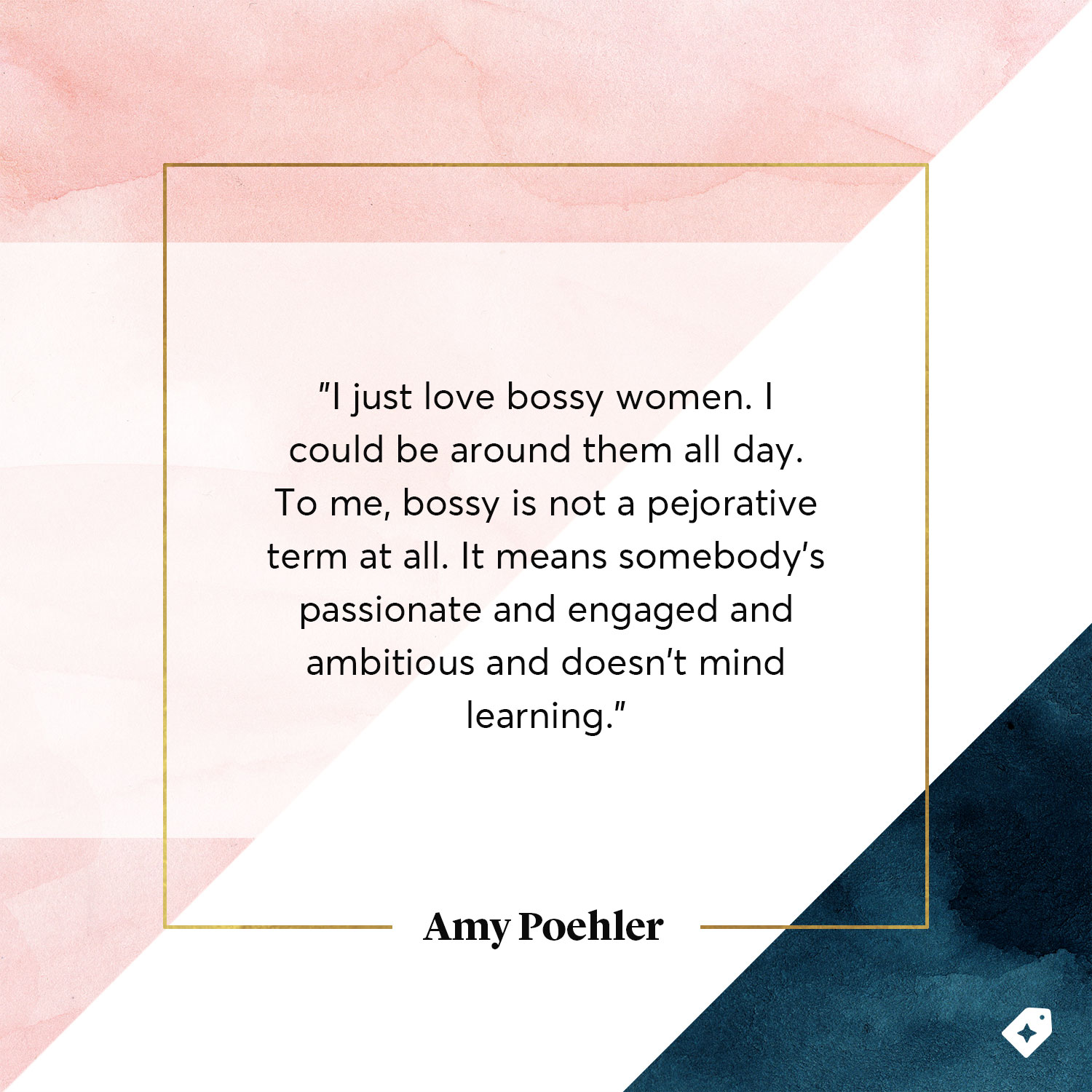 "I just love bossy women. I could be around them all day. To me, bossy is not a pejorative term at all. It means somebody's passionate and engaged and ambitious and doesn't mind learning." –Amy Poehler
This quote inspires me because ambitious women who voice their opinions get such negative reactions. If a man is disruptive, he's called a visionary. If a woman is disruptive, she gets told to sit back down. This reminds me that strong, confident women need to continue to make their voice heard.
Risk
Quote shared by: Bronwyn Gruet, Senior Brand Designer Template by: Nonola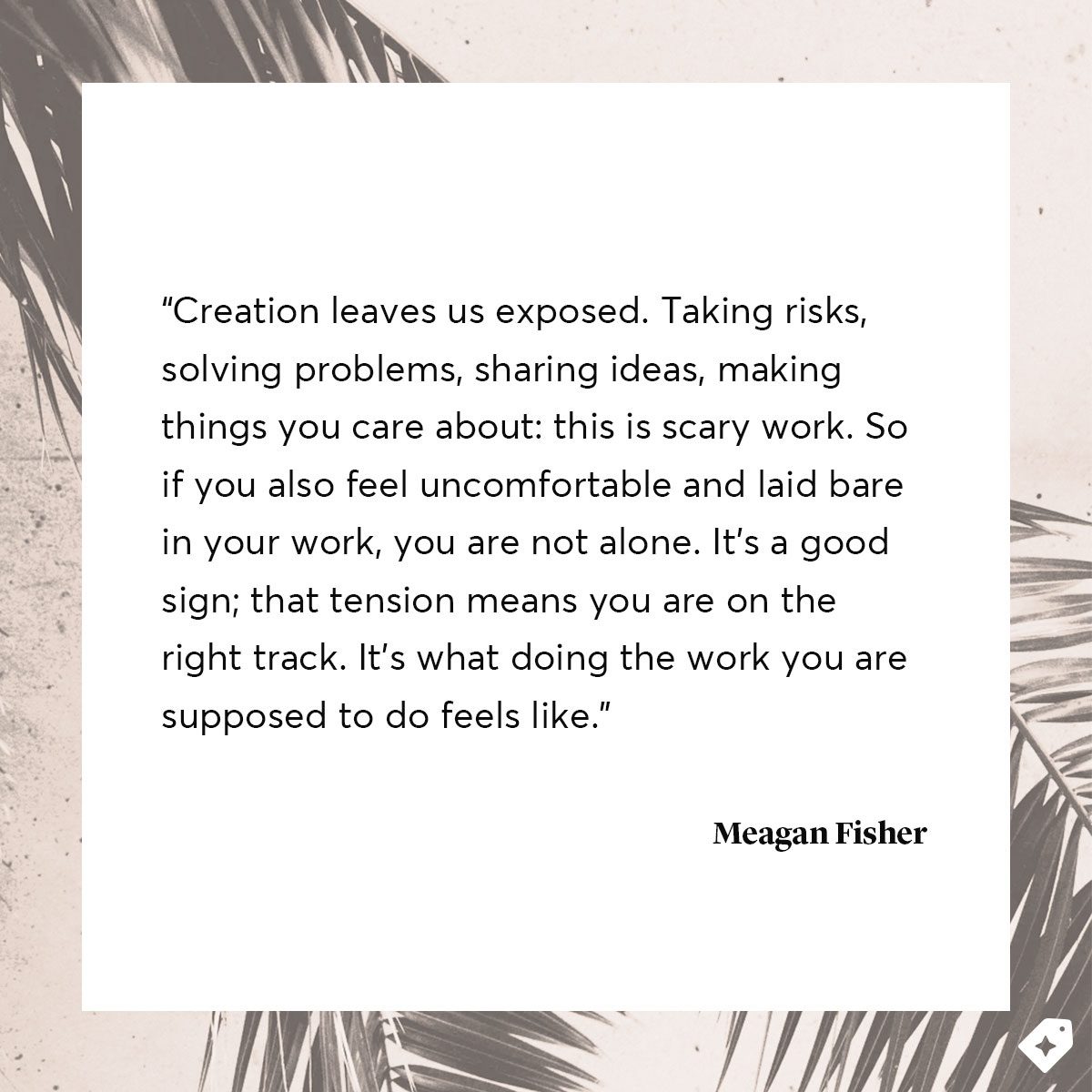 "Creation leaves us exposed. Taking risks, solving problems, sharing ideas, making things you care about: this is scary work. So if you also feel uncomfortable and laid bare in your work, you are not alone. It's a good sign; that tension means you are on the right track. It's what doing the work you are supposed to do feels like."- from "Design & Vulnerability", a 2017 Medium article by Meagan Fisher
I've had so many conversations about this subject with female friends and colleagues. It feels as though there's this pressure for women to achieve perfection in so many facets of our culture. This article is such a great reminder that the nature of pursuing creative work requires that we fight that fear of imperfection, and remember that taking risks is essential to growing personally and professionally.
Effort
Quote shared by: Priya Kothari, Chief Operating Officer (COO) Template by: Skewline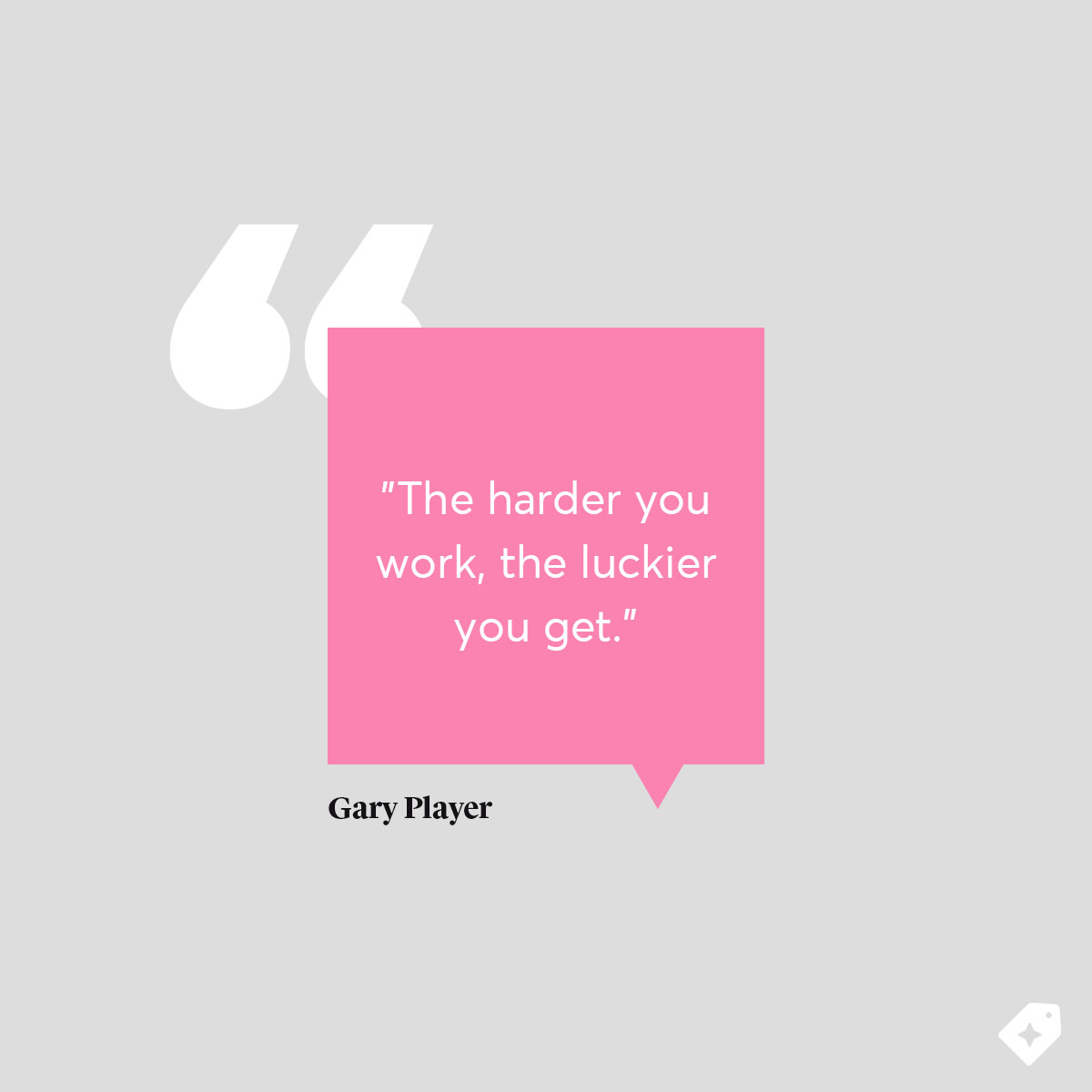 "The harder you work, the luckier you get." – Gary Player
I'm constantly reminded that the more I put into something, the more I get out of it. I put a lot of myself into my work. I'm deeply grateful for the opportunities I've received, but it's a good reminder that it's the effort and care I put into my work that has made certain opportunities available to me.
Courage
Quote shared by: Lizzy Martin, Director – Support Template by: Blossom
"My mother always told me, 'hide your face people are looking at you.' I would reply, 'it does not matter, I am also looking at them.'" – Malala Yousafzai
This quote is from her book, "I Am Malala: The Story of the Girl Who Stood Up for Education and Was Shot by the Taliban". When I remember what she, and so many others, have overcome I'm so humbled. I know if she can have courage then so can I.
Vision
Quote shared by: Emily Winslow, SEO Manager Template by: Skyla Design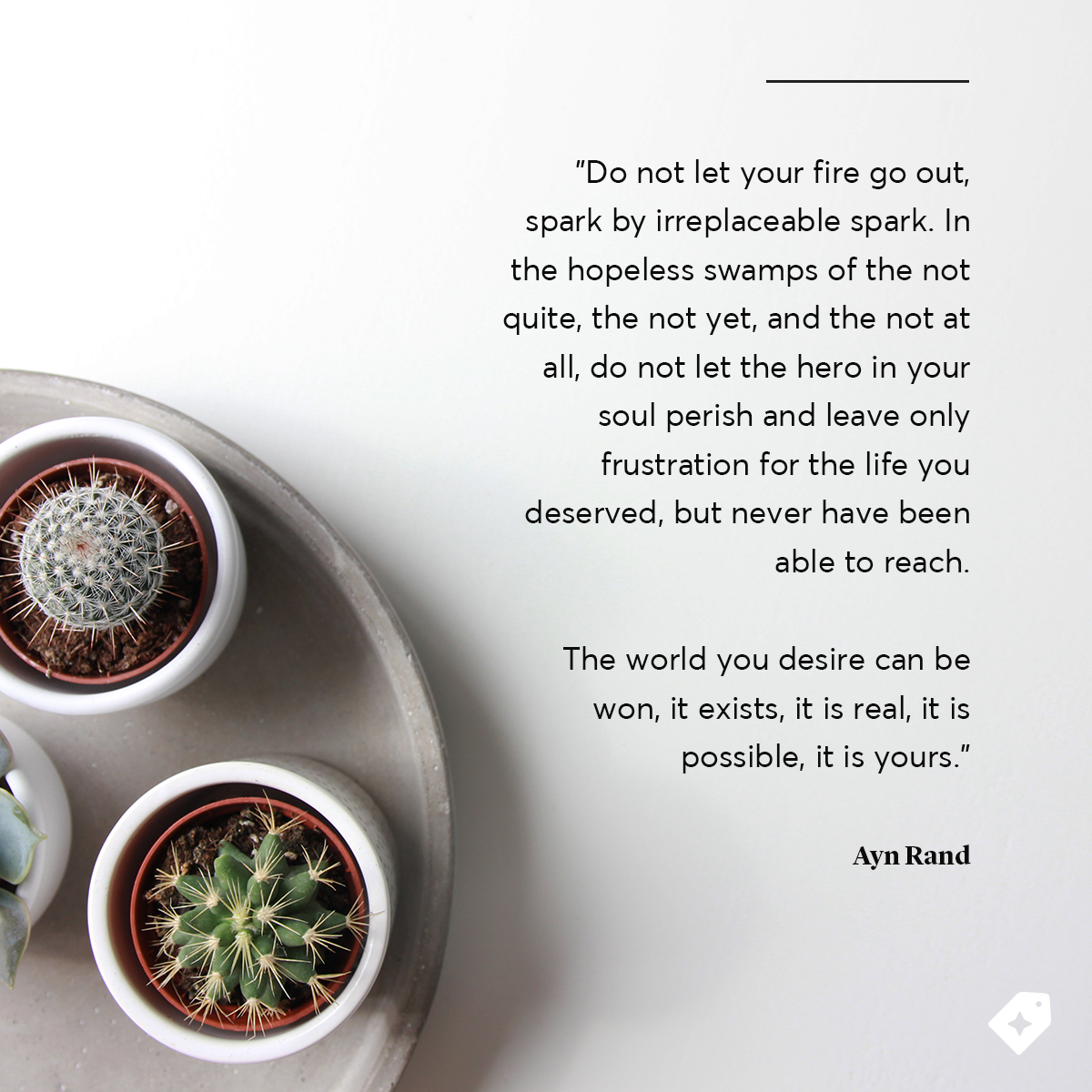 "Do not let your fire go out, spark by irreplaceable spark. In the hopeless swamps of the not quite, the not yet, and the not at all, do not let the hero in your soul perish and leave only frustration for the life you deserved, but never have been able to reach. The world you desire can be won, it exists, it is real, it is possible, it is yours." – Ayn Rand, Atlas Shrugged
This quote was given to me by an old friend years ago, I still keep the handwritten note on my desk. There is something about it that ignites the passion I feel for my life and the focus I have
for building my future. There is a hopelessness that can creep in when the world seems to work against making that vision a reality. This quote reminds me to be persistent, just because you're not there yet, doesn't mean you'll never be. Every day is a chance to step closer to that future, should you choose to utilize it or not.
Focus
Quote shared by: Laura Busche, Brand Content Strategist Template by: Savvy Collective Creative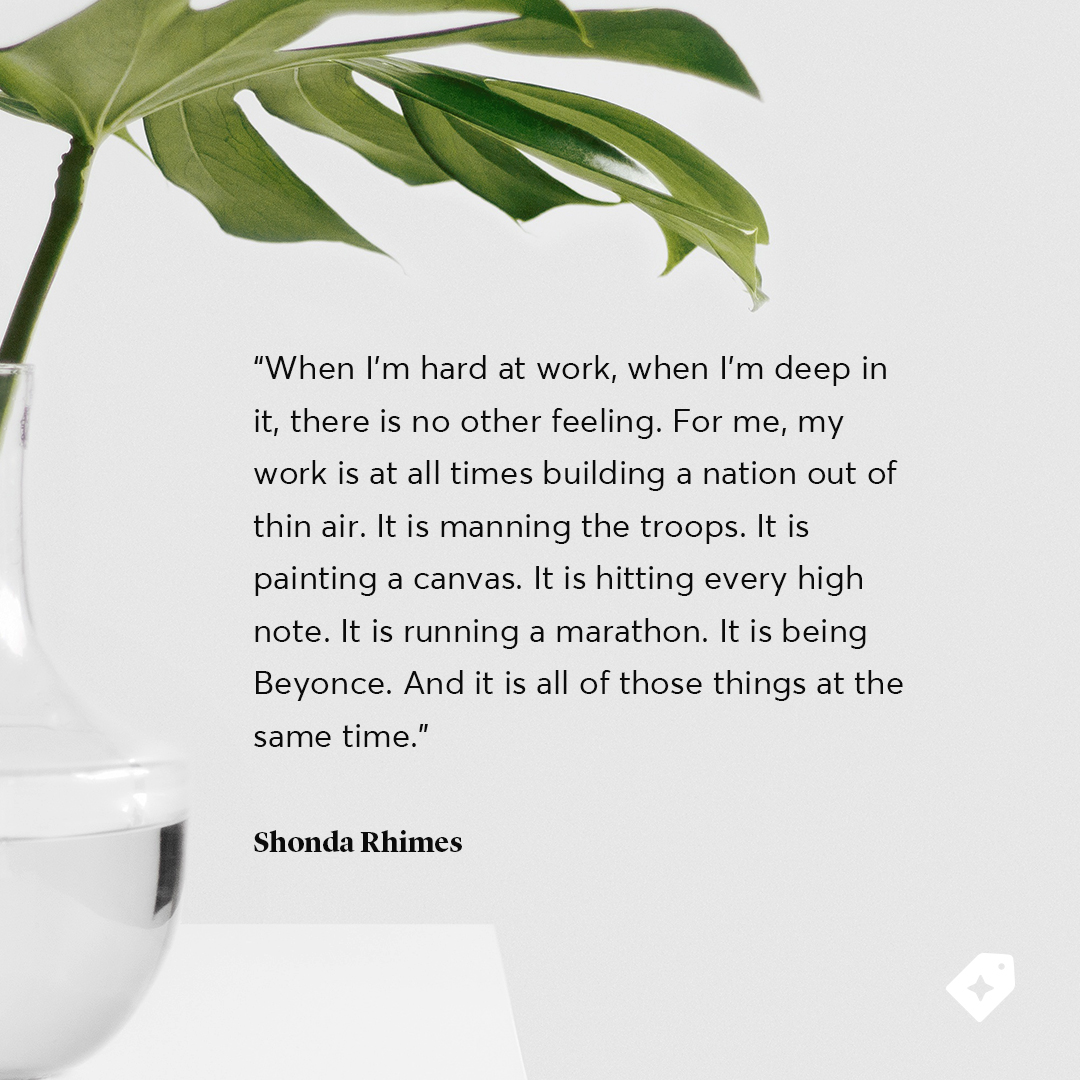 "When I'm hard at work, when I'm deep in it, there is no other feeling. For me, my work is at all times building a nation out of thin air. It is manning the troops. It is painting a canvas. It is hitting every high note. It is running a marathon. It is being Beyonce. And it is all of those things at the same time." Shonda Rhimes in this TED talk.
I think a strong creative career is made up of lots of instants of deep flow. It's you, sitting in front of your work, at whatever time it is (because it never matters), wherever inspiration strikes. This quote always reminds me that I'm not alone in feeling that there is great purpose in meaningful work. That, no matter how fast everything around you is moving, you can always stop and create with such intention that all else fades. History hasn't always granted women that right to submerge in work — not without judgment. It's time we granted ourselves some deserved space to create the work we love, no matter how long it takes.
Fear
Quote shared by: Lindsey Morgan, Design Curator Template by: Vintage to Vectors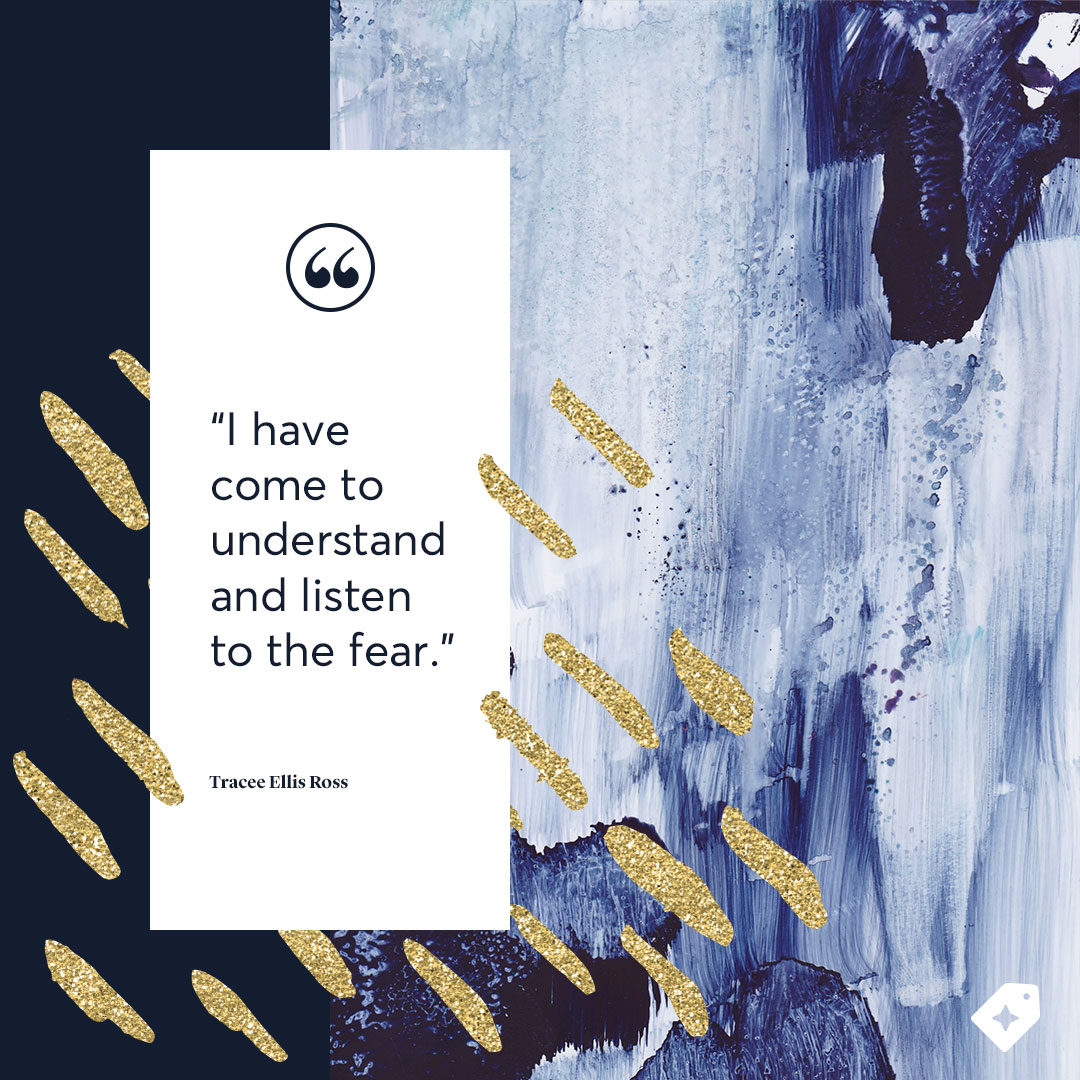 "I have come to understand and listen to the fear." ― Tracee Ellis Ross
This quote challenges me to not only face my fears daily, but to also be fueled and inspired by them. In so many cases during my design career, I was the only one standing between me and success. Whether it's presenting a new idea or asking for a promotion (that you totally deserve, girl), fear constantly gives you something motivational to overcome.
Personality
Quote shared by: Lea Botwinick, Senior Product Designer Template by: January Made Design Photo by: D&N Imagery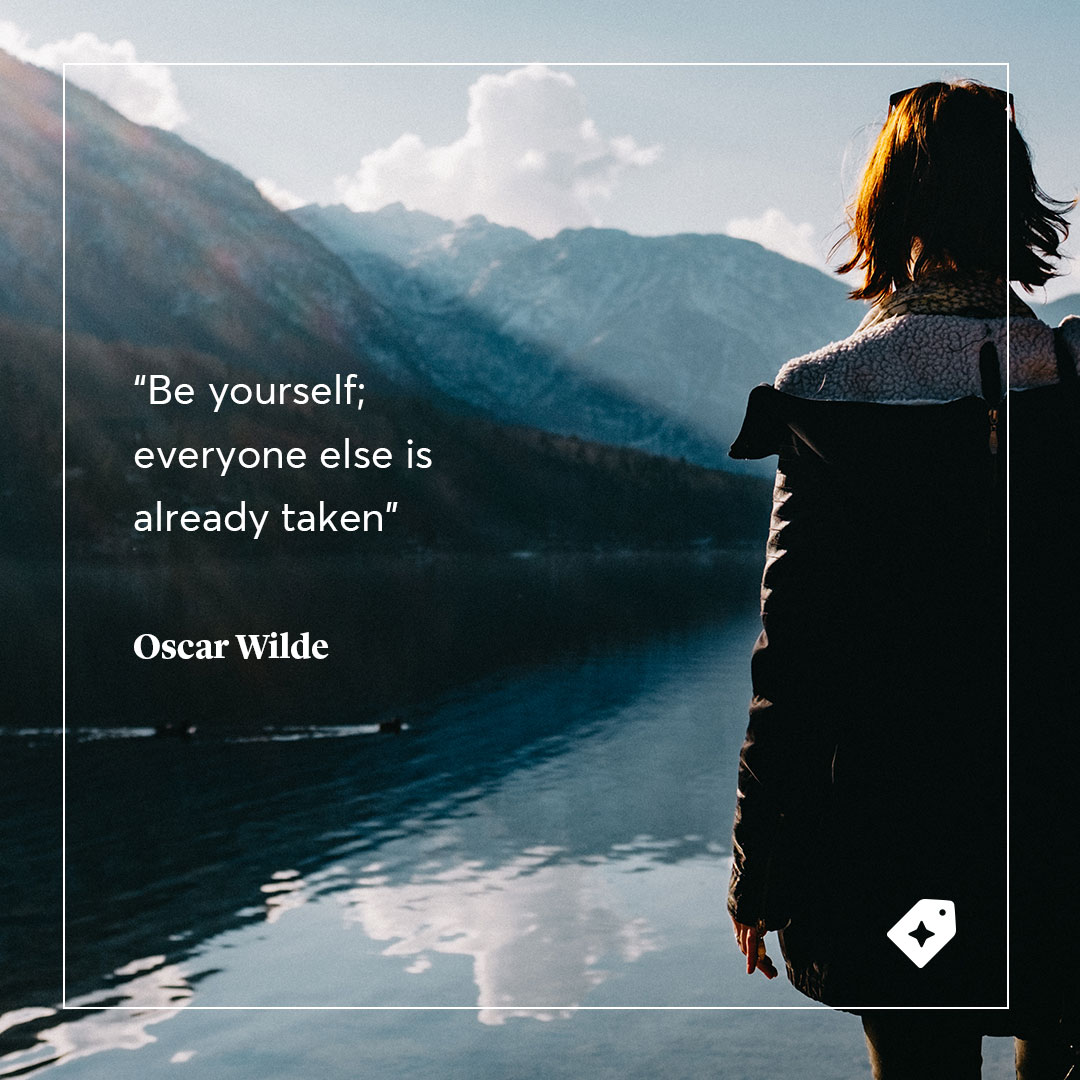 "Be yourself; everyone else is already taken" – Oscar Wilde
Individuality is an extraordinary trait very few people recognize – as women, we experience the pressures from society on how to look, feel, act, etc. This quote reminds me that our existence as individuals is important – we shouldn't hide our personalities or the qualities that make us unique, but rather embrace them and use them to make a positive impact on the world around us.
---
Products Seen In This Post:
Getting started with hand lettering?
Free lettering worksheets
Download these worksheets and start practicing with simple instructions and tracing exercises.
Download now!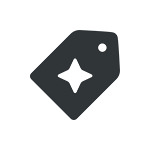 Creative Market