10 Stunning Templates to Design an Itinerary for Weddings and Events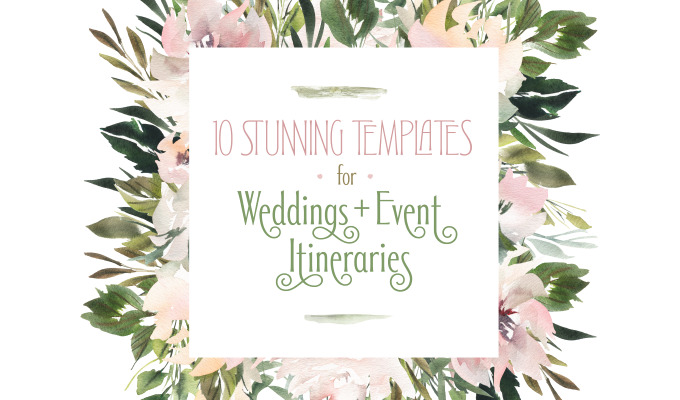 From wedding makeup to that first dance at the reception, a wedding itinerary spells out the timetable for important things to do on a wedding day or wedding weekend. Wedding itineraries and planners are handy tools for members of the wedding party and wedding planners, but they can also provide directions to wedding venues, share a schedule for special events, and make pretty mementos for guests. Here are 10 stunning itinerary templates for creating the perfect event timeline, destination map, or trip planner.
The Wedding Set by Anna features two wedding timeline templates with hand-drawn illustrations and space to highlight the main events of the big day. The Wedding Set also includes a collection of wedding icons, symbols, and phrases, which can also be used for designing invitations, posters, and more. The Wedding Set includes layered, fully editable files in EPS, PSD, and JPG formats, as well as a font file that's editable in Adobe Illustrator. The Wedding Set also comes with a link to a help file for tips and support.
Designer Paul Lesser's Cruise Boarding Pass Set features a collection of fully-customizable ticket and boarding pass templates for planning destination weddings or honeymoon trips. Inspired by the colors and style of vintage cruise ship tickets, the Cruise Boarding Pass Set includes four print-ready, layered and grouped Photoshop files, plus a JPEG preview file. The set also includes a template for a ticket to Mars, if you're planning a wedding trip that's out of this world.
This Theatre Schedule Poster from EDT.im is a fully editable, multipurpose vector template for listing theater performances and other scheduled events. But it can also be used to create a simple, elegant wedding itinerary in a list-style layout.
The Theatre Schedule Poster template set includes print-ready files in both EPS and AI format, with 5 color versions, plus links to free fonts for a customized look. The Theater Schedule Poster template can be customized in AI and other vector editing software.
The Wedding Timetable set by Salty Lunch features a simple, customizable timeline for listing key wedding day events, with hand-drawn icons to mark each point on the line. The set also includes a vintage-style floral backing file in PNG format. The Wedding Timetable files are editable in Photoshop and Adobe Illustrator, and come with a set of free fonts and a link to a help file for tips on downloading and using the templates.
The Schedule Event Poster, Vol 4 from EDT.im is a versatile, customizable vector template in an easy to read grid layout suitable for scheduling events of all kinds, including weddings and other wedding-related events. The print-ready Schedule Event Poster set includes individual EPS and AI files editable in Illustrator and other vector software, with 5 color versions and links to free fonts included.
The Wedding Timeline & Map Creator from LABFCreations is more than a wedding itinerary maker: it's a combination of watercolor illustrations and pre-made event and itinerary templates for telling the bridal couple's love story from first date to proposal. The set includes over 200 wedding-themed illustrations of cakes, churches, wedding preparations, and more in PNG format with transparent backgrounds, plus 3 wedding timeline and love story templates. All template files are fully editable in Adobe Photoshop.
The Theatre Schedule Poster from EDT.im is a versatile vector template that works not only for theatrical performances but also for wedding itineraries and other kinds of wedding event scheduling. The printable Theatre Schedule Poster template features a simple grid layout with plenty of space to drag and drop images. The template set includes individual AI and EPS files editable in AI and other vector software, along with five color variations and additional free fonts.
By Stephanie Design's Printable Wedding Schedule is an elegant schedule template for keeping wedding-related events and wedding day tasks organized. The Wedding Schedule set includes two-layered, fully editable PSD templates for front and back with customizable colors and text. This print ready schedule template includes a set of wedding-themed icons, and comes with a link to a video tutorial for tips and product support on the designer's site.
The Wedding Timeline set from Studio Nellcote features editable PDF templates for building unique, informal wedding timelines in Adobe Reader. The set includes a page of wedding-themed vector icons, plus a full set of instructions for customizing the templates for printing in either Letter or A4 dimensions. This Wedding Timeline set can only be edited in the latest version of Adobe Reader, so the set also includes instructions for downloading and installing the Reader on both PC and Mac.
GraficBoutique's Rustic Romance Map Creator features a hand-painted, watercolor image collection for designing wedding timelines and maps with a rustic look inspired by farmhouse weddings. The Rustic Romance Map Creator includes a starter set of watercolor backgrounds, ribbons, and crests, plus more than 150 wedding, nature, and travel-themed illustrations as PNG files with transparent backgrounds. The Map Creator also comes with a set of watercolor illustrations of roads, lakes, and rivers in various file types for creating maps and travel itineraries.
Wedding itineraries and trip and event planners make it easy to keep things moving smoothly from start to finish. In styles ranging from whimsical to elegant, these itinerary and event templates help event planners and bridal parties stay organized, and offer new ways for guests to share in the celebration, too. Whether you're planning a casual wedding in the backyard, a formal ceremony at a romantic destination, or something in between, these customizable, versatile templates have all the tools to design itineraries that capture the spirit of any wedding day or special event.
---
Products Seen In This Post:
Download 6 Products for Free
Making beautiful design simple & accessible to all.