Popular Web Design Trends to Look Out For in 2019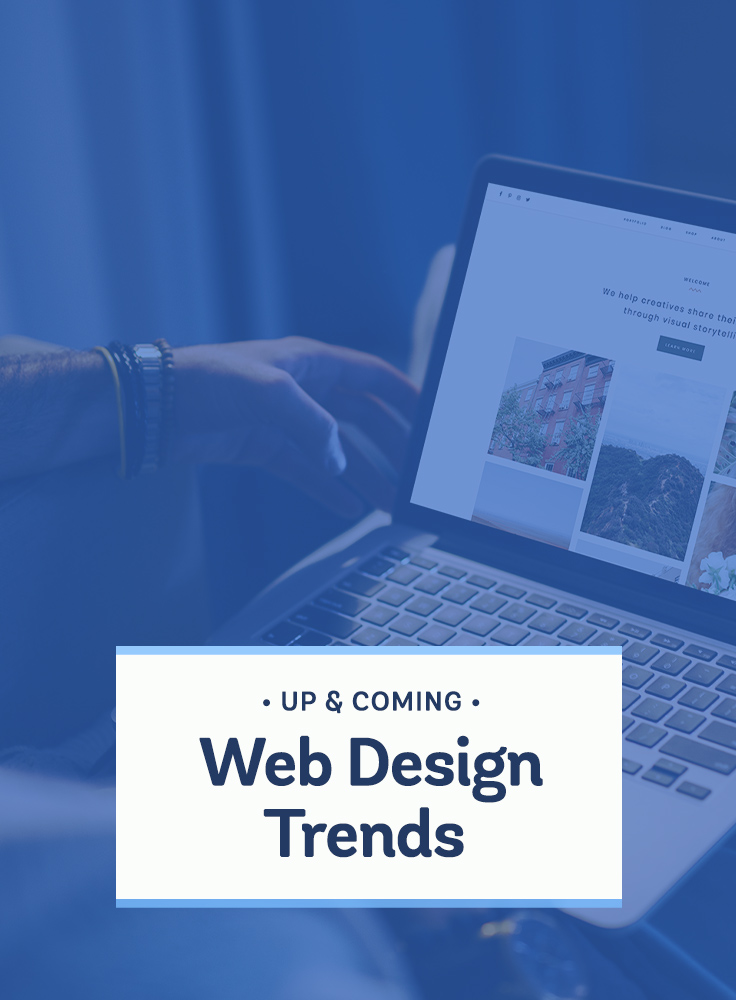 The start of a new year brings unlimited possibilities to web design. As we welcome 2019, we're getting increasingly excited about the brave, new frontier of the most popular web design trends in 2019. What's going to be popular? What new design trend is going to come out of left field to surprise us all on our desktops, tablets, and smartphones? Is a past trend going to make a comeback? Design is crucial to our digital lives, both professionally and personally, since we spend so much time interacting with user interfaces on our screens. A well-thought-out visual element can greatly improve our user experience and enjoyment while a questionable visual feature can greatly reduce it. For those of us who appreciate the aesthetics of interesting design, the new year will be a banner year for all sorts of innovation.
Web Design Trends in 2019: A Predictions Roundup
To get an accurate sense of where web design is headed in 2019, we talked to numerous web designers at successful agencies to find out where they think the industry is headed, trend-wise, in the new year.
3D Takes Center Stage
Many of us have noticed the occasional 3D element whenever we've accessed a website. Since most of us are still conditioned to think and therefore visualize in only 2D, it comes as a pleasant and interesting surprise when we encounter this web design trend that many have not yet adopted. UX strategist Rafael Romis believes that we'll soon enjoy a plethora of 3D content on our desktops and mobile.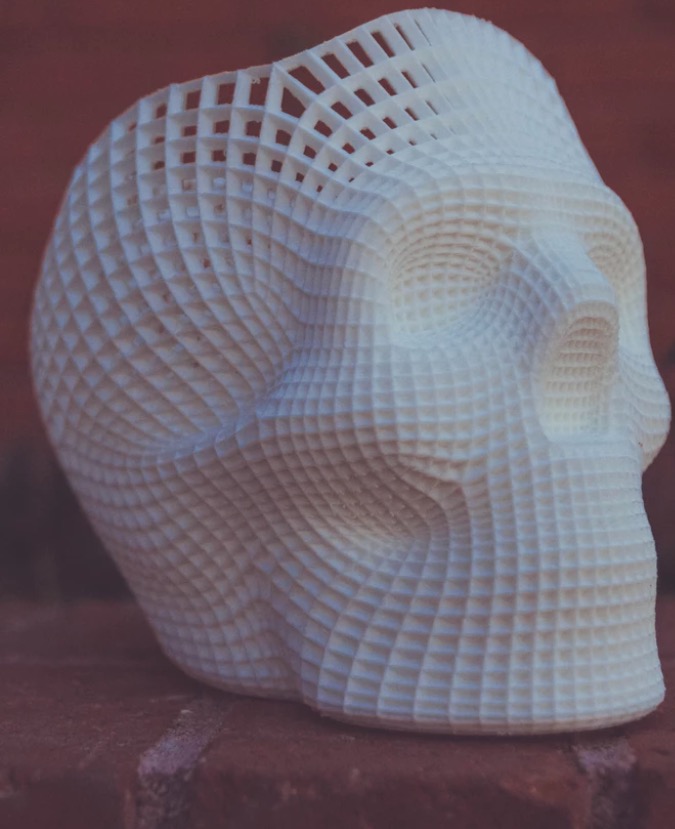 Credit: NeONBRAND

"In my opinion, the new trend that we'll see more and more of is 3D. In general, that's creating web design where we play with the perspective and (in a way) subconsciously engage with the visitors as they scroll up and down to really understand what's happening. It's where design meets strategy and sales. By using elements that trick the eye, we draw the visitors' attention to our content and keep them engaged, too. It's the best of both worlds: beautiful design and design driven by conversions." – Rafael Romis, Weberous
The Hamburger Navigation Menu Goes Away… Permanently.
You know that hamburger menu—which is literally three horizontal bars stacked on top of each other—that you're used to seeing on basically every mobile app and site (and some desktop sites, too)? It's going to be a thing of the past as we go through 2019, which will be welcome news to its legions of critics! Product designer Matt Kubota indicates that the continued adoption of mobile will be the final nail in the hamburger menu's coffin, and you won't believe what'll replace it.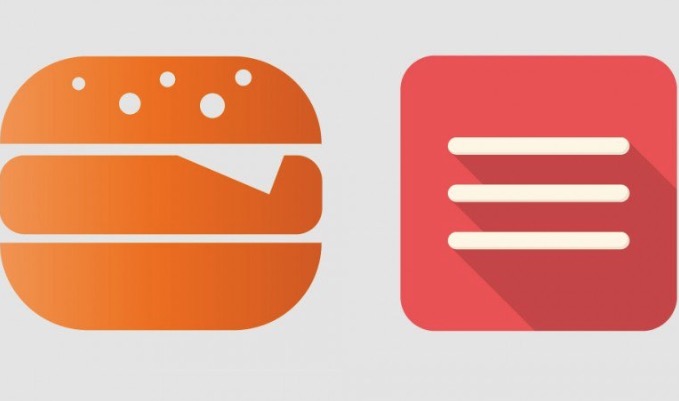 Credit: Small Biz Trends

"I predict more mobile web apps will give a nod to native app UX by replacing traditional hamburger menus with bottom, tab-based navigation (like on Facebook and LinkedIn), reducing the complexity of forms, and integrating more services like Google Pay or Apple Pay. I'm predicting that we will see many companies shift a considerable amount of their focus to mobile web apps in 2019—and I have the data to prove it. The steady rise of mobile traffic hasn't wavered from 2017, increasing to 52% of all web traffic. We can only expect this share of traffic to increase as the number of smartphone users increases by roughly 9% year-over-year. Compared with native apps, mobile web apps see nearly three times as many monthly visitors. However, its Achilles' heel is that it lacks the feeling of a native experience. Users spend 18 times less time on mobile web apps than their native counterparts. I believe in 2019, companies will also focus on improving their mobile web app UX with the adoption of performance-enhancing technology like Accelerated Mobile Pages (AMP) and a shift towards true native experiences with the ongoing adoption of Progressive Web Apps (PWA)." – Matt Kubota, WillowTree
Motion in Design for Voice-Activated Devices
If you have an Apple device or a smart speaker that uses Alexa, you already know how addictive it can be to use voice activation to get tasks done. Because more of our interactions with our digital devices are moving to voice, the way web designers present this digital information on our user interfaces has to change, too. Director of Product Design Grace Hartman predicts that motion will be a key feature of graphical elements in the new year.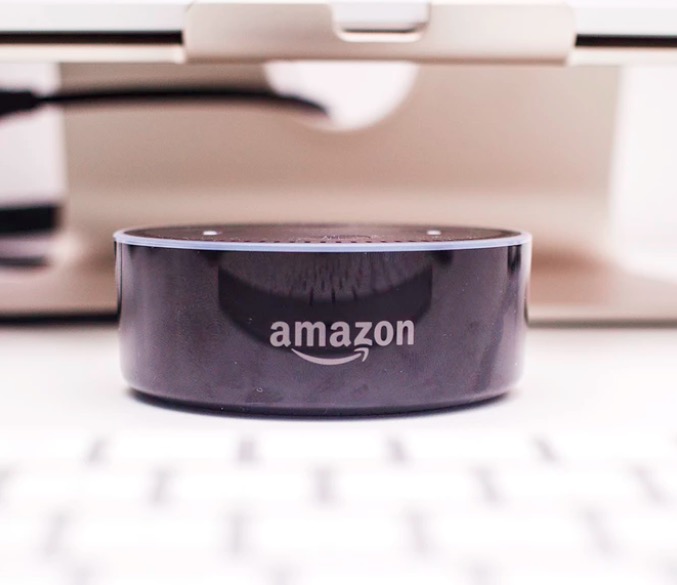 Credit: Piotr Cichosz

"We've all been well acquainted with Siri and Alexa, but what does that mean for future design? Over 20% of mobile Google searches were done with voice queries, but voice activation can span to so much more. Using filters, submitting forms, taking actions, browsing articles—voice is not limited to just being a search channel. With smart speakers becoming more and more commonplace in homes, websites, and software, designers will have to adhere to these new user patterns to keep up. How will this change UI? Voice activation is an entirely different action, and so it should be presented as one. Moving graphic elements that mimic sound waves indicate that there is something (or someone) waiting to interact with you. The look and feel should match the brand's style and voice, so that it feels like an integral part of the experience, rather than an outside, disconnected persona. As voice recognition technology advances, these interactions can become more conversational and real, creating more authentic experiences for consumers." – Grace Hartman, Spire Digital
The Grid Gets Destroyed (4 Predictions in 1)
In web design, the grid has been one of the longest, go-to design conventions for a number of years. Its visual structure is behind many of the websites that you interact with and whose aesthetics you admire. However, one of the most popular web design trends in 2019 will be to break free from the creative confines of the grid. Web designer Dustin Duchene makes the case for why the grid is increasingly a thing of the past. He explains it in the following terms: The grid has been considered best practice for producing a proportionate and rhythmic design. With the introduction of grid CSS libraries and systems (Bootstrap and Flex CCS systems and the latest Grid Layout system), it seemed as if the grid was here to stay, but, with designers always looking for something new and more creative, the race is on to create more abstract web designs that are outside the grid. Recently, we have seen web designers break free of the grid system by no longer sticking to a column and row structure that has been so heavily depended on since the beginning of responsive web design. Designing outside of the grid system has previously been considered taboo and usually resulted in sloppy, distracting work that was hard to digest. Still, when the right project presents itself, web designers are relying on other techniques to create a cohesive, complete design that delivers an impactful message without staying within a single grid system. Here are a few of the practices that are being used to achieve this new layout style.
Layered/Overlapping Elements
Overlapping elements allow the user to make the connection that these items are somehow related. In most cases, a user initially registers an image first and text second.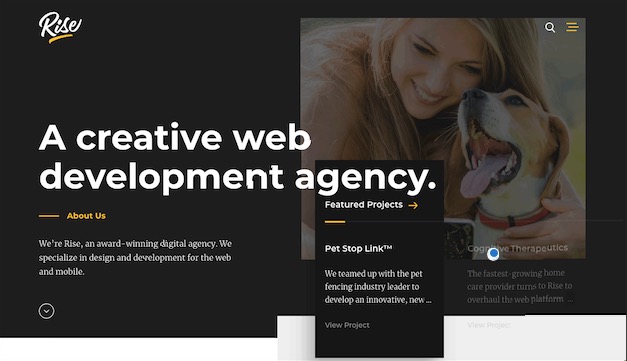 Credit: Rise

By overlapping these two, it allows the user to seamlessly digest both the imagery and text as one, and having the most important content (or message) on the top layer makes it almost impossible for the user not to be drawn to it.
Parallax Scrolling
The use of parallax scrolling provides the perfect separation between the content and background, allowing the user to easily retain the content while providing a visually appealing design and creating the illusion of depth.
Accent Colors
When an accent color has the proper amount of contrast from its primary, it's obvious within the design, and the user notices it.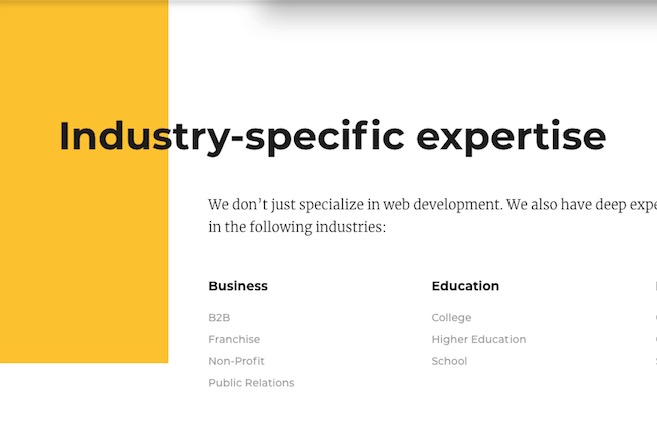 Credit: Rise

In this example, the yellow background and large header text ensure users won't miss the headline.
White Space
Every design should have the proper amount of negative space around text and imagery to allow the user to comprehend the content and not miss crucial messages. When breaking the grid, this is especially important as items are layered on each other. – Dustin Duchene, Rise
User Interfaces Become Simpler and Clearer
On any digital device or desktop, the user interface is everything on a screen that you interact with to accomplish a task, whether that's checking your favorite sport team's standings, reading up on the latest news, or following your favorite brands on social media. If a UI's layout fails to use minimalist design, it's hard to accomplish what you want to do on a website or app, causing user frustration. Head of Product Eran Dror credits a new way of approaching the design process as the catalyst for these simpler UIs you'll be seeing in the new year.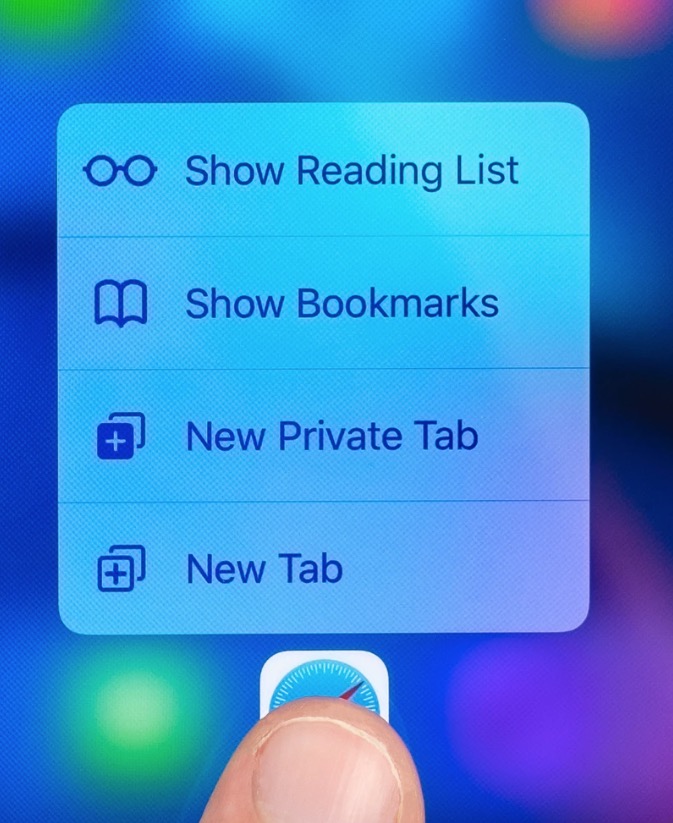 Credit: Daniel Korpai

"2019 looks to be an interesting year for product design, particularly as it relates to the design process. As more product and UX designers hop on the Google Ventures-led Design Sprint wagon, more projects are likely to start with an intense five-day prototyping and validation effort that begins with talking to users and experts. Like the Lean and Agile revolutions before it, the Design Sprint is meant to shorten the time from conception to validation, and de-risk the product design process. The empirical and collaborative nature of the Design Sprint results in a much greater focus from the entire team on the features and priorities that matter. This tends to produce simpler products, clearer information hierarchies, fewer features, and more unique designs. Rather than designing based on abstract ideas, teams are designing with very specific situations and users in mind. As a result, you receive that Aha response, that instant click, much faster with customers because designers took the time to get to know them and focus on their greatest challenges. This can affect everything from branding to color palettes, to flow and usability—greater empathy yields products that are more aligned with reality and your users. In the new year, the growing popularity of the Design Sprint and related concepts will ultimately translate into more successful digital products with simple, user-friendly interfaces that better serve the needs of the user." – Eran Dror, Blue Label Labs
Honest Web Design Makes an Impact
When it comes to design, we often don't associate concepts like honesty with it. Instead, we usually associate exclusively visual elements with design. According to UI and UX designer Jon Phillips, of BuySellAds, that's all changing web design trends in 2019, when honesty will finally be visually represented in web design.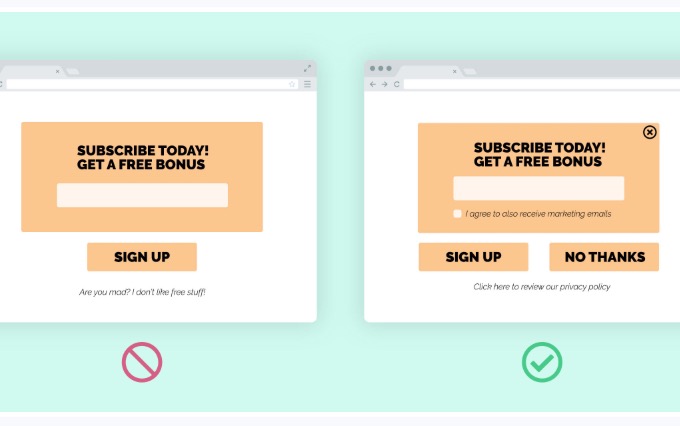 Credit: Jon Phillips

"If there's one thing that 2018 has thought us, it's that privacy and security matter to people (and government, apparently). I believe that regulations and laws like GDPR and others will dictate a lot of the design decisions we make in 2019 and beyond. This means everything from form design to email and web notifications, as well as how we design and build systems with security and privacy in mind. Over the years, a lot of common design elements and components, even though they may sometimes seem like they're just a small portion of a web project, have been gradually made more and more deceptive. One trend I keep seeing is those modal windows that tend to shame visitors into subscribing to a newsletter or visit a special offer page, which is unfortunately too common on ecommerce websites. 2019 will be the year we become more thoughtful and honest in the messaging and interactions we display to our users. Instead of tapping into fear and shame to get leads and customers, offering better products, being more transparent and honest, and clearly setting expectations will become the norm rather than the exception." – Jon Phillips, Contrastly
Ecommerce Design Becomes More Intuitive
Web design that's more intuitive rather than less so is always better for the end user, whether that user is a shopper, social-media follower, or anyone else. One of the biggest realities today is being able to shop right from your favorite social media platform. Unfortunately, that process isn't yet as frictionless as it should be. That's all going to change in 2019, though, as web designer Danny Halarewich points out, with a specific focus on what you may see the next time you want to buy something straight from the content you're reading.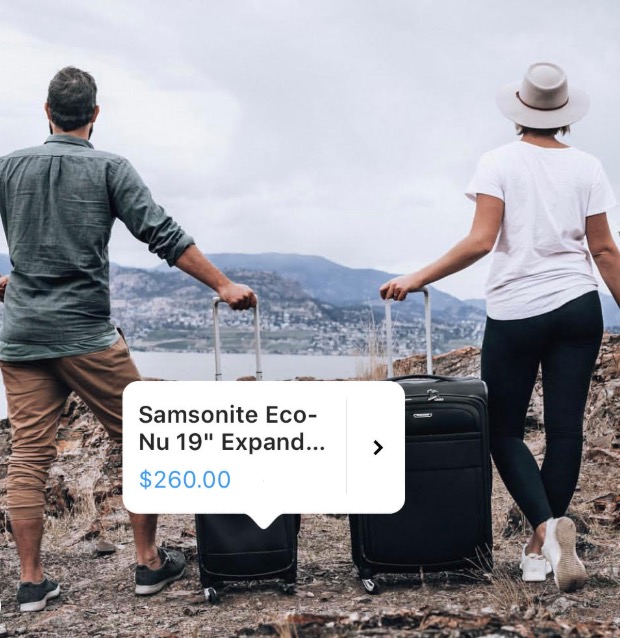 Credit: Samsonite USA

"My prediction is you'll see not just social networks and messaging platforms incorporate more ecommerce, but brands will do a better job, too. For instance, brands will create more content that helps customers conduct research for purchases or get inspired from social influencers, while making it easy to buy products right then and there, without redirecting them to a separate 'shopping cart.' To help with this, UI to facilitate purchasing of products will blend in more seamlessly with the context that they're in. Imagine reading an article written by a frequent flyer about a new carry-on suitcase with built-in charging ports, when you realize a buy button appears as you look through the beautiful photography. Without ever leaving the page, you have a new suitcase being shipped to you and an email receipt sitting in your inbox. Intuitive ecommerce design elements that present themselves at just the right time and place are going to continue gaining traction." – Danny Halarewich, Lemonstand
Web Design That Elevates the User Experience
In our roundup of predictions, you've just learned what the most popular web design trends in 2019 will look like. They're an amazing mix of rebellious design that breaks convention to emerging design trends that will give you a visual feast for your eyes along with stunning UX. Ideally, great web design is a combination of beautiful design and amazing UX. For web design to hit that sweet spot, you can't have one without the other. In fact, a good rule of thumb is that satisfying UX goals will usually lead to eye-catching design. As 2019 gets underway, keep your eyes closely glued on whatever size screen you use to shop, watch videos, consume social media, read the news, play games, or anything else that involves the web. You may just see some of these monumental shifts in web design coming soon to a device near you.
---
Products Seen In This Post: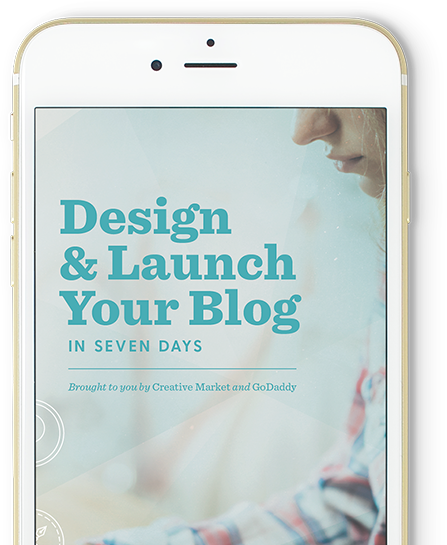 Grab the ultimate toolkit to design your site.
It's time to launch your blog.
Social media templates, a customizable media kit, a comprehensive ebook, and more. Get everything you need to get this project going!
Download your free toolkit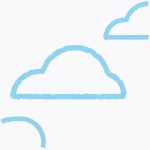 Marc Schenker
Marc is a copywriter and marketer who runs The Glorious Company, a marketing agency. An expert in business and marketing, he helps businesses and companies of all sizes get the most bang for their ad bucks.
View More Posts