The Most Legible Fonts for Super Long Texts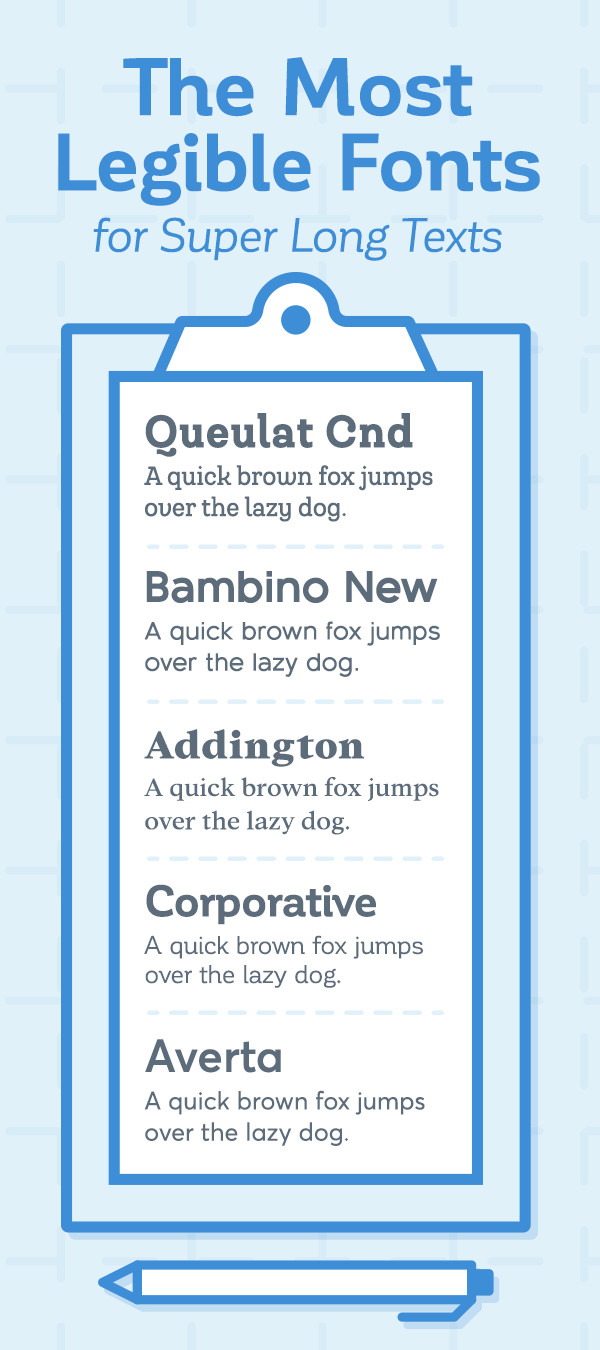 Some fonts are meant to grab attention, but the letterforms that draw attention to large posters can be hard on the eyes when they're used in a long piece of text. The best fonts for super long texts are clean, elegant and easy-to-read on screen and in print. Here are 20 font families designed for legibility and readability at smaller type sizes. Feel free to pin or bookmark this article to access it easily in the future.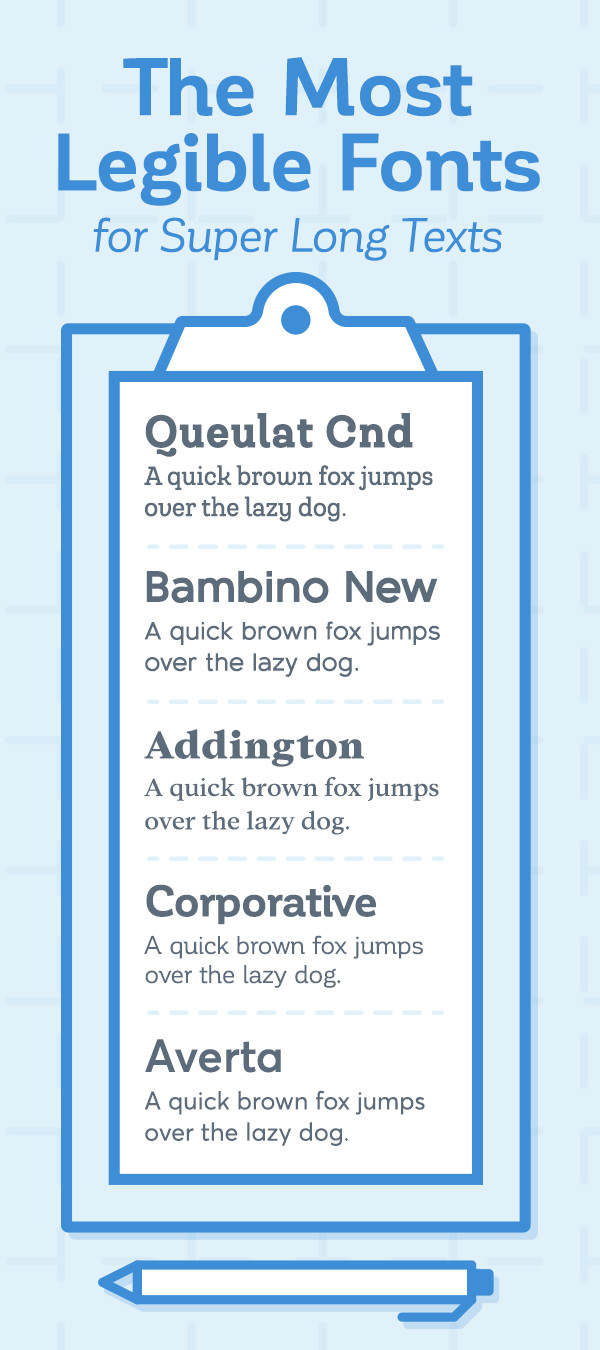 Available in 14 different styles, Bambino New is a geometric, sans serif font designed for readability. Bambino New has plenty of OpenType features and comes in seven weights including thin, light, bold and heavy.
SmytheSoft Pro is a contemporary sans serif font family that promises easy readability both onscreen and in print. SmytheSoft Pro is a complete design kit that includes a large set of ornaments, symbols and glyphs, with Vietnamese character sets and support for Western, Central and Eastern European languages.
The Okojo Pro font family includes not only Okojo Pro, but also Okojo Slab Pro and the Display versions of both. Okojo Pro is designed for easy readability of both long texts and display type, and includes complete character sets for a long list of European languages.
Available in eight weights, Averta is a geometric, sans serif font family with styles that can be used both for text sizes and headlines. Neutral and modern, Averta includes true italics and many contextual alternates and symbols, and supports over 200 languages.
Miles is a geometric sans serif font family for creating easily readable quotations, headlines and short pieces of text. Available in seven weights, Miles includes alternate glyphs, symbols and oldstyle figures, and supports an extended Latin character set.
The basic version of Averta, Averta Standard is a clean, geometric sans serif font that can be used for headlines as well as text. Averta Standard has eight weights with italics and includes case sensitive forms, contextual alternates and glyphs.
Corporative Basic is a semi serif font set for use in larger text sizes. Clean and legible, the Corporative Basic family includes 8 weights with matching italics.
Achille III FY Regular is a slab serif font featuring prominent curved and angled serifs. Well balanced and solid, Achille II is highly legible in small and headline sizes, and comes in four weights with small caps and italics.
A low-contrast, serif typeface, Canberra creates highly legible text for both print and web. Canberra includes six weights for text in small sizes as well as bold headlines, and includes rounded alternates of some letters for a more casual look.
A serif font family featuring unique typographic features as well as an extensive set of ligatures and ornaments, Adriane Text offers excellent legibility at smaller text sizes. Adriane Text comes in regular and bold with corresponding italics, and has full support for an extended Latin character set that includes Central European diacritics.
A thin, lightly condensed font family, Saya Serif is highly legible at all sizes and can be used for both text and display. Featuring sharped serifs and elegant letterforms, Saya Serif comes in six weights ranging from thin to black with accompanying italics.
Part of the Canberra FY font family, Canberra FY Light is a highly legible low contrast font suitable for longer texts. Canberra Light features asymmetric, short serifs and a series of rounded alternates for some letters.
With inspiration from Renaissance typefaces and punchcutter artwork, Gauthier Next FY is an elegant, old-style serif font with large x-heights. Gauthier FY comes with an extended character set and small caps suitable for text design of all kinds.
A condensed version of Queulat, Queulat Cnd is a hybrid typeface that combines different typography styles for a fresh, strong look. Queulat Cnd comes in 24 styles and features teardrop terminals and a rounded alternative version for a contemporary feel.
Designed for easy reading both on-screen and in print, HK Serif is a clean, legible typeface that can be used for body text as well as headings. Available in four weights, HK Serif comes with small caps, special characters and support for over 40 languages.
A clean, modern serif font family, Venice Serif is optimized for on-screen reading. Venice Serif includes four weights with corresponding italics as well as 195 character glyphs, and comes with a Help file for easy installation.
Carrig Compleat is a classic serif font family that features Roman, Italic, Refined and Rough styles for use in both text and display. Carrig Compleat includes all currently available Carrig variants in a single bundle.
With traditional serifs and elements of calligraphy, Addington CF is a versatile font for both large and small text sizes. Addington CF comes in six weights with Roman and italic sets, and includes advanced OpenType features with Latin alphabet support.
Inspired by German geometric typefaces of the 1920s, URW Geometric is designed for legibility and versatility. With 10 weights and an extensive set of special glyphs, URW Geometric includes alternate character sets and wide Latin language support.
Quincy CF is a warm, serif font family with medium contrast for easy reading as well as display. Available in five weights with accompanying italics, Quincy CF includes advanced OpenType features, and offers Latin and Cyrillic multilingual support.
Whether serif or sans, fonts for long pieces of text should be clean and uncluttered. These custom fonts from a worldwide community of designers blend functionality and style for a highly legible look.
---
Products Seen In This Post:
Getting started with hand lettering?
Free lettering worksheets
Download these worksheets and start practicing with simple instructions and tracing exercises.
Download now!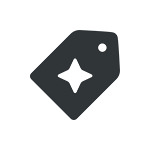 Creative Market