How to Learn Lettering: 50 Free Tutorials and Pro Tips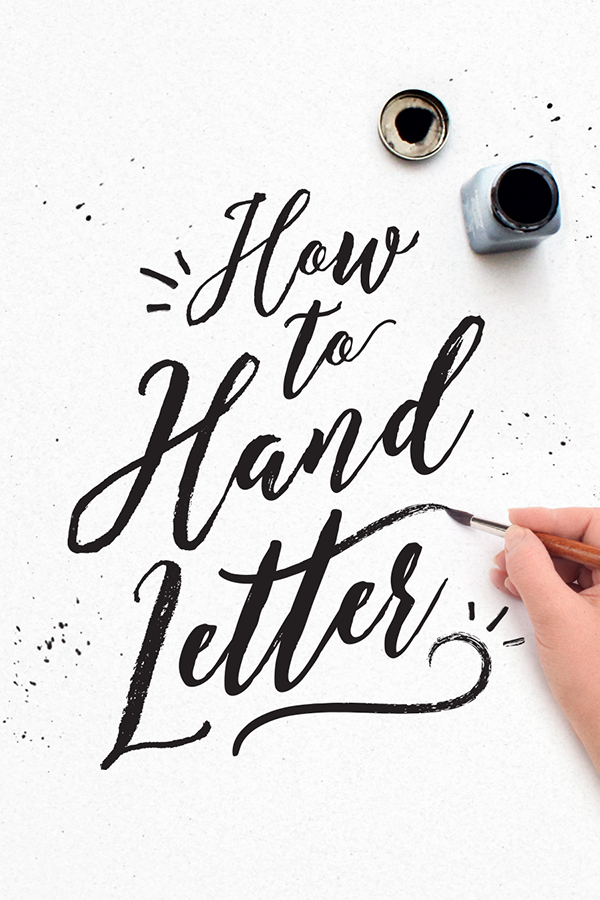 Hand lettering — the art of drawing letterforms — is undergoing a massive surge in popularity, and today's digital tools and tutorials make it easy to learn. Here's a rundown of the basics, plus a guide to the best free tutorials and tips for mastering an old art that's been given another breath of life.
The Basics
More flexible and expressive than calligraphy, hand lettering uses a variety of tools and artistic styles. Inspiration is all around you, and the basics are easy to learn.
1. Study Letters
The best way to start learning hand lettering is to study letters – all kinds of letters, everywhere. Find hand letterers whose work inspires you and follow them for insights into the design process and the world of hand lettering. Fonts are a good source of inspiration for hand lettering students, too. Thousands are currently in use and more are being created every day. Many of today's most popular fonts are hand-lettered. Find ones you like and try tracing them to get a feel for letter shapes and spacing.
2. Choose the Right Tools
Hand-lettering artists use brushes, markers, pens and a variety of other instruments to get the right look. Here are a few essentials to keep on hand:
Microns – Relatively inexpensive and easily available through just about any art and craft supply store, Pigma Microns are loved by hand lettering artists for their consistency and dark, heavy ink.
Brush Pens – Brush pens combine the reliable ink flow of a pen with a flexible, brush-like tip. Get them in a variety of colors and styles from art supply stores.
Sign Pens – Sign pens from Pentel and other makers create bold solid strokes in a variety of colors for expressive, visible lettering.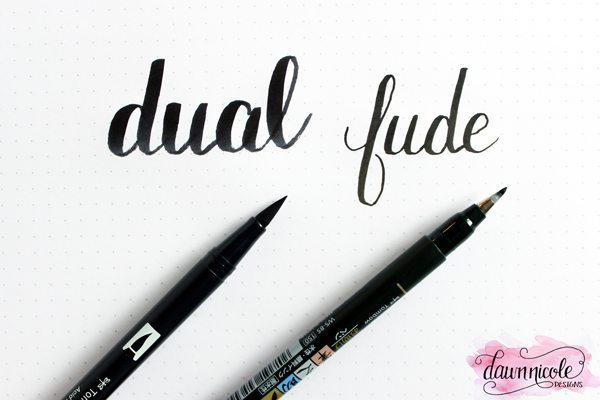 3. Plan Your Designs
Good design doesn't just happen, and taking time to plan and lay out your design before you begin will make it easier to create a piece with impact. Begin by sketching out the shape of the final composition in pencil. This first sketch can be adjusted and resized as needed until you're satisfied with the design. Create thumbnails for each design to establish the position and size of each element. Experiment with multiple versions to work out the design. Sketch your composition in pencil so that you can make any necessary adjustments. Then ink the sketch, using the pencil lines as guides. When your design is completely inked, erase any visible pencil lines.
4. Digitally Refine Your Work
Image editors like Adobe Photoshop and Illustrator make it possible to refine hand-lettered work, add effects and styles, and save the finished piece in multiple formats for use in digital formats, as well as in print. Scan Scan your finished piece and save it to a file. Open your file in Photoshop or a similar image-editing program. If your lettering piece is large, you can scan it in segments. Photoshop can take multiple scans of a big piece and composite them into a single continuous image for editing. Vectorize To make your letter work usable in multiple settings, it needs to be vectorized – converted to a vector image that can be scaled and transformed without losing sharpness. In Photoshop, open a new copy of your lettered piece. Isolate your lettering from the background with the Color Select tool. Select the background color and delete. Use the Magic Wand tool to clean up any remaining areas of background color. This process works best on fully inked pieces, which have even contrast and sharply defined lines.
5. Practice!
The more you hand letter, the more you'll refine your technique. Establish a regular schedule for practicing letter forms, learning the principles of design and trying out new tools. Browse your inspiration file for ideas and projects to try.
25 Tips and Tricks From the Pros
With a few basic techniques, you can create an elegant piece of hand lettering. But here are some tips from hand-lettering experts to take your work to the next level.
1. Get Inspired!
Create a library of inspiration for design ideas, techniques and materials you can incorporate into your own lettering work. Collect work you admire, follow artists whose work you like, and explore books and courses on hand lettering, typography and design.
2. Warm Up Your Hands
Your hands are your tools too, so it's important to exercise them. For more strength, coordination and pen control, stretch your fingers and limber up your wrists with warm up exercises before you start lettering.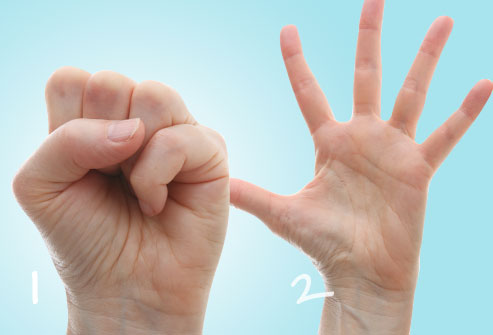 3. Work on Technique First
Many new hand letterers spend a lot of time looking for the best pens or papers – but when you're starting out, the "best" pen is really the one you're most comfortable with. As lettering artist Sean McCabe recommends, work on mastering techniques first – that's more important than the medium you're working with. Even plain printer paper makes a good surface for practicing.
4. Experiment With Lots of Different Tools
Tools for hand lettering include not just pens, pencils and brushes, but also paper, rulers, erasers and digital tools such as image editors and drawing tablets. Try new combinations to find the ones that work best for your style and circumstances.
5. Emulate Fonts You Love
Add fonts wherever you find them to your inspiration library and use them to learn letter design. Trace both traditional and new fonts to learn spacing and styling. Try emulating unique, hand-drawn fonts like Malisia Script, Red Velvet, Echo Soul and Hello Sunshine from Creative Market.
6. Draw Out Rough Sketches
Begin with rough sketches for every design to see its strengths and weaknesses. Use pencil for easy adjustments, and do multiple sketches to try out different arrangements.
7. Evaluate Word Strength
A key to lettering design is understanding where to place emphasis. Not all words carry equal weight, so find the strong words in a quote to determine the final shape of your piece.
8. Focus On a Visual Hierarchy
Lettering is meant to be read, so it's important to guide the reader's eye with a clear visual hierarchy. Arrange your elements from most to least important within a design to make the meaning clear.
9. Use Shapes for Text Layout
When you're working on layout, draw shapes to hold the different pieces of text, such as a long rectangle to contain a header, or a bubble for a smaller piece. Move these pieces as needed to develop the overall look of your design.
10. Use Thick Downstrokes and Thin Upstrokes
Good letter design depends on the placement of thin and thick strokes. Add thickness on downstrokes and lighten up on upstrokes to add balance and fullness to a lettered design.
11. Choose Styles That Express the Emotion of a Design
Lettering design includes not just the words, but also the emotion behind them. Decide on a lettering style and layout that can express that feeling, whether it's a soft script or blocky, attention-getting capitals.
12. Try Different Styles
Always experiment with different styles, and allow time to learn new ones. It's good practice and expands your range of lettering skills.
13. Keep Basic Letter Shape, Height and Slant Consistent
Whatever lettering style you've chosen for a project, consistency is key. Use guidelines to ensure that your letter shapes share the same look and slant for good design and readability.

14. Legibility Matters
Although hand lettering is art, it's also meant to convey a message. Too many embellishments and manipulation of letter shapes can get in the way, so choose a style and arrangement that can be easily read and understood.
15. Take Margins Into Consideration
Margins are an important element of design, and it's important to factor them into your layout. Arrange your text so that words aren't crowded against margins or lost in the middle of the page.
16. Add in Illustrations
Illustrations can add to the impact of a hand-lettered piece. Place lettering inside or around images to enhance the impact of your design.
17. Add Dimension
Lettering designs are two dimensional, and that means they can look flat. Add some depth with a bit of shading or a subtle drop shadow where elements overlap for added interest and impact.
18. Create Texture
Adding textures to words and individual letterforms creates a sense of depth and helps to unify the design, especially if illustrations are used. Choose textures that support the emotion in the piece in subtle ways.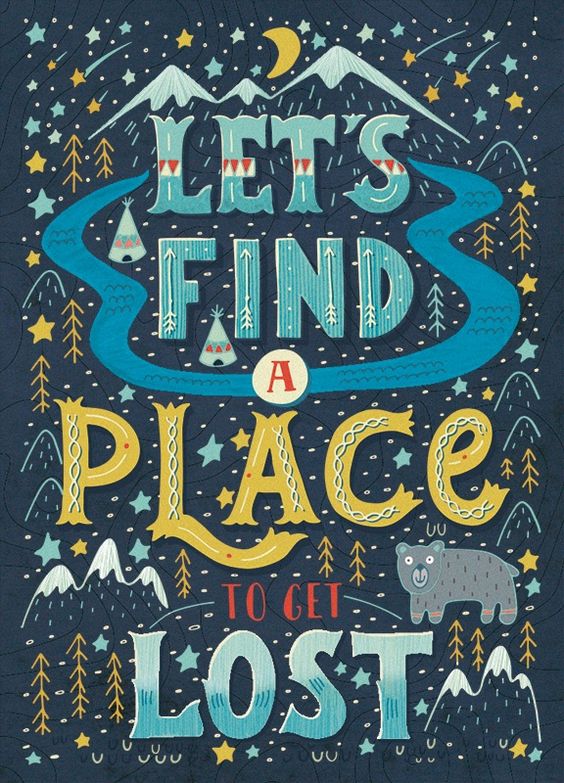 19. Experiment With Different Speeds
Try moving your hand quickly for a looser style, or working slowly for greater precision. Varying the speed of your pen can help you create different looks and styles.
20. Explore Different Color Palettes
Color makes a design pop and enhances both the message and the emotion behind it. Experiment with different combinations of colored pens and paper, and try a color palette tool to develop color schemes.
21. Incorporate Accents and Flourishes
Swirls, shadows and other kinds of accents and flourishes can add visual interest, enhance emotional appeal and unify a lettered piece. Make sure that they work in harmony with the style and layout of your design and keep the message clear.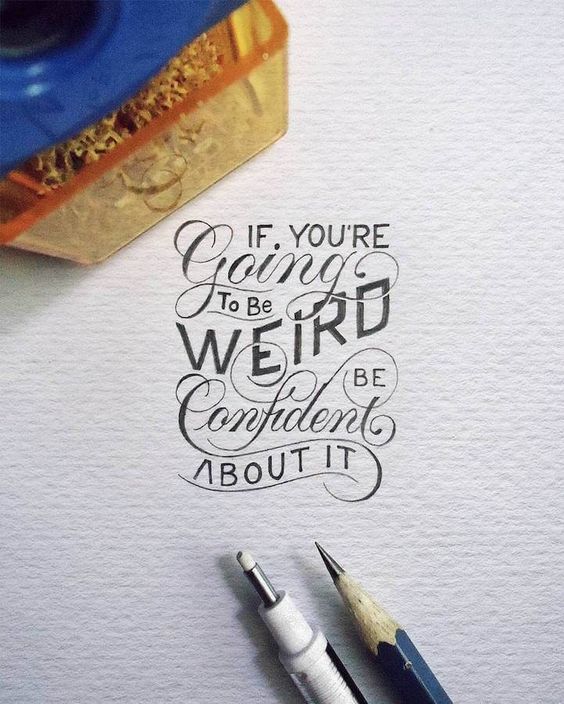 22. Grids Can Be Lifesavers!
Arranging your design elements for a harmonious whole depends on alignment and spacing. Working with a grid helps you ensure that every part of your lettering piece is visually and logically connected to every other part.
23. Refine! Refine! Refine!
Keep working at a design until it's right – refine until all elements are unified and the message clear. It may take several tries with adjustments small and large to get every part of the design looking the way it should.
24. Invest Time in Tutorials
The large and growing community of hand-lettering artists makes it possible to find tutorials and courses on every aspect of lettering, at little or no charge. Take time to learn new styles and skills, and see what others in the lettering world are working on.
25. Make a Living From It
Hand lettering has become incredibly popular for everyday products: from prints to apparel, there's a market for selling your designs. Open a shop on Creative Market to sell your fonts, graphics, illustrations or more!
20 Free Hand-Lettering Tutorials
Learn to add stars to midnight blue letters with brush markers and ink to create an easy "starry night" quote in a short tutorial from Dawn Nicole Designs.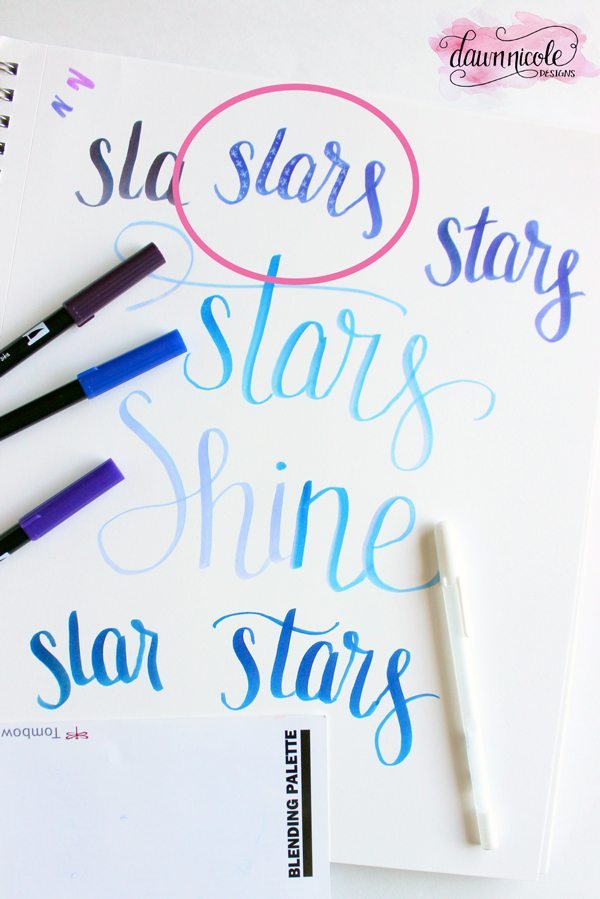 Tombow, makers of paint pens and other supplies, provides a tutorial on the use of pen and brush pressure in calligraphy for strong downstrokes and thin upstrokes. The tutorial includes a video demonstration using a brush pen. Creative Market offers an excerpt from a Skillshare course on vectorizing your own hand-drawn font with Illustrator. You don't need to know Illustrator's often-intimidating pen tool to digitize your work. Learn to hand letter your own save-the-date cards with a how-to from Creative Market. This tutorial demonstrates how to blend handwriting and a watercolor background in Photoshop for an elegant, personalized design.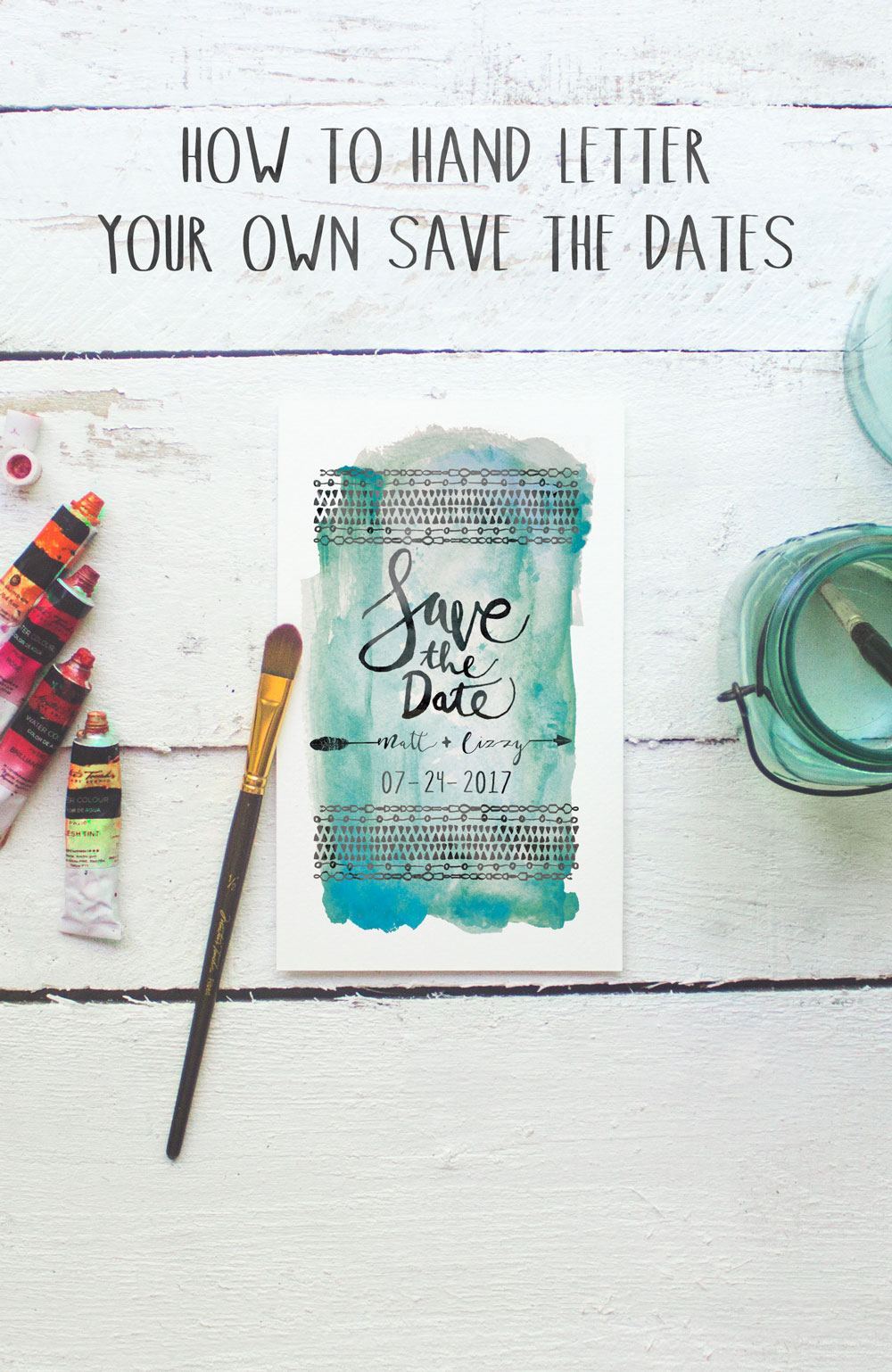 Hello Brio offers a tutorial on digitizing your hand-drawn letters using Photoshop and Illustrator. The tutorial explains how to scan your work, prep it in Photoshop and then vectorize it using Illustrator's Live Trace tool. Learn to draw a banner as an embellishment for hand lettering in six easy steps with a detailed tutorial from One Artsy Mama. With step-by-step illustrations, this tutorial demonstrates how to add dimension and depth with just a few pen strokes. Typography is a powerful tool for conveying meaning and emotion. InvisionApp offers a tutorial on the psychology behind typefaces and font styles with a look at the symbolism of serifs, script and blackletter. Thumbnails are a key part of the design process. In a short video tutorial from LearnLettering, letter artist Sean McCabe demonstrates how to use thumbnails to build a piece of lettering from concept to finished design. Ligatures and other embellishments add decorative touches to script lettering. Illustrator Chris Piascik shows how to get creative with script in a 12-minute video from the Creative Market blog. Create your first font from handwriting. Creative Market's step-by-step guide shows how to create a letter and number set and turn it into an Open Type font with Adobe Illustrator's Fontself extension. Loose, looping letters define informal script lettering. Learn how to make loops in brush lettering with a stroke-by-stroke tutorial from One Artsy Mama.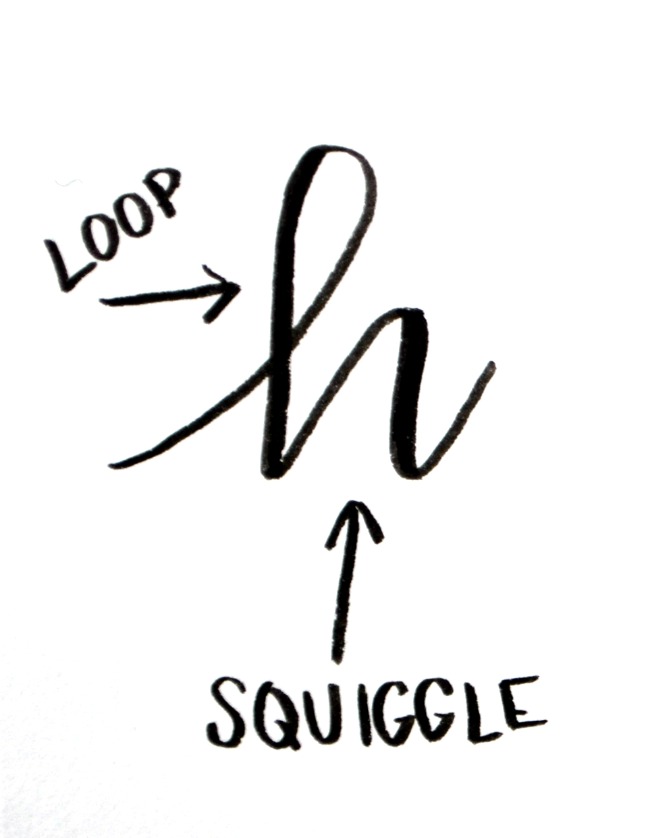 Create unique cards and invitations with a combination of lettering and photography. This tutorial from Dawn Nicole demonstrates how to "style" a photograph, edit it and add hand lettering in Photoshop. Calligraphy is a distinct style of letter art, but you can give your lettering projects a calligraphic flourish with a few styling tricks. This tutorial from Perennial Joy shows how to create a "faux calligraphy" look with strokes and spacing. Calligraphy is defined by the interplay of thin and thick strokes. This practice from Pieces Calligraphy shows how to master both kinds of strokes and transition between them. Flourishes and embellishments add interest and emotion in script lettering. This short tutorial from One Artsy Mama shows how to make simple swirls and add embellishments such as hearts and flowers with a pen or brush. Accents can enhance hand-lettered work. This seven-minute video tutorial from Made by Marzipan demonstrates how to add accents such as arrows, banners and buntings to all kinds of lettering projects.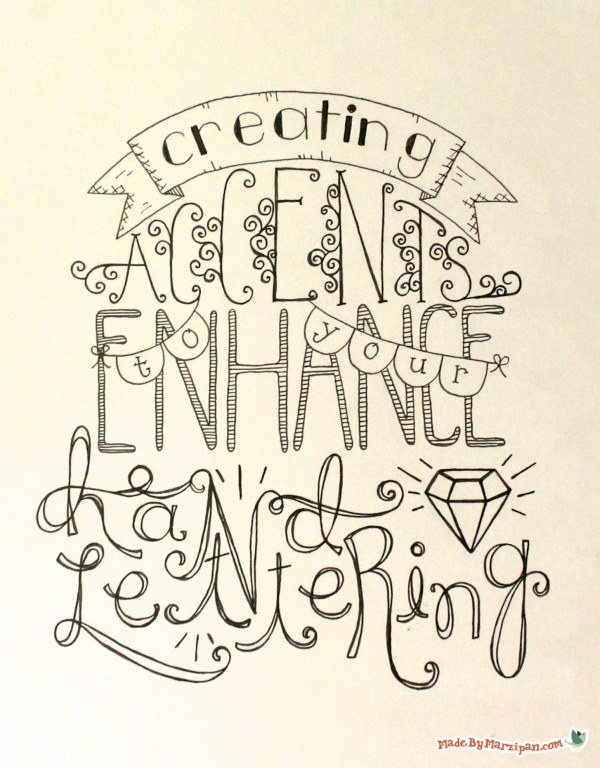 This tutorial from June Letters demonstrates how to add hand lettering to an image in nine steps using Photoshop's layers and layer style tools. A unique blog header is an essential part of blog design. This tutorial from Hello Brio demonstrates how to create a hand-lettered header and prepare it for the web with Photoshop. Watercolor letters have a soft, expressive look. This tutorial from Melissa Esplin demonstrates how to create unique lettering projects with a brush and a simple watercolor palette.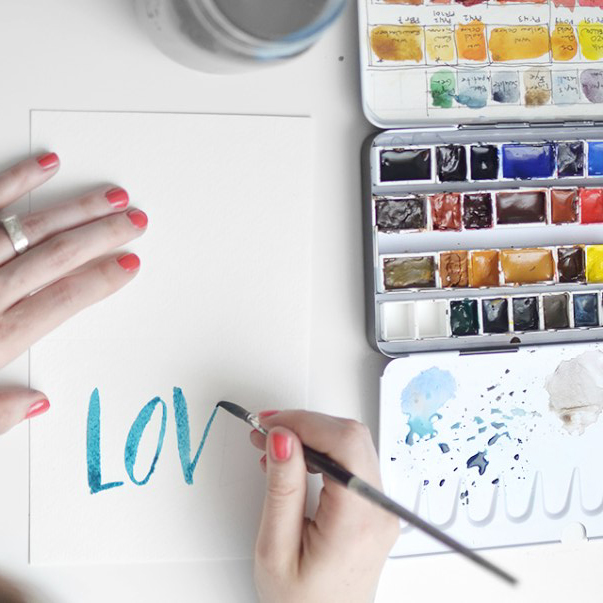 Chalkboard lettering has a vintage, rustic feel. Learn the basics of chalkboard art in this six-step tutorial from The Beauty Within 31. Hand lettering is an art for everyone. This list of tips, tricks, and tutorials makes it easy to create unique designs – even if you've never lettered before.
Pin it for later!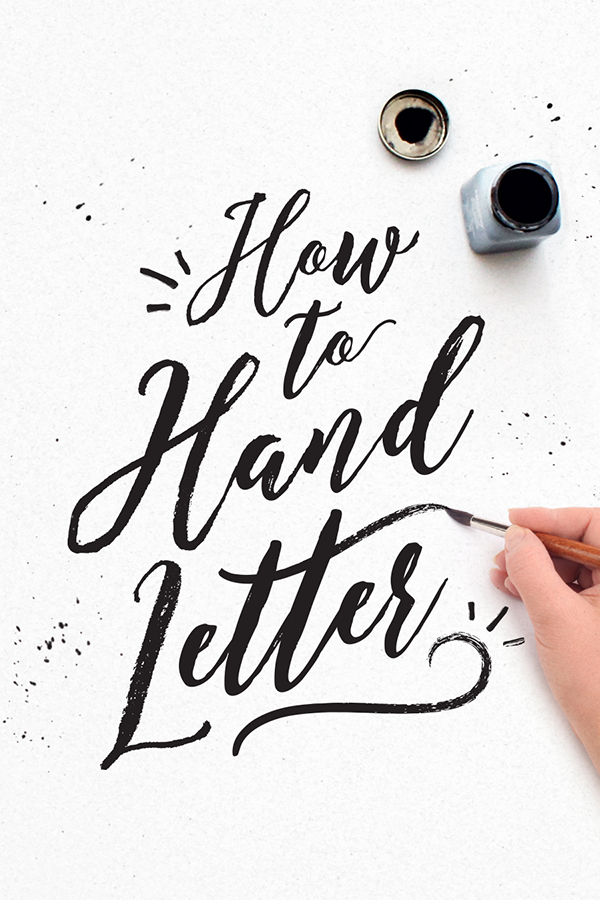 Getting started with hand lettering?
Free lettering worksheets
Download these worksheets and start practicing with simple instructions and tracing exercises.
Download now!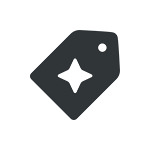 Creative Market