Mermaid Graphics for Ocean Inspired Designs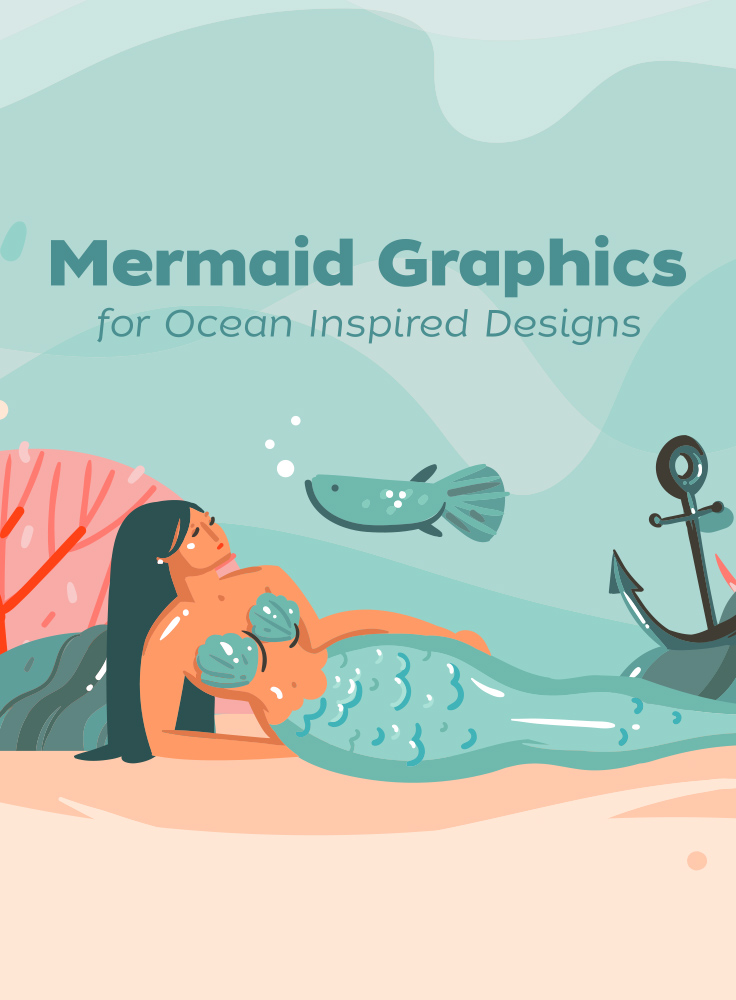 Summer's here, which means there's a good chance you're working on projects about vacations, sunshine, and the beach. Luckily, if you're creating a project that's themed around all things ocean, there are tons of Creative Market designs who have created one-of-a-kind mermaid graphics that can give your projects a touch of whimsy and fantastical flair. Here are some of the best mermaid graphics that you can use for ocean-inspired designs.
Let's Be Mermaids! Hand Drawn Set
Jackie's Creative Goodies created Let's Be Mermaids! Hand Drawn Set, a set of child-friendly cartoonish graphics you can use for a mermaid themed party. The set includes 15 high-resolution images.
Mermaids Embellishments
Mermaids Embellishments was created by On a Whimsical Adventure, and it contains 47 digital mermaid-themed embellishments. All of the embellishments come in .PNG, and you can use them for scrapbooking or cardmaking.
Vintage Ocean Nautical Sea Clipart
Looking for clipart for your nautical project? Vintage Ocean Nautical Sea Clipart by Digital Curio is the perfect set for you. This set contains a Photoshop brush pack and images like ships, sea monsters, and seashells.
Under the Sea Graphic Kit
Under the SEA. Graphic KIT is another set of kid-friendly graphics, and it was created by Dinkoobraz. These cartoonish mermaid illustrations are great to add to birthday invites or flyers — the set makes this much easier with patterns and pre-designed poster templates.
Mermazing Life
This gorgeous set of mermaid illustrations by Helter Skelter has a distinctively vintage, mid-century feel. In Mermazing Life, you'll find more than 70 hand drawn vectors, 12 landscapes, and 21 colored badges.
Mermaid Emojis Clipart
Pie Paperie created MERMAID EMOJIS CLIPART, which has 24 mermaid emojis in three different skin tones, so you can incorporate mermaids into your next project. These mermaids have a cartoon style, so they're whimsical and fun.
Underwater Love Vector Clipart
If love is the focus of your next sea-themed project, check out Underwater Love Vector Clipart by Lilla Bölecz. This set of graphics and illustrations contains mermaids and mermen, as well as other red and blue sea life. The set contains 45 images.
Ice Queen Mermaid Digital Papers
Masha Studio created these Ice Queen Mermaid Digital Papers. The designs are unique because they include mermaids but in a blue and white color scheme, which evokes icy settings. The set contains 14 JPG files, and the designer recommends using them for wall art, wedding decorations, or 3D cardmaking.
Sea Tales EPS
You can use the illustrations in Sea Tales EPS by sabinar to create any cartoon mermaid design. These hand-drawn illustrations can be used in storybook, wallpaper, or greeting card designs. You can choose from a set of 17 images.
Under The Sea Collection: Mermaids
Yeticrab created Under The Sea Collection • Mermaids is a set of illustrations including mermaids, sea fauna, sea flora, water textures, and bubbles. The designer has also included a link to an intro video to show you how to make greeting cards with the collection.
Mermaid Paper Pack
This adorable mermaid paper pack by Citrus and Mint contains 11 hand-drawn papers in light, bright, pastel colors. Some of these papers include mermaids, while others include nautical life, plants, or simple patterns.
Mermaids Collection
On a Whimsical Adventure created Mermaids Collection. In it, you can find solid papers, fantasy papers, artsy transfers, embellishments, and journal cards. This pack is discounted to about 40% off.
Mermaid Textures Digital Paper
Fantasy Cliparts created Mermaid Textures Digital Paper, a set of 16 whimsical, shimmering papers that evoke the feeling of a mermaid's tale. The papers can be used for personal or commercial projects.
Mer-mazing Mermaids Graphics
Mer-mazing mermaids graphics is another set of cute cartoon graphics created by MizzLisa. You can use these graphics to create birthday invites, posters, scrapbooks, or other nautical themed projects.
Vintage Mermaid Nautical Backgrounds
If you're looking for a retro nautical asset, Vintage Mermaid Nautical Backgrounds is a good place to start. Digital Curio created this set of 16 backgrounds that measure 12×12.
Mermaid Mini Set
Katja.gerasimova created Mermaid Mini set, which contains six vector EPS 10, six transparent PNGs and six high-quality JPGs. These black and white images can be used to create coloring pages.
Watercolor Mermaid Design Kit
If you're looking for textures and patterns that evoke mermaids, then look at Watercolor Mermaid Design kit. It includes 21 patterned digital papers, eight mermaid tales, eight scale patterned borders, eight watercolor textured frames, and two pre-made JPG blank card templates.
Magical Mermaid
Check out Magical Mermaid by anastasia.mazeina for a set of highly detailed mermaid graphics. The set contains other illustrations, like the sun, the moon, stars, and more.
Mermaid Glitter Patterns
Digital Curio created Mermaid Glitter Patterns, which are flashy, shiny patterns that evoke a mermaid's tale. Use them as a background for any project. There are 20 seamless images in JPG format included.
The Mermaid's Dance
The Mermaid's Dance is a gorgeous set of illustrations created by Karamfila. Use these hand-painted watercolor images for fabric patterns, web design, cardmaking, or any other elegant nautical design.
If you're creating an ocean-themed project, work in these mermaid graphics to make the designs fun and fantastic. You can find more mermaid related and beach related design goods on Creative Market, too, like templates, logos, themes and more.
---
Products Seen In This Post:
Getting started with hand lettering?
Free lettering worksheets
Download these worksheets and start practicing with simple instructions and tracing exercises.
Download now!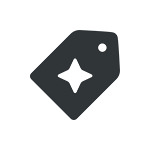 Creative Market