12 Modern Didone Fonts to Add a Touch of Elegance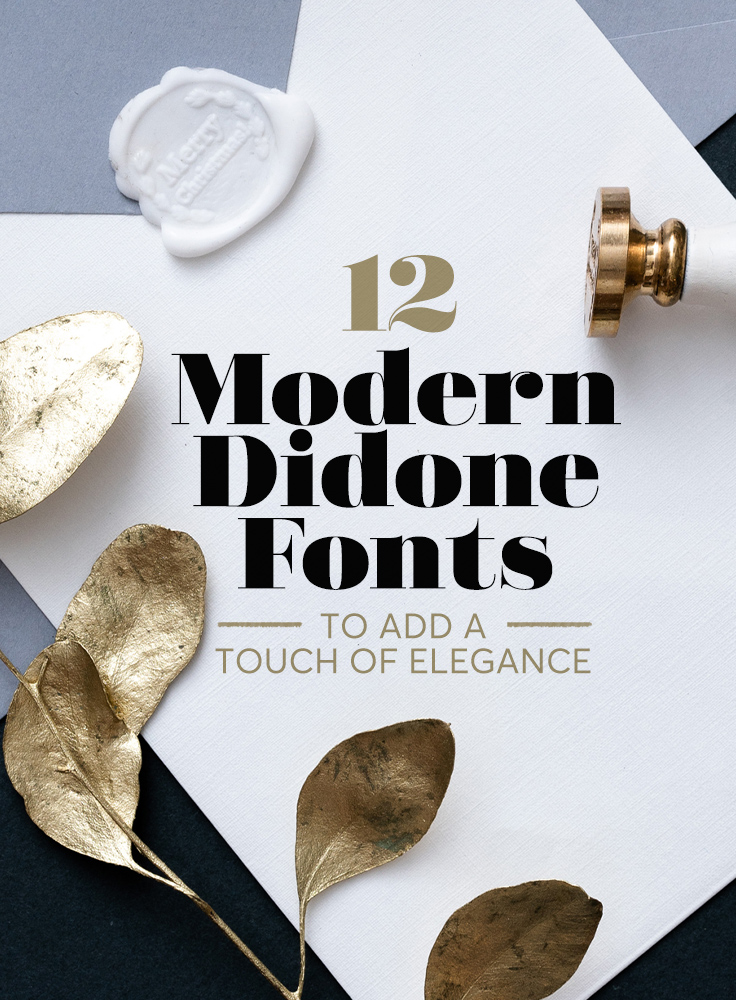 Never overlook your typeface choice. The right font family can add a layer of refinement and sophistication to your design projects, elevating all other elements in the composition. Didone fonts, specifically, are a type of serif font that became popular in the 1700s, mainly characterized by narrow and unbracketed serifs. An unbracketed serif is not joined

to the letter's stroke by a curved line. Instead, they are attached directly to the stroke in a specific angle.

Throughout this article, we'll learn more about some of the most outstanding Didone fonts on Creative Market: what inspired them, what sets them apart, and what kinds of projects you could use them for. If you need a refresher on typography definitions and structure, download this handy cheatsheet:
Remember key typography concepts
Typography terms made simple.
Grab this handy cheatsheet summarizing some of the most important typography terms.
Download the PDF
Karmilla
Alterna Typefoundry created Karmilla, a Didone upright script font that comes with 5 unique weights. According to the designer, Karmilla has "a luxurious character [that creates a] more elegant, classical design." The font supports most Latin-based languages.
Quiche Fine Black Font
Quiche Fine Black Font is a sans serif typeface made by Adam Ladd. The font has ball terminals and angled stems, and it "exudes drama and sophistication" balanced with accessibility — thanks to the ball terminals.
Exquise FY
Exquise FY Black was inspired by the more classical Didone forms, and features sharp weight contrast with interesting drops. Created by BlackFoundry, Exquise FY can also be purchased as a complete family.
Imbue
If you want a Didone font with style, check out Imbue by Tyler Finck. It is elegant and attention-grabbing, but doesn't take up much horizontal space. When you purchase Imbue, you'll get OTF and TTF files.
Didonesque Poster
Get two fonts in one download when you download Didonesque Poster – 2 Font Pack by Paulo Goode. You'll be reminded of the typefaces that luxury fashion and beauty brands use on their packaging. Didonesque Poster works best for short runs of text and headings. This font comes with full European language support, more than 750 glyphs, and contextual alternates.
Didonesque Lite
Paulo Goode created the fonts in Didonesque Lite to be both reminiscent of luxurious brands and highly versatile. This font family has fonts that conform to the Adobe Latin 1 specification, with 229 glyphs in each of the 16 font families.
Camila
Latinotype designed Camila, a delicate and smooth Didone font inspired by Coco Chanel's sense of elegant simplicity. One thing that sets this typeface apart is that it doesn't have teardrop terminals like many Didone fonts do. Camila is ideal for branding and publishing projects.
Curve
Fontador designed Curve for contemporary logos, brands, magazines, and other kinds of editorial projects. It's a modern, neo-classical family with multiple OpenType features. The font has a large x-height and 616 glyphs with small caps, numbers, and ligatures in 10 different weights.
Couturier
Couturier is a font created by Latinotype. Inspired by haute couture, the font set comes with more than 1,2000 characters and supports more than 200 languages.
Pervinca Family
Pervinca is a font family inspired by French Typography. The designers were aiming for geometric perfection, creating characters based on a strict grid. A remarkable feature of this font is its unique, triangular serif.
Didonesque Display
Paulo Goode's Didonesque Display is a set of two fonts that exude elegance, while remaining easy to read. Like the Poster and Lite versions introduced above, Didonesque Display features stunning ampersands and high weight contrast.
Cabrito Didone
Designer Insigne explains that, unlike other Didones, Cabrito was created to convey fun, carefree elegance. While most Didone fonts help reinforce a luxurious style, this one was actually designed for a children's book about fonts, The Clothes Letters Wear. Cabrito Didone includes OpenType features like alternates, ligatures, old-fashioned figures, and compact caps.
For more Didone fonts from independent designers around the world, check out our serif fonts category. You can also find matching design elements like delicate frames and elegant ornaments in our graphics section. Know of any other remarkable Didone fonts? Share your favorite ones in the comments section below.
---
Products Seen In This Post:
Remember key typography concepts
Typography terms made simple.
Grab this handy cheatsheet summarizing some of the most important typography terms.
Download the PDF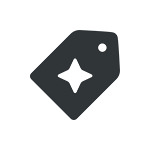 Creative Market