A Collection of 15 Modern Food Label Templates to Personalize Your Brand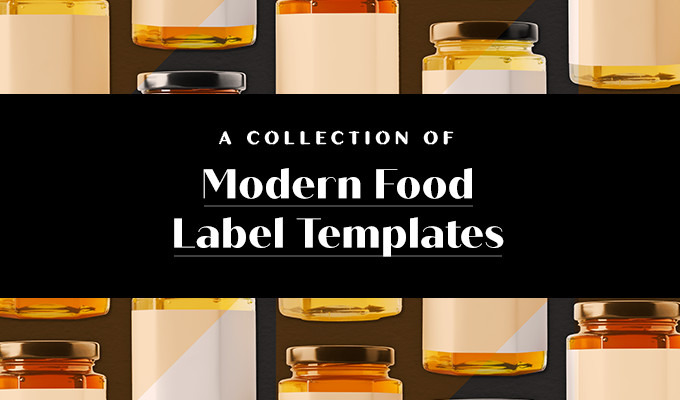 Sometimes, the first impression customers receive of your brand is your logo or labels. Especially in the food industry, it is essential to have labels that give your brand a unique, recognizable character. One of the biggest ways you can do this is with specialized label fonts and logos, like the ones from these modern food label templates.
This template was created by the artist Lumitar, who creates watercolor illustrations, clip-arts, and templates for sale. The rough texture gives it a unique style, and editable strokes make it highly customizable. The package includes an old-style logo with stylized wolves and a goblet. The thin lines and decorative style make it an excellent choice, especially for a modern drink label.
This beautiful template includes a customizable "Olivia" logo and free fonts. It was designed by Fatih Güneş, who also designs fonts and logo templates. It is completely print-ready and has a fold guide for perfect shaping. You can write in your own brand name and use this elegant template for a box or tin label design.
These simple and elegant product labels were developed by Sjá. This designer has also created logo kits and blogger templates in a variety of styles. These labels are editable in a variety of different tools including Illustrator, Photoshop, and MS Word. The colors and fonts are customizable to your personal needs. The printable label templates are ideal for candles, cosmetics, and various other products including food products.
This hand-drawn collection of floral patterns was designed by Lisa Kalev, who has also created a great variety of fonts and other artistic bundles. Floralium includes 30 objects, unique cards, and seamless patterns. Anything new can be created by mixing elements and changing details, making it ideal for any labeling needs as well as stationery and personal branding.
This collection of 10 vector badges and 15 unique icons portrays a uniquely caring and personal brand. It was designed by Venimo, an illustrator and graphic designer who also creates logos and illustrations. This package is specifically intended to let customers know that a product is handmade and unique.
The ultimate collection of labels and stickers is from Coco Shop, who prefers to make minimalist designs for labels of all descriptions. These basic, editable labels are print-ready and can give your brand a simple, straightforward personality.
Are you providing freshly farmed products to your community? This collection was created by Vera Holera, who specializes in handwritten fonts, templates, and patterns. With four food frames, three prints, five seamless patterns and a set of letters, this collection will hold all you need to create a beautiful, fresh product label.
These unique, seasonal labels are intended specifically for Halloween. They were created by Moloko88, whose unusual work consists of a wide variety of graphics, plus a couple of fonts and templates. This collection of vector illustrations for bottle and potion labels will give quite an interesting look to your Halloween products this year.
This is a beautiful, detailed collection of hand-drawn illustrations of herbs and spices. Linseed Studio illustrated these as well as designing many other graphics and fonts. The designs are ideal for restaurant logos, packaging designs, and even fabric and kitchen decor.
Regardless of whether a bottle or jar is holding hot sauce, raspberry jam, olives or bottle rum, this collection has every necessary illustration. Noiresor is a talented designer providing templates, photos, fonts, and graphics. These particular illustrations are unique and full of personality.
Are you providing specialized, organic food products? These organic and eco-friendly labels will demonstrate your commitment. The large set contains a variety of hand-drawn labels. There are 20+ eco words, 95 clip-art elements, 24 pre-made logos and even a bonus of 6 seamless patterns. These were created by PixmassStudio, which also provides seasonal graphics and a variety of other graphics and templates. This particular set of organic and eco-friendly labels can help to show the care you put into every product.
In addition to many other beautiful graphics, Handsketched is offering this collection of 10 files containing hand-drawn graphic and watercolor coffee plant branches in various types. It includes three vertical banners. Some are very colorful and others are vintage, but each is highly detailed and make the perfect design for coffee products of all types.
Also by Handsketched, this set offers a gigantic variety of designs. There are over 40 unique black and white edible nut elements and another 40 colorful hand-drawn elements. Additionally, there are 24 groups of edible nuts in various common varieties, some black and white and some color. In addition, the set includes nuts mix emblems and 'healthy eating' backgrounds. The set includes anything you could possibly need to create the perfect look for your nut products.
This set is also provided by Venimo and includes 50 badges, logos, and icons. They are designed for natural, organic cosmetics with safe ingredients. The templates were created in a minimal linear style for great simplicity. If your brand is creating specialized, eco-friendly and reliable products, this set is specially made to accommodate.
This set contains enough variety to satisfy various personal or commercial needs. Great19 provides various fonts, especially vintage and unique styles, in addition to different templates. These particular templates are ideal, not only for apparel and typography, but also for food and drink product labels.
Consider the value that a unique template has to bring personality and recognition to your brand. Ideally, you want a logo or label template that describes something about who you are and what you do and most of all shows the buyer that you care. For that reason, these designs can be highly effective in presenting your brand to customers.
Download 6 Products for Free
I am a freelance writer who is deeply committed to giving clients the ideal experience and the ideal content to fulfill every need. I have completed over 250 projects for satisfied clients. In addition to building my own business for providing web content, I am currently working with Scripted.com.
---