Moleskine Recreates the Game of Thrones Opening out of Paper
Are you a Game of Thrones fan? I have a pretty strict rule about TV shows: I don't get invested until the third season, with very few exceptions. Nothing kills me more than when I love a TV show to death and it gets canceled too soon. But GoT was so clearly going to be ongoing, I hopped on right before Season Five began, and now I'm all caught up. One thing I don't often miss is the opening credits, because even though they're long, they're spectacular to look at. Moleskine thought so too. To promote the company's new line of Game of Thrones themed notebooks, they recreated a good portion of the opening credits using paper. Seriously. Check it out:

As if that wasn't enough, they shot a behind-the-scenes film that shows how it all came together. It took 750 photos and 7,600 paper cut outs to create the 40-second spot, and frankly, it looks worth it to me. Here's the behind-the-scenes film if you want to check out the torture they went through:

Getting started with hand lettering?
Free lettering worksheets
Download these worksheets and start practicing with simple instructions and tracing exercises.
Download now!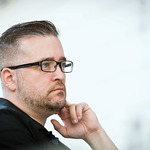 Kevin Whipps
Hi! My name is Kevin Whipps, and I'm a writer and editor based in Phoenix, Arizona. When I'm not working taking pictures of old cars and trucks, I'm either writing articles for Creative Market or hawking stickers at Whipps Sticker Co.
View More Posts