Moodboard Series: Surreal Dreams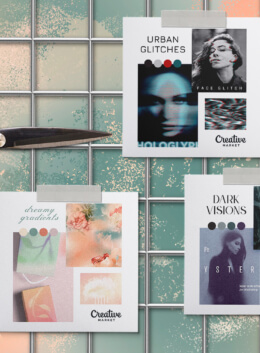 You may need to pinch yourself to see if you're dreaming of this avant-garde styled trend. Its mysterious nature leaves space for all our imaginations to soar. Surreal Dreams is all about blurry gradients, duotone textures, and glitchy photo effects that take our dream world into reality. It's contrasting between our fantasy world of both playful dreamscapes and spooky, horror themes.
Surrealism originates from the idea of throwing out conventional rules while distorting reality in an esoteric aesthetic. This trend relates to our current time as we are throwing out more structural themes and moving into unconventional design aesthetics.
This Surreal Dream series is versatile as it can go in opposing directions: from a beautiful fantasy world to darker dreams. These moodboards are split up into 3 themes: Dreamy Gradients, Urban Glitches, and Dark Visions. Follow along each theme to see corresponding products from our talented Creative Market designers.
Dreamy Gradients
This calming sub-theme is all about muted feminine colors, floral elements, and cloudy gradient textures. It's where our most enchanting dreams are brought into our design projects. Dreamy Gradients is an angelic place where we can capture the surrealism of dreams that bring us into absolute bliss. It's a dreamlike world filled with pleasant fantasies that will entice us into wanting more of this meditative space.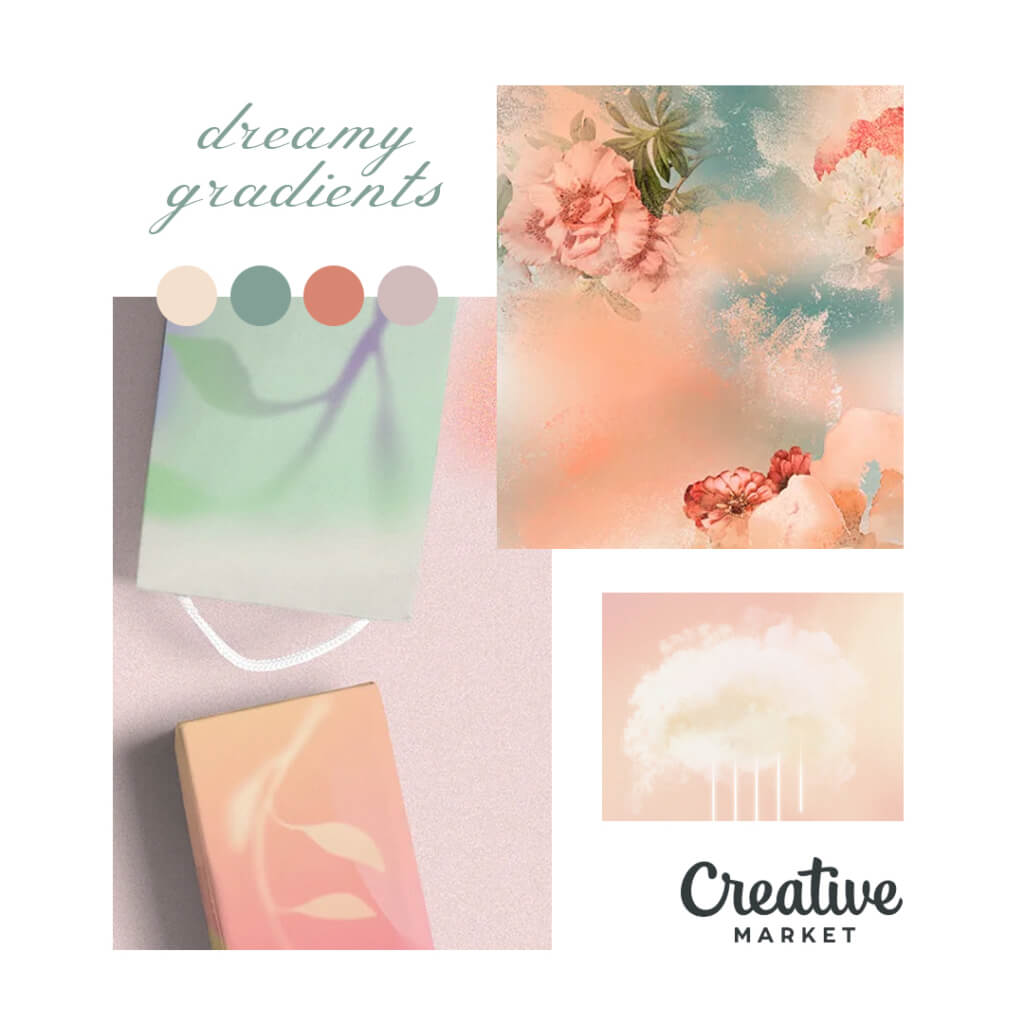 Products:
HEX Color Palette: #eddfcd, #8b9f96, #c48572, #cababa
Urban Glitches
Our next theme, Urban Glitches, presents our reality as an illusion created by technology. These glitchy textures and effects blur the lines of truth, much like many of the mind-bending sci-fi thrillers we've grown up watching. These mysterious effects only intrigue us more to know what force is behind these fractured pixels. Not only can these effects be used on portraits, but they can create an interesting look on text, backgrounds, and other design elements.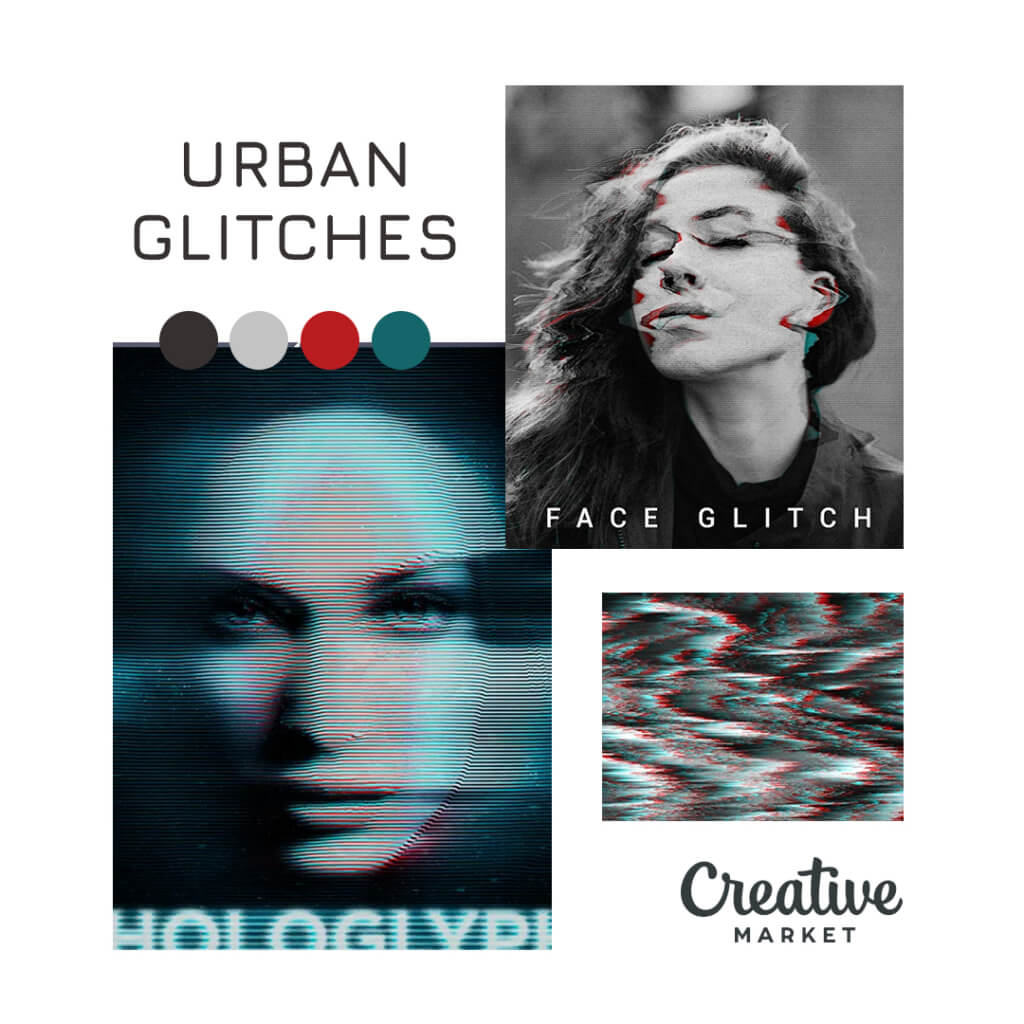 Products:
HEX Color Palette: #373333, #c2c2c2, #9d2224, #3d666a
Dark Visions
Lastly, we have Dark Visions, which is on the opposite spectrum of our 1st fantasy-themed board. This is in time for the season, making our scariest dreams come alive with hazy graphics, ghostly shadows, and darker color palettes. This style is dramatic in nature and can make us feel like we're in a thriller movie. Don't be mistaken by its darkness, this sub-theme can add depth and unconventional beauty to any of your designs.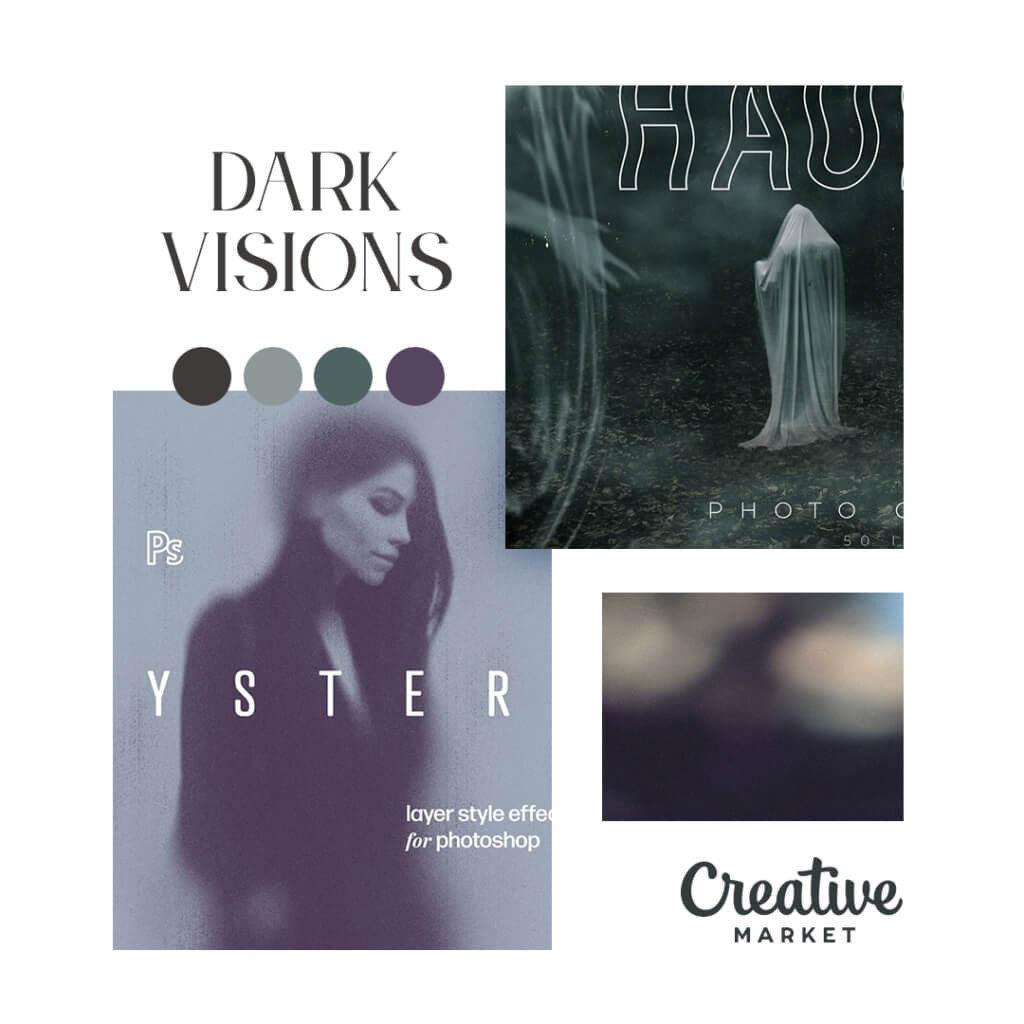 Products:
HEX Color Palette: #403d3c, #8f9697, #566363, #52485e
Which one is your favorite?
As you can see through each of the Surreal Dream boards, this trend can go in many ways. Which one inspires you for your next design project? Let us know in the comment section below!
Getting started with hand lettering?
Free lettering worksheets
Download these worksheets and start practicing with simple instructions and tracing exercises.
Download now!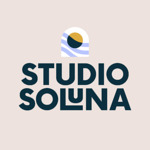 Jessica Safko
We design templates to empower entrepreneurs to create something beautiful. Reach out if you have any questions - We're happy to hear from you! Get a FREE Canva template at yoursundaystudio.com
View More Posts