10 Pinterest Marketing Tips for Creative Market Shops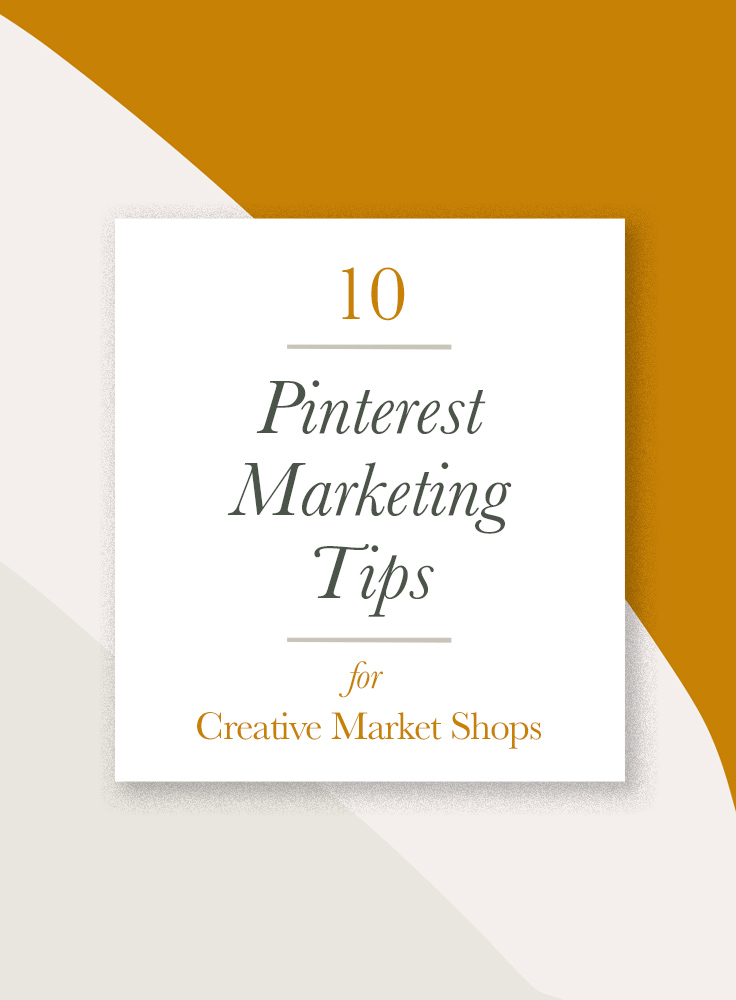 Having grown from 15 employees in 2012 to more than 1700 in 2019, Pinterest is now a powerful marketing engine with more than 250 million monthly active users. In the hyper-competitive landscape of social media platforms, Pinterest has positioned itself as "the visual discovery engine". And with good reason: for the visually inclined, Pinterest has turned into a full-featured search engine with more than 175 billion pins to be found. Creative Market products are ideally suited for this platform, and today we'd like to share some key insights to make the best possible use of this visual-driven social network.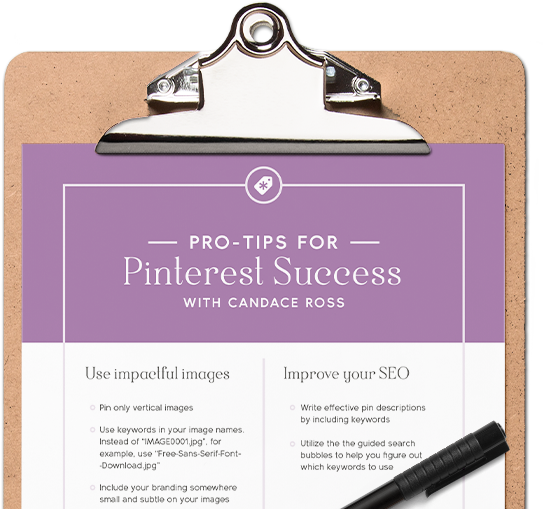 Pro tips for Pinterest growth
Free Pinterest Cheatsheet
Download this handy guide full of reminders to help you run your account like a professional.
Get your cheatsheet
10 Steps to Market Your Products on Pinterest
1. Open a Profile
If you haven't signed up for a Pinterest account, do so here.
2. Design Your Profile and Boards
Board setup and organization can go a long way. Because the platform is so heavily used as a search engine, you'll find the best results if you prepare your boards to be found with specific words and phrases. You should add names and descriptions that fit the need/desire that your target user is searching for. If your Creative Market shop offers different kinds of products, you might consider opening boards by asset type or visual style. Pinterest offers in-depth documentation on the subject, but here are some general guidelines:
Be mindful of how you describe your boards. All of this information is used by Pinterest's internal search engine to determine what to show users when they're looking for certain content.
You can organize your boards and select 5 of them to feature in a rotating showcase right beneath your profile name. These "Featured Boards" are meant to welcome your followers and help them understand who you are.
You can also select a single featured board or your latest pins to be displayed in a header banner behind your name.
Change the cover image of your boards to a visual that represents what users will find inside. Some users design graphics to intentionally serve as cover images. Here are some great templates to get started.
3. Research Your Space & Learn From Related Brands
The easiest way to keep up with best practices in your space and your competitors' Pinterest moves is to follow them. To find relevant brands to follow, type in a product that you're interested in marketing on the platform; for example, "Script Fonts". Take a look at the search results you get for that query and tap to get a closer look at the board they're pinned to, the URL the image leads to, and the user that pinned it. Are there any common traits among the top content pieces you're seeing? Consider popular themes, dimensions, color palettes, typography, and layout. You might also want to see what kind of content people are pinning from a competitor's URL. Just insert the domain you wish to analyze after "/source/" here: http://pinterest.com/source/DOMAIN. You'll see the latest images being pinned from that site.

If you're interested in more structured competitive research on Pinterest, check out Tailwind's (paid) Industry Trends feature. It benchmarks your brand's followers, engagement, reach and more against the competition. The Pinterest team also publishes some outstanding trend reports in the Insights section here.
4. Build Your Pins
Pins are made up of three components: an image or video, a description, and a URL. You can build pins directly on Pinterest.com or use our integration to post directly from any page on creativemarket.com. All product pages are already connected to Pinterest so that you can pin any of their images in seconds. Just hover over the image you'd like to pin and click on "Save". If you're logged into your Pinterest account, a window will pop up with everything pre-filled and ready to share. If you'd like to build your pins from scratch, you can also do that directly on Pinterest.com or via a third party app. Just include a description, your desired image or video, and the link to your Creative Market product page or shop.
5. Create a Content Calendar
The visual platform it is, Pinterest users are heavily drawn to seasonal motifs, themes, and styles. Create a content calendar that reflects these important dates, being mindful of their impact in the creative industries that use your products. Download our free Shop Owner Kit to read more about this Seasonal Calendar for Creative Market products, among other insider tips to promote your shop.
6. Create Compelling Visuals
The Pinterest team recommends that you use a 2:3 aspect ratio for all of your Pins. All this means is that your image's width is ⅔ its height, resulting in the tall vertical graphics you're used to seeing on the platform. Because of the way the site scrolls and its reliance on visuals, you might consider creating long graphics to promote your products. If you want to speed up your process, there are hundreds of ready-to-use templates from fellow designers on Creative Market:
Here are some more creative best practices directly from Pinterest.
7. Figure Out The Best Time to Share
There are different ways to go about this. For starters, you can follow general timing recommendations such as those published by Quicksprout or Coschedule. Quicksprout suggests pinning between 8 and 11 pm, noting that Saturdays seem to be the best day for user engagement. Coschedule recommends something similar, stating that 9pm is this platform's peak time.

Bear in mind, however, that these general guidelines are usually stated in Eastern Standard Time, and based on typical behavior observed in users living in the United States. If your time zone or user base differs significantly, your best bet is to analyze your own audience's habits with a tool like Tailwind. Tailwind includes a SmartScheduler tool that lets you see when your specific audience is on Pinterest.
8. Schedule Pins in Advance
All Pinterest Business accounts are able to schedule pins in advance, allowing you to batch upload content that will go out in an ideal time slot of your choice (see tip #7 above). All you have to do is select "Publish at a later date" when you're building the pin. However, if you're managing several social media channels and want to centralize everything, you might want to schedule pins from a third party app like Tailwind, Hootsuite, or Buffer.
9. Monitor Your Analytics and Messages
Pinterest now offers powerful analytics to help you steer your strategy in the right direction. All you need to do is convert your account to a Business profile if you haven't already. You'll immediately access valuable traffic, engagement, and audience data. With the data presented by Pinterest, you'll be able to answer questions like:
Which of my pins is being seen the most (impressions)?
What pins are generating the most saves and clicks?
Which pins are engaging users the most, to the point where they've tapped to get a closer look (closeups)?
What does my audience look like in terms of age, interests, gender, location, and device?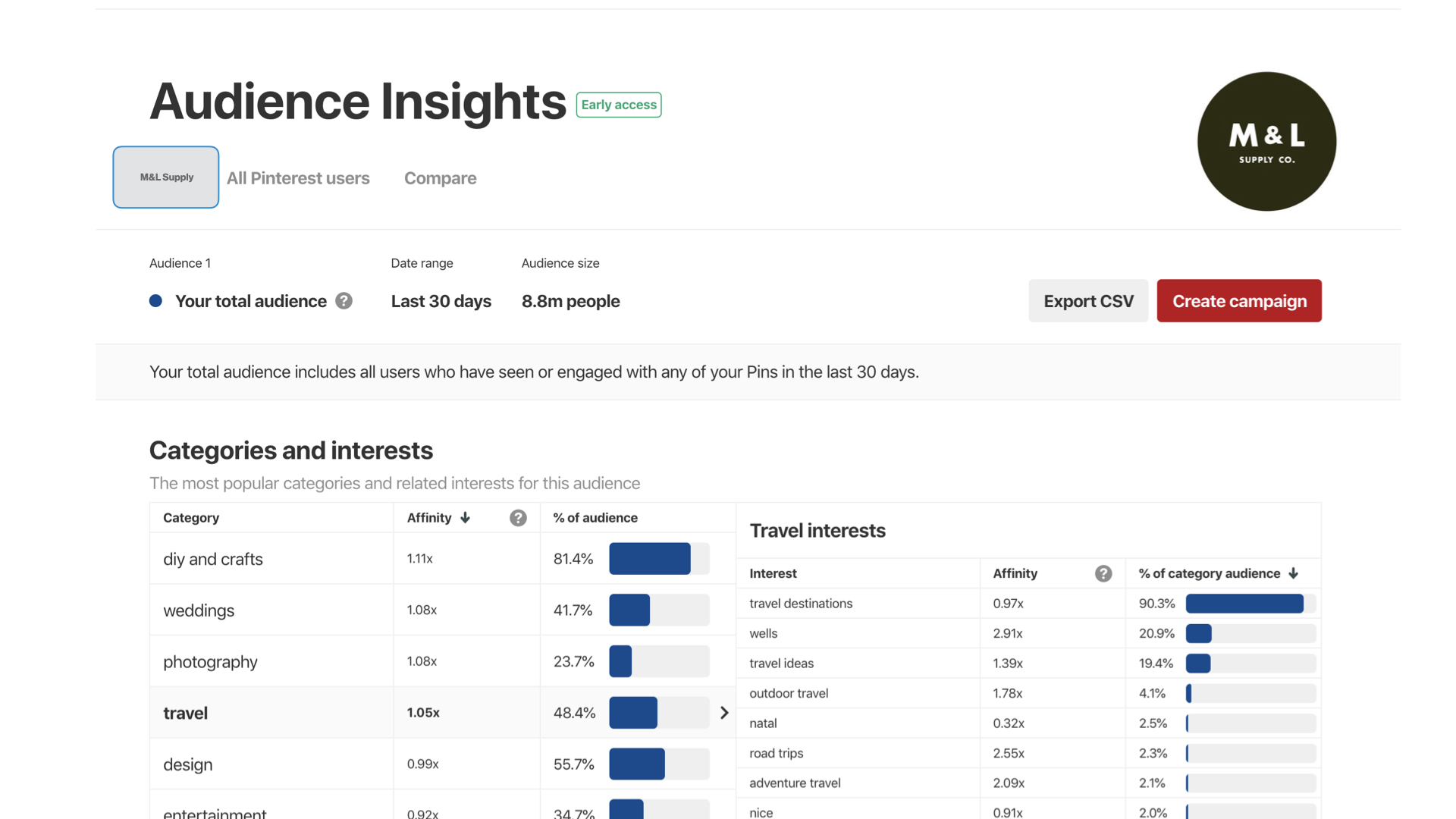 If you also want to know how much traffic these clicks are generating to your social accounts or website, Pinterest makes it very easy to claim those properties so that all these actions are connected in real-time.
10. Pinterest Promoted Pins: How to Get Started
You can currently promote regular Pins, Video Pins, Carousels with multiple images, or apps. For specific dimensions, formats, and file sizes, check out this always up-to-date sheet directly from the Pinterest team. Here's an example of what a promoted Carousel Pin would look like: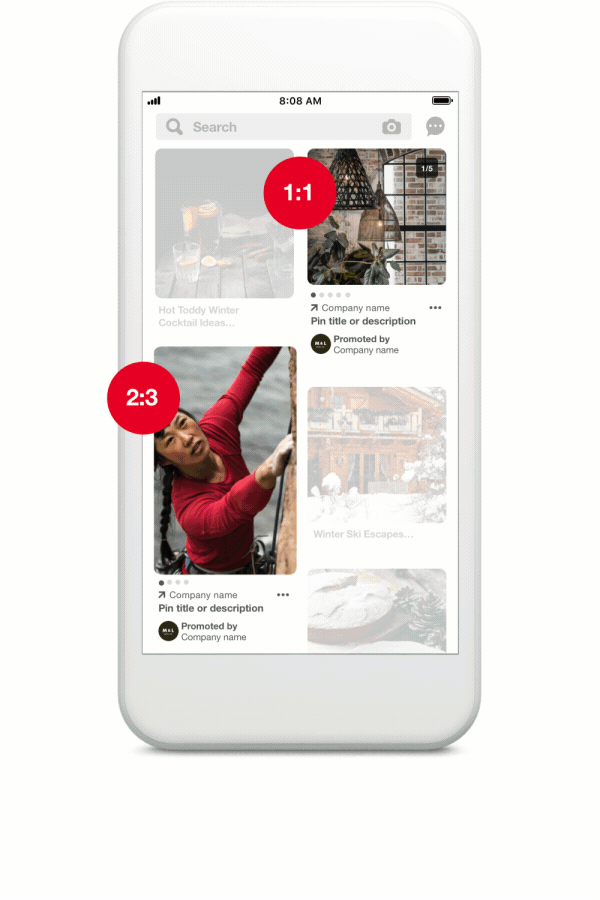 To get started with Pinterest's Promoted Pins you can either go to your ads dashboard or hover on any of your pins and click on "Promote" for a quicker campaign setup.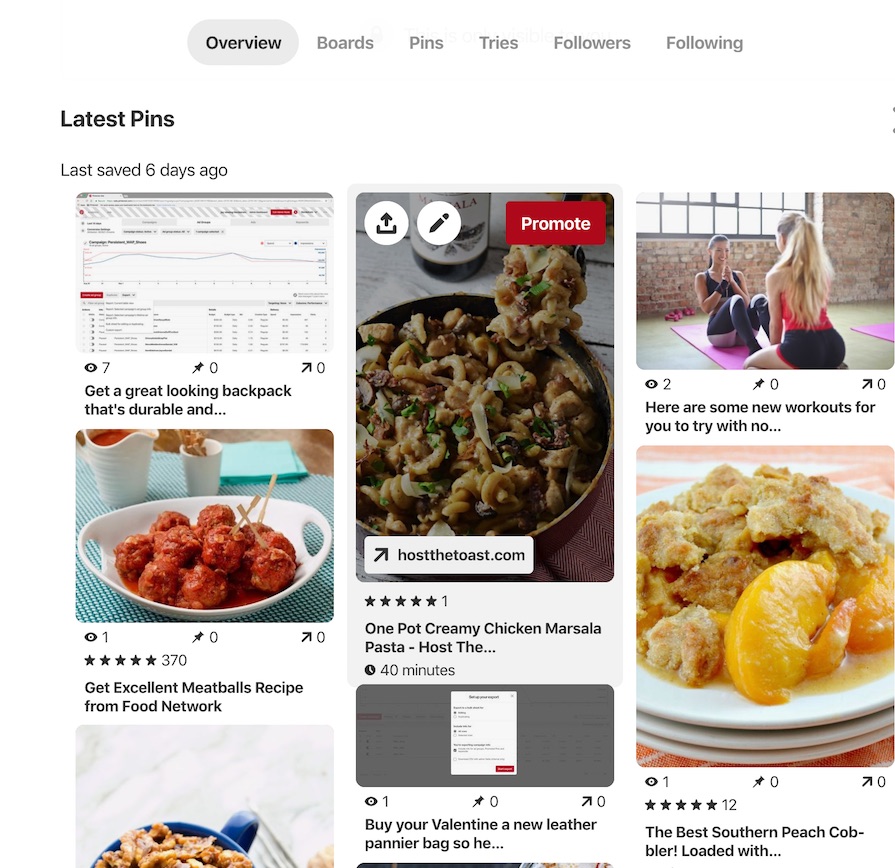 As with every paid advertising platform, there are 4 key components you need to think about before you start creating campaigns:
What is your general objective? Is it to build awareness, traffic, or conversions?
Who do you want to reach? What does this audience look like in terms of demographics & interests?
What is this audience searching for when you'd like them to find you? For ad platforms like Pinterest and Google, which are based on search behavior, it's important to know what these specific keywords look like.
What's your budget? How much are you willing to spend on each specific action, and what is that desired outcome? Depending on your campaign's objective, some desired results might be for users to see you (impressions), click on your link (clicks), or convert (action). To align your budget with those outcomes, Pinterest offers CPC (Cost per Click), CPA (Cost per Action), and CPM (Cost per Impression) bidding. More details on that here.
Pin your way to more sales!
If you want to learn more about this platform and how it can help you promote your products, check out these handy guides from the Pinterest team itself. They also curate a creative gallery full of inspiring pins to learn from.
---
---
Products Seen In This Post: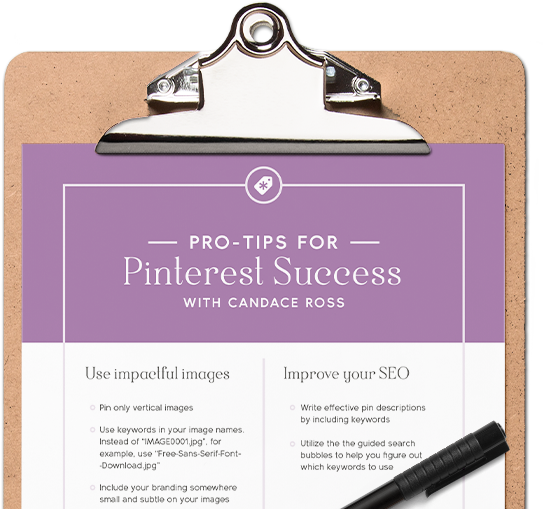 Pro tips for Pinterest growth
Free Pinterest Cheatsheet
Download this handy guide full of reminders to help you run your account like a professional.
Get your cheatsheet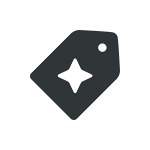 Creative Market