19 Pop Art Design Ideas for Your Creative Brand Inspiration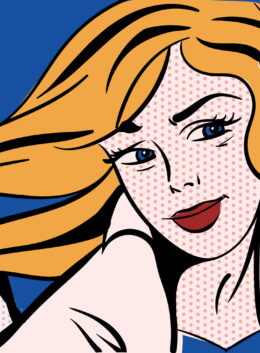 In a time where rebrands are starting to embrace safe and oversimplified styles, consider making your creative brand pop by getting inspiration from the pop art movement! With bold colors and chic shapes, one of the most iconic contemporary art styles from the '60s is a recognizable modern art style that can elevate a growing brand.
But what exactly is pop art?
Origins of Pop Art as a Movement
Like many art movements before it, the term "pop art" was coined to refer to a recurring artistic style that was heavily present in a given time period and was popularized by the famous artists who use them by paying special interest to everyday objects or design philosophies and elevating them into a creative expression.
Andy Warhol's Campbell's Soup Cans from Sothebys
How Did Pop Art Start?
Pop art truly started in the United Kingdom during a time when people began to question the idea of "high" or "low" art, believing that anything can and should be considered a valid artistic expression. Young artists of the time went to museums and struggled to relate to the art of the past, so they decided to work with what was familiar to them — commonplace objects, comic strips, advertisements — and created what would eventually be known as the pop art style.
Early pop art pieces involved taking different pieces or parts of known name-brand commercials or billboards and posters of famous people and collaging them into an abstract photo. This rough scrapbook-style method of creating imagery would rely on recognition and bright colors to evoke a feeling, and borrowing from mixed mass media gave way to emphasize exaggerated lines, sizes and textures reminiscent of early screen printing and other methods of mass production of the times.
The Pop Art Style Defined
But modern understandings of the movement in the art world have drawn similarities and differences between American pop art and British pop art.
Although inspired by the same concepts of everyday life and abstract expressionism, British pop art was inspired by American pop culture of a distance, usually parodying Hollywood and consumer culture imagery. In the States, the pop art style was a form of representational art using hard edges and distinct forms that were heavily abstract.
Other countries took note and pop art artists emerged wherever there was an opportunity to express various frustrations with their culture's historical art. Japanese pop art borrows heavily from their own traditional manga and anime, where the similar visual culture of comics are style staples of commercial art.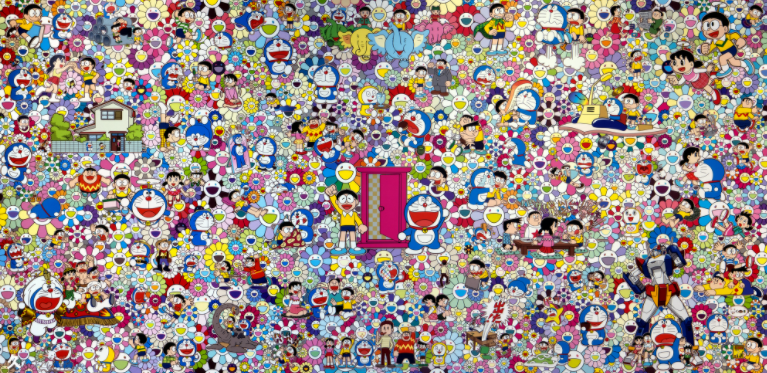 Doreamon in My Memory by Takashi Murakami from KumiContemporary
Known pop artist Richard Hamilton even defines the characteristics of pop art to be "popular, transient, expendable, low-cost, mass produced, young, witty, sexy, gimmicky, glamorous, (and) big business." But other artists — including Andy Warhol, Roy Lichtenstein, Eduardo Polozzi and more — have each taken their own spin of what pop art is to them, with their work continuing to influence graphic design today.
Trendy Uses of Pop Art in Design
While the short history review might make it sound like the pop art style can seem dated, no trend ever truly fades as mass media and pop culture still take many cues from the pop art style. Whether to establish a TV show's historical setting or to bring back some nostalgia through evocative imagery, collections such as Ira Cvetnaya's reproductions of Roy Lichtenstein's artworks call back to a lost time.
Pop Art Style Logo Designs
Visually interesting typefaces are staples of the pop art style and are paramount to creative typography-inclined logo ideas. Comic books, cartoons, sitcoms and street graffiti are hallmarks of popular culture and are the most versatile design inspiration sources for pop art works.
Who said simple was boring? Start with a clean but fun and definitely pop-art font to get a feel for the design's fit to your brand.
Play with fun and groovy texts reminiscent of juice and candy commercials of the times.
Scratch the nostalgia itch with a font that reminds you of your favorite classic sitcoms.
Vintage Bold Script took some design inspiration from vintage vehicle ads, with the the width and soft curves evoking a family-friendly brand that everyone can get behind.
For the more street culture-inclined brand, a graffiti-inspired font for your logos would never be out of style, no matter the decade.
Pop Art in Graphic Design
Pop Art in graphic design takes its inspiration from the collages of old, taking interesting shapes, colors, photos and doodles into one expressive image. Some staples include bright patterns, vintage newsprints, digital glitches, consumer goods, printing and painting techniques, and other elements of mixed media methods of art and design.
While onomatopoeias and exaggerated texts are more common on comic books, they're an excellent visual language that grabs the audience's attention, which is key in a lot of promotional material. Use comics-inspired text bubbles and textured dots to highlight your key message and supplement it with great copy.
Photo portraits are staples of the social media sphere as many users already know how to take their own photos. Put a unique spin on yours through vector art and engaging colors and textures.
Faceless photo collages such as this one from Volodymyr Melnyk are commonly used to accompany editorial articles in magazines and newspaper articles. An excellent alternative to editorial cartoons, collages that highlight a subject's body or motion can supplement an article's main idea that focuses on a target audience like the working class, specific generations and other similar groupings.
Branding Through Pop Art
Pop Art is one of the most recognizable styles for branding specifically with a sense of nostalgia. When the artists of the '50s and '60s listened to their tunes, they got out their turntables and vinyl records — that which modern music aficionados still swear is the best way to listen to your choice of music.
Even promotional material for your themed events can take inspiration from pop artists through visual language, telling your audience exactly what to expect through the right choice of shapes and color schemes.
How To Make Pop Art Work for You
The pop art style remains to be one of the most eye-catching visual styles that can work in your favor when you take the design elements that work the best for your brand. The amount of layers, colors, textures and photos can overwhelm any graphic designer, so here's a few kits and samples that can help as a jumping-off point to make this style your own.
How To Make Your Own Pop Art
Scared of starting from scratch? These include fonts, backgrounds, color palettes and more that can help you get started.
There are so many ways you can incorporate the pop art style into your branding assets. We hope you gained some design inspiration for your next promotional campaigns, and for more tips and tricks, feel free to sign up here!
Getting started with hand lettering?
Free lettering worksheets
Download these worksheets and start practicing with simple instructions and tracing exercises.
Download now!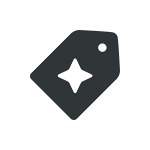 Creative Market