11 Art Nouveau Graphic Design Ideas for Your Inspiration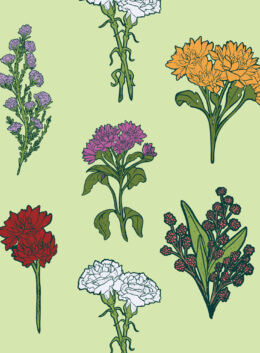 Art Nouveau emerged in a notable time in art history where new technologies of color lithography and color printing gave way for this fine art to hone in on its distinctive styles. These designs are now seen on advertising posters, magazines, and stained glass pieces due to our modern mass production capabilities. While it might seem like an advanced style suited for academic art practice, there are ways to incorporate Art Nouveau without seeming dated. First things first: what exactly is the Art Nouveau movement?
Understanding the Art Nouveau Movement
The term Art Nouveau takes its name from the French, literally meaning "new art." Art Nouveau is a style most popular in the 1890s through the 1910s that resisted the idea that one could only create and recreate what you could see, and made generous use of long, sinuous lines and curves.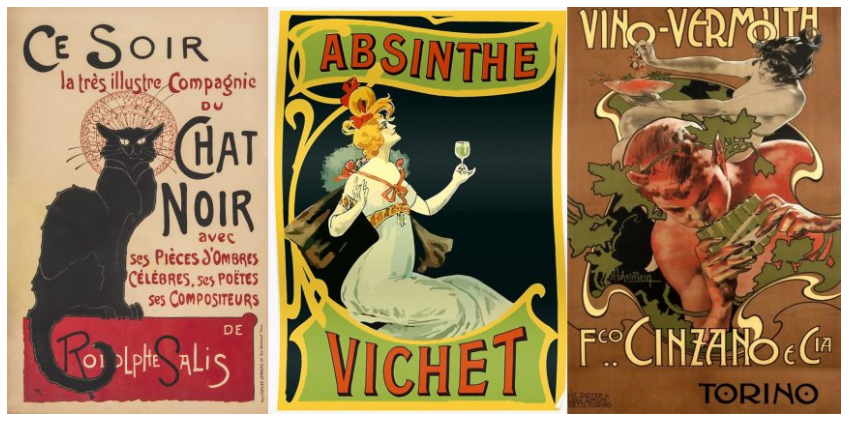 What Inspired Art Nouveau?
Art Nouveau was largely inspired by the frustration toward the Industrial Revolution and was a return to taking natural inspirations from organic and geometric elements. Art Nouveau artists of the late-19th century took heavy inspiration from their own cultures, usually incorporating flowers and insects, and highlighted these natural elements with prominent lines, asymmetrical forms, complex compositions, and vibrant colors.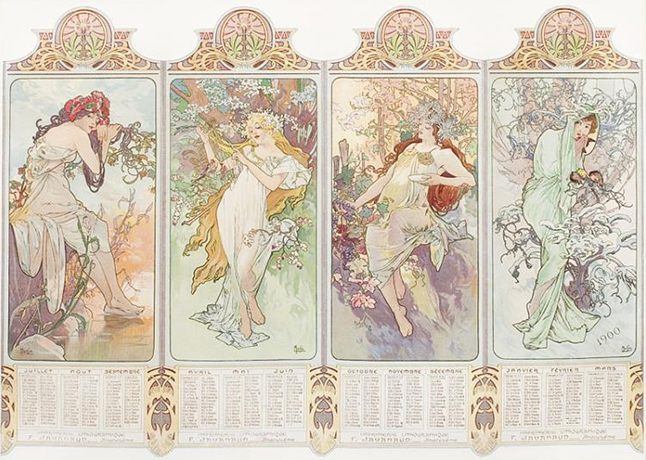 One of the most notable Art Nouveau designers of the time, Alphonse Mucha, a Czech painter who famously favored women in flowing robes and surrounded in florals in pastel shades, was a prominent figure of the Art Nouveau movement, despite rejecting the label himself.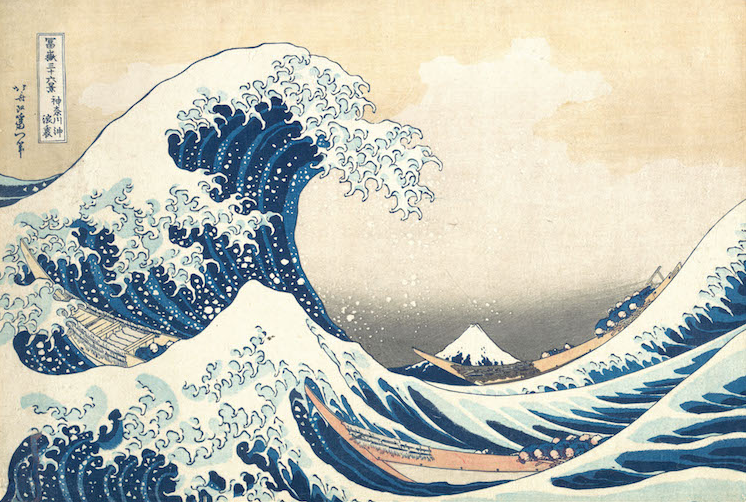 Another great influence of Art Nouveau designs included Japanese art woodblock prints that contained floral motifs and prominent curves. Katsushika Hokusai's most famous painting is one example of a woodblock print that would be key to inspiring the Art Nouveau period.
Art Nouveau in Graphic Design
While Art Nouveau would later be replaced by Art Deco as art forms continue to respond to itself, no art movement ever truly fades as Art Nouveau's influence continues in modern decorative arts.
In graphic design, famous Art Nouveau style visual arts are inspired by its buildings, interior designs, and natural forms into communicating returns to the natural world, and these elements naturally make their way into modern graphic arts.
Design Styles of Art Nouveau
The Art Nouveau design style heavily relies on natural elements, curved lines, and intense colors. These include color palettes learning toward earth and jewel tones from a floral style and naturally occurring decorative patterns. The most notable form of applied art that includes all these features is that of stained glasswork.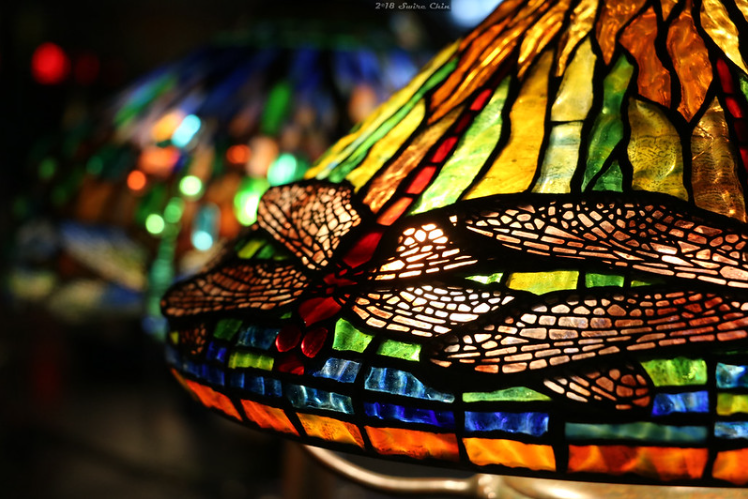 A Checklist of Art Nouveau Graphic Design Characteristics
From the quick art history lesson, here's a more in-depth version for the curious. A few key elements repeat as part of the hallmarks of the Art Nouveau style's design characteristics:
Rich color palettes
Flat compositions
Bold lines
Geometric shapes
Organic forms as main subjects
Art Nouveau Style Examples
As with many art movements, feel free to pick and choose the design elements of Art Nouveau according to what works best for your creative project. Taking inspiration and running with the basics are part of any creative project. You'll see how other creators have made Art Nouveau their own afterward.
Art Nouveau Background Examples
This design template from Wingsart studio uses an earthy, almost coffee-like color palette to highlight some of the most interesting shapes inspired by Art Nouveau architecture. Great for food labels or as a beginner's entry into designing branding assets, this template might be what you need.
Prominent lines and clean patterns are just one of the ways you can take to modernize an Art Nouveau style. With leaves, vines, and patterns inspired by the naturally-occurring latticework of plants, this pattern set is a great accent to more minimally inclined creative projects.
A return to the classic Art Nouveau style, this clip art set makes use of hand-drawn illustrations of florals, shrubs, and intricate details of popular botanicals. This set includes full color, lined, and transparent background versions of different plants that can ground any creative project.
Inspired by the question of what a modern interpretation of Art Nouveau would look like, this graphic set from Olga Ryzynchenko takes stained glass coloring rules and takes more modern shades onto classic line art pieces of leaves, waves, and natural movements.
Art Nouveau Font Types
There's an unmistakable literary element to the following selection of fonts that make use of a versatile color palette with strong lines that are confident in their Art Nouveau roots. If you're looking to create labels or posters with a fairy-tale-like quality to its messaging, check out our recommendations:
Great for design concepts inspired by the stories of classic princesses and daring knights, the Secesja font is a clean option that finds itself in the sweet middle of a modern fairytale with a wide array of applications.
Inspired by earth tones of a woodblock quality, this Art Nouveau font from Liz Kohler Brown is reminiscent of a Greek or even medieval epic.
The most modern of our choices, the Antiga Typeface plays with size, shape, and proximity to give your text an eye-catching yet unmistakably vintage feel. Its prominent curves and contrasting slimness to its letters place this font squarely between Art Nouveau and art deco for the more transitional creative projects.
More Art Nouveau Inspiration
Art Nouveau design might seem overwhelming for the budding graphic designer, but there are ways to incorporate this style into modern design assets that don't require years of study. These design elements exist in varying degrees of application, most notably in ways to communicate a classic yet effortless sophistication with the right combination of backgrounds, palettes, and font choices.
These graphics set from Laras Wonderland, for example, make use of intricate shapes of plants and birds in regular and gold foil lining that's perfect for Art Nouveau-inspired classy stationery. The use of an earth tone background color and two distinct shapes of a branch and a bird in a simple composition is just one of the ways you can have a minimal yet distinctive style.
This packaging design makes use of only a handful of elements from the Botanical Clipart Set from Jess Oxley, using two to three flower types on a solid color background follows a modernized Art Nouveau design application that is decidedly between modern and vintage.
Applications of the Art Nouveau style can elevate the concept of a stained glass art piece into modern eye-catching solutions for your branding assets such as in this case of clean, jewel-toned florals for a cosmetics branding project.
Your creative projects can always benefit from a large pool of historical art movements and design inspiration. While not all elements can or even should be applied, looking at what works and how you can innovate with just one or two is a great starting point for any design challenge.
For more quick need-to-knows about the art world or for more beginner-friendly starter designer kits, feel free to sign up here to get started on your next great project!
Getting started with hand lettering?
Free lettering worksheets
Download these worksheets and start practicing with simple instructions and tracing exercises.
Download now!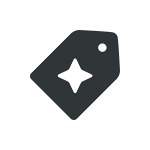 Creative Market