12 Psychedelic Designs and 70s Art For Posters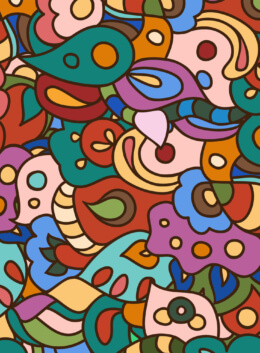 Psychedelic art is one of the most prevalent visual trends in design, advertising, and popular culture, especially in this digital age.
Even though their artistic expressions are often considered cheesy or mundane, if we go back to the period when psychedelic art originally appeared, we could learn some intriguing facts about the movement that might give us inspiration.
This article will revisit the trippy yet brilliant period of artistic influence: the '70s psychedelic art and design.
Whether you're launching a new concert or movement, it's essential to take chances to be memorable. As a result of bold advertising, recognizable posters, and a unique color palette, among other things, significant risk is rewarded. It's also a terrific method for a company to win via risk-taking, and there's nothing more eye-catching than psychedelic art.
What is Psychedelic Art?
In the past, the term "psychedelic" was used to refer to the psychedelic subculture, while the term "psychedelia" was used to refer to the psychedelic experience. They're virtually interchangeable in terms of aesthetics.
Of course, the psychedelic design movement has a long and illustrious history: it spread throughout the globe and dominated the visual arts for several years in the 1960s and 1970s. But we're not going to dig into that; we're here for the psychedelic designs and ideas.
How Were the 70s Psychedelic Posters Made?
The hippie movement brought psychedelic art into life through posters, wall graffiti, and even mainstream social media. In other words, hippie culture is still a thing.
Some music festivals around the world apply psychedelic touches with wavy typography and fluid-like background. And for the rad aspect of psychedelic posters, artists nail them with a super-saturated palette and colors that beg to be noticed.
Ideas for Psychedelic Posters
There are still many lovers of the psychedelic aesthetic today, and several artists continue to be inspired by it. If you're one to design with a trippy pattern or font for your movement or event, here are some of the best psychedelic templates and pieces we have in Creative Market.
Psychedelic Rock Poster Examples
Fans who closely follow a band occasionally learn about a music event or find psychedelic rock concert posters. Other times, it's the other way around: a fan discovers a band's music through the artwork. That being said, it is very important to bounce ideas back and forth in creating the right psychedelic design to make fans and listeners go to a concert or music festival.
Above is an example of a vintage music festival flyer with a theater-like artistic style approach. If you have an artist or a band you would like to feature on your event poster, this is the type of layout or template you should go with.
This rave poster design from Creative Market looks like an alternate universe, like how rave and psychedelic music gives listeners the trippy and out-of-this-world experience. If your music event's vibe is surrealism, trippy and futuristic, use its roots in your design.
Another trippy and psychedelic example for a music event poster employs color vibration or the use of colors at the opposite ends of the color wheel. Further intensity the brightness of the colors that you use, and include these colors in your fonts and background.
Psychedelic Art Movement Examples
Aside from leaving its influences in music events and rave parties, the psychedelic movement had a significant impact on many artists, which led to creating "Underground Comix," an alternative and innovative kind of comic book art.
Comix art led to the creation of concert posters and album covers for bands and musicians like The Who and Jimi Hendrix (we bet you guys know who this king is), with psychedelic art being a key influence on this art form.
A wide range of different genres and styles were used as inspiration for the psychedelic movement in its infancy. Whether it's for art galleries, lettering, clothing or paintings, Creative Market has the best psychedelic design ideas that can make you the next Alex Gray, one of the famous psychedelic artists from the pop art movement.
If you're hosting an art gallery exhibit in town and want to make your visitors trip, use psychedelic art to bring them through the unknown paths. With the psychedelic designs above, let the art community imagine the unimaginable and play with their mind.
People still dig the "lucidity" letters brought by the psychedelic art movement. You can choose from distorted fonts, dazed and dizzy typefaces, or the wavelength typeface, as inspired by the infamous "Rick and Morty" logo.
Tie-dye shirts are still a trend, and did you know that you can start one? Peacock feathers, if done right, are also one piece of a trippy design, especially for clothing. With this template, you can customize the colors of your shirt and use a brighter one. You might want to go with yellow, red and blue.
Trippy Pattern Examples
If you want to draw attention instantly, psychedelic style is the way to go. Creative Market's psychedelic patterns achieve exactly that. We have curvy and swirly psychedelic designs with brilliant colors that create a trippy aesthetic, which goes well as a psychedelic background.
For a more retro and vintage vibe, you can use this lively psychedelic pattern from our website. And if you're a flower child in the 70s, then surely, this should be in your psychedelic collection.
The images above are examples of psychedelic wavy textures — distorted, acidic, trippy, yet you can still get creative with this pattern. These patterns are most suitable as decorative background displays for album covers, posters, and website design. Therefore, if you're looking for a pattern that's weird, trippy, and unique, then psychedelic wavy textures are for you.
Bring back the 70s psychedelic era.
There's no secret formula to designing psychedelic art. The colorful, fun, and visually mind-blowing psychedelic art style has worked its way into almost everything — concert backdrops, website design, art galleries, phone wallpapers, etc.
We will always have a particular place in our hearts for the bright colors and psychedelic designs of the 1970s and 1980s, no matter what year it is.
Remember, you don't have to take drugs to experience psychedelia or become the next Wes Wilson. As long as you put yourself both in uncomfortable places and the most joyous experiences in your life, you can achieve the ultimate psychedelic experience.
Get Psychedelic designs from Creative Market.
Good news! You don't have to find a designer who grooves to psychedelic designs and styles. You can design your own using our psychedelic art templates, graphics, fonts, and add-on by downloading from Creative Market.
Open up your mind, and get started with your first psychedelic art today!
Getting started with hand lettering?
Free lettering worksheets
Download these worksheets and start practicing with simple instructions and tracing exercises.
Download now!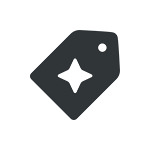 Creative Market